3 Ways to Design With Nature In Mind

Sarah Lograsso, Guest Columnist
3 min read
Stressful situations captivate our attention on a daily basis, and we spend many of our waking hours trying to minimize the many adverse effects of stress in our personal and professional lives.
Thankfully, the principles of design can hold just as much sway over our anxiety levels as more significant lifestyle adjustments, including self-care activities such as yoga and meditation. To reap the stress-reducing benefits of design, we simply need to go back to our roots and embrace the application of nature-inspired solutions to create more relaxing, human-centric spaces in our homes and businesses.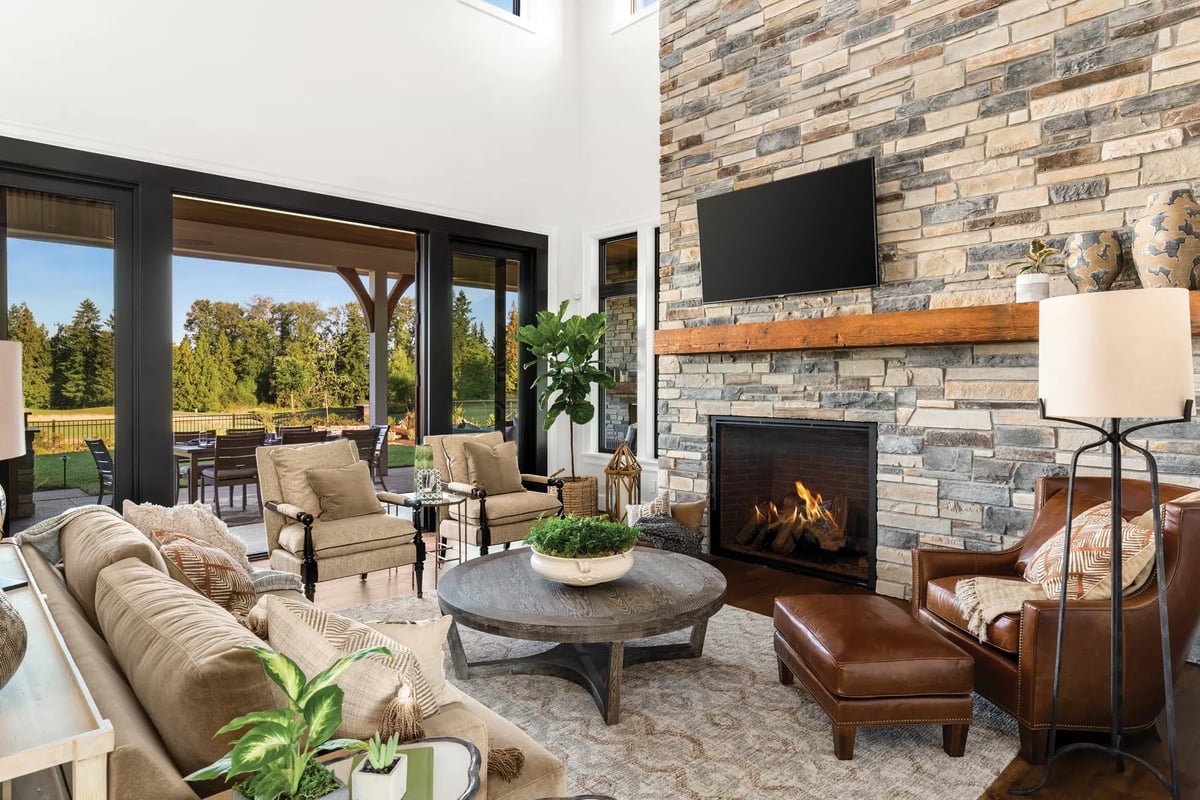 Incorporating more natural light into a design can reduce stress levels, encourage healthier sleep patterns, reduce reliance on artificial light, and aid in climate control. Credit: courtesy Westlake Royal Stone Solutions
What is Biophilic Design?
As technology continues to influence more of our daily activities, it's not surprising that we feel an increased desire to stay connected with the world outside our walls, windows, and doors. This supports the biophilia hypothesis, which suggests that humans possess an innate tendency to seek connections with nature.
Numerous studies indicate that biophilic design solutions can even reduce stress, and lower heart rates and blood pressure while increasing creativity, productivity and well-being.
The landmark Terrapin Bright Green report, "14 Patterns of Biophilic Design," confirms this correlation, citing various empirical studies that verify a connection between humans' experiences of natural environments and "greater emotional restoration, with lower instances of tension, anxiety, anger, fatigue, confusion and total mood disturbance than urban environments with limited characteristics of nature."
Design features that showcase natural elements provide a primal, multi-sensory approach to reinforcing our connection to nature. From fire features and light wells, to stone statement walls and elaborate water features, these additions create memorable spaces and evoke a sense of tranquility in the places where we spend most of our time.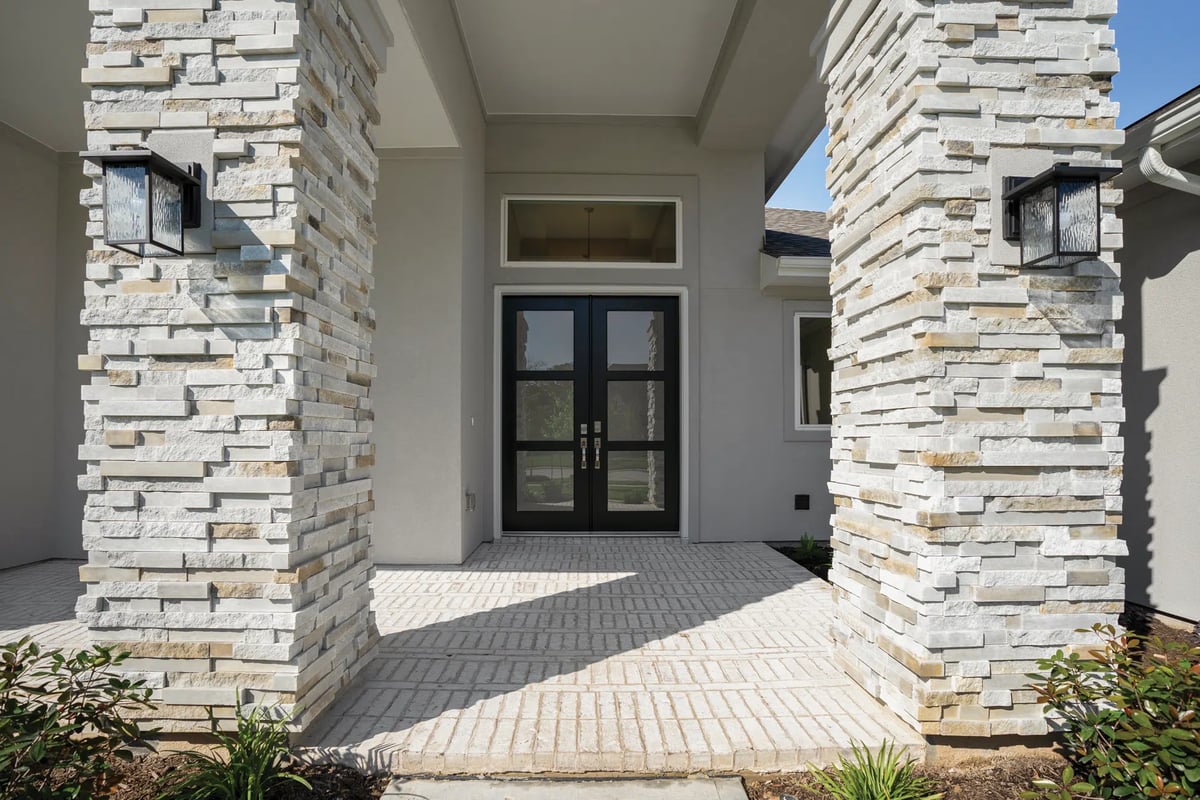 Stone veneer incorporates unique, nature-inspired hues and textures, and allows for color and texture matching between historic or legacy stone and new applications. Credit: courtesy Westlake Royal Stone Solutions
Here are three fundamental strategies for incorporating these appealing touches into everyday experiences:
Bring the outdoors in. First, we must embrace the use of natural elements within our homes and businesses, rather than anesthetizing and homogenizing our interior spaces. Luxury spas often incorporate stone and wood on their walls because of the calming effect of natural textures. This same philosophy can be translated into homes and offices with a variety of sustainably manufactured surfaces, from wood and stone veneer products, to wallpaper with botanical prints and even nature-inspired murals.


Lighten up. Natural light is key in any space, and research suggests that incorporating more sunlight can help with everything from reducing overall stress levels to encouraging healthier sleep patterns.
Windows let in views and breezes, and light wells reduce our reliance on artificial light. Blending indoor and outdoor spaces can be achieved with a variety of building products such as opening glass wall systems, which create spaces that integrate outdoor elements of natural light and views while ensuring the creature comforts of indoors, such as climate control.
As mentioned in a 2015 article from Fast Company, Google's alterations to make their offices more human-centric rendered huge benefits, causing employees to feel "deeper focus, more creative and more productive" due to having more access to natural light and other biophilic elements.
Embrace earthy accents. Incorporating natural colors and textures can provide direct and indirect connections with nature. Plants offer a pop of color and a breath of fresh air, often helping to filter the air and provide a greater feeling of calm simply by their natural aromas.
For the truly committed, entire living walls can be stunning in both appearance and effect. A stone veneer accent wall is another way to incorporate unique, nature-inspired hues and textures—evocative of the natural world, stone veneer products are lightweight and easy to install.
Colors can be customized to fit a particular aesthetic as well, giving designers and other specifiers greater creative control and allowing for color and texture matching between historic or legacy stone and new applications many years later.
Biophilic design provides a versatile framework for understanding and addressing our common need for connection to the physical world around us and to one another. As nature-inspired design elements and solutions continue to grow, both in terms of volume and level of sophistication, the possibilities are endless when it comes to designing for the unique spaces where we live, work and entertain.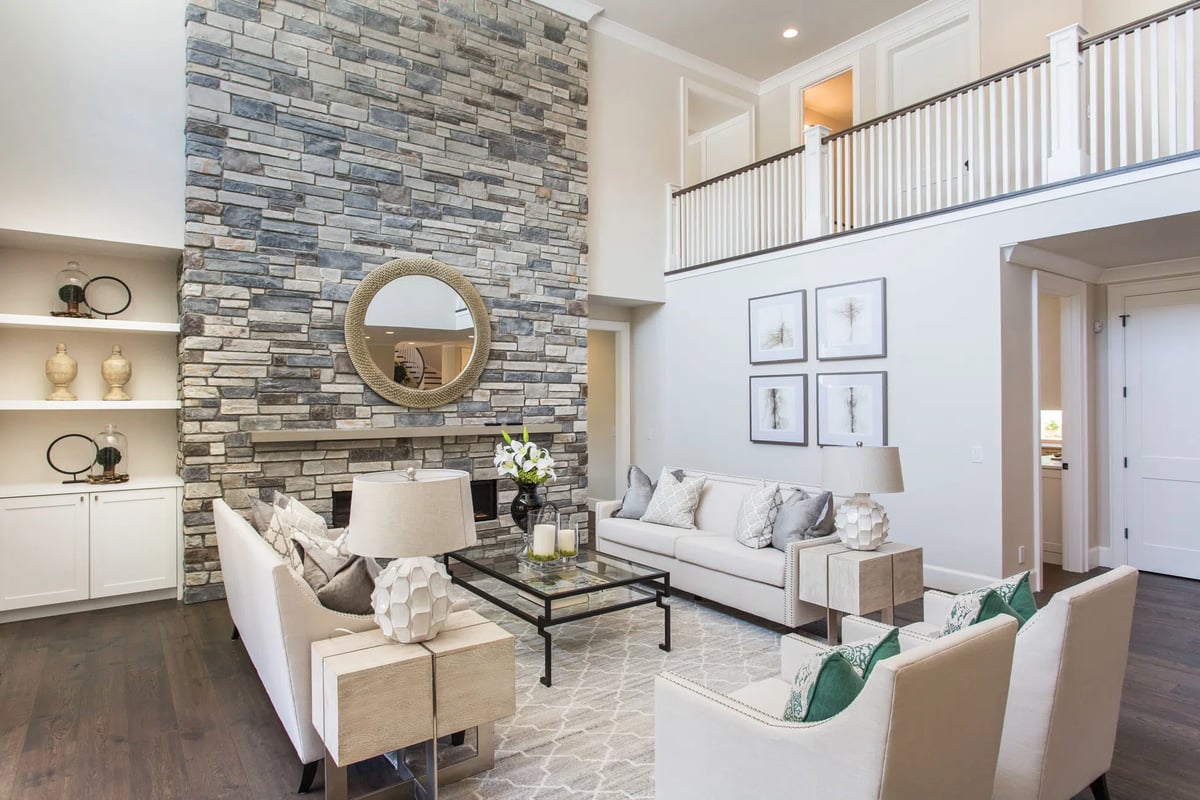 A selection of natural elements, such as wood and stone, along with a variety of sustainably manufactured surfaces, including stone veneer products and nature-inspired murals, can have a calming effect on those in the room. Credit: courtesy Westlake Royal Stone Solutions
---
This article has been reprinted courtesy of Westlake Royal Stone Solutions and Cultured Stone. The original appears here.
Oct 17, 2022 8:50:00 AM · 3 min read
---

Sarah Lograsso is the director of marketing and product design for Westlake Royal Stone Solutions brands.