10th Annual Green Home of the Year Award Winner: Ohm Sweet Ohm

Alan Naditz
5 min read
This powerful 'his and hers' house is mostly HERS.
To say the aptly named Ohm Sweet Ohm saves energy is an understatement. The 2,400-square-foot single-family home in Roseville, Minn., has a HERS Index score of -49. The monthly energy savings alone could power up a 1,200-square-foot house. And, half of that energy goes toward charging two electric cars.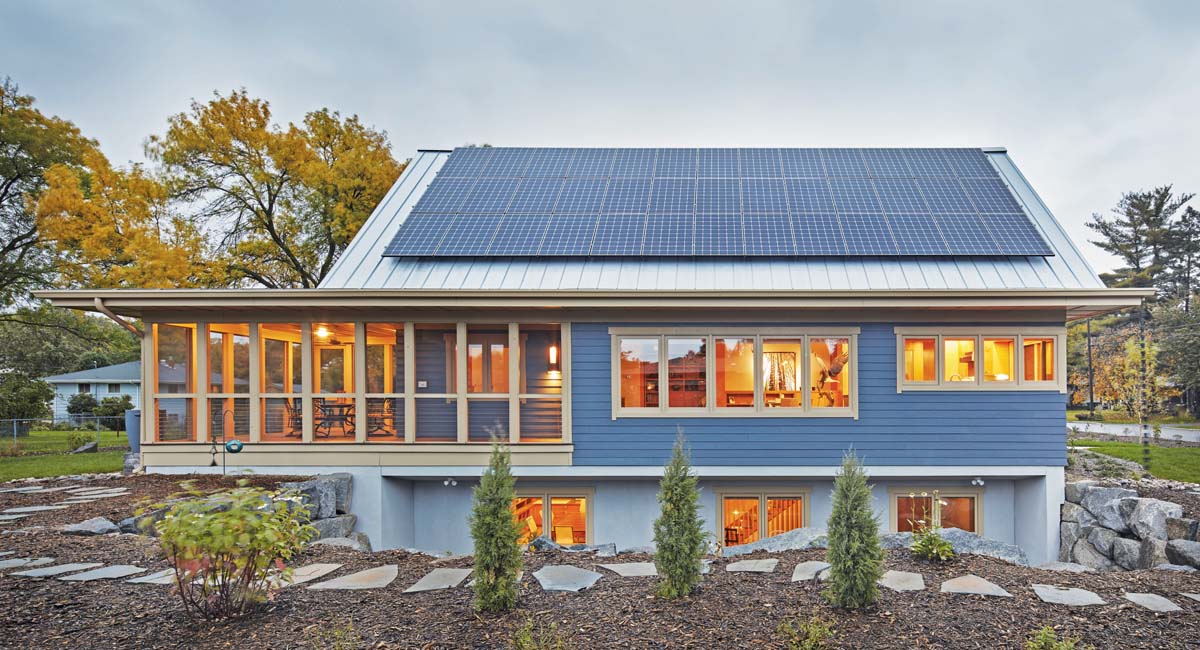 According to Marc Sloot, senior associate for SALA Architects in Minneapolis, that kind of energy efficiency is exactly what owners Mark and Kate Hanson were looking for. "They very much wanted to do something that would lessen their environmental footprint, and that they could show people and hopefully inspire others to do something green on their own," Sloot says. "Like many people, they equated energy efficiency with being green—because energy efficiency is a big part of our environmental footprint."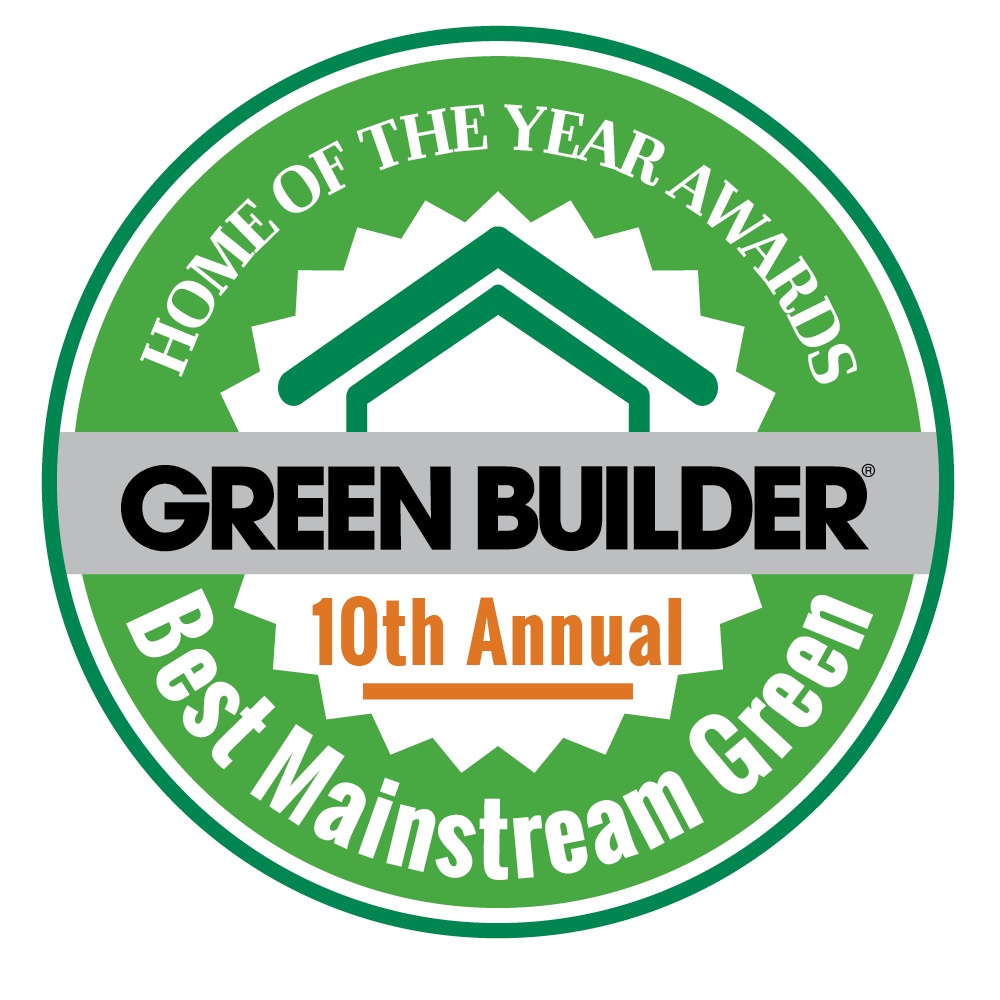 Project Stats


Name: Ohm Sweet Ohm
Architect/Designer:

SALA Architects


Builder:

Kerry Hage, Hage Homes


Photographer:

Corey Gaffer Photography
Sloot says he quickly introduced the Hansons to a concept beyond basic energy efficiency. "I suggested the broader notion of material efficiency and resources, environmental quality and water conservation," he says. "To their credit, they embraced that readily and quickly. They weren't aware of programs such as LEED or GreenStar, and when they did, they said, 'Yeah, let's do it right.'"
Properly Passive
"Doing it right" meant putting a number of passive and active principles into play. On the outside, carefully sized roof overhangs and a tuck-under lower level promote passive solar heating in the winter, and shading against overheating in the summer. Asymmetrical roof slopes enable the photovoltaic (PV) panels attached to the south-facing roofs to be at an optimal angle for Minnesota while lowering the ridge height, which maximizes the solar exposure of the garage-mounted PV panels.
Runoff collection is a huge part of Ohm Sweet Ohm's efficiency rating. More than 100 percent of storm water is absorbed on site into four rain gardens and by collecting additional storm water from the street via a cut curb, directing it to the property soil bed, where it can recharge the groundwater and aquifer. There are also four 50-gallon rain barrels installed to collect rainwater for incidental watering.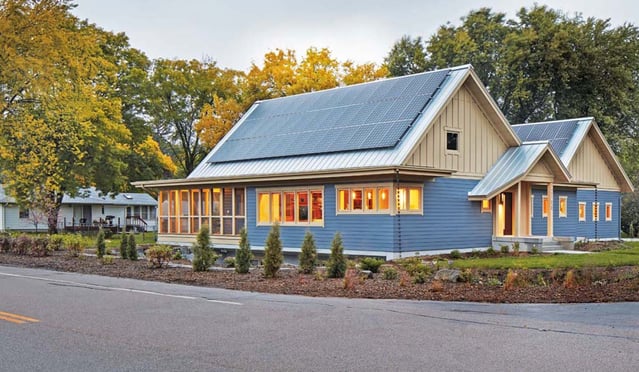 The storm water diversion offers another huge asset, according to Sloot.
"From an environmental standpoint, it's fabulous," Sloot says. "The reality of when it rains, especially if it's been a week or more since it's rained, is that a lot of debris collects in the drain line. When it rains, the first flush of water that comes down the street sends that debris directly into the storm drain. So we're helping keep the drains that much cleaner, because we're always taking that debris away."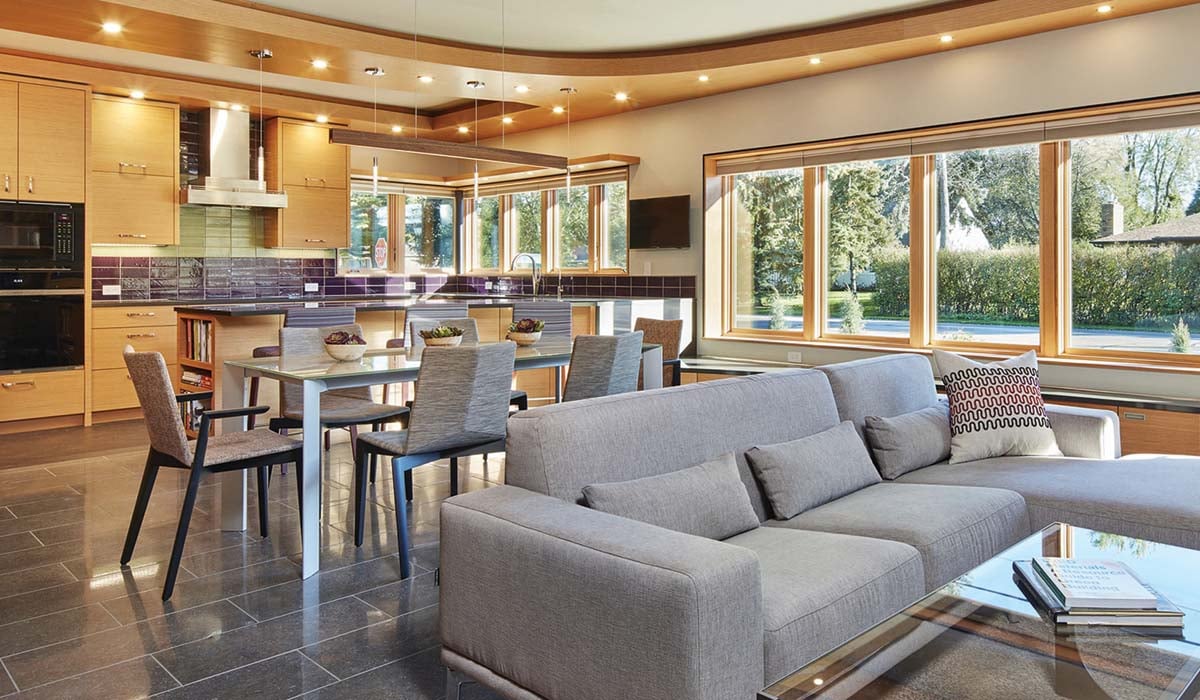 Potable water conservation is achieved through efficient plumbing design, water-efficient fixtures and drought-tolerant plants throughout the landscaping, which prevents the need for an irrigation system.
Inside, carefully placed Andersen A-Series triple-pane windows with a high Solar Heat Gain Coefficient (SHGC) boosted passive solar heating and passive cooling. All heating, cooling and hot water stems from a GeoComfort ground source heat pump system. Even the clothes dryer integrates heat pump technology.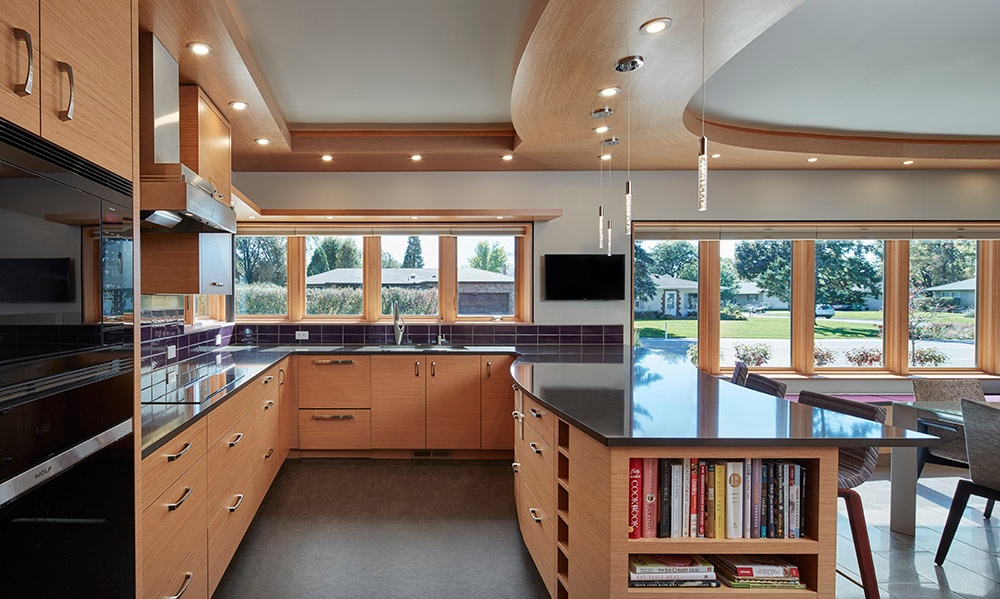 All of the finish materials and coatings—such as the CertainTeed AirRenew drywall, which absorbs formaldehyde from the air, and Sherwin-Williams low-VOC paint—are environmentally friendly and promote healthy indoor air quality. And, there is LED lighting throughout.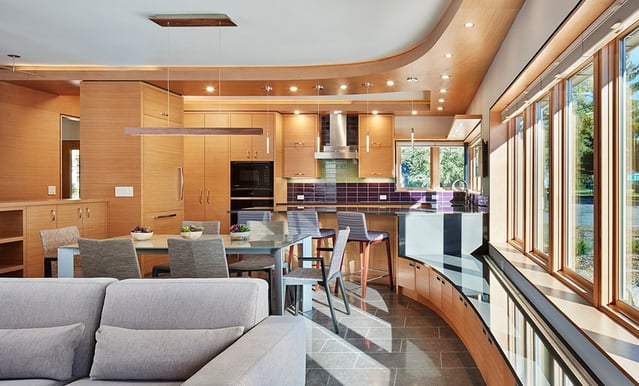 Storage space was emphasized throughout the home using built-in shelving and cabinetry. All are made of recycled wood sourced from the Midwest. All cabinetry and millwork also consist of No Added Urea Formaldehyde (NAUF) material.
Because of potential air leaks to the attic, there are no recessed lights in the ceiling. Instead, all recessed lights are in dropped soffits.
All of these elements helped Ohm Sweet Ohm achieve certification with LEED for Homes v4 (Platinum), GreenStar (Gold) and Minnesota Green Path (Master Level). The home is also designated GreenStar Zero Energy Capable.
Finishing Touches
The owners added their own environment-friendly elements by selecting furniture with sustainable attributes in the actual product, from local companies with green production policies. Fabrics were deemed durable, passing high rubs on a Wyzenbeek abrasion test, and most were made from post-consumer recycled polyester or plastic. Most window and door frames are made of FSC-certified wood.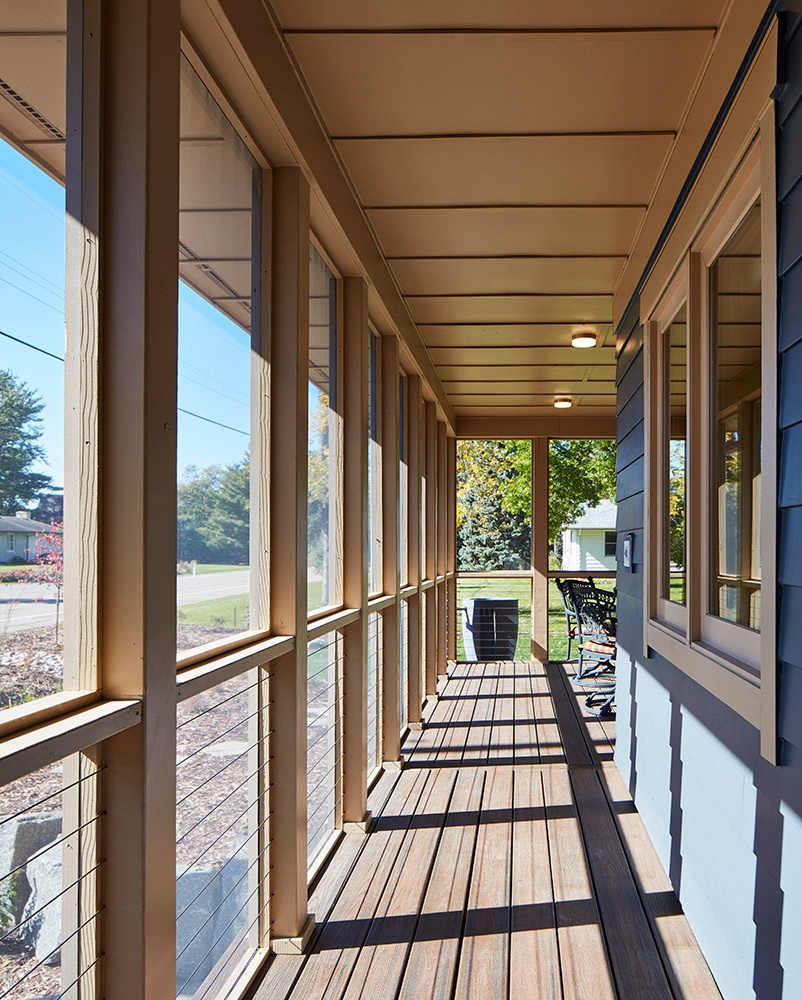 All of the power-packed upgrades didn't come cheap. The house cost about 10 percent more than a typical non-passive home of the same size, and the couple estimates that it will take a decade before that difference is recovered via energy savings. But that's all right with them.
"They wanted what would be their forever home, a place where they could stay and age gracefully," Sloot says. "With this, they more than have just that."
Key Components
Alternative building systems: See Building Envelope listing below
Appliances: Jenn-Air 30-inch induction cooktop; Vent-A-Hood exhaust hood; Subzero 36-inch refrigerator; Fischer & Paykel two-drawer dishwasher; Wolf Speed Cook oven; Wolf wall oven; Samsung clothes washer; Whirlpool ventless condensing clothes dryer with heat pump technology
Automotive (Electric car Charging, etc.): Tesla universal mobile electric car chargers (3)
Building Envelope Below-Grade Walls: 8-inch poured concrete with low-VOC fluid applied exterior water proofing; 2-inch mineral wool exterior insulation; waterproofing protection material; wood frame wall with closed cell spray foam; CertainTeed AirRenew drywall finished with low-VOC paint
Above-Grade walls: Double-stud wall with 2-by-4 framing space; CertainTeed MemBrain smart vapor retarder; CertainTeed AirRenew drywall; Tyvek Home Wrap with 3/8-inch Cor-A-Vent battan strips and James Hardie fiber cement lap siding and trim
Building Envelope, Ceiling: CertainTeed AirRenew drywall finished with low-VOC paint; 2-inch closed cell spray foam skim coat on attic floor covered by loose fill cellulose
Cabinets, shelves, millwork: Echo wood veneer, Weitzner Cumulus color and pattern
Countertops: Cambria quartz; Element Surfaces recycled glass
Decks: Trex composite decking
Doors and Hardware: ThermaTru Pulse
Electrical: LED lights throughout; eGauge electric circuit monitoring system; Tesla Power Wall wiring
Exterior Finishes: James Hardie fiber cement siding; James Hardie fiber cement trim; Durock cement board with Dryvit finish; Sherwin-Williams Duration low-VOC exterior paint
Flooring: Crossville Bluestone porcelain tile; Forbo Marmoleum tile
Garage Doors: Custom Door Sales insulated doors
HVAC/Ducts: GeoComfort ground source heat pump
Insulation: Dense pack cellulose (above-grade walls); Lapolla Foam Lok 2000-4G closed cell spray foam (below-grade walls and attic flash coat); Rigid Type 9 EPS (below slab); Roxul mineral wool with low GWP (exterior of foundation)
Landscaping: Drought-tolerant plants and low-mow fescue turf grass installed; rain gardens (4); terracing created with locally sourced granite boulders for passive solar access to lower level
Lighting: LED lighting
Paints and Stains: Sherwin-Williams Emerald Interior Matte, K36-350 Series, Greenguard, Gold Certified
Pavers: Local stepping stone path; local crushed granite path
Plumbing/Plumbing fixtures: Revere Sink; Brizo, Kohler; MTI Baths Universal; Neptune Nagano soaking tub
Renewable energy systems (Solar, Wind, Etc.): LG 310 watt photovoltaic panels (61)
Roof: Galvalume Standing Seam with Una-Clad finish
Specialty Products: Forbo Coral Grip MD walk-off mat
Ventilation: Broan energy recovery ventilator (ERV)
Water Filtration: Reo-Pure reverse osmosis system
Water heating: GeoComfort ground air source heat pump water heater
Windows, Skylights, Patio Doors: Andersen A-Series Triple Pane with Argon.


Apr 23, 2018 9:38:36 PM · 5 min read
---

Alan Naditz is managing editor of Green Builder Magazine. He has covered numerous industries in his extensive career, including residential and commercial construction, small and corporate business, real estate and sustainability.