When designing green homes for sustainability, water's heat storing potential is rarely realized, says this architect.

IF YOU WERE TO TOUR MORGAN HOUSE - one of the 220 single family homes located in the Village Homes development in Davis, California, you would never expect that walls of water keep the house warm in the evenings. In fact, you wouldn't even know there was a wall filled with water in the home. The beautifully designed home hides water-filled walls in the most surprising ways, keeping the passive solar design an unobtrusive visual influence as well.
David A. Bainbridge, is the Associate Professor of Sustainable Management at Alliant International University. He has written extensively on the subject of passive solar water relationships, including Passive Solar Architecture, which discusses the details and the expected return of designing passive solar. Bainbridge suggests that if a water wall is properly designed, it can either soak up cool air at night for daytime home cooling or hot air by day to warm at night. Placement of the wall means everything.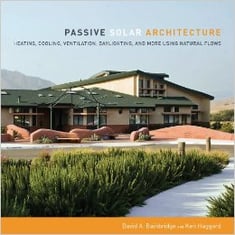 And how efficient is it? A study by Davis Alternative Technology Associates found that a standard home with a water wall performs extremely well in California. Heating costs for a home could be reduced by between 70% and 100%, depending on home insulation and weather tightness. The cooling abilities - particularly in warm climates - are even better, with most of the walls reduced cooling costs by 90%-100%. Even existing homes can be remodeled to use a passive solar water wall.
When designing—or remodeling for sustainability, the use of a passive solar wall makes great sense—not only financially during the initial install, but also by reducing the number of pollutants within the home and providing an attractive architectural feature.
---
This video by GreenhouseKits explains how the water heat sink works.
---