Zero Energy Rental Townhouses

Alan Naditz
4 min read
The Walk offers residents an all-electric, sun-powered lifestyle and wins a Green Builder Home of the Year Award for Sustainable Community.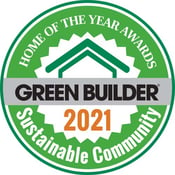 People who live in rental units don't have control over how green their residences are. So, developers of The Walk–Bainbridge, a 52-unit net zero townhome project in Bainbridge, Washington, took it upon themselves to make things as eco-friendly as possible.
The Walk is, to date, the largest privately developed multifamily rental community on Bainbridge Island to register for Zero Energy certification through the International Living Future Institute. Another major award, the APsystems Residential Project of the Year for 2019, went to its solar operations installer, Cascadia Solar.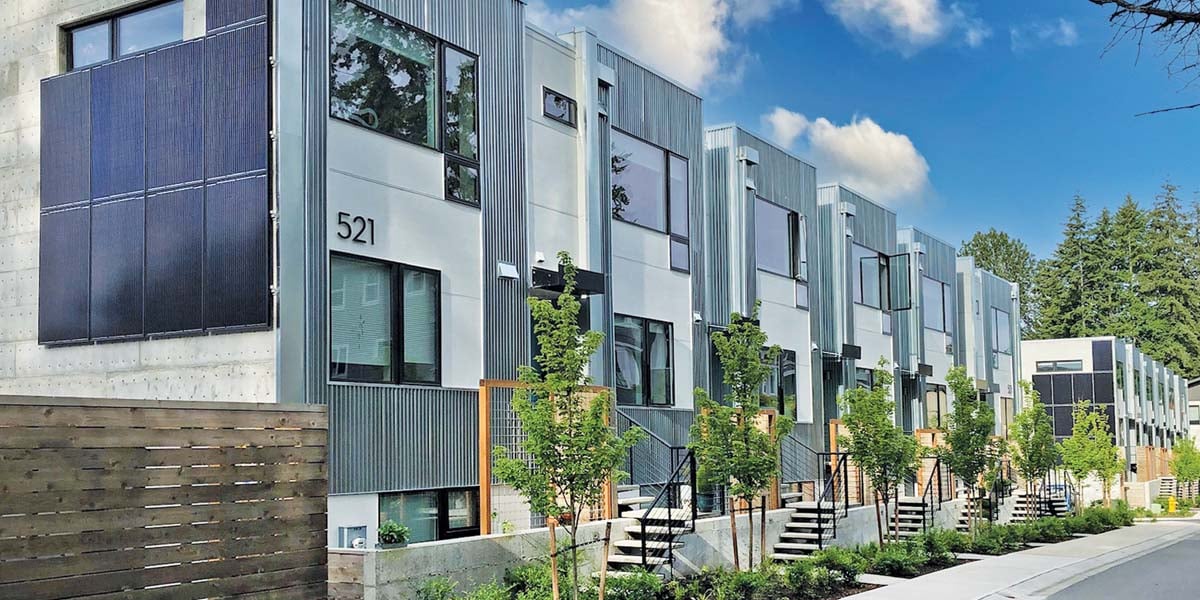 According to community officials, each home at The Walk is designed with enough solar capability to provide more renewable energy than it uses. Electricity bills are reduced significantly or almost entirely, depending on how much energy a resident uses.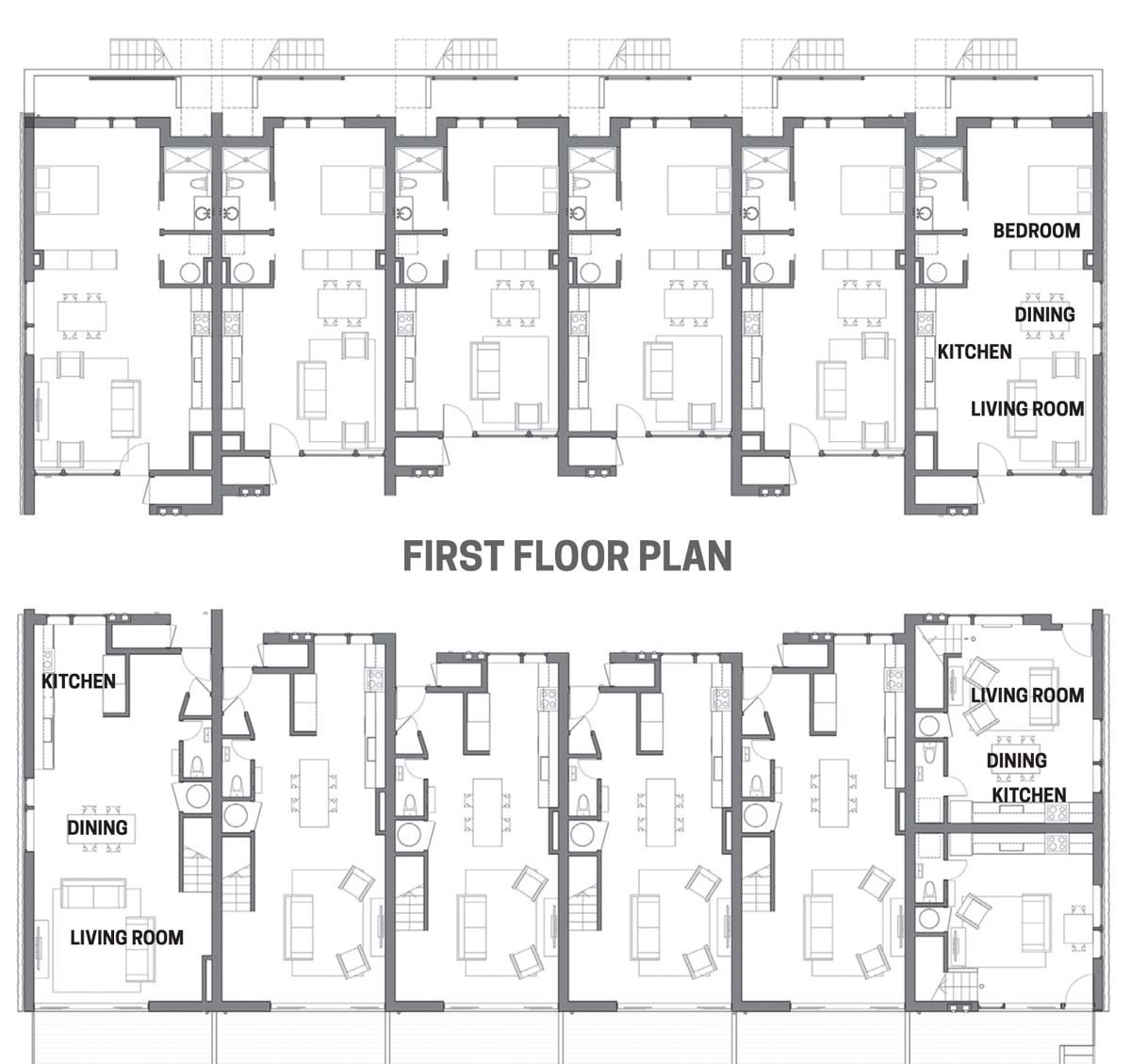 "If you like numbers, the total solar is 208,000 watts of panels, which will produce approximately one quarter million kilowatt hours of AC electricity annually," The Walk states on its website. "If you want a really big number, that is 250 million watts of energy produced. These numbers are equivalent to saving more than 2.5 tons of coal per home; and community wide, replacing more than 80 tons of coal per year."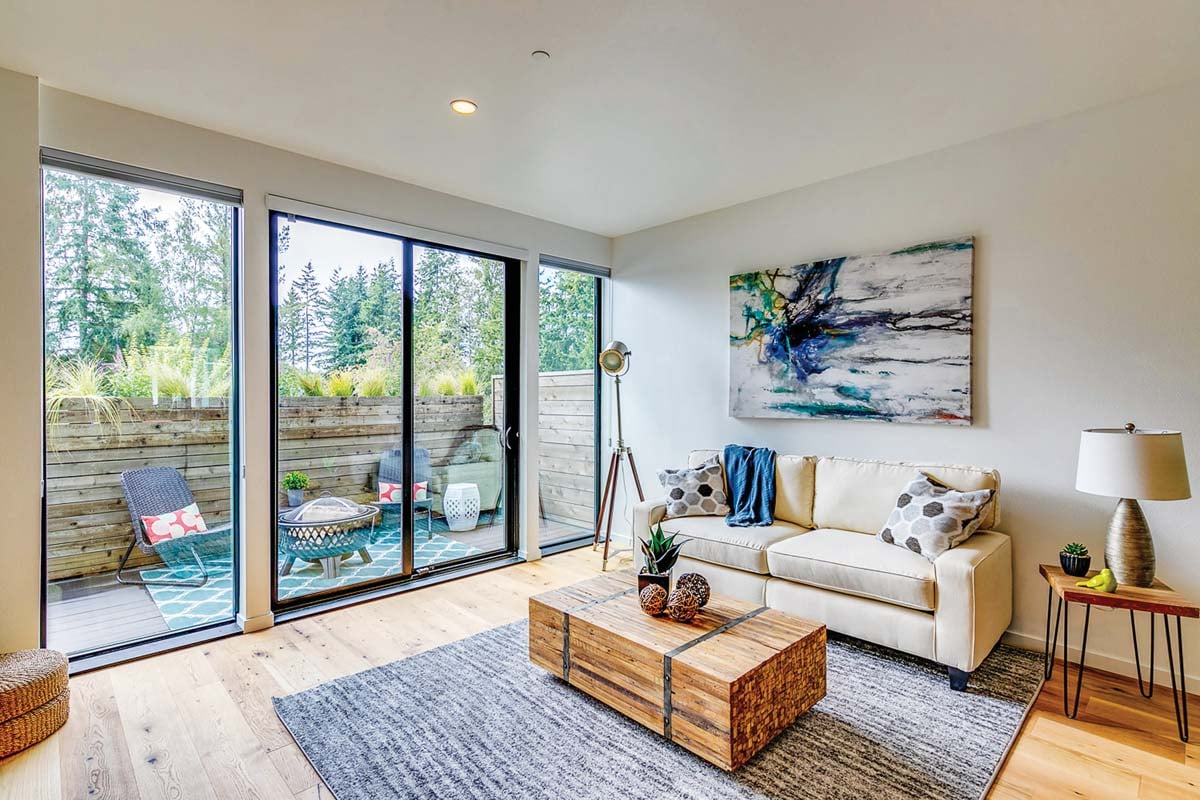 When it comes to lighting up the room, the sun's natural rays and long-lasting LEDs are easy on the eyes and good for the mind. CREDIT: Kelvin Hughes/Kelvin Hughes Productions
Cascadia discreetly installed a series of micro-inverters on roofs, awnings and vertical end walls to collect and help generate that amount of energy. Some of that power, about 20,000 watts from 72 solar panels, also goes to electric car chargers within the development. The chargers, which can each handle eight cars, are free for use by residents.
According to Aric Ohana, co-founder of Envoy Technologies, supplier of the chargers, the goal is to "encourage the use of electric cars, thus further reducing a resident's impact on the planet and eliminating unnecessary expenses." The company has also supplied an Envoy BMW i3 electric vehicle (EV) for use by residents who do not have their own transportation.
The Walk has other sustainable elements. Each townhouse, a product of Bainbridge Island-based Clark Construction, features a Nudura insulated concrete form (ICF) wall system for heavy insulation, reduced outside noise, minimal mold potential and better air quality. Meanwhile, the forms are made from recycled products and reduce the amount of waste generated during the building process.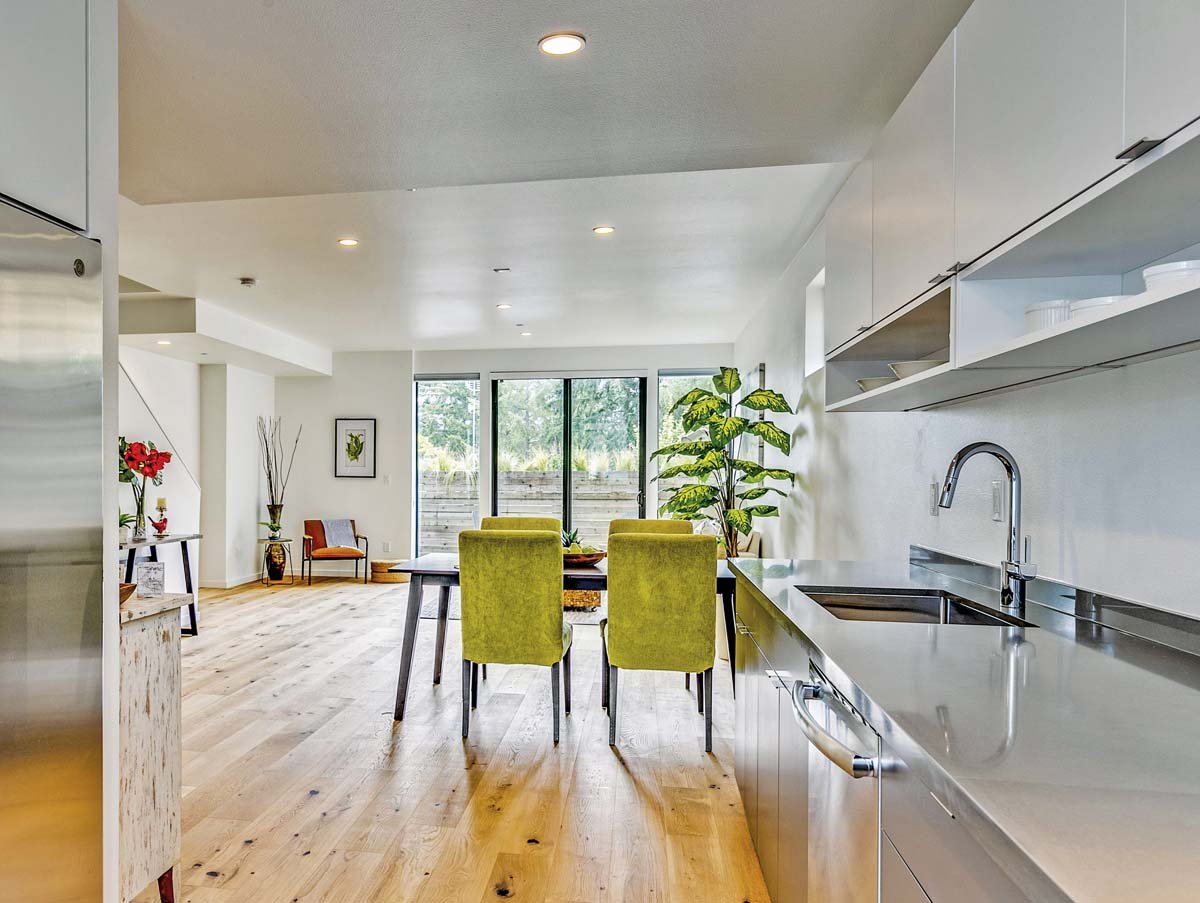 Townhouse flooring includes sustainably harvested wood designed to minimize storage of dust and help create a healthy indoor environment. Credit: Kelvin Hughes/Kelvin Hughes Productions
Flooring consists of sustainably harvested wood, thick wool carpet and marmoleum designed to create a healthy indoor environment. Kitchen countertops are made of long-lasting, easy-to-clean quartz, which will reduce resource consumption and waste.
Appliances throughout the home are Energy Star rated. Lights are LED, which are up to 80 percent more efficient than standard lighting, have a far longer lifespan and contain no toxic chemicals. In addition, according to the National Institute for Occupational Safety and Health (NIOSH), LEDs can help align a person's circadian rhythm, decrease stress and anxiety, and increase productivity and natural sleep patterns.
Ductless heat pumps in each home—in this case, courtesy of Mitsubishi—provide heavily filtered heat and air conditioning, for cleaner indoor air that's free of dust and pollen. Heat pumps also reduce energy use by up to 60 percent versus traditional electrical heating options.
And, there is also simple geography: The Walk is a mere 10 miles from downtown Seattle, meaning people will spend minimal time on the road—a step toward fighting air pollution and reducing fossil fuel use.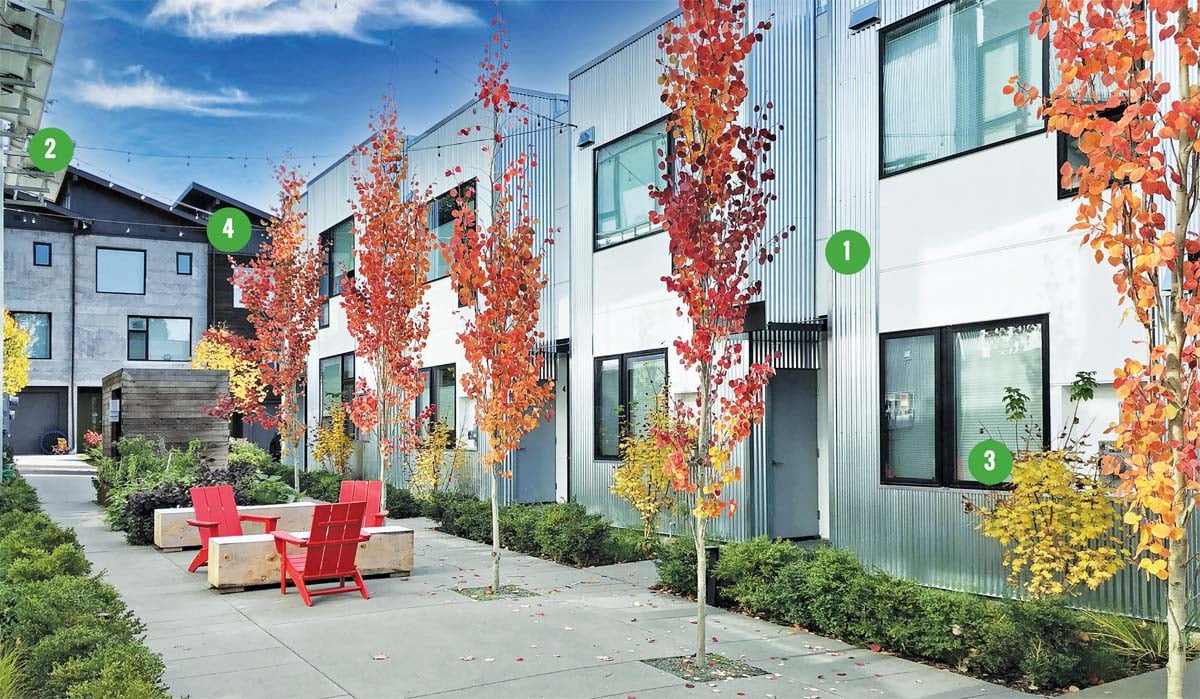 Outer armor. Galvanized steel siding offers exterior durability and eliminates a need to replace the outside every few years.
Sun servers. The 500-plus solar panels installed on roofs, awnings and outside walls generate more than enough energy to power The Walk community.
Strong enough. Pella's five-layer Impervia fiberglass windows can withstand extreme temperatures -- minus 40 degrees to 180 degrees Fahrenheit -- thanks largely to a coating that carries a top of the line 624 AAMA window standards rating.
In the light. Progress Lighting's exterior lighting, available as LED, is attractive and energy saving.
Project Stats
Name: The Walk–Bainbridge Island, Bainbridge Island, Wash.
Builder: Clark Construction
Architect/Designer: Jonathan Davis, davis studio Architecture + Design
Developer: Kelly Samson, Paditu
Landscape Architect: Jeff Buoma, Fischer Bouma Partnership
Photographer: Jonathan Davis, davis studio AD; Kelvin Hughes, Kelvin Hughes Productions
Key Components
Alternative Building Systems: Nudura ICF Series; Nudura One Series on end walls
Appliances: GE, Haler
Automotive (electric car charging, etc.): ClipperCreek electric car charger
Building Envelope: Nudura ICF (structure); mill-finished G90 galvanized corrugated steel (metal); painted James Hardie HardiePanel (cement panel); Pro Clima Mento Plus (air barrier); Pro Clima Tescon Vana (air seal tape)
Cabinets, Shelves, Millwork: Custom painted
Caulks & Sealants: Pro Clima Visconn (Liquid Flash), Pro Clima Contega (Caulk)
Countertops: Premium Natural Quartz
Decks: CaliBamboo BamDeck 4G
Doors and Hardware: Kwikset Milan Round (hardware)
Exterior Finishes: HardiePanel; corrugated, galvanized steel; concrete; cedar, stained deck walls
Fire Protection: Sprinklers throughout
Flooring: Sealed concrete; Tesoro Woods (Pacific Collection – 7 inch-wide plank) and white oak natural with Matte Osmo oil finish wood flooring; Godfrey Hirst and Gibraltar Collection (Cliff) wool carpet; Forbo marmoleum (Concrete Collection - Black Hole) sheet goods
Home Controls: Fiber optic cable; wireless access point in each unit; smart locks (Schlage Sense Smart)
HVAC/Ducts: Mitsubishi heat pumps
Landscaping: Furniture and chairs (Polywood - Modern Adirondack Chair); Douglas fir bench (David Kotz Woodworks); WAC Lighting (Ledge LED Path Light)
Lighting: Progress Lighting exterior lights (five-inch cylinder)
Paints and Stains: Sherwin Williams
(no VOC)
Plumbing/Plumbing Fixtures: Moen (faucets); Kohler, Zuhne and White Haus (sinks); Aquatic (tub); Gerber (toilet)
Renewable Energy Systems (solar, wind, etc.): Photovoltaics (Silfab 300-watt solar modules); microinverters (APSystems)
Roof: TPO
Ventilation: Code
Water Heating: Electric
Windows, Skylights, Patio Doors: Pella Impervia windows and sliding doors
May 13, 2021 10:36:03 AM · 4 min read
---

Alan Naditz is managing editor of Green Builder Magazine. He has covered numerous industries in his extensive career, including residential and commercial construction, small and corporate business, real estate and sustainability.