Transforming our Future: The Climate Economy Boom

Sara Gutterman
3 min read
Big tech behemoths Microsoft, Apple, Amazon, Meta, and others may be laying off employees in droves while companies in the Climate Economy can't grow fast enough.
The Climate Economy is flourishing due to an unprecedented influx of private investment and public funding, and climate-friendly companies are quickly becoming a dominant driver of economic growth.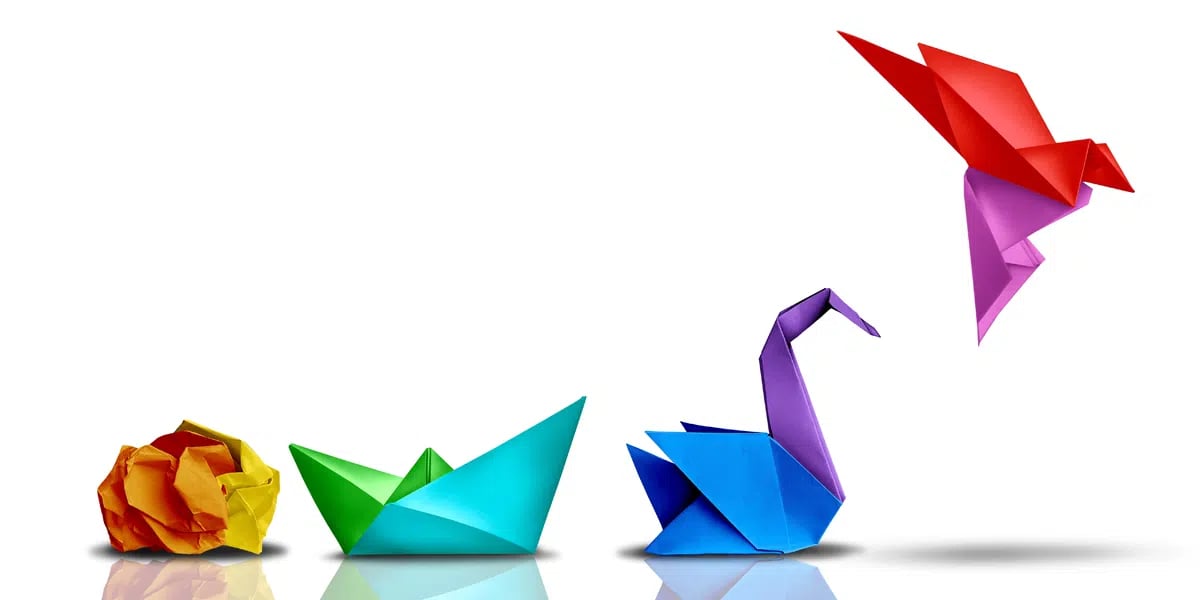 In 2021, a record $850 billion was invested in companies developing climate change solutions, roughly equivalent to all global fossil fuel investments during the same timeframe.
In 2022, we hit a profound inflection point: climate investments actually exceeded fossil fuel investments.
This momentum is expected to continue into 2023 and beyond, spurred by:
An $800 billion infusion from the Inflation Reduction Act, expected to fast-track the transition to an all-electric, efficient, resilient, connected, clean energy powered built environment, transportation system, and grid infrastructure

Meteoric venture capital investments, which reached 2.5x pre-pandemic levels in 2021 and continue to skyrocket year over year, funneled into companies with renewable energy, nature tech, water processing, regenerative agriculture, and carbon sequestering solutions

State-based actions, like California's $54 billion stimulus package for climate solutions (expected to create 4 million new jobs and drop emissions by 60% by 2030)

Carbon taxes that will generate revenue from polluters and channel those funds into innovative climate technologies

Green bonds, which now represent more than $1.8 trillion in issuances, expected to exceed $5 trillion by 2025

Climate-focused Sovereign Wealth Funds (SWFs) like the One Planet Sovereign Wealth Funds network launched by President Macron, which now includes over 45 of the world's largest institutional investors and $3 trillion in assets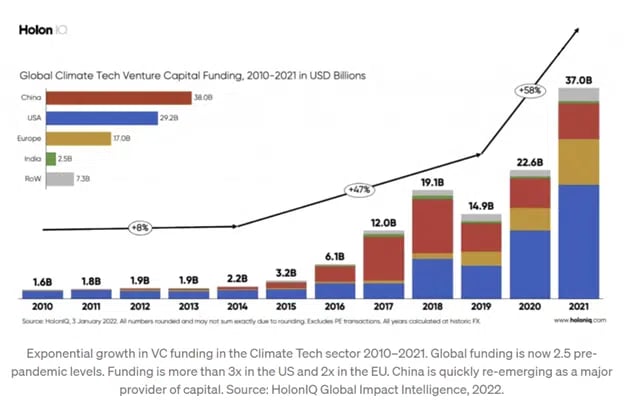 Looking ahead, extraordinary opportunities exist to decarbonize even the most elusive nooks and crannies of the global economy, including highly intensive sectors like cement, steel, paper, chemicals, coal, oil, and gas, with alternative sustainable solutions like carbon sequestering concrete, recycled steel, and green hydrogen.
Talent Transition
As a mind-blowing amount of capital is invested into climate-friendly companies, an influx of talent is flooding the sector as well: Over the past few years, there has been a mass exodus of employees from the fossil fuel industry into the ClimateTech space.
Executives, engineers, software developers, data analysts, technicians, and field workers alike are leaving their positions at fossil fuel companies in favor of cleaner, greener opportunities at companies that offer less toxic products and cultures.
Beyond this group of established professionals, younger individuals entering the workforce are looking for greener pastures as well. In the face of divisive politics, existential environmental threats, global pandemics, and social justice challenges, these younger generations are calling out a broken status quo, demanding an urgent reckoning, bold leadership, and a radically better future.
According to Green Builder Media's COGNITION Smart Data, 82% of Gen Zs and 75% of Millennials say that a company's Environmental, Social, and Governance (ESG) policies are extremely important or very important when making purchasing decisions.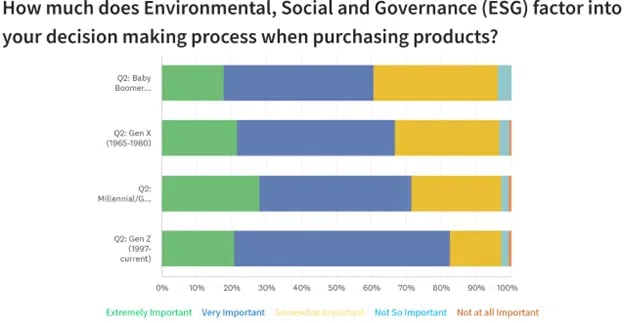 COGNITION data also shows that 87% of Millennials are worried about climate change, 93% believe that companies should take a stand on environmental issues, and 78% prefer purchasing products from sustainable brands.
82% of Gen Zs say that the more socially and environmentally responsible a company is, the more loyal they become as an employee and customer. No doubt, these younger values-based, and mission-driven individuals are driving a transition from a corporate model that extracts value by exploiting people and natural resources to one that creates value by enriching the lives and livelihoods of employees, customers, communities, and the environment.
Lead or be Left Behind
Companies that successfully navigate the transition to the Climate Economy will adeptly embrace the context and contradictions inherent in today's society, understanding the gap between brand promises and real-life experiences.
They'll respond to the aspirations, anxieties, and dynamic tensions that consumers feel with solutions that meet our moment.
They'll be transparent and honest about the role they play in our urgent social and environmental challenges. They'll actively create value by improving the well-being of stakeholders and the environment, and they'll use their human and financial resources to uplift, support, and collaborate with causes, ecosystems, and communities.
Want to learn more about what younger generations are looking for in housing and companies? Check out our recent webinar on Generational Marketing.
Jan 26, 2023 2:14:54 PM · 3 min read
---

As cofounder and CEO of Green Builder Media, Sara is a visionary thought leader and passionate advocate for sustainability. A former venture capitalist, she has participated in the life cycle (from funding to exit) of over 20 companies, with an emphasis on combining sustainability and profitability. She lives in Lake City, Colo., with her husband, where she is an avid long-distance runner, snowboarder, and Crossfit trainer. She is also on the Board of Directors at Dvele, runs the Rural Segment for Energize Colorado, and is a former County Commissioner.