The Six Sensors Every Home Should Have

Michele Lerner, Associate Editor
5 min read
We all know about the importance of paying attention to all five senses, but for your safety and your health you should have six essential sensors in your home, too.
Whether you're renting your home or own it, hopefully, you're taking basic precautions such as locking your doors and windows to protect yourself and your home. You probably do your best not to set your house on fire when you're cooking or to let your bathtub overflow and wreck your neighbor's ceiling in the unit below you.
What you may not know about is the availability of devices that can take your safety measures to the next level. Many of those devices are cheap and easy to use.
"Smoke, fire, and carbon monoxide detectors are absolute must-haves in any home," says Bailey Carson, a home care expert at Angi . "They're relatively inexpensive and can save lives if installed properly and tested regularly. Regardless of your budget, these are worth the investment to keep your family and your home safe."
While the specifics vary from one state to another, most jurisdictions require a smoke detector and a carbon monoxide detector in residences.
"Other important sensors or detectors that will help keep your home safe include gas and water leak detectors and security systems," says Carson. "Leak detectors often include auto-shutoff sensors to prevent major damage like a fire or flood that can be extremely destructive and expensive."
While your budget will dictate how much you want to spend on home sensors that go beyond the basic level, keep in mind that adding security systems, leak detectors and other sensors to your home can also lower your homeowner's insurance premiums. Carson estimates that some of these devices can lower your premiums by as much as 20 percent depending on the insurance company.
Six Sensors Every Home Needs
You'll want to balance your risks and your budget to decide how many of these sensors to install and how basic or sophisticated your monitors should be:
Smoke detector. Carson says a smoke detector should be replaced at least every ten years and, of course, sooner if you test them and they aren't working properly. Smoke alarms can cost as little as $10 for a basic model, making them an inexpensive way to keep your family safe. If you opt for a wireless alarm or a hardwired alarm with a built-in carbon monoxide detector, they can cost between $35 and $50 per unit. If you prefer to hire a pro for peace of mind, it will likely cost around $35 to $40 per unit plus a $50 service charge for the installation.


Carbon monoxide detector. Carbon monoxide is known as the "silent killer" because it's not visible and has no smell or taste, Carson says. Carbon monoxide detectors cost around $15 or you can get a dual detector for smoke and carbon monoxide for between $35 and $50 per unit. "To ensure your CO detector will sound an alarm when carbon monoxide levels are elevated, get one that is UL certified with the UL mark and the phrase 'single station carbon monoxide alarm'," says Carson.


Security system. Security systems come in a wide range of prices and levels of sophistication. Security camera installation can cost from $700 to $2,100 depending on whether it's wireless or wired, the number and type of cameras you need, the size of your home and whether you want a monitored or unmonitored system, Carson says. The average installation cost for a security camera system is around $1,350.
Security systems can also include alarms, motion-detecting lights, or timers for your lights, Carson says. Security system hardware costs an average of $600 but can range from $60 to $2,000 depending on what you choose. It's important to note that this does not include the installation, which can add between $120 and $600 in cost, depending on the complexity of the system, the number of sensors you need, and the size of your home.
Motion detection lights come in a variety of styles including decorative, flood, and security lights. Most range in cost from $50 to $200, depending on the sensor level, type and brightness of light, and installation requirements. Smart lighting including timers for your lights will likely range from $15 to $90.
A monitored security system will come with a monthly fee, usually ranging from $40 to $65 per month, Carson estimates, as well as an activation fee of up to $200, depending on the company. In addition to monitoring for criminal activity, these can also alert you whenever there are changes in temperature, basement flooding, carbon monoxide, and smoke detection–including alerting the fire department–power outages or natural gas leaks, says Carson.
Gas leak monitor. Gas leak detectors are easy to order and simple to install. Depending on the features, prices can range from about $25 to around $250, Carson estimates. Obviously, these are only necessary for homes that have gas cooking, heat, or a gas water heater.


Indoor air quality monitor. A relatively new option for home sensors is an indoor air quality monitor. For example, Panasonic's Cosmos indoor air quality system monitors your air for unhealthy toxins, carbon dioxide, fine particulate matter, and humidity. If unhealthy air is detected, the system automatically activates a ventilation system and then turns it off when the air returns to healthy levels.


Smart water leak detector. Smart leak detectors are high-tech plumbing devices you can get to prevent water damage or flooding in your home, explains Carson. These sensors will notice when there is a leak and shut off the water automatically to avoid damage. Leak detectors can cost between $50 and $100 and help save your home from serious water damage.
How Smart Do Your Sensors Need to Be?
While it's not necessary, connecting your sensors through a smart home system has some advantages.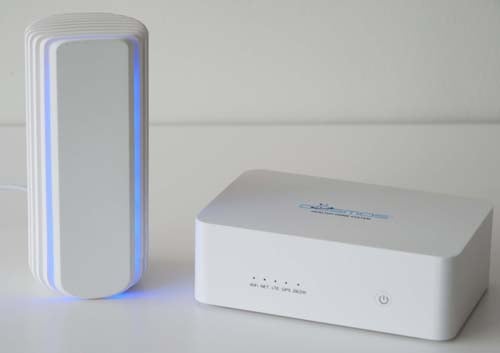 "Sensors can be managed and monitored remotely with a smart home system, making sure everything is working even if you're out of town," says Carson. "Another advantage is that some smart sensors will let you know if the device itself is faulty, signaling when it's time to repair or replace it to ensure it does its job in keeping you safe."
Even though it can be more expensive to use smart home options, it may be worth it for the convenience, improved maintenance, and management of the sensors and especially for what they'll save you in the case of an emergency by ensuring everything works as it should, Carson says.
Maintaining Your Sensors
Each sensor will come with its own recommended maintenance routines, so be sure to read through the instructions and regularly test them to make sure there aren't any issues, suggests Carson. If you get a smart system, make sure everything is set up to alert you if batteries run low or the system detects an issue in any of the sensors. You may want to set reminders on your phone or calendar so you can be sure to keep them working properly.
Regardless of your budget, these sensors can all be really smart investments to help you protect your home and your family, Carson says.
---
Publisher's Note: This content is made possible by our Today's Home Buyer Campaign Sponsors: Panasonic, Whirlpool, Rockwool, and Lee Industries. These companies take sustainability seriously, in both their products and their operations. Learn more about building and buying homes that are more affordable and less resource-intensive on Today's Home Buyer.
Sep 20, 2021 3:52:57 PM · 5 min read
---

Michele Lerner is an award-winning freelance writer, editor, and author who writes about real estate, personal finance, and business.