The Great Millennial Migration
Millennials are on the move—out of state, into their first homes, and taking advantage of remote work. More than half of remote workers are millennials, and they're also nearly 50 percent of all home buyers.
Part 3 of a 3-Part Special Report
For Kristen Fulmer, a sustainability team leader for the Oak View Group, which owns and operates sports and entertainment venues, working from home in the early days of the pandemic—beside her husband and their cat in a one-bedroom apartment in Harlem, New York City—was nearly impossible.
"My husband didn't have explicit permission to move, so at first we kept our apartment while we stayed in an Airbnb in Portland, Maine," says Fulmer. "We soon realized our New York apartment wasn't worth the rent, so we sold everything, moved in with family for a bit to save money, and then bought a house sight unseen in Portland."
The couple paid well over asking the price for its small single-family home and won out over nearly two dozen other offers.
"This is not the ideal house, and it's not in the ideal neighborhood, but we think it's a good investment at our price point," says Fulmer. "The main issue is that it has horrendously expensive oil heat, so we're installing high-efficiency heat pumps and air conditioning. Sadly, houses in Maine now need air conditioning because of climate change."
Fulmer and her husband are just one example of millennial migration patterns. Millennials and members of the Gen Z generation are not only moving out of state in greater percentages than current baby boomers and Gen Xers, they're also moving more often than those generations did when they were in their 20s and 30s, according to research by TransUnion credit reporting agency.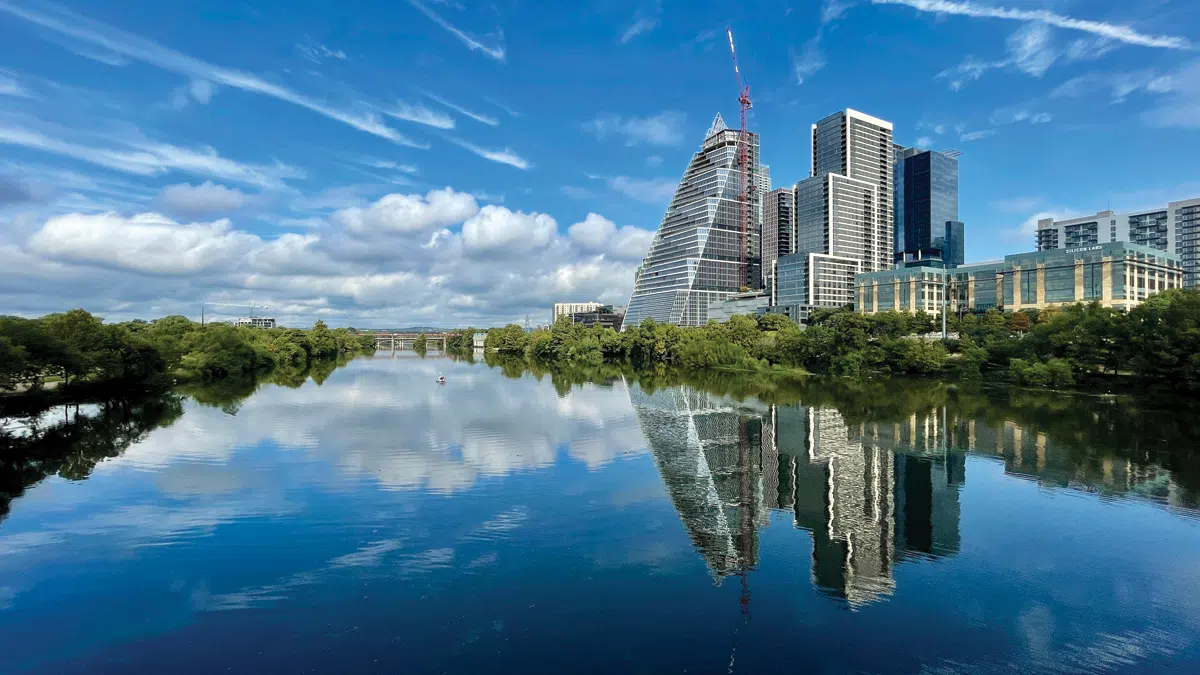 In terms of population percentage, more millennials live in Austin, Texas, than anywhere else in the U.S. Nearly 1 in 6 residents were born during the last two decades of the 20th century, with most coming from places that were more expensive, culturally restrictive, or less "exciting." Credit: sbmeaper1/Flickr
Where Millennials Are Moving
While plenty of millennials are exploring new locations all over the country in small towns and major cities, a recent study by Commercial Café, a commercial real estate listing service and division of Yardi, a real estate software provider, found that the percentage of millennials is largest in Austin, Texas; Seattle; Denver; and Salt Lake City. In those locales, millennials represent from 16.4 percent to 17.4 percent of the population.
The millennial population grew the fastest between 2016 and 2020 in Seattle, Austin, Denver, Nashville, Tennessee, Raleigh, North Carolina, Columbus, Ohio, San Jose, San Francisco, Boston and Salt Lake City, according to the study.
Where the Millennials Are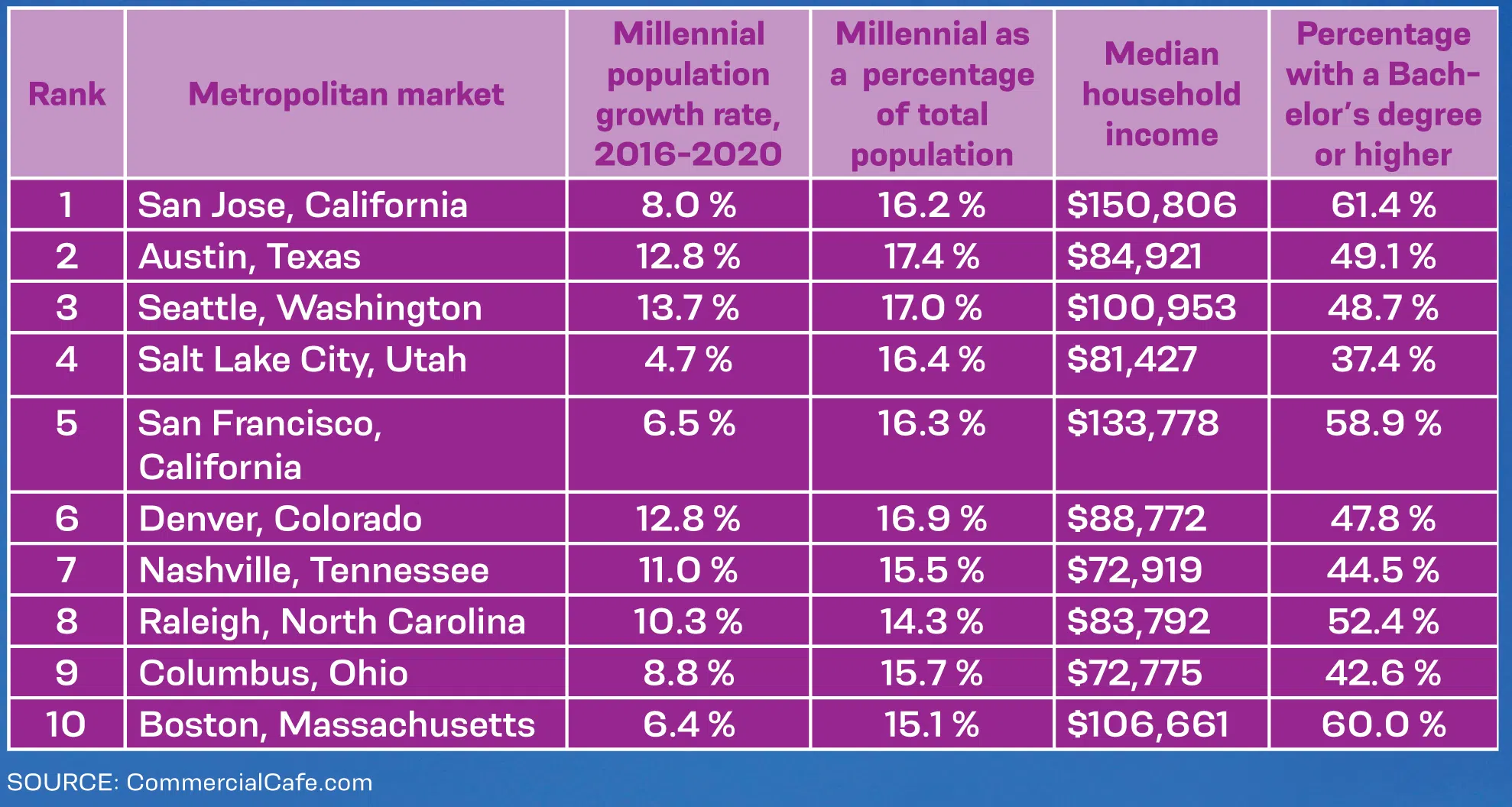 As the new generation of decision-makers starts to take hold, they're looking for somewhere to make their home base. The 72 million members of the millennial generation can be found primarily in the suburbs of the nation's largest cities.
But according to CommercialCafe.com, there are 10 metropolitan markets favored by millennials now and in the near future, based on factors such as population growth rate, household income, and education level:
Millennial Priorities
When it comes to choosing where to live, millennials' top priorities include a healthy home, proximity to open space and trails, affordability, a high-quality and safe neighborhood, quality schools, resiliency to climate change impacts, and proximity to activities, according to COGNITION Smart Data from Green Builder Media.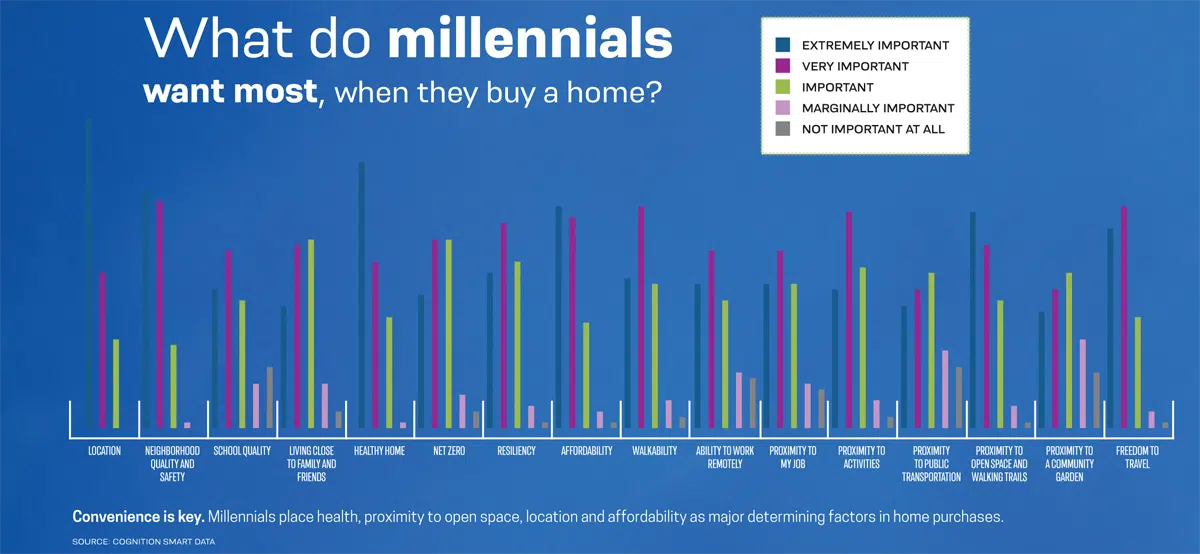 When Max Rohr, education and industry engagement manager at Caleffi Hydronic Solutions, suddenly had the opportunity to work from anywhere, he and his wife opted to leave the expensive Washington, D.C., area for Salt Lake City.
"We sacrificed the museums and cultural life of D.C. to get more access to open space, and to be able to buy a less-expensive house that's also newer and nicer than what we could afford in the Northern Virginia suburbs," says Rohr. "Salt Lake City offers enough of a city that there are events, museums, restaurants, and parks to enjoy, so it's not exactly off the grid, either."
Rohr and his wife bought a three-story townhouse built in 2018, a property which would have been out of their price range in the D.C. area. They both work remotely and now have a child. Rohr says day care costs would have been extremely expensive in D.C., which was recently identified as having the highest childcare costs in the country.
According to a recent Realtor.com survey, the top four reasons millennials plan to buy a home this year include the need for more space; wanting to build equity; an expanding household with a partner, kids or parents; and the desire for outdoor space.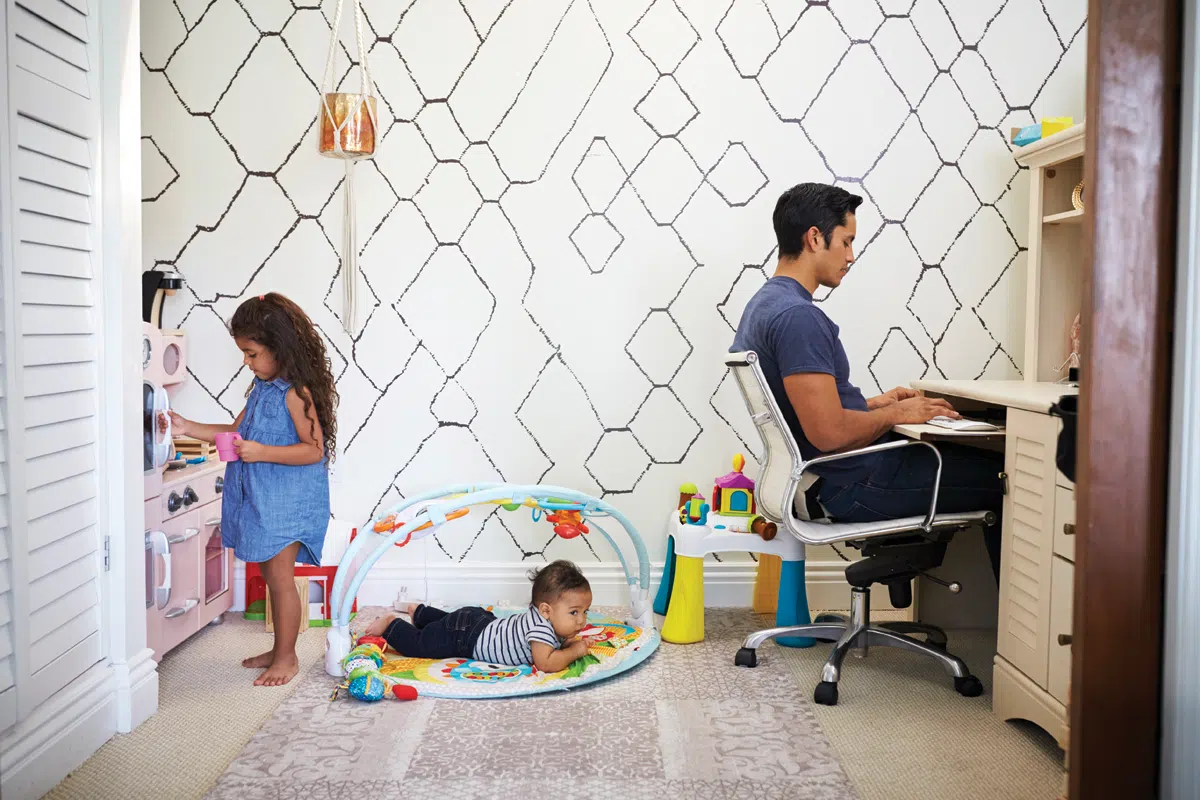 The top reasons that millennials plan to buy a home include the need for more space for partners, kids, or parents.
Among millennials, 40 percent plan to move within their current city or town and 22 percent plan to move to a nearby town, while 20 percent plan to move to a city or town in a different part of their state or to another state. Among those moving away, the top reason is for a lower cost of housing.
For Climate First Bank Marketing Director Holly Bridwell and her partner, moving from Mississippi to Orlando, Fla., was an opportunity to escape a place that didn't match her lifestyle or her political values.
"My partner and I compromised on the location of the single-family home we bought because I wanted to be in downtown Orlando and she wanted to be farther out," says Bridwell. "But we both agreed we wanted an opportunity to renovate and add value to the house."
Bridwell and her partner plan to do most of the renovations throughout the 2,000-square-foot house, including replacing the carpet with new floors, opening the floor plan, redoing the primary suite, and eventually upgrading the kitchen.
"The roof is just three years old, so we can add solar without replacing it," Bridwell says.
Are Millennials Changing Their Community or Adapting To It?
Whether they're moving to a city popular with millennials such as Orlando, a smaller town like Portland, Maine, or to a mid-size city like Salt Lake, younger homebuyers are changing the demographics in each place. But are they changing the priorities of those communities?
"Orlando is progressive compared to Florida overall and it's becoming one of the most sustainable cities, too," says Bridwell. "The people we know here are all working towards the same things. It can be an uphill battle politically, but it's easier than trying to make a difference in Mississippi."
About half the people Bridwell meets are not originally from Orlando. This makes the city a place that's open to change, she notes.
Fulmer says more people have moved to Portland (Maine) from out of town over the past five years. "The locals say, 'You're from away' if you didn't grow up here," says Fulmer. "Definitely they resent it that the out-of-towners have driven up prices here, especially people from New York."
That's problematic. For example, the town has more breweries and restaurants downtown now that more millennials live there. But locals avoid the downtown area, especially during tourist season.
"Climate change has already made Portland less cold in the winter and warmer in the summer," says Fulmer. "The water temperature in the bay has changed dramatically, too. The locals are very aware of climate change because of this, which is something they have in common with most of the younger new people moving here."
In Salt Lake City, Rohr says the neighbors are a mix of people who grew up in the area, people who went to college in the city and remained, and others who've migrated to the area from out of state.
"Utah has a very White demographic, but Salt Lake City is surprisingly multicultural," Rohr says. "Especially downtown, near the University of Utah, where you get people from all over the world and have diverse kinds of restaurants."
Rohr's neighborhood is primarily filled with young families with parents who work remotely and enjoy hiking and biking.
"But Utah has a lot of work to do on sustainability," Rohr says. "Utah hasn't been built around using its resources wisely, especially water. But that's starting to change a little with things like local incentives for xeriscaping."
Rohr isn't sure if that has anything to do with the popularity of Salt Lake City among millennials. But, given the focus on sustainability among that age cohort, it can't hurt.
HOAs: Should You Buy In?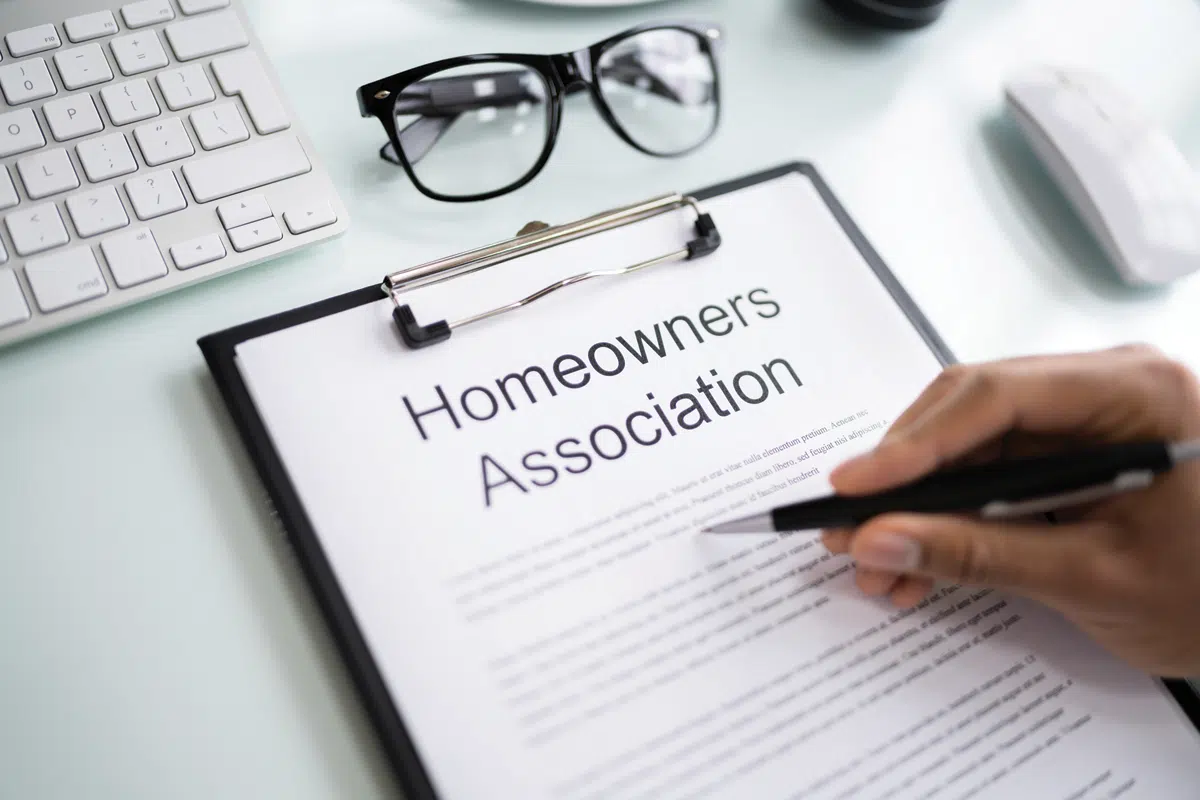 Whether they love them or hate them, more than 74 million people live in a community with a homeowner's association (HOA). While some people resent HOA restrictions on their property rights, others appreciate the group's advocacy role against absentee landlords and annoying neighbors. For homebuyers, it's important to review HOA rules to see if they can live with them and evaluate what they get for their association fees.
Pros of HOAs:
Shared amenities such as a pool or sports courts.

Shared expenses for trash pick up, snow removal, and road maintenance.

Guidelines for aesthetics that may increase home values.

The association can function as a mediator between neighbors

An HOA can set rules to benefit the community, such as minimizing investor owners.
Cons of HOAs:
Dues can be costly and will always go up.

Special assessments can be levied for big projects.

Overly restrictive rules can impact a home business or homeowner preferences.

Board leaders can overrule homeowner rights to make changes to their property, park their vehicles, and operate a home business.

HOAs can ignore the rights and interests of renters in the community.
How Much Risk Is Too Much?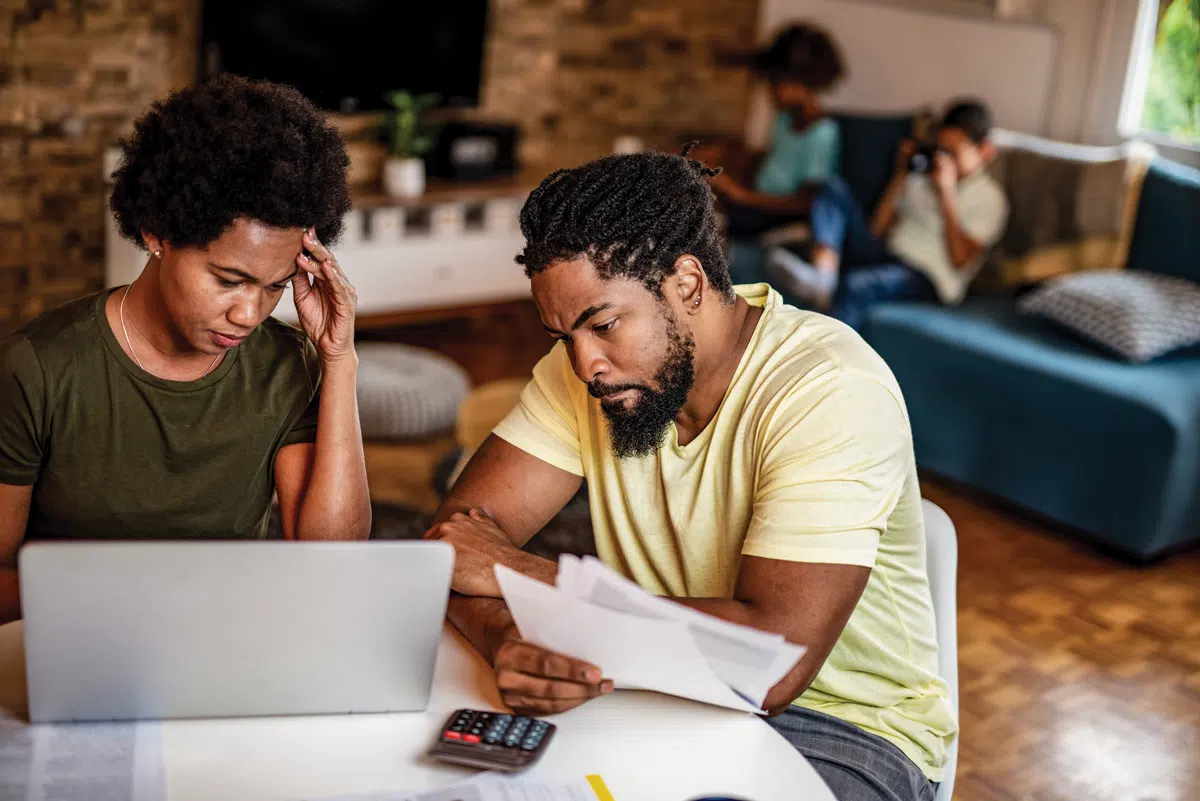 Double-digit home price increases and rising mortgage rates are tilting monthly housing costs to dangerously high levels for some buyers. Here are some ways to avoid making a big financial mistake:
Make a budget. Most lenders want to see a borrower's total debt-to-income ratio (the minimum payment on all recurring debt, such as credit cards, compared to the monthly gross income) below 40 percent, says Brian Leslie, director of financial planning for Edelman Financial Engine in Omaha, Nebraska. The housing portion (mortgage principal and interest, property taxes, and insurance) typically must be below 30 percent
"If your housing expense is so large that it's keeping you from saving at least 10 percent of your gross income for retirement, then it's probably too much," Leslie says. He suggests budgeting based on a 15-year loan and then taking out a 30-year mortgage for extra flexibility.
Avoid ARMs. A 30-year, fixed-rate mortgage is generally the best choice because it's easier to budget when you know your principal and interest payment for the next 30 years, Leslie says. "An adjustable-rate mortgage (ARM) is an option that can be useful if you're not planning on being there for more than seven years," he says. "But if you're not planning on being there for very long, you need to consider whether buying is the best option in the first place."
Be ready for more bills. Failing to realize the total costs of ownership is one of the biggest financial mistakes people make, Leslie says. Ongoing expenses such as homeowner's insurance, maintenance, HOA fees, parking, and upkeep eat into a buyer's monthly budget, and they are rising.
For example, the average annual homeowner's insurance bill for a $300,000 house is $2,305, according to Insurance.com, but rates are higher in states such as Oklahoma, Kansas, Florida, Texas, Arkansas, and Mississippi, and depend on multiple factors.
Weigh the utility burden. Many people are surprised at the cost of utilities. For example, it costs a lot more to heat a three-bedroom home than a two-bedroom apartment, says Leslie. A prospective buyer should determine in advance whether a house has a modern heating, ventilation and air conditioning (HVAC) system, or an old furnace that burns through a small fortune in fossil fuels every winter.
Don't rely on the bank of "Mom and Dad." Leslie recommends against parents providing the entire down payment for their kids. "If the child is unable to save for a down payment on their own, the parent may only be masking the real problem," he says. Instead, Leslie suggests that parents match their adult kids' savings to provide them with a boost, yet teach them to budget and save.
---
Publisher's Note: This content is made possible by our Today's Homeowner Campaign Sponsors: Whirlpool, Vivint, myQ, Sonos and Jinko Solar . These companies take sustainability seriously, in both their products and their operations. Learn more about building and buying homes that are more affordable and less resource intensive.