The Art of Repurposing Porcelain Material

Alan Naditz
3 min read
For this porcelain tile maker, what's old really does become new again.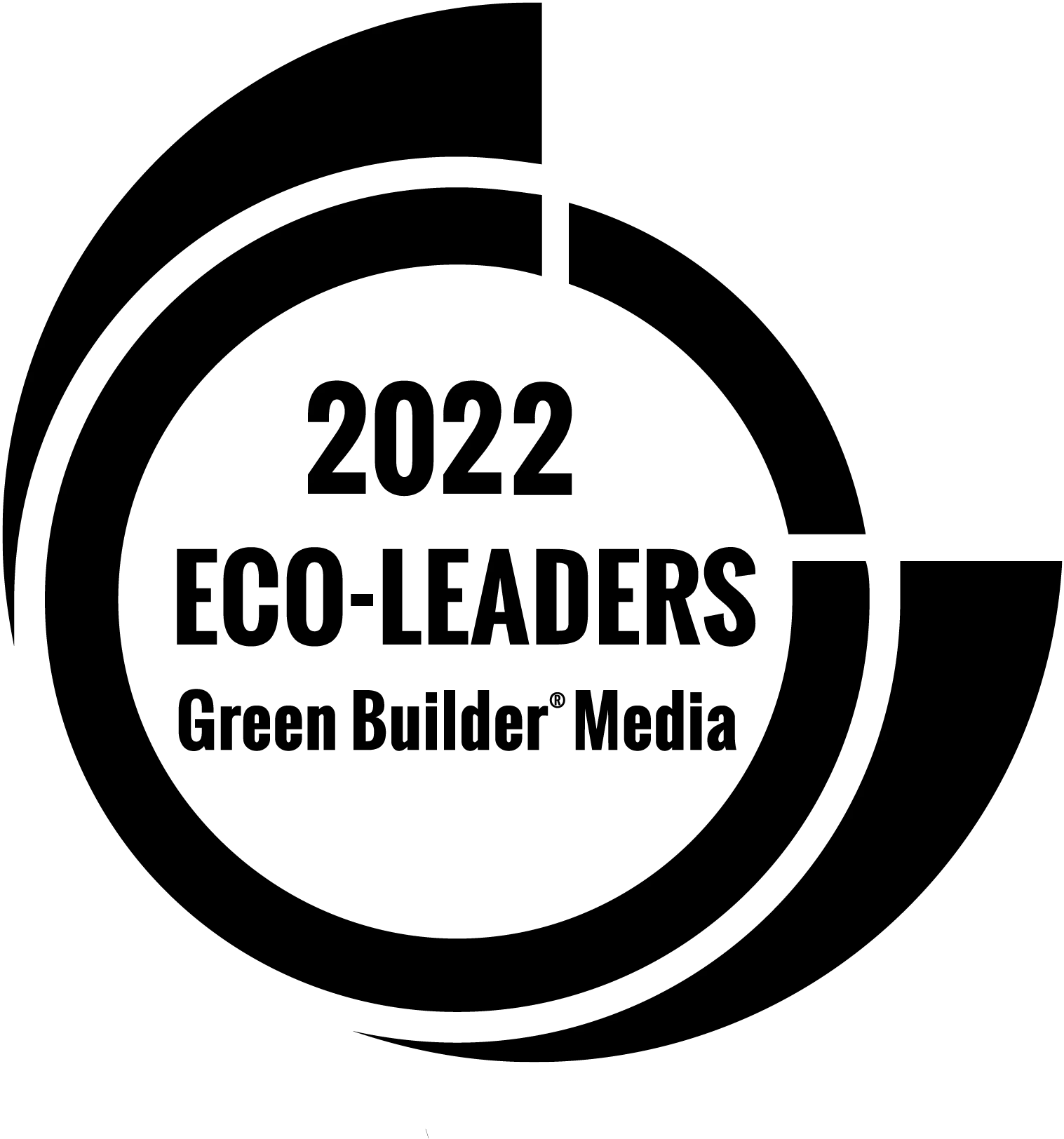 Look at the Chicago skyline and it's hard not to spot the John C. Kluczynski Federal Building. At a mere 42 stories, it's one of the smallest skyscrapers running along the shoreline of Lake Michigan (amplified by the fact that the strip includes four of the nation's tallest structures). But the Kluczynski building's dark black exterior makes it stand out.
After 40 years, the John C. Kluczynski Federal Building in downtown Chicago needed a sustainability upgrade, especially in its 78 bathrooms. Credit: Courtesy Ken Lund/Flickr
As does its green history. Named in honor of longtime Illinois U.S. Congressman John C. Kluczynski, the building has been a central part of the city's Federal Center Plaza complex since 1974. But in 2014, after 40 years of occupancy, the building was starting to show its age, especially in its 78 bathrooms.
According to CannonDesign, the architecture firm selected for the overall renovation, toilet room upgrades were needed to "incorporate high-level water efficiency and achieve ADA accessibility compliance." The aesthetic objective, the firm notes, was to "create a room design that would harmoniously resonate with the original architecture while positioning the facility for its next 40 years."
The bathroom project went to tile manufacturer Crossville Inc., which had a then-unique idea of recycling its own previously fired porcelain tile. "A key focus for the renovation was sustainability," CannonDesign notes. "All retrofits and new installations would need to conserve energy and water, improve the indoor environment, and incorporate green materials. As part of the complete renovation, the building's bathrooms would all receive new porcelain fixtures, tile floors, and walls."
Because Crossville was capable of "recycling its own tile scraps that had been through the kiln," it was conceivable that the same could be done with the Kluczynski building's pieces, CannonDesign architect David Kite notes. The Crossville team removed a toilet from the building and shipped it to its production facility in Tennessee to ensure the material was suitable for recycling. It was.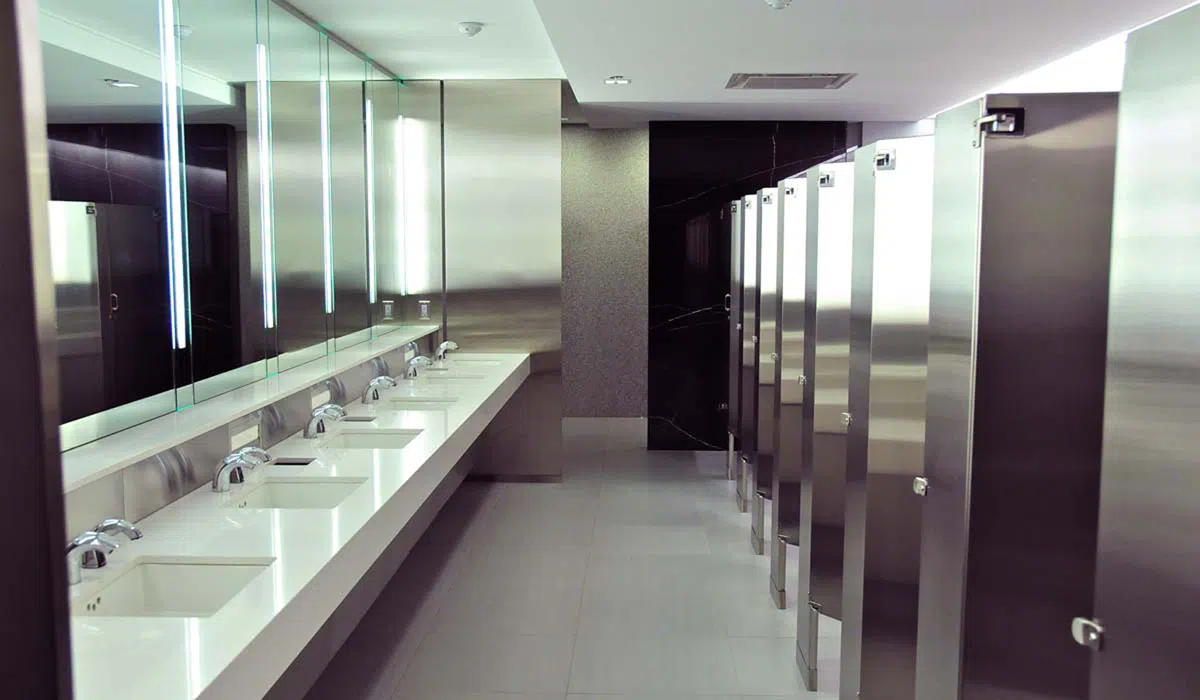 Crossville Inc. converted more than 57,000 square feet of old porcelain sanitary ware on bathroom walls and floors into modernized, energy-saving tile. Credit: Courtesy Crossville
The building's existing tile, toilets, sinks, urinals, and drinking fountains were then removed from the building and shipped to Crossville's plant. There, approximately 200,000 pounds of harvested porcelain material was ground into a fine powder for feedstock and manufactured into more than 57,000 square feet of modern tile for installation on the bathroom walls and floors. The old porcelain sanitary ware that was shipped from Chicago later returned to the city transformed into 12-by-24-inch tile for the walls and 24-by-24-inch tile for the floors.
"While many other tiles were initially considered, once the concept of the potential repurposing of the porcelain material was confirmed and could be integrated in creating a new product, the selection was clear," Kite says. "The result was a tile that represented the clean, minimalist aesthetic desired as well as translating a unique sustainable story for the project."
The Kluczynski Federal Building's success led to Crossville's recycling partnership with plumbing products manufacturer TOTO USA, ensuring Crossville's status as a net consumer of waste, according to Crossville media relations representative Irene Williams. Since 2014, more than 114 million pounds of fired porcelain waste has been diverted from landfills and has instead been recycled. Meanwhile, the company's Tile Take-Back Program, which allows previously installed tile from any manufacturer to be returned to Crossville for recycling, has also proven incredibly successful, Williams notes.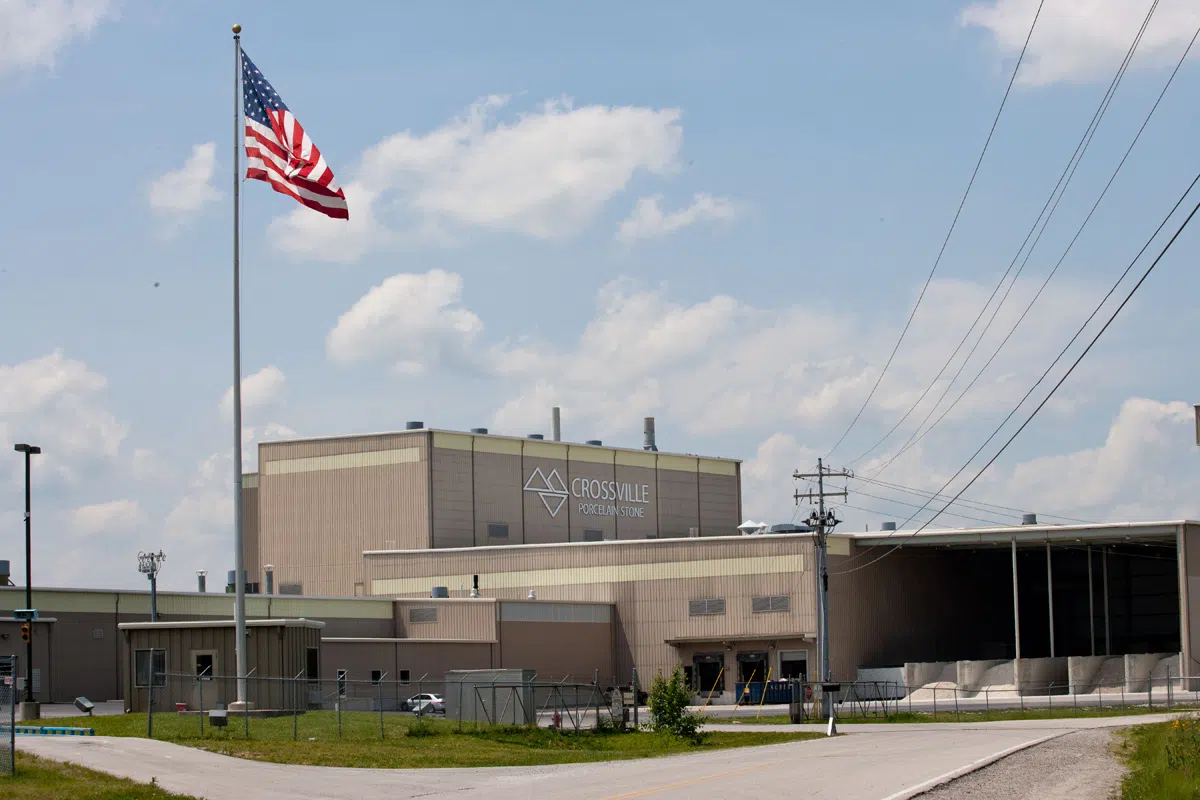 At Crossville's production facility, roughly 200,000 pounds of porcelain tile used in the John C. Kluczynski Federal Building was recycled and kept out of landfills. Credit: Courtesy Crossville
Crossville is the first U.S. tile manufacturer to produce large-format tile on site, manufacture tile with certified recycled content, earn the Tile Council of North America (TCNA)'s Green Squared certification for all of its U.S.-produced tile lines, distribute a complete line of large format gauged porcelain tile panels, and earn designation as a net consumer of waste—meaning it recycles more waste into new products than it generates through its manufacturing processes in the domestic tile industry, the company notes.
Carbon Reduction Stats
Total square footage of the John C. Kluczynski Federal Building: 1.2 million
Cost of eco-friendly related building renovations: $100 million
Pounds of porcelain waste diverted from landfills since 2014: 114 million
Dec 6, 2022 10:07:51 AM · 3 min read
---

Alan Naditz is managing editor of Green Builder Magazine. He has covered numerous industries in his extensive career, including residential and commercial construction, small and corporate business, real estate and sustainability.