The 2021 Home Buyer's Guide Released

Cati O'Keefe
1 min read
The quintessential guide to homeownership options for the millennial generation is now available for free download.
Millennials are tired of renting and dealing with landlords. They don't want to live in their buddy's basement or their old bedroom. They want a place to call home. They want a chance to earn equity, to put down roots.
The home shopping landscape, however, makes it tough to find that dream home. From historically low housing inventory fetching sky-high prices to escalating household expenses to uncertainty in the employment markets, challenges abound.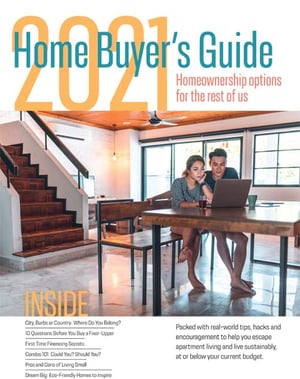 Green Builder Media is here to help. In this new comprehensive guide, veteran Green Builder Editor-in-Chief Matt Power helps millennials navigate the home-buying process while also giving you, the building professional, a crystal clear look at their wants and needs so you can serve this important (large!) demographic.
The 2021 Home Buyer's Guide helps first-time home buyers:
Find their place: Is the best neighborhood urban, rural, or something in between?
Hack the first monthly mortgage bill and become their own landlord.
Decide whether to buy now or wait.
Ask the right 10 questions before buying a fixer-upper.
Decide between single-family versus condo living.
Assess whether they could be happy in a tiny/compact space
Learn from inspirational eco-friendly home examples.
This power-packed resource contains practical home-buying advice woven with Green Builder Media's decades of experience promoting sustainable homes and green living. With collaborative effort, the building industry can provide important options for these eager buyers and earn fans for life in the process.
---
Publisher's Note: This content is made possible by our Today's Home Buyer Campaign Sponsors: Panasonic, Whirlpool, Rockwool, and Lee Industries. These companies take sustainability seriously, in both their products and their operations. Learn more about building and buying homes that are more affordable and less resource-intensive on Today's Home Buyer.
Mar 29, 2021 8:30:00 AM · 1 min read
---

Cati O'Keefe is the editorial director of Green Builder Media. She has 25 years of experience reporting and writing on all aspects of residential housing, building and energy codes, green building, and sustainability.