Home Buying Questions? Answered!
Get past your home-buying blues with this hopeful free guide.
Sick of living like a character in "New Girl?" Done with awkward parent moments when you bring a friend home? Tired of being turned down for rental applications by landlords who don't like your dog? Maybe it's time to buy a house.
Sounds easy enough but home-buying can feel like a complicated and sometimes harrowing experience. Though interest rates are low - (and who doesn't want to own their own home?) it can seem overwhelming to get from desire to keys-in-hand. Fixer-uppers come with so much work, but new homes may come with rules about what you can do in your yard. Are you ready for the commitment? How can you know what type of home is right for you?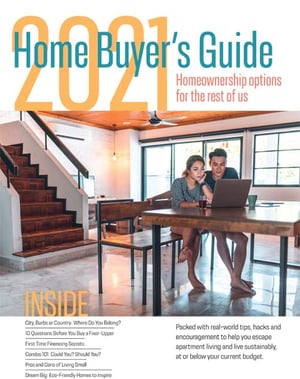 Veteran green building journalist and Editor-in-Chief Matt Power is here to help with a guide to navigate the home-buying process.
The 2021 Home Buyer's Guide helps first-time home buyers:
Find their place: Is the best neighborhood urban, rural, or something in between?
Hack the first monthly mortgage bill and become their own landlord.
Decide whether to buy now or wait.
Ask the right 10 questions before buying a fixer-upper.
Decide between single-family versus condo living.
Assess whether they could be happy in a tiny/compact space
Learn from inspirational eco-friendly home examples.
Check out this guide if you want a quick, dirty and detailed overview of your options, a way to help you segment your list of "yes vs no", and to finally make the jump from renter to owning your own piece of the world.