Sustainable U.S. Cities of 2021: Vanguards of Hope

Alan Naditz
7 min read
These three cities illustrate how to keep greening, even in the most trying of times.
With all of the controversy of the past year, it's easy to believe that cities haven't been able to focus much on sustainability efforts. But several municipalities forged ahead, and laid the groundwork for others to build upon as they resume green thinking in 2021.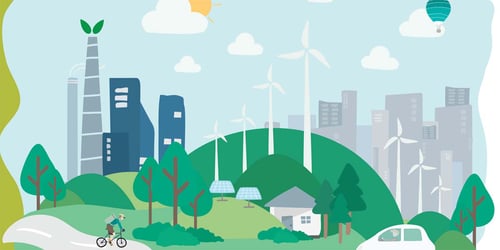 Our three Sustainable Cities of the Year offer insight on water conservation, carbon emissions reduction, and going all-in with renewable energy.
Congratulations to Tucson, Ariz., Boulder, Colo., and Burlington, Vt.!
Large Municipality: Tucson, Arizona
Population: 548,073
For Old Pueblo, keeping pace with population growth means keeping careful track of Mother Nature's gifts.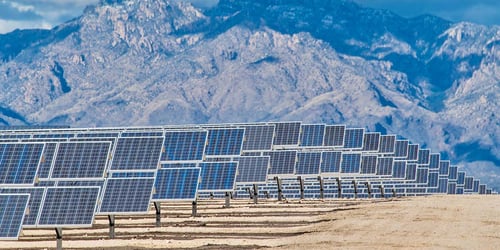 Most of Arizona's green energy effort stems from solar, as evidenced by the installation of more than two dozen photovoltaic systems and leasing of city acreage for solar farms.
When it comes to living sustainably, Tucson residents have had a head start on most of the United States for more than a decade. Chalk that up to Arizona's rapid population growth — the state had the nation's second-fastest rate in 2020, and has been in the top five since 2018 and top 10 since 2015, according to the Census Bureau.
The number of Tucson residents, meanwhile, has risen by a bit more than five percent from 2010 to 2020, to about 550,000, Census data shows.
That's a lot of stress on city resources, and local government has responded with some of the state's most stringent water and energy practices. Between population growth and continual drought, water is precious: Conservation efforts include:
Banning lush lawns in private yards, which instead must consist of native desert landscaping.
Mandating reclaimed water use in outdoor areas or watering by designated schedule only.
Forbidding washing and rinsing of sidewalks, driveways, patios, and parking areas with a hose or higher-pressure device, except for where public health is concerned.
Banning water cooling systems that circulate water.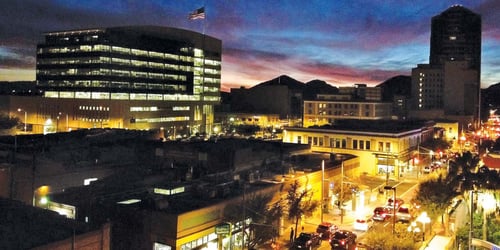 A tough natural environment — hot weather, drought, and limited greenery —has the city of Tucson focusing on water management, energy conservation, and carbon neutrality throughout the 21st century.
In 2019, Old Pueblo completed an effort to restore the Santa Cruz River's flow through downtown Tucson by diverting treated wastewater into the river line. The recycled water—as much as 2.8 million gallons daily—also soaks down into the riverbed and helps recharge its aquifer.
"This work is an important building block in the Watershed Management Group's (WMG) 50-year vision and plan to restore Tucson's heritage of flowing rivers," notes Lisa Shipek, WMG's executive director. "Having flow in the Santa Cruz River downtown provides a daily visual of what a desert river looks like, which will help open the hearts and minds of the greater community to what is possible."
Meanwhile, Tucson in 2018 joined the 2030 Districts Network, a collaboration of (thus far) 23 cities that have pledged to demonstrate that sustainably built buildings can be the most valuable buildings in the region, boosting the economy.
The project's goal, according to Tucson 2030, is to dramatically reduce energy and water consumption, as well as transportation emissions in new and existing structures, by at least 50 percent by 2030. Close to 60 percent of the district's 24 million square feet of building space is currently committed to the effort.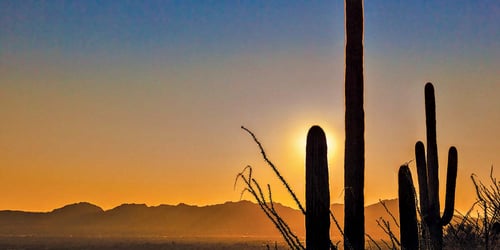 Landscape preservation is a huge part of Tucson's goal to manage environmental resources with population growth over the next 30 years.
Also, over the past 20 years, the city has taken advantage of one of its greatest resources, sunlight, with the installation of 25 photovoltaic arrays — generating a total of 4.7 megawatts of solar energy — as well as seven solar hot water heaters on city properties, and the leasing of land for future solar farms.
The city, which was designated as a Solar American City by the U.S. Department of Energy in 2007, has also adopted solar-ready requirements for all new construction of single-family homes and duplexes to ensure that future solar photovoltaic and hot water systems can be easily installed. The city also makes information about its solar energy production and use available online.
Mid-Sized Municipality: Boulder, Colo.
Population: 105,673
When visiting this "Republic," it's impossible not to bump into, step on, or catch sight of something that's simply sustainable.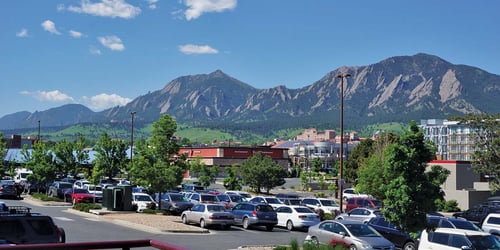 Boulder has several ways to preserve the area's natural beauty, including a "Blue Line" ordinance that prohibits water service to properties above a certain elevation. Credit: Owen Allen/Flickr
Boulder may not be a household name when it comes to U.S. cities (for many people, the first thing its name brings to mind is the late 1970s TV show, "Mork and Mindy"). But among green-minded communities, "The People's Republic of Boulder" has a reputation for putting nature and the environment at the top of the lifestyles list.
The city has embraced bicycling as the way to travel through the community, reduce carbon emissions and provide the populace with healthy exercise. Forbes, the advocacy group PeopleForBikes, and "The Travel Channel" have all placed Boulder at or near the top of "Top Cycling City" lists, largely due to its extensive network of bike lanes, multi-use paths, and designated bike routes.
The city also offers some fringe benefits, such as vending machines with spare bike parts, toolboxes on loan from local businesses, and "B-cycle" kiosks where a rider can check out a bike for free for 30 minutes. "The minute you set foot in Boulder, you'll see plenty of helmeted, lycra-clad cyclists," notes the Boulder Convention and Visitors Bureau website. "[Often, they'll be] in groups, getting in a workout over their lunch breaks, riding to and from work, or reveling in a carefree weekend ride."
Boulder's cogeneration facility uses gas byproducts to produce clean electricity and heat. Credit: City of Boulder
(Reportedly, "Mork & Mindy" star and comedic legend Robin Williams, himself an avid cyclist, pushed for a show setting that could emphasize bike use.)
The City of Boulder has other green plans underway. Environmentally threatening situations such as diminished Rocky Mountain range snowpack and winter snowfall, hotter summer temperatures, and a higher pollution level led to the declaration of a climate emergency in 2019.
The city, through its Climate Mobilization Action Plan, has now set 2030 as the deadline for running entirely on renewable energy, cutting city operations greenhouse gas (GHG) emissions by 80 percent, and upping local renewable power generation by 100 megawatts (MW). And, carbon emissions are to be cut by 80 percent by 2050.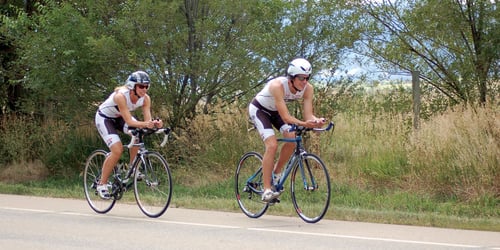 Bikes are a world unto themselves in Boulder and are given their own traffic lanes, trails, and maintenance sites. Courtesy City of Boulder
Progress is promising, according to city officials. About 54MW of the 100-MW new green energy goal has been met in just two years, as has slightly more than one-quarter of the planned GHG reduction. Boulder is also 40 percent of the way toward its government emissions cutback.
Of course, that shouldn't be much of a surprise. Boulder has a history of efforts that promote a green lifestyle, such as establishing:
A "Blue Line" designed to prevent development on the city's mountain backdrop (by prohibiting water service to any property above a certain elevation)
A new home construction limit of less than one percent annually
A sign code that restricts the use of size, height, and location of billboards, designed to preserve the natural beauty in and around Boulder.
A building heights charter that limits new construction size to no more than 35 feet tall.
Small Municipality: Burlington, Vt.
Population: 42,819
As the nation's first city to be powered entirely by green energy, Burlington now heads for net-zero territory.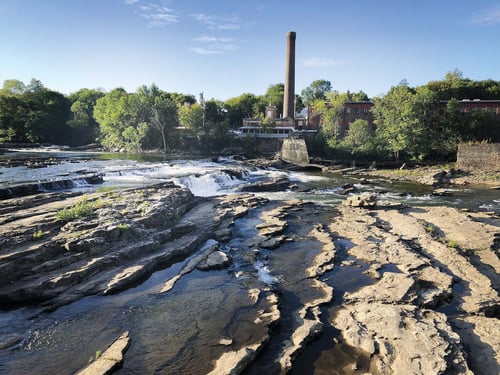 The Winooski River and the Burlington-based Winooski One Hydroelectric Station now generate half of the city's electricity—a far cry from the 1980s, when coal was king. Credit: Ken Gallager
Any municipal government that says it's just too difficult to operate entirely on renewable energy should take its case to Burlington. The far northeastern city, only 43 miles from the Canadian border, has been 100 percent green-powered since 2014 and is generally considered the first municipality in the United States to reach that goal. It has since become the poster child for more than 170 U.S. cities that have promised to drop coal and natural gas for wind, water, and solar by 2035.
Vermont's largest city—a.k.a. the Queen City—was once almost entirely dependent upon coal for power. But in the mid-1980s, Burlington's coal plant was shuttered by pollution and aesthetic concerns.
Power generation duties then shifted to a new waste wood-burning facility (promoted by then-mayor, now U.S. Senator Bernie Sanders). Each year, the facility burns some 400,000 tons of wood chips — significantly cleaner and easier on the eyes.
Buoyed by an increasingly sustainability-minded populace in Burlington and statewide, the city began to move toward all-renewable power. Long- and short-term energy contracts were secured, energy efficiency-directed bonds approved, and solar energy systems marketed to residential and commercial avenues.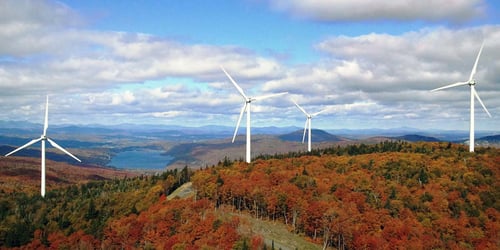 A key part of Burlington's journey toward 100 percent green status is courtesy of the neighboring Georgia Mountain Community Wind farm's four wind turbines, which power more than 4,200 Vermont households. Credit: U.S. Green Building Council
According to the Burlington Electric Department (BED), solar's popularity is a bit of a surprise, as Burlington receives some of the nation's lowest average levels of sunlight per day. Yet, Burlington now has more than 16 times the solar power storage capacity that it had at the end of 2011.
The final component of the conversion to all-renewable power was the purchase of a hydroelectric facility in 2014, which now supplies half the city's energy. The wood chip plant still supplies 30 percent, and the remaining 20 percent comes from landfill methane, wind, and solar.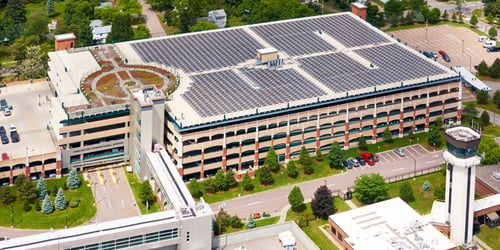 Solar energy only makes up a little more than 10 percent of Burlington's green power but careful placement around the community helps the city make the most of every panel. Credit: Encore Renewable Energy
Residents are experiencing environmentally friendly power, as well as benefits such as utility rates that haven't increased since 2009. The city, meanwhile, expects to save about $20 million by 2035, according to BED.
Burlington's next goal is to become net-zero by 2030.
According to Mayor Miro Weinberger, the roadmap to gaining a carbon-neutral footprint will include:
Getting 95 percent of household floor space to be heated by electric heat pumps and water heating systems.
80 percent of vehicles to be electric.
Annual vehicle travel to decrease by 15 percent.
"Reaching the goal will require us to completely restructure our transportation and thermal sectors in less than [nine] years," Weinberger notes in a report in VTDigger. "[But] with political will, and with strong technical expertise … very ambitious climate goals are possible."
Mar 24, 2021 2:24:50 PM · 7 min read
---

Alan Naditz is managing editor of Green Builder Magazine. He has covered numerous industries in his extensive career, including residential and commercial construction, small and corporate business, real estate and sustainability.