Solar Powered Air Conditioner Bridges DIY Divide

Matt Power, Editor-In-Chief
10 min read
A field test of Airspool's leading edge high SEER inverter compressor unit taught me many of the dos and don'ts of DIY heat pump installation.
With idea of solar powered air conditioners still lingering in the back of my mind, for the past few weeks, I've been chatting back and forth with Dave VanZanten, president and founder of a new company called Airspool, that's offering hybrid DC-AC heat pumps, with the DIY market in mind. After he initially pitched me on the Airspool MS12: Solar-powered 12,000 BTU hybrid mini split heat pump, I told him I was hesitant to write about it sight unseen. Frankly, it sounded too good to be true, so I would need to see one in action.
I've been tracking developments in solar-powered air conditioning for several years now, and the Airspool unit sounded like a possible game changer. I also wanted to try my hand at a DIY installation of a heat pump.
I've seen a bunch of DIY units pop up on Amazon recently, such as the Mr. Cool brand, but frankly they're overpriced. Mr. Cool charges almost twice as much for the privilege of installing your own, versus standard brands. And the units are not solar hybrid.
Here's what appealed to me about Airspool's approach to solar heating and cooling with a heat pump:
No charge controller
No storage batteries
Low power demand
120 volt power supply
Quiet operation
Cooling and heating
What's In the Box?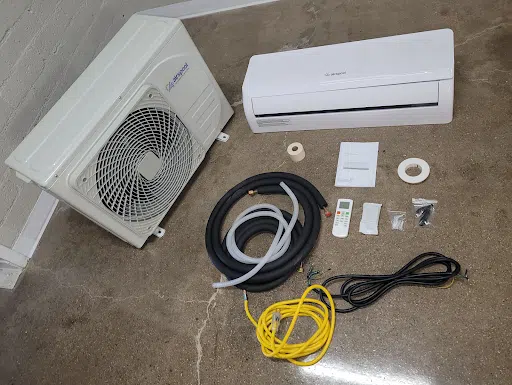 The Airspool HVAC package I tested arrived with everything needed for the basic install except the tools, a stand for the compressor, and cosmetic coverings for the linesets. Your DIY package, priced at $1,995, also won't include some of the solar cabling and connectors shown in my kit below.
VanZanten says he's still refining the DIY components, so you'll want to check the latest on their sales portal. His office is based in Las Vegas, and you can pick up the units in person, or have them shipped anywhere in the United States.
One important note about any DIY heat pump. It will come with a lineset (the copper pipes that carry refrigerant between compressor and evaporator) that is 3 meters long. This means that you need to measure the distance between compressor and evaporator hookup precisely. It also means that you need to lift the evaporator into place and hang it with the copper tubes connected to the rear of the unit, a somewhat acrobatic maneuver.
In my case, I wanted to put the indoor evaporator in the middle of the house, so I had to buy additional copper linesets and couplers to connect them to the DIY set. I'll talk more about linesets shortly.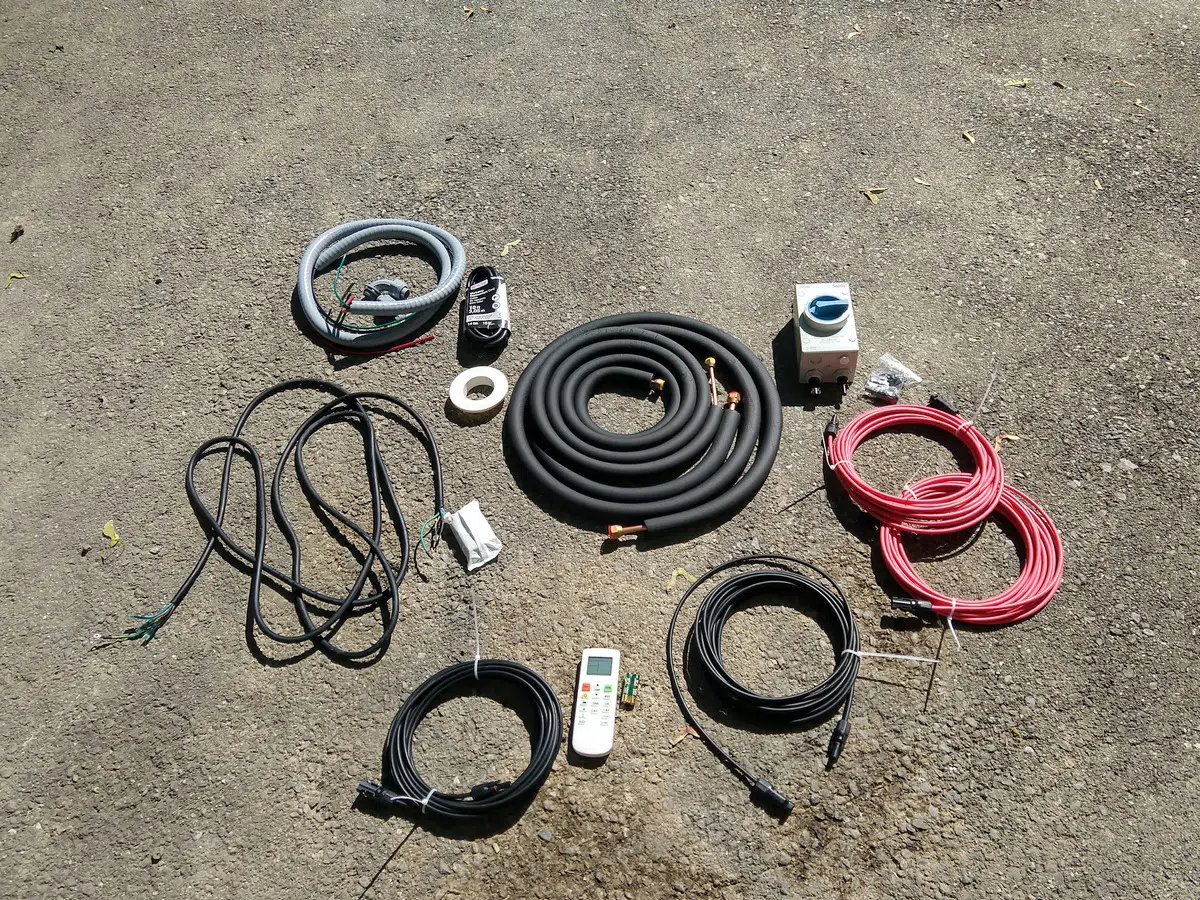 My DIY heat pump kit came with a 3-meter pre-insulated copper lineset, a four-wire controller cable, solar cabling, and DC isolator switch (both sold separately by Airspool) with MC4 connectors and other accessories.
Hanging the Heat Pump Evaporator
For anyone with basic mechanical skills, hanging the Airspool evaporator is fairly easy. It even comes with a template for fasteners. Just create a level line, find the studs, and install the plate. There's one important detail to consider, however: condensation.
Even if you plan to surface mount your linesets on interior walls, as I did, you will need a place for condensate (water) to flow downward (with gravity) when the unit is in cooling mode. That means a sloping trajectory. In my case, because I placed the evaporator in mid-room, I had to create a vertical drop for the ½-inch condensate hose. This required a messy cut (and repair) through old plaster and lathe wallboard to direct the water to a cellar drain.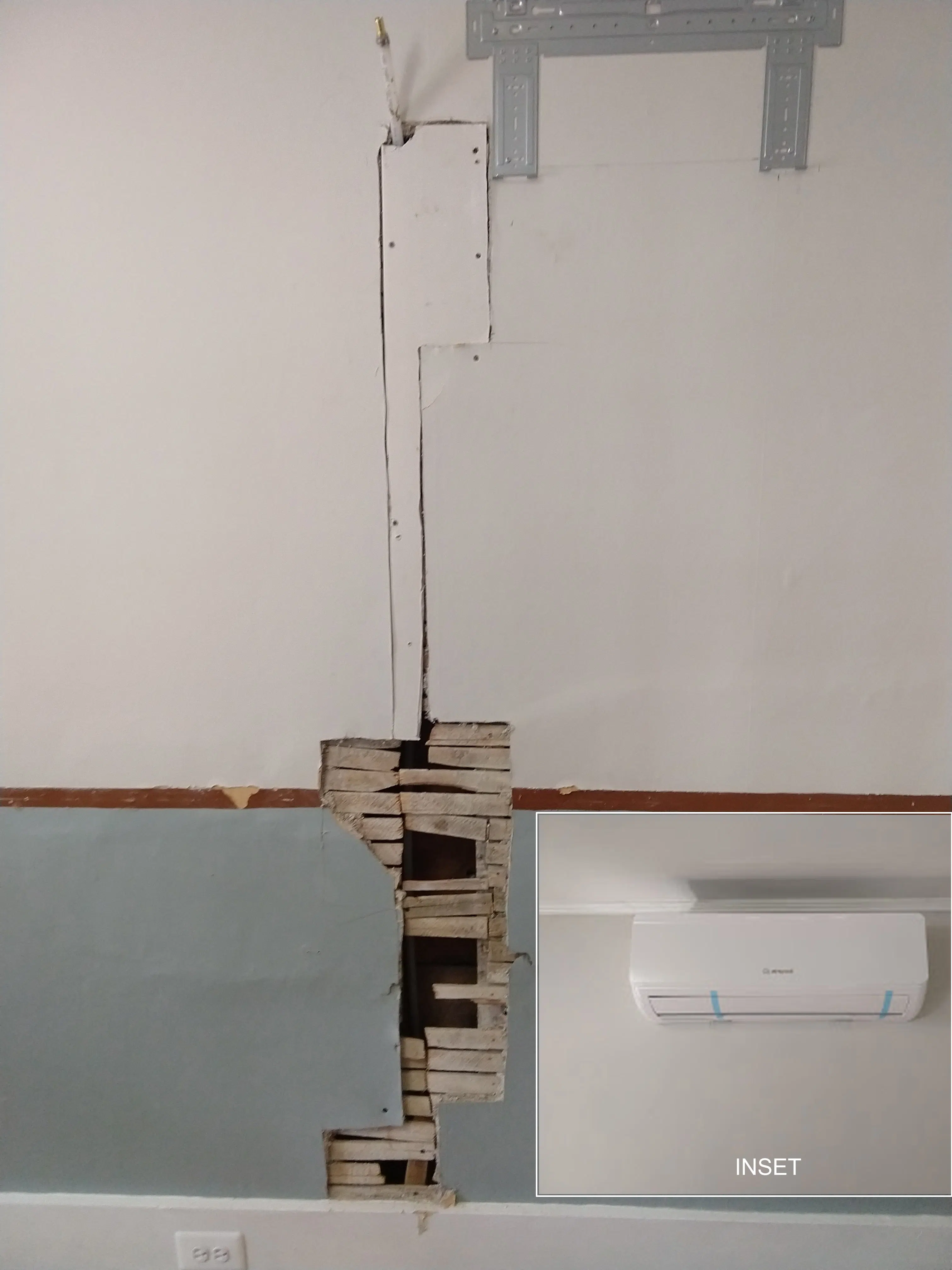 Rather than trusting the included flexible hose inside my old wall, I replaced it with 1/2" PEX, connected to the evaporator hose with a stainless clamp.
Compressor and Power Source
Using an off-the-shelf hanger I was able to easily mount the compressor to an outside wall. The recommended clearance behind these units is typically about 11 inches, but that's more of a performance concern than a safety issue, so I arranged it slightly closer for looks.
Don't skip the rubber washers. These are essential to reduce the amount of vibration the unit will transfer to your home.
The MS12 seems to run with exceptional smoothness, with no detectable vibration coming through the wall. That's more than I can say for other brands I've owned and tested.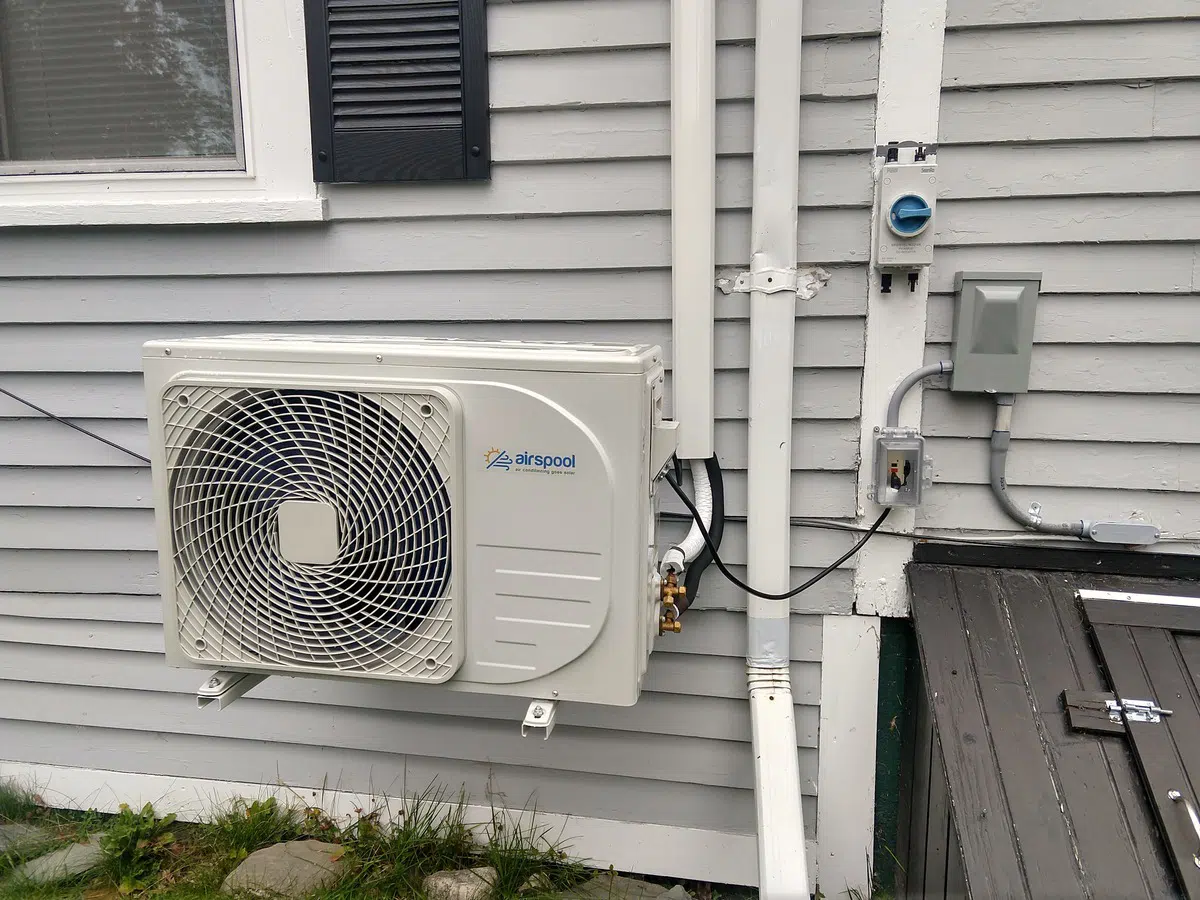 The MS12 creates very little vibration and runs quietly, as advertised.
One of the nice things about the MS12 is that it runs off a standard 120 volt circuit, so in theory, you could simply run one GFCI protected outlet to the outside of your building and plug the compressor in with a standard three-prong plug (included in the kit).
Most codes require a dedicated 20-amp circuit, with 12-gauge wire. I installed a quick disconnect panel next to my plug, just for an extra level of safety. The idea is that you provide a way for technicians to work on the units safely from the outside of the building.
Through the Wall
One step that I suspect daunts many homeowners is the idea of putting a 2 ½ inch hole through your home's wall. It's not as scary as it sounds, but you do need the right tool. The most affordable way is to pick up a 2 ½-inch bi-metal hole saw. I made the penetration as follows:
Checked for any hidden wires or plumbing in the wall.
Drilled a pilot hole with an extra long ¼-inch bit, being sure to angle the hole downward to the outside at about 30 degrees.
Used the hole saw to cut the hole, pausing to remove the chunks of wall and plaster.
Cut and placed a piece of 2 ½-inch PVC or equivalent in the hole. Caulked around it.
At this point, I pushed the lineset and the controller cable through my wall opening. I had noticed that some of the how-to videos for mini splits suggest wrapping tape around the entire assembly before you push it through. I started doing this, but found the process super time-consuming and frankly unnecessary.
A much easier way to protect the pipes and wires is with a snap-on cover system, which I added later (below). I made sure to include controller cable, as I wiggled the components through the PVC pipe.
Bending the copper pipes is a little nerve wracking, but manageable by arcing them in about the radius of a five gallon bucket. They're not fragile, but they could crimp and be ruined if bent too sharply.
Pipes and Pressure
At this point, I had reached the most mysterious part of a heat pump: attaching the pipes and "pulling a vacuum" from my copper linesets. I watched some videos, purchased a torque wrench and a set of low-cost pressure gauges, along with a bottle of "Nylog Blue" sealant specifically for flared copper lines.
At this point, I attached one end of the copper tubing to the indoor unit, but felt uncertain about the right amount of torque. It seemed extreme. I was afraid maybe I'd get it wrong, and snap the copper pipe. So to be safe, I called in a local contractor, Wesley Sullivan, who has experience with all things HVAC.
Sullivan gave me a lesson in what it takes to get leak-free fittings. He attached the flare nuts using two wrenches and no torque wrench, tightening them about a quarter turn past what I'd call "fully tight."
Apparently few HVAC pros actually use torque wrenches, and VanZanten says that as long as the lineset is not cross threaded when attached with the flared pipe, you have some latitude in tightening. That being said, a new manual for the Airspool (due out shortly) will include precise torque recommendations for those who want to go by the book.
Sullivan then attached a nitrogen tank to the access nut on the condenser, pushing pressure in the lines all the way to 500 psi (well beyond what's required).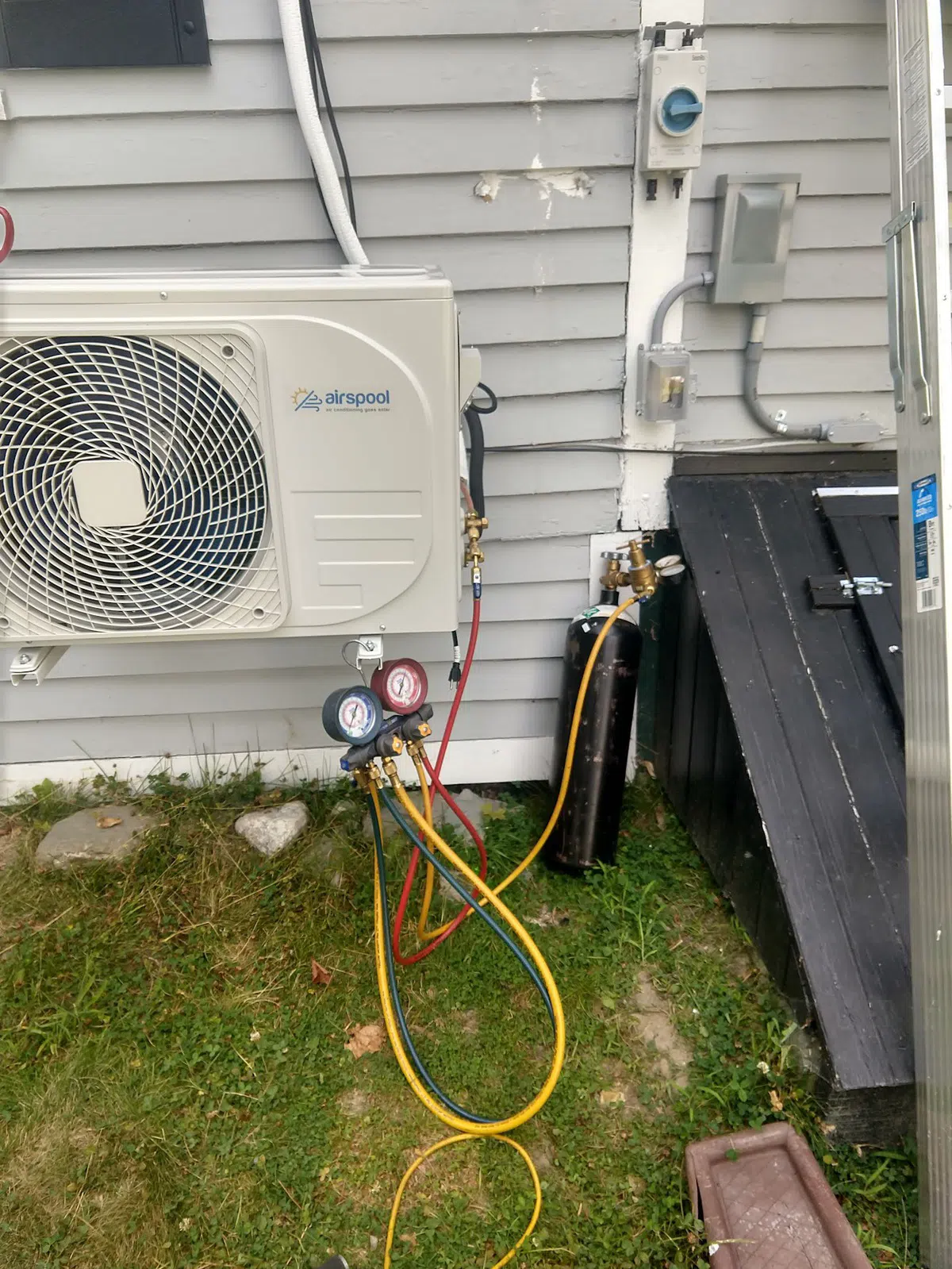 "I have my refrigeration license," he explained, so I can get the stuff to do this. You might have a hard time getting a nitrogen tank, for example, if you don't have one to trade in."
Next, Sullivan hooked a small vacuum pump to the lineset at the compressor and used it to create a vacuum in the lines. This ensures that the valuable refrigerant pre-stored in the compressor will not mix with moisture or any other unwanted air bubbles.
This process of pressure checking, followed by pulling the vacuum in the lineset took a couple of hours. I had Sullivan do the same process to a second, non-solar mini split I had installed on the same home.
Finally, we released the stored refrigerant into the lines, plugged the compressor in, and set the MS12 to cool. Within minutes it pumped out ice cold air, with whisper quiet performance.
The day's labor cost me about $600, but I felt it was good value, and helped me raise my skill level by working closely with him. I feel it's something I could tackle myself the next time around.
Note that some DIY brands have begun to offer "precharged" linesets, and VanZanten is hinting that Airspool may move in this direction. If the company can do it without increasing the unit's price, I think it's a good plan. The linesets are the most technically challenging part of the split installation.
Performance of Solar PV Air Conditioners
The hardest part about adding solar to the MS12, in my experience, was getting my hands on some panels in small quantities, without paying the shipping costs from California. I eventually stumbled upon a small solar shop in Eastern Maine where I was able to walk in and walk out with a pickup truck load of panels.
I wanted to test the MS12 with solar energy right away, so I laid some of the 315-watt panels out in the yard, hooked them up in series (easy plug and play) and plugged them directly into the two leads on the compressor. The Airspool specs say it runs on 80 volts to about 380 volts in series, and I found this to be true.
When I initially plugged in just 40 volts of panels, I got no reading on the Airspool App. The minute I raised the power to about 120 volts, however, the App began to show solar input mixed with AC power. Note that these solar panels, when installed on the roof, will achieve slightly better performance when tilted to the recommended solar angle.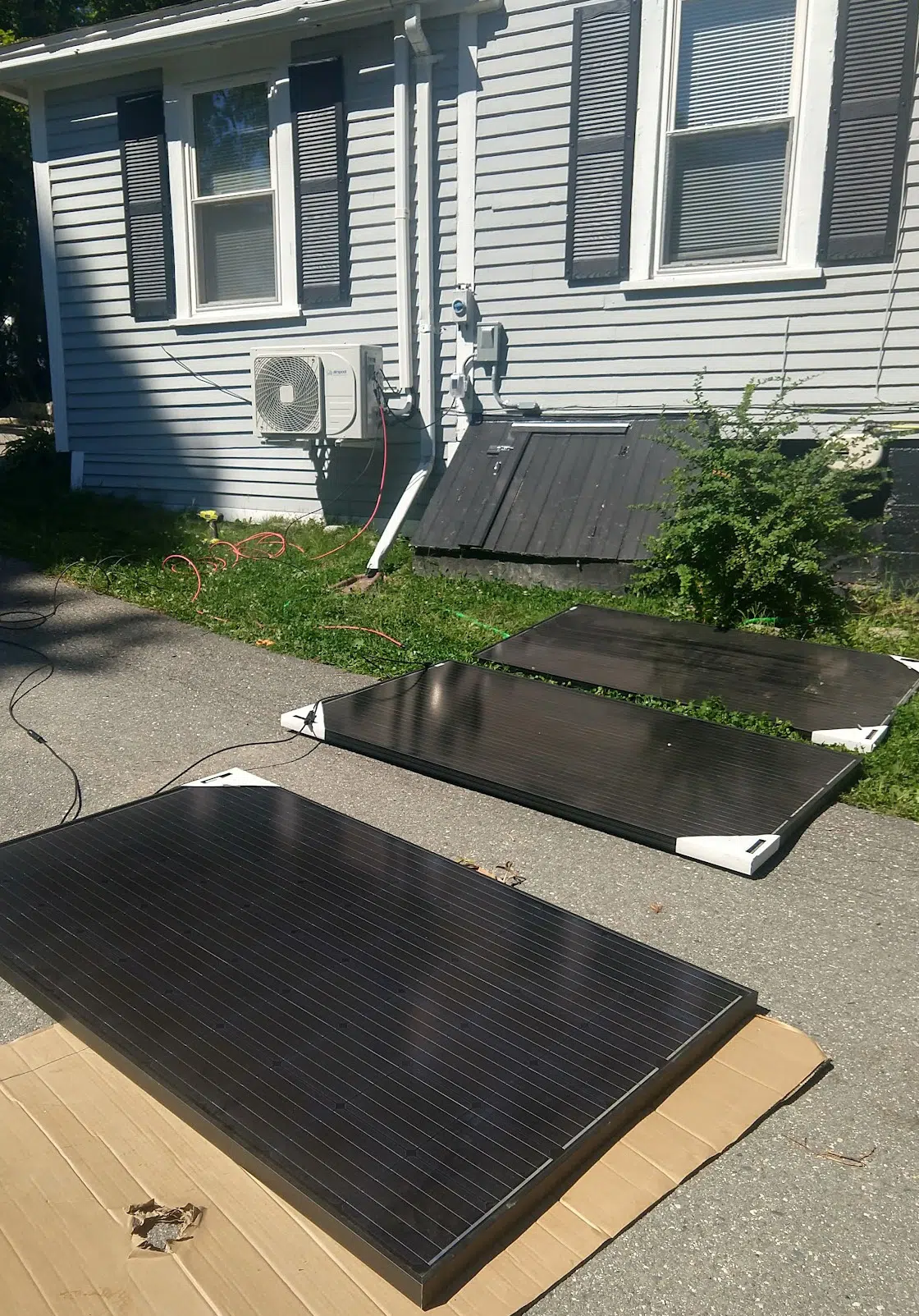 What this means is that the solar aspect of the split performs exactly as advertised. It has a smart transfer system that taps the solar stream when it's consistent and powerful enough, but kicks over seamlessly to add some AC when it's not. At night, on cloudy days, or during rain, the unit will run exclusively and efficiently on AC.
One thing to keep in mind, however: You want your panels in a full sun location, not partial shade–or build in enough "excess" capacity to keep wattage flowing. The compressor notes how much power is coming from the solar inverter, and adjusts AC input on the fly, but if power drops below optimal levels, it will switch to 100% AC power. Cooling requires about half the power as heating, so keep that in mind if you're looking at cold climate use.
VanZanten notes that in Las Vegas, on a 100-degree day, the unit requires about 900 to 1100 watts for cooling. It uses about 600 watts. Heating with any mini split is more power consumptive, he says, because you're dealing with a much larger differential between indoor comfort and outdoor temps.
"In Maine, for example," he says, "in heating mode, if you want to get to 75 degrees indoors, and it's 20 agrees outside, that is a lot more work than coming down to 75 from 82 or whatever in the summer."
That's not to say solar air conditioners can't be serve colder climates. But they'll have to work harder, and you may need a larger solar array and more units to achieve whole-house heating with them. In my mind, an optimal use for these units would be in the South and Southwest, where homes could be cooled all day, every day, with predictable solar performance. The more powerful the solar, the more power goes directly from the sun to the compressor.
Unexpected Perks
One of the many pleasant surprises with the MS12 is the Airspool App. I've been disappointed in the past with other mini split controllers, so I had low expectations.
The coolest aspect of this App is the real-time hybrid power display. You can see exactly how your solar array is performing, and also how your unit is using power overall. I wish more mini splits included this level of detail.
The MS12 also has a dehumidification mode and produces significant heat in heating mode. I've found it powerful enough to keep a 500-square-foot space comfortable on the worst hot day this summer. I look forward to the next, easier DIY iteration of the MS12 (coming soon, I'm told), but this one is already a winner.
The technology is quiet, smart and energy efficient. We ought to start replacing window air conditioning units immediately with units like this one. The climate crisis is upon us. Electrical grids are buckling. Moving to direct solar powered air conditioning should be a high priority transition.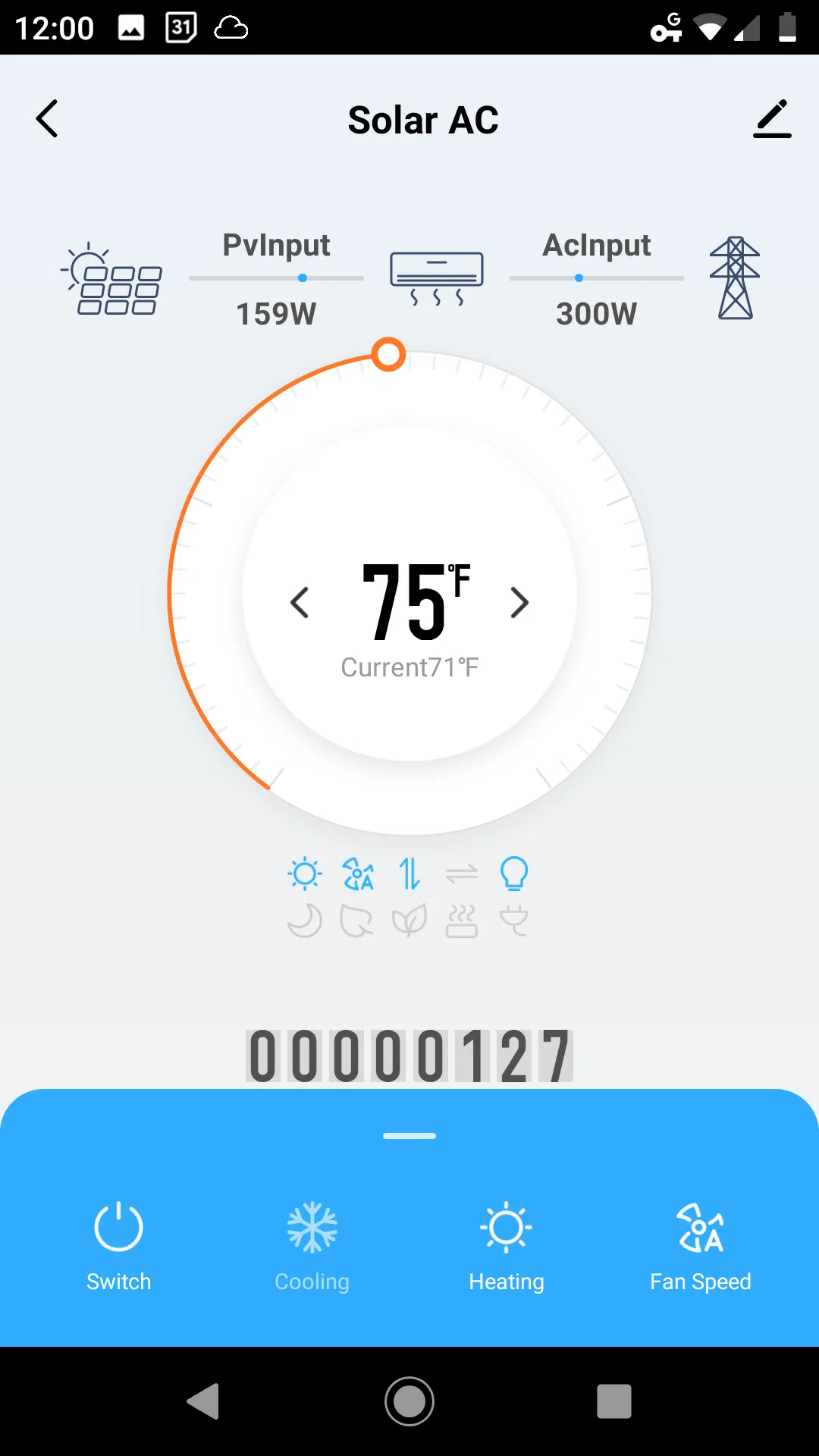 The Airspool App shows in real time where the compressor is getting its power. Note that this was a summer test, so the overall demand for heating was very low.
For more information about Airspool's specs or availability, visit their website.
Not All 22-SEER Heat Pumps are Equal
While installing the Airspool unit, I needed more cooling in another room, so I purchased a 22 SEER Pioneer unit with similar specs, but none of the solar compatible perks. In the process, I learned that not all efficiency ratings are what they seem.
When I applied for a State of Maine tax credit for the Pioneer unit, I was told that even though the unit is 22 SEER for cooling, its HSPF rating when used for heating is too low to qualify for the Maine subsidy. That benchmark is admittedly quite high, at 12.5 HSPF.
VanZanten says he is working on getting an HSPF rating for the Airspool, but it's a slow process that isn't yet complete. He says ratings like this will be important when the subsidies from the Inflation Reduction Act kick in.
Also, the Pioneer unit is much louder and vibrates more than the Airspool unit. Its HVAC cooling and heating output is about the same, but in my view the Airspool is simply better built. Maybe the special DC-ready engineering contributes to this quiet performance.
---
Publisher's Note: This content is made possible by our Today's Homeowner Campaign Sponsors: Whirlpool, Vivint, myQ, Sonos and Jinko Solar . These companies take sustainability seriously, in both their products and their operations. Learn more about building and buying homes that are more affordable and less resource intensive.
Sep 23, 2022 8:00:00 AM · 10 min read
---

Veteran journalist Matt Power has reported on innovation and sustainability in housing for nearly three decades. An award-winning writer, editor, and filmmaker, he has a long history of asking hard questions and adding depth and context as he unfolds complex issues.