Durable Siding Options: Side By Side
Not too long ago, if you were building a house in this country, there were only three major cladding options—brick, stucco or wood—and the choice was largely determined by your region. After World War II, aluminum siding took center stage, and in the 1980s, vinyl began its ascendancy. Today, the field has expanded. And while vinyl is still king, fiber cement is making inroads, and other cladding options are experiencing a resurgence. Wood, which inspires so many of the alternatives, makes up but a small fraction of the cladding of new homes.
"Newly adopted residential building codes and consumers' desire for more energy efficient households both serve as driving factors, even when it comes to siding material selection. More homeowners are focusing on life cycle costs and looking at energy-efficient structures with sustainable designs."

Source: Siding and Trim 2014, Principia Reports
In general, most of the major siding types—including fiber cement, brick, stucco and wood—are long lasting, although durability does depend on proper installation and maintenance, as well as original quality. Making sustainable choices requires looking at other factors, too: the embodied energy of the product, impact on water and other resources required during manufacturing, local or regional availability, types of finishes used and recycling potential. There is no clear-cut best option, as each has its merits and drawbacks. As life cycle assessments (LCAs) and Environmental Product Declarations (EPDs) become more widely available, making sustainable choices will become a less onerous task. Until then, here are some of our recommendations.
Masonry: A Solid Choice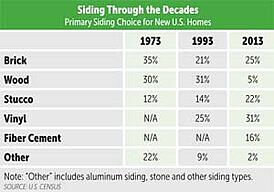 Brick has many advantages: it's durable, long lasting and doesn't need painting. Made from clay and sand (and small amounts of other materials, such as lime), brick is non-toxic, fireproof, impact resistant and 100 percent recyclable. It also produces very little waste during manufacturing. Though brick itself can't boast a high R-value, it does provide thermal mass, and the one-inch air space between brick and framing provides both insulation value and soundproofing. Brick is still a popular choice, especially in the South, although today both brick and stone are primarily used as veneer rather than as a structural material, which cuts down on material usage.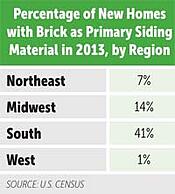 Despite its many benefits, the manufacturing of brick requires high energy inputs to maintain the extreme temperatures necessary for kiln firing, along with large amounts of water. Cement-based mortar also has high embodied energy. On the other hand, masonry's long lifespan—100 years is the conservative estimate—helps mitigate the high initial energy cost. There are also many brick manufacturing plants across the U.S., which minimizes the energy cost of transporting raw and finished materials.
According to the Brick Industry Association, manufacturing brick requires 70 percent less energy than it did in 1970, and manufacturers are seeking alternatives to fossil fuels to power their facilities. For example, two of Boral's manufacturing plants, including its largest, LEED-certified facility in Terre Haute, Indiana, use methane from nearby landfills to fuel them. In addition, some of the company's plants incorporate waste wood fibers into the wet brick mixture, which are then burned off in the firing process, resulting in a lighter brick with "enhanced insulating properties." Boral has also taken measures to recycle water, and has reduced water use in its North American facilities by 50 percent (per ton of product produced) since 2009. The company's many masonry products are Cradle to Cradle Silver certified.

CalStar recently introduced six new sizes to its lineup of sustainable brick products. Ambassador brick, pictured here, measures 2 ¼" wide by 15 5/8" long and is available smooth or as a split-face unit.
Brick manufacturer CalStar has pioneered a process that reduces embodied energy by 81 percent and carbon dioxide emissions by 84 percent. Instead of kiln-firing bricks, which requires high temperatures, bricks are made by combining sand, fly ash, water, pigments and additives. The mixture is poured into forms in a vibro-compaction press, which presses and shakes the bricks into shape. They are then cured overnight. CalStar bricks hold an Environmental Product Declaration (EPD) and are made in the U.S. at the company's manufacturing plants in Wisconsin and Mississippi. They contain a minimum of 37 percent recycled content in the form of fly ash, a by-product of coal-burning plants.
Stone veneers are made from a mixture of sand, cement and aggregates that is poured into molds and stained with pigments to simulate real stone. These manufactured stones are lighter than true stone and often less expensive (though not always), and come in a wide range of styles and colors, including trim. Boral's Cultured Stone products contain a minimum 54 percent waste-stream ingredients (pre-consumer waste) and are backed by a 50-year warranty. The company's panelized Versetta Stone products install like siding.
Stucco and EIFS
Stucco is exterior plaster, which was traditionally made with lime, sand and water (and sometimes, horse hair or other fibers). Modern stucco typically contains Portland cement, sand, water and a small amount of lime; some manufacturers add fibers for added strength. A versatile material, it can be directly applied to solid masonry or concrete, including insulated concrete forms (ICFs) and aerated autoclaved concrete (AAC) block, or to wood-framed walls via metal lath. Typically, three coats of stucco are applied over a galvanized metal lath and two layers of asphalt-impregnated felt paper. The lath provides an airspace through which moisture can drain. Both traditional and cementitious plasters "breathe," meaning the walls can take on moisture, then dry out. A wide variety of pigments can be added for a range of finish colors. The result is a durable, fireproof and rot- and insect-resistant organic cladding that pairs well with other types of exterior siding.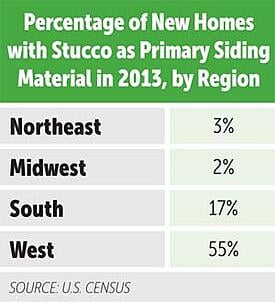 Alternative finishing options for stucco abound. Acrylic finish, sometimes called synthetic stucco, is made from acrylic resins, sand and water, and can be used as a finish coat over cement plasters. Unlike cementitious stucco, acrylic stucco is water-resistant; because of its elasticity, it is also more resistant to hairline cracks.
Some companies offer a spectrum of finishing options. LaHabra Stucco, for example, makes everything from traditional cement and hybrid acrylic-cement finishes to 100 percent acrylic and acrylic-based "elastomeric" finishes. Similarly, Sto Corp offers several different finishing products, including acrylic, elastomeric and silicon-enhanced acrylic or elastomeric textured finishes; all of the company's finish products are water-based and VOC compliant.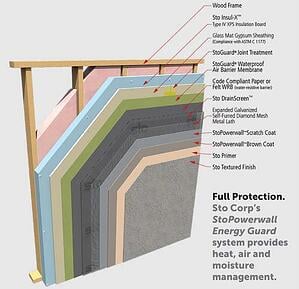 Sto Corp also recently came out with StoPowerwall EnergyGuard, an all-in-one system that includes a liquid-applied weather barrier, exterior insulation, drain screen and a traditional three-coat stucco system. StoGuard, the company's liquid-applied waterproof air barrier, can be painted or sprayed on; it both improves energy performance and resists mold and mildew. The DrainScreen mat is applied between the weather barrier and the cladding, ensuring that any moisture that does penetrate the assembly is drained off.
"What we offer with Powerwall—in addition to aesthetics and durability—is moisture control," says John Chamberlin, product manager for Sto Corp. "Stucco is one of the oldest claddings, and it's been so good for so long. We're just trying to beef it up."
One of the downsides to modern and synthetic stucco is the high embodied energy of ingredients such as Portland cement and acrylics. Earth-based and traditional lime plasters offer a more sustainable alternative. Consisting of clay-based soil mixed with sand, straw and water, earthen plasters are the most sustainable stucco choice, says Jim Reiland, owner of Many Hands Builders in Southern Oregon.
"If locally mined, the clay and aggregates (sand, small gravel) have a very low embodied energy cost—whatever it takes to excavate, sift and transport the material to the building site," he says. The material has a long working time, can be re-hydrated if necessary and is completely non-toxic. Earth plasters require greater thickness than other stuccos (at least 1 ½") and require periodic maintenance, especially if walls are not well protected from weather. Reiland recommends an annual lime wash.
Lime plasters cure by absorbing CO2 from the air, effectively sequestering the greenhouse gas. The base material is white and can be colored with pigments; mixes are available through companies like EcoStucco and Vasari. Applying regular coats of lime wash renews the surface, repairs hairline cracks and adds depth to the material. While lime plasters are non-toxic, they are caustic and require careful handling (i.e., gloves and other skin protection); they also require a longer curing time than cement stucco. Wall assemblies that require vapor permeability, such as straw bale, cob and clay/straw, must use stucco that can "breathe": either earthen, lime or cement based.
Exterior insulating finish systems, or EIFSs, are multi-layer exterior cladding systems that incorporate exterior insulation. They usually consist of an air barrier, exterior insulation, cementitious or synthetic base coat with an embedded fiberglass mesh and a thin, waterproof, acrylic-based finish coat. These lightweight systems add insulation value and eliminate thermal bridging. Early versions of EIFSs caused problems, because they didn't include a way for moisture to leave the walls once it had gained entry; since the finish coat was basically impermeable to water, it trapped water inside. Extra caution should be taken during installation of an EIFS, to ensure proper flashing and adequate caulking.
Fiber Cement and Composites
Early versions of fiber cement siding contained asbestos. The modern version, pioneered by James Hardie in the 1980s, is made from a mixture of sand, wood fibers, cement and water, and is gaining ground as a popular siding choice.
Fiber cement siding earns kudos for its durability; it is fire and insect resistant, and purported to last at least 50 years. The manufacturing of fiber cement siding is fairly energy and water intensive, and though the siding is technically recyclable, options for recycling it are limited, so most job scrap ends up in landfills. On the other hand, the number of manufacturing plants scattered around the country make it easy to source fiber cement siding close to the project site, cutting down on the energy required for transportation.
Fiber cement can mimic wood siding uncannily well, whether clapboard, shingle or board and batten. James Hardie dominates the field with its many offerings, which include HardiePlank, HardieShingle, HardiePanel and HardieTrim. Its latest innovation is HardieZone: fiber cement siding products designed for different climates. A new competitor called Allura, which is manufactured by Plycem, entered the field earlier this year. (A Mexican-owned consortium called Elementia bought CertainTeed's fiber cement siding division and plants last year. Manufacturer Plycem falls under the Elementia umbrella). Like James Hardie, Allura is available as shakes, vertical and/or lap siding and in architectural panels; the products come with an industry-leading 50-year warranty (compared to 30 years for James Hardie).
One of the downsides of fiber cement siding is that fine silica (sand) particles become airborne during installation; prolonged exposure can damage lungs. Some manufacturers, such as Nichiha and CertainTeed, replace some or most of the silica filler in their formulas with fly ash, a by-product of coal-burning plants. Boral's TruExterior siding and trim products contain at least 70 percent recycled or rapidly renewable materials, including fly ash. James Hardie does not use fly ash, because the company feels the ingredient would compromise the product's performance.
Fiber cement siding does require periodic maintenance in the form of repainting, and since paints have high embodied energy, this compromises the product's overall sustainability score. However, fiber cement siding shouldn't need repainting as frequently as wood, since it doesn't expand and contract the way wood does. Choosing pre-finished (colored) fiber cement siding can reduce its maintenance. James Hardie offers siding products pre-finished with its ColorPlus technology, which includes primer and several coats of machine-applied paint. Allura siding prefinished with its ColorMax system comes in an assortment of colors and stains, and includes a 15-year finish warranty.
Allura is not the only product giving James Hardie some competition. Boral's TruExterior siding and trim products, made primarily from recycled polymers and fly ash, feature reversible smooth and wood grain-textured sides and can be cut and installed with standard woodworking tools. LP's SmartSide composite siding is made from wood strands or fibers infused with zinc borate to deter pests and fungi, and bound together with resins.
The company sources all of its wood from SFI-certified forests, and the process utilizes whole logs. Bark and other wood waste is used to fuel the manufacturing plants; in fact, over 75 percent of the plants' energy requirements are met by biomass, according to Mike Maddern, SmartSide marketing manager for LP. SmartSide has been gaining adherents over the last 18 years since it entered the market. The product is lightweight and cuts like wood, and so doesn't require special tools like fiber cement siding. It comes in 16-foot lengths, as opposed to 12 for fiber cement siding—a clear aesthetic advantage—and it comes with a 50 year comprehensive warranty.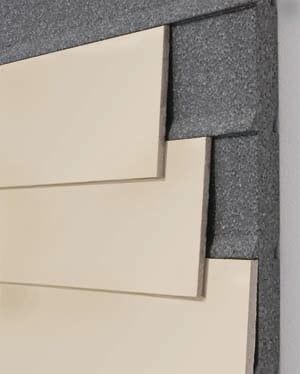 ADDED BENEFITS: Insulated Siding

As exterior insulation becomes more standard, builders will have to add this step to siding installations. The benefits of exterior insulation include adding more R-value to walls, creating a thermal break, adding structural rigidity to siding and creating a barrier to insects and moisture. It also enhances the appearance of siding by evening it out and provides an accurate installation guide, ensuring courses line up correctly.

Progressive Foam offers expanded polystyrene (eps) exterior insulation for several types of siding, including vinyl, fiber cement and steel. Its Linebacker and Fullback families include a field-applied product for fiber cement siding and both field-applied and "factory-laminated" options for steel siding. Linebacker adds an R-value of 3.4 to 3.9 to fiber cement siding; Fullback S brings the R-value of steel siding to between 2.2. and 2.6. The insulation is laminated to Rollex steel siding in the factory, removing a step for the installers, and is contoured to fill the gap between the sheathing and steel siding, making it more impact and wind resistant. The company's Premium Series products (available in both Fullback and Linebacker) incorporate graphite particles into the polystyrene, which increase the material's insulation value and ability to reflect radiant heat without increasing its thickness. The field-applied products can be ordered to match any of the common profiles available in fiber cement siding.
The Scoop on Steel Siding
Though a tiny fraction of the siding market, steel siding has many of the advantages as steel roofing: it's long lasting, attractive and low maintenance. It's also fire resistant (Class A fire rating) and impervious to rot and insects. Although steel is 100 percent recyclable, and steel siding is likely to contain at least some recycled content, it still has a higher embodied energy compared to most other cladding products. It is not as impervious to impacts as other cladding choices and can rust if not maintained.
What is Kynar? Kynar, or polyvinyledene fluoride, is a coating material used on steel that is similar to Teflon; it is highly resistant to abrasion and UV light, and remains stable despite wide temperature swings—making it a good choice for automobile color coatings. Though related to PVC, PVDF is highly non-reactive and regarded as non-toxic.
Steel siding comes pre-finished—i.e., colored—via one of two coatings: PVC or Kynar, or polyvinyledene fluoride (PVDF). Steel siding with PVC coatings have had problems with "steel peel"—basically, the PVC coating delaminates from the steel—and PVC is a source of dioxins, a persistent environmental pollutant, so we recommend steel siding with Kynar finish—the same finish found on many metal roofing products.
Alside makes a Kynar PDVF-coated steel siding called Satinwood Select, which is made from galvanized steel reinforced with a zinc-aluminum alloy coating. Launched in April 2014, Satinwood Select is available in three profiles and a dozen colors and comes with a limited lifetime warranty, including a 50-year hail warranty and 35-year color change protection. It outperforms PVC-coated steel siding with a lower gloss rating and higher resistance to scratching and color fading.
Wood: Tried and True
Many of the newer "alternative" siding products attempt—with varying degrees of success—to mimic wood siding and shingles. Some argue that the aesthetics of wood can't be beat. Most studies agree that wood has the lowest embodied energy of all siding products, even with paints and finishes factored in. Using wood products also sequesters carbon for the life of the building. Wood does require more maintenance than most other types of siding, and it is susceptible to fires, rot, pests and woodpeckers.
Western red cedar is one of the most common choices for wood siding and shingles; it is lightweight, naturally rot resistant, dimensionally stable and free of resins—making it receptive to paints and stains. If you do choose wood siding for your project, keep in mind that not all lumber is sustainably harvested. Western red cedar sourced through the Western Red Cedar Lumber Association (WRCLA), a non-profit network representing 27 producers and a network of affiliated retailers, comes from third-party certified sustainable forests. Similarly, using cedar shakes and shingles bearing the Certi-Label, managed by the Cedar Shake and Shingle Bureau, ensures they have been sourced from its members from sustainably-managed forests.
New cedar is the color of honey; left untreated, it will turn a silvery gray that can appear blotchy. Because cedar is naturally rot and insect resistant, it can still last a long time—even if untreated with stains or paints. This is arguably a more sustainable choice, since stains and other finishes add significantly to the environmental footprint of wood siding. (According to the WRCLA's Environmental Product Declaration for typical red cedar siding, the product has an expected life of 50 years, assuming a 15-year painting schedule. The EPD acknowledges that coatings are "a significant contributor to the environmental profile of painted cedar siding.")
On the other hand, stains and paints add layers of protection, increasing the durability—and hence, the lifespan—of cedar siding. The WRCLA website contains good resources for restoring and finishing cedar siding: www.realcedar.com
Though it is arguably the most popular, cedar is not the only sustainable wood siding choice; in fact, sustainability depends in part on local or regional availability. To that end, North Carolina-based Highland Craftsman offers its unique Bark House brand of bark shingles, made from FSC-certified poplar trees. The bark is a by-product that would normally be burned; 90 percent of the bark comes from within 100 miles of the manufacturing facility.
Husband-and-wife team Marty and Chris McCurry founded the company in the late 1980s, alarmed by the homogenization of their North Carolina community.
"We were seeking a low-impact material that honors where we live and protects the environment," says Chris McCurry. They found several historic homes clad with poplar bark, and developed a methodology for stabilizing and sterilizing the material.
Bark House is a certified B Corp, and the company's bark siding shingles are Cradle to Cradle Gold certified. The product isn't cheap—Marty McCurry estimates it costs up to three times as much as fiber cement siding—but he also points out that the costs start evening out over the product's lifetime. Bark siding requires no maintenance, and should last the life of the home. Though Highland Craftsmen has only been producing bark siding for 25 years, the bark siding on the 80-plus-year-old homes that originally inspired their business is holding up well.