Panel System Offers Labor-Friendly Upgrade for Residential Exteriors

Matt Power, Editor-In-Chief
2 min read
Maine-based Hunter Panels says the current building frenzy has fueled their rapid move into the high-performance housing market.
In what might be called a perfect storm for certain building materials, insulating panels have made major gains in recent years, even in the traditionally conservative and slow-to-change construction industry.
According to MacGregor Pierce, product manager with Hunter's XCI panels division, the industry has reached a tipping point with regard to insulating panels.
"Normally, the transition from the commercial to residential market takes a long time," he notes, "but we're finding a huge opportunity right now for several reasons. First, there's a massive transition going on to net zero requirements. Next, there's the labor shortage. And finally, there are code changes and the need for better water and moisture management."
Pierce says that not coincidentally, his company has developed panel products called Xci and Xci Class A. More than just panels, they are micro "systems" designed to get the jump on code and performance requirements. The Class A product also notably offers high-level fire resistance, making it suitable for wildfire-prone areas and multifamily buildings.
Multi-Surface Ready
Unlike standard rigid board insulation, the Xci panels are part of a highly engineered envelope system called the Aegis Wall System. At the system's core are self-contained panels that can be adapted for almost any wall system, including steel framing, concrete block, and wood framing. The company, which is owned by Carlisle, offers an excellent library of very clear "how-to" videos and documentation, explaining each method of application in great detail.
One of the outstanding features of this product is its "above-and-beyond" documentation. Specification videos, for example, include regular "best practices" tips.
For example, the product team notes in one video that "It "it is good practice when installing your weather resistant barrier (WRB) not to place your barrier seams over joints in panels." One can imagine sitting your relatively inexperienced labor down for donuts and coffee and watching some of these videos—resulting in foolproof installations.
Additional Perks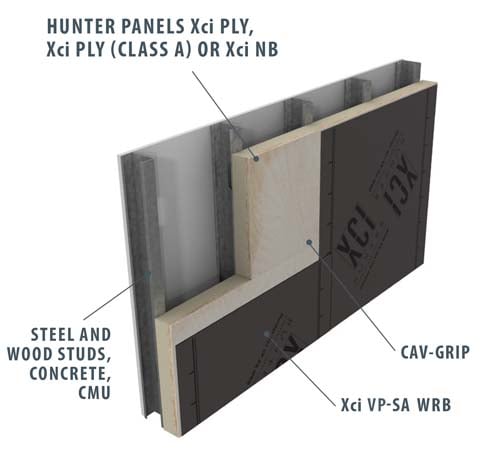 The Aegis system includes Hunter's Xci rigid wall composite insulation panel composed of a closed cell polyisocyanurate foam core, bonded to a fiber reinforced facer on one side and 5/8" or ¾" Fire treated plywood on the other.
Hunter panels currently has another advantage for residential builders: because they work with "economies of scale," the Portland, Maine-based company has an ample supply of materials on hand, despite the pandemic "surge" in demand. Because they offer wall systems," as opposed to piecemeal building components such as OSB, insulation, WRB and so on, they take much of the variability out of material purchasing.
Also, the product dodges some of the pending challenges in the 2021 IECC, which require significant improvements in wall and ceiling insulation. Because Hunter Panels offer continuous insulation on the outside of framing systems, they make up for the fact that wall cavities in conventional stick-framed homes may not be sufficient to meet insulating levels.
"The system offers other benefits too," notes Pierce. "For example, the WRB is vapor permeable, but keeps bulk water out, so you can hang your cladding on the exterior, rather than drive your fasteners all the way through to the structure. It's simple and efficient, and the panels can dry from both sides."
You can view the panel specifications/technical details here.
Oct 26, 2020 5:18:23 PM · 2 min read
---

Veteran journalist Matt Power has reported on innovation and sustainability in housing for nearly three decades. An award-winning writer, editor, and filmmaker, he has a long history of asking hard questions and adding depth and context as he unfolds complex issues.