Pandemic-Proof Products for a Healthy Home

Alan Naditz
6 min read
Few products can reduce pandemic risks at home better than self-sanitizing toilets, HVAC and touch-free appliances. Here are nine standouts available today.

APRILAIRE HEALTHY AIR SYSTEM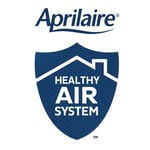 Aprilaire's three-part Healthy Air System is designed to thwart the presence of COVID- 19 in the home by providing improved fresh air ventilation, filtration and humidity control. The company offers a variety of components that help create a complete clean air-producing network.
For example, knowing that the air indoors can be five times more polluted than outdoors, Aprilaire offers its Model 8126X Ventilation System and Model 8140 Fresh Air Ventilator as ways to bring in the recommended amount of fresh air. Meanwhile, the company's MERV 16 Allergy & Asthma Filters can capture up to 96 percent of airborne particles the size of viruses— about 0.03 to 0.3 microns, in COVID-19's case. And, because proper humidity reduces the transmission of viruses, Aprilaire offers humidifiers such as its model 600, 700, and 800 units to keep indoor humidity within the American Society of Heating, Refrigeration and Air- Conditioning Engineers (ASHRAE)'s recommended 30 percent to 60 percent level. www.aprilairepartners.com
---
CARRIER INFINITY AIR CONDITIONER AND HEAT PUMP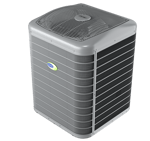 Carrier's two new flagship products—the Infinity 26 air conditioner and Infinity 24 heat pump—offer a one-two punch in the battle against moisture, mold and various air toxins. The Infinity 24 is the only ducted product on the market with a variable-speed, five-ton heat pump to achieve 13.0 Energy Efficiency Ratio (EER). The Infinity 26 and Infinity 24 also include enhanced dehumidification and can remove up to 400 percent more moisture than a single-stage system. Each unit also includes an Infinity air purifier upon purchase. The purifier uses "Captures & Kills" technology: With every cycle of air that passes through this patented air purifying system, pollen, animal dander, bacteria and other pollutants are trapped and held tightly to the filter. An electrical charge then bursts the cell walls of pathogens it comes in contact with. Up to 95 percent of particles are trapped and up to 99 percent of germs and viruses are eliminated or inactivated. (Note: This product has not yet been tested for effectiveness against the novel coronavirus (SARS-CoV-2) that causes COVID-19.) www.carrier.com/residential
---
WHIRLPOOL KITCHENAID DISHWASHER WITH PRINTSHIELD AND FREEFLEX THIRD RACK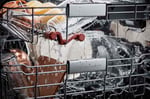 With stainless steel appliances, fingerprints can be a nuisance. Whirlpool's KitchenAid line of dishwashers resists smudges and fingerprints, and can be easily cleaned with water and a soft cloth, thanks its PrintShield finish. The refrigerators also include the massive FreeFlex Third Rack, capable of housing sixinch drinking glasses and more. It features rotating wash jets to clean items in the rack, a drying bar with tabs that help wick moisture off glasses and a removable utensil tray for cooking tools. An adjustable middle rack adds flexibility to fit tall items like a stand mixer bowl. KitchenAid units also use ProWash Cycle sensors to measure soil levels throughout the cycle, and adapt wash time and water temperature as needed for tough messes or lighter loads, saving water and energy. www.whirlpool.com
---
BROAN SURFACE SHIELD VITAL VIO POWERED EXHAUST FAN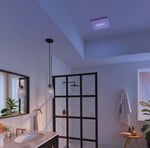 The SurfaceShield Vital Vio Powered Exhaust Fan stemmed from a need for greater sanitation in bathrooms. The fan contains two lights, a standard 3500K LED for illumination, and a second antibacterial lamp. Either can be operated independently. Broan NuTone also offers a LED upgrade grille cover and light module that allow you to upgrade an existing LED to a SurfaceShield LED. The 110 cfm unit can also be installed piecemeal. In other words, you can install just the fan, or just the LED light, or just the bright white, louverfree grille. www.broan-nutone.com/
---
BOSCH CLIMATE 5000 MINI-SPLIT HVAC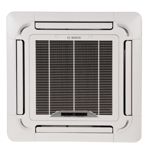 The Bosch Climate 5000 series focuses on individual rooms and living spaces. Thanks to a multi-part filter system, the unit is a powerful line of defense against allergens, odors, viruses and bacteria. The Energy STAR-rated system utilizes electricity to pump refrigerant and transfer heat from one space to another. In cooling mode during warm or summer months, the system efficiently moves heat from inside the space to the outdoors. Conversely, in heating mode during cold or winter months, the units utilize refrigerant, which is naturally colder than outdoor temperatures, to absorb heat from the outside and transfer it to inside the space. Because it requires no large diameter duct work, Climate 5000 can be retrofit into existing homes with minimal tear-out, as well as new home installs. The condenser is conveniently located outdoors, while up to five air handlers can be placed inconspicuously indoors. www.bosch.com
---
INOX MICROARMOR ANTIMICROBIAL COATING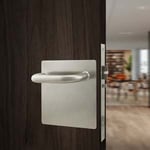 This company's line of stainless steel products, including residential door levers and pulls, deadbolts, panic devices and push/pull plates, now feature its MicroArmor Antimicrobial Coating—a powder coating infused with antimicrobial technology that inhibits the growth and reproduction of harmful bacteria, mold and mildew by up to 99.9 percent. INOX MicroArmor Antimicrobial Coating contains silver ions that attach themselves to a microbe's cellular enzyme to block growth of the microbe, reducing the spread of bacteria, fungi and mold. During the manufacturing process, the powder coating is applied to an INOX product and the silver ions within the coating integrate with the product itself. This enables the hardware to have around-the-clock protection that does not wash off or wear away, and remains effective in reducing the growth and spread of bacteria. The antimicrobial technology is approved by the Environmental Protection Agency. It has not been tested for effectiveness against COVID-19. www.inoxproducts.com
---
KOHLER EIR INTELLIGENT TOILET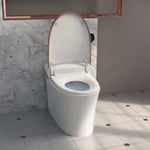 Eir, Kohler's new intelligent toilet, knows what people right now are worried about the most—the coronavirus. The unit's one-click sanitizer button activates electrolyzed water and ultraviolet light—the bane of all things COVID—to clean the toilet's bowl and wand, ensuring unparalleled hygiene and peace of mind vs. bacteria and viruses. There's also a bidet function, complete with a water filtration system that purifies and removes impurities, residual chlorine and heavy metals from water sprayed from the wand. Filtering the water also protects the bidet against clogging from sediment and mineral build up. Other features include heated seat, customizable cleansing, a night light, hands-free opening/closing, automatic flush, and a touchscreen remote. The unit can be installed against the wall—as opposed to the floor—which hides the toilet's various connections. It also comes available with P-trap or S-trap for low water pressure environments. And, the LEED-compliant product is capable of 0.8 and 1.1 gallon-per-minute dual flush modes. www.us.kohler.com
---
LEGRAND WAVE SWITCH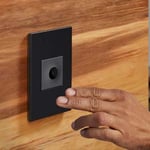 The Wave Switch from legrand's adorne Collection allows users to turn lights on and off with a wave of the hand—preventing germs from spreading onto hands and from surface to surface in the kitchen, bath and other high-traffic areas of the home. It's also an easy way to turn lights on or off if the homeowner's are full or messy. Wave Switch can be used on its own to control a light from one location (single pole) or paired with a second switch or dimmer to control a single light source from two locations three-way). It's a simple do-it-yourself item, sized to fit a basic electrical box and requiring about 15 minutes to install. It does need a specialized wall plate, available in various designs and colors from the manufacturer. www.legrand.us
---
SONOMA FORGE SANS HANDS FAUCET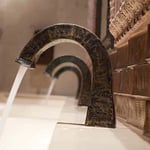 With the World Health Organization's revelation that viruses such as COVID-19 can live on stainless steel surfaces for days, there's a greater concern over the cleanliness of public and household faucets. Sonoma Forge's hands-free faucet—appropriately named Sans Hands—features an electromagnetic sensor, as well as a rustic nickel finish with a clear powder coat that protects the finish, and has antimicrobial properties. Sonoma Forge created Sans Hands technology by combining a low-voltage current with an electromagnetic field. When a user approaches the faucet and interrupts the electromagnetic field, the faucet valve opens to begin the flow of water. When the user walks away, the water stops, helping with water conservation. Touchless faucets also make it easier to keep the bathroom clean since there are no handles to collect water spots and soapy buildup. www.sonomaforge.com
Jun 24, 2020 1:27:03 PM · 6 min read
---

Alan Naditz is managing editor of Green Builder Magazine. He has covered numerous industries in his extensive career, including residential and commercial construction, small and corporate business, real estate and sustainability.