Only 18% of Battered Florida Homes Had Flood Insurance

Matt Power, Editor-In-Chief
5 min read
Go inland to Polk County, and the number shrinks to 2 percent. No wonder you see stunned survivors camping near the rubble, weeks after the storm.
I was shocked to read this morning just how underinsured Floridians are, including thousands wiped out by Hurricane Ian last month. Insurers are reporting record losses already, and that's with only a fraction of the "at risk" homes holding flood insurance.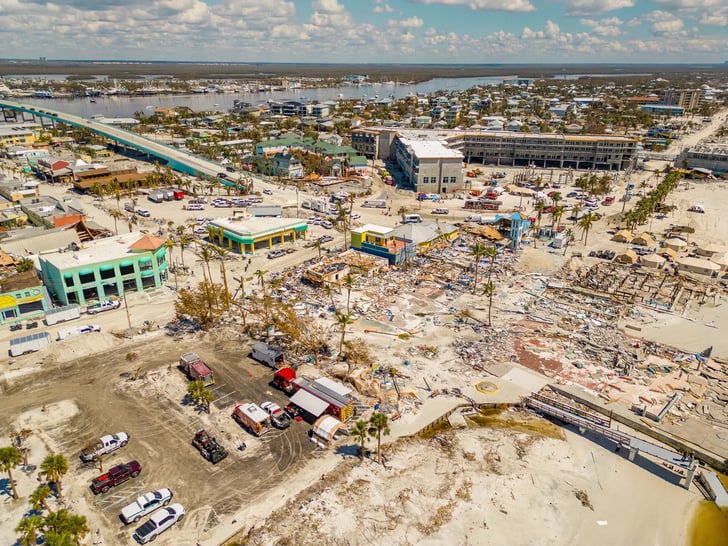 One of the interesting statistics noted in the report is that, on average, a home flooded with a single inch of water may have $25,000 in damages.
The Orlando Sentinel reports that:
"In coastal Lee County—where Ian made landfall and at least 58 people died—only one-quarter of single-family homes are covered by federal flood insurance. The percentages get even lower as you move inland. About 4 percent of single-family homes in Seminole County are covered by flood insurance, according to the Insurance Information Institute. In Polk County, it's about 2 percent. In total, only 18.5 percent of the homes in Florida counties that ordered evacuations for Ian have flood insurance."
Flood Insurance Coverage Versus Resilience
Costs of flood insurance have tripled along Florida's coasts. Imagine you're a retiree, coasting along with your paid-off mortgage. Do you really need to shell out $3,000 to $5,000 for basic flood coverage?
That depends. If your home is in a designated flood hazard zone, and built to the Florida Building Code, you may already have a good chance of property survival in all but the worst hurricanes. That's not to say you're invulnerable. Just because a house is located on piers, for example, doesn't mean it's flood ready. We saw this on a large scale with Hurricane Ian. Homes not adequately anchored to piers broke loose and slammed into other structures. The result was often catastrophic for both buildings.
It's conceivable that even more people will roll the dice with no flood insurance in coming years, as losses from Ian push rates even higher.So what happens when you simply can't insure a florida home in the coastal zone. Maybe you paid $350,000 for it two years ago, and the impossibility of insuring it drives its appraised value down to $200,000. Will you stay "underwater," or take a huge loss and get out before the big one hits?
While touring Florida a couple of years ago, I met a woman in her nineties, who scoffed at the idea of flood insurance, despite having seen several floods at her riverfront home.
"That's a scam," she told me. "Everybody around here knows you just build your house to expect a flood. Then you wash it out and clean it up and keep going."
Is she right? How viable is the idea of creating a house that can survive the shock of flooding Here are some of the things to consider.
How to Avoid Flood Water Damage
Flood water is generally nasty stuff. It may be mixed with salt water and silt, loaded with bacteria, often contaminated with raw sewage from all of the overburdened septic fields, and generally not something you want to wade around in. Here's a list of 6 parts of a home impacted by floods, and how you might pre-emptively mitigate damages to them.
Furnishings: When homes are flooded, you can expect to "lose" just about any soft materials, meaning they may not be washable and salvageable. This includes mattresses, bedding, clothes, tablecloths, curtains, shoes—anything that can soak up water. Be creative. Create a pulley system for your more valuable furnishings, and hoist them out of harm's way.
Solution: Opt for non-porous tables, chairs and bed frames? Keep all soft materials on high shelves, especially when you're gone, in waterproof plastic totes. If you have the ceiling space, create a pully system with which you can lift and "hang" expensive or personally dear items like your grandma's couch. In the kid room, pile all of their bedding and mattresses on the top bunk when you plan to be away for a while.
Wallboard and framing: Often the first casualty in a flood, gypsum wallboard almost never dries out, and becomes a growth surface for mold and bacteria.
Solution: Replace wallboard (or at least the lower section] with flood-resistant materials such as magnesium sulfate panels or cement-based hardipanels (the type more often used on home exteriors. These can be pressure washed and will dry out. Build with treated framing lumber instead of standard 2x stock.
Carpets: Avoid wall-to-wall carpets.
Solution: Specify area rugs only that can be rolled up and removed easily. Store them up high when out of town.
Laminate and Hardwood Flooring: Most wood flooring can only be submerged for a brief time before it swells and warps (like a few hours). Laminates, even those that claim to be waterproof, may also swell if submerged and are likely to need full replacement.
Solution: Save your hardwood if you can by pumping water out of the house and cranking up dehumidification. Even so, you may end up losing it. A better option is to opt for ceramic tile or finished concrete floors.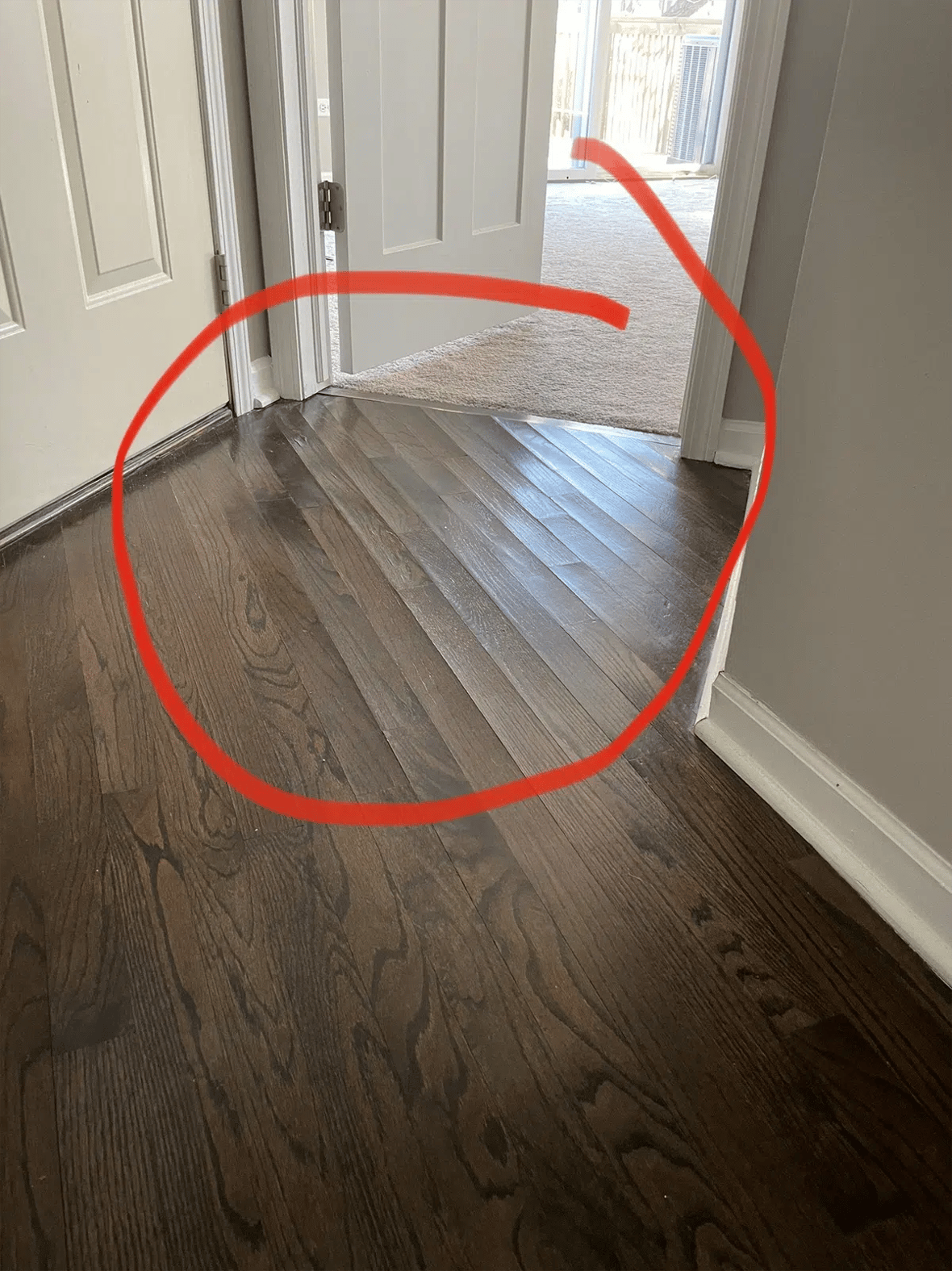 A hardwood floor exposed to flooding will often "cup" like this after even a short exposure. Image: Reddit
Cabinetry: Any product made of particle board is likely to be unsalvageable. Solid wood frames may be saveable, but like hardwood floors, your window for this is very short.
Solution: Although hard to find, metal cabinets can be found that are essentially flood proof. Look for frames and doors intended for garages and workshops, or hire custom crafting of metal doors, for an industrial look that's storm ready.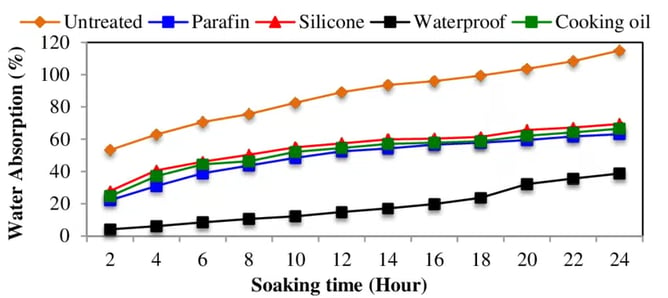 Research shows how particleboard absorbs increasing amounts of water over time. Saving it requires rapid response and dehumidification.

Source
HVAC Equipment: Floods make short work of compressors and HVAC equipment. They're almost never salvageable.
Solution: Mount your heat pump compressor up high on a stand or against the home, above projected flooding levels. Make sure you have smart controls that allow you to operate it remotely, in case you can't get access to the house. To do that, of course, you'll need power.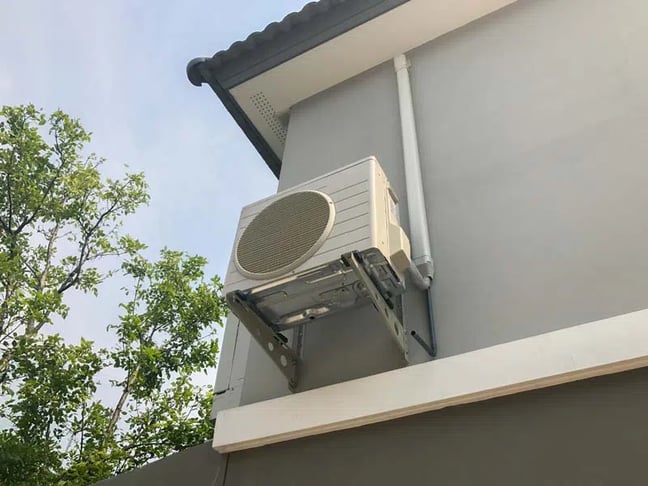 Mounting HVAC equipment above the floor surge level gives your system a fighting chance: Image: ACS Air Conditioning
Backup Power is the Way
All else being equal, it's worth thinking about a simple, battery and solar based backup power system for your home. You need to be able to get dehumidification started quickly. I recommend something like the EverVolt system from Panasonic Solar, because you can start out with a modest battery capacity for emergencies, and add on later. Again, keep the batteries up high, and make sure the solar panels are attached strongly to the roof.
Nov 5, 2022 12:47:00 PM · 5 min read
---

Veteran journalist Matt Power has reported on innovation and sustainability in housing for nearly three decades. An award-winning writer, editor, and filmmaker, he has a long history of asking hard questions and adding depth and context as he unfolds complex issues.