One Company; Three Ways to Net Zero

Alan Naditz
3 min read
Training and education are setting the tone for this company's sustainability efforts.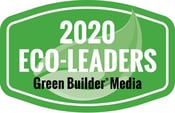 There's no one way to go net zero—which is why Rheem Manufacturing is using three of them. The heating and cooling product manufacturer, under its "Greater Degree of Good" mantra, plans to meet 2025 sustainability goals through innovation, efficiency, and leadership.
The overall goals are challenging but accomplishable, according to company officials. For innovation, it means launching a line of heating, cooling, and water heating products that boasts a 50 percent reduction in greenhouse gas (GHG) footprint.
Similarly, under efficiency, the plan is to reduce GHG emissions by 50 percent and achieve zero waste to landfill in its global manufacturing operations. Leadership is charged with training 250,000 plumbers, contractors, and key influencers on sustainable products or sustainable installation and recycling best practices.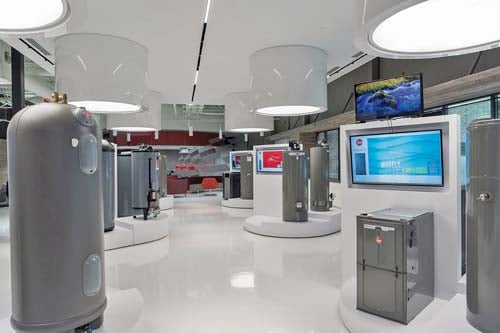 The company's state-of-the-art Innovation Learning Centers offer fast-paced online and hands-on training to bring employees up to speed on the latest technologies. Courtesy Rheem
That last one is probably the most crucial, given that without the best-trained employees and contractors, the other two sets of goals aren't going to work. The company lays it out pretty clearly on its website:
We hire and inspire our teams to be next-generation thinkers and responsible stewards of our industry, greater community, and the environment. And, through training and supporting our customers and partners, we strive to help them strengthen and grow their businesses. We also work to build a thriving industry workforce—supporting the recruitment and empowerment of tomorrow's plumbers and contractors, leading the way to a prosperous future, together.
The accomplishments include:
Opening state-of-the-art Innovation Learning Centers worldwide that are designed to accelerate training through hands-on and online education modules.
Sponsoring contractor and plumber-focused trade groups, including the Air Conditioning Contractors of America (ACCA) and Plumbing Heating Cooling Contractors Association (PHCC).
Sponsoring the Energy & Environmental Building Alliance (EEBA) National Summit Manufacturing Expo and hosting a panel session about how to create "utility ready" products and programs.
Providing on-the-go tools and resources for contractors via the innovative Rheem Contractor App.
"Our customers are becoming more climate-conscious," notes Philip Oglesby, manager of education and content development for Rheem's air conditioning division. "It's imperative that we offer our plumbers and contractors sustainability training to better serve our customers' growing demand for sustainable products."
There are other more subtle, internal-oriented training efforts. The company encouraged its customer service team to take a green zero-waste challenge, which led to the elimination of paper cups from the office. Workers at the Heat Transfer Products Group (HTPG) facility in Scottsboro, Ariz., were provided with sustainability initiatives and tips to help reduce the environmental impact and cost of recycling waste there.
The company even educated itself when it polled new hires, and 44 percent answered "highly or very highly" that Rheem's sustainability initiatives impacted their decision to join the company.
"Our training message is not just 'be green to save the planet,'" notes Mark Roach, manager of the water heating division's product training and content development. "We share practical benefits and real-life success stories. Students may come in never having thought about running a sustainable business, but when they leave, they understand the importance of it."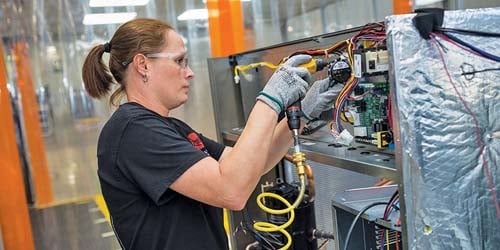 Sustainability training for employees at the Fort Smith, Ark., facility helped reduce waste and protect natural resources. Courtesy Rheem
Benefits of this training appear elsewhere, most prominently in waste reduction and energy efficiency:
Pretreatment of metals at Rheem's Nuevo Laredo, Mexico, factory eliminates 1,500 metric tons of greenhouse gas (GHG) emissions per year.
Packaging updates at the Fort Smith, Ark., facility have reduced cardboard usage, saving trees.
Reprocessing steel dust in the company's Australian factories prevents more than 100 tons per year from ending up in landfills.
Using inflated bags instead of foam for packing at the Waterbury, Conn., factory avoids 26,600 cubic feet of Styrofoam packing material per year.
Switching tankless packaging from foam to honeycomb-shaped cardboard significantly reduced hard-to-recycle waste, while maintaining the same level of product protection.
Replacing cooling towers and switching to LED lighting at the Nuevo Laredo facilities resulted in a 4.1 million kilowatt hour (kWh) reduction in electricity consumption per year.
Using a solar array installed at the company's Rydalmere, Australia, facility has generated 136.5 megawatt hours (MWh) of electricity and reduced GHG emissions by 112 tons.
"Sustainability is just a byproduct of being efficient," notes Rheem Engineering Manager Dan Partin. "You have to be responsible in manufacturing. I think we owe that not only to our own employees and to the company, but to everybody in America and throughout the world."
---
Alan Naditz is the managing editor of Green Builder magazine. He has covered numerous industries in his extensive career, including residential and commercial construction, small and corporate business, real estate and sustainability.
---

Alan Naditz is managing editor of Green Builder Magazine. He has covered numerous industries in his extensive career, including residential and commercial construction, small and corporate business, real estate and sustainability.