Nine Out of 10 Americans Would Consider Tiny House Living

Michele Lerner, Associate Editor
5 min read
Talk is cheap, but so is tiny living, so maybe that's what's shoe-horning cash-strapped households into shed-sized housing.
Kat Brewer and Tyler Cole, married travel nurses, now own a house in Tacoma, Wash., but they couldn't have done it without years of living in a tiny home.
"We were renting a house in Northern Georgia outside of Chattanooga when we decided to build a tiny house so we could live in it and save money," says Brewer. "We rented land in three to six month increments around the Western states as we worked as travel nurses."
The millennial couple embraced the tiny house lifestyle in a 28-foot-long and 8.5-foot-wide house with just 365 square feet including the loft.
"It was the best decision for us to save money and to be able to afford the crazy housing market in the Pacific Northwest," says Brewer. "And it was the best adventure, too."
Tiny House Movement
While tiny living intrigues many people, a recent survey by HomeAdvisor found that a surprisingly large percentage of Americans (86%) say they would live in a tiny home. Of the 1,800 people surveyed, 921 were millennials. The millennial respondents live throughout the U.S., broken down this way:
38% in the West
26% in the Northeast
15% in the Southeast
13% in the Southwest
8% in the Midwest
"Tiny homes do have the charm that comes with promises of a downsized, simplified life, but affordability is likely a bigger factor in the appeal of a tiny home," says Mischa Fisher, chief economist at Angi, an internet services company formed by the merger of Angie's List and HomeAdvisor. "Money is almost always a key consideration in major household decisions, and the option of having little to no mortgage payment with modest upkeep costs can be appealing, especially for younger people who are earlier in their careers and still focused on building wealth."
Affordability is the most appealing aspect of tiny living for 73% of respondents, according to the HomeAdvisor survey, followed by a minimalist lifestyle, efficiency, and eco-friendliness. The survey found that 68% of people would consider buying a tiny home as their first home and 68% would live there year-round.
More respondents to the survey prefer a tiny home attached to a foundation (48%) compared to a tiny home on a trailer for mobility (22%).
Downsized Everything for Tiny House Living
Brewer and Cole opted to build their tiny house to make it as affordable as possible. Their low-square-footage house had full-sized kitchen appliances, a tiled shower with dual shower heads, and a composting toilet. The couple initially had a built-on deck, but they removed it after their first destination because of the added weight and lack of use, Brewer says.
"Some manufacturers do have specific lines of miniature appliances that are well suited to tiny houses," says Fisher. "There are also some tiny house manufacturers that will handle the appliance decisions for their buyers. However, historically it has been very common for builders of tiny houses to source their appliances from Europe, where there is a larger variety of smaller appliances to choose from, given the smaller average home size in many European cities relative to American ones."
American companies such as Whirlpool make small dishwashers that are less than 18 inches wide that can work in tiny house plans, along with small-size refrigerators and ovens. Standard bathtubs average 60 inches by 30 inches, so most tiny house owners opt for a shower, but it's possible to find tubs as small as 55 inches by 27 inches.
Manufacturers offer downsized furniture, too, such as multipurpose foldout beds, couches, and coffee tables that double as dining tables and desks. Of course, some of these ingenious transforming items come with a hefty price tag, which defeats the purpose for many people of owning a tiny house.
Affordability is the Key With Small Homes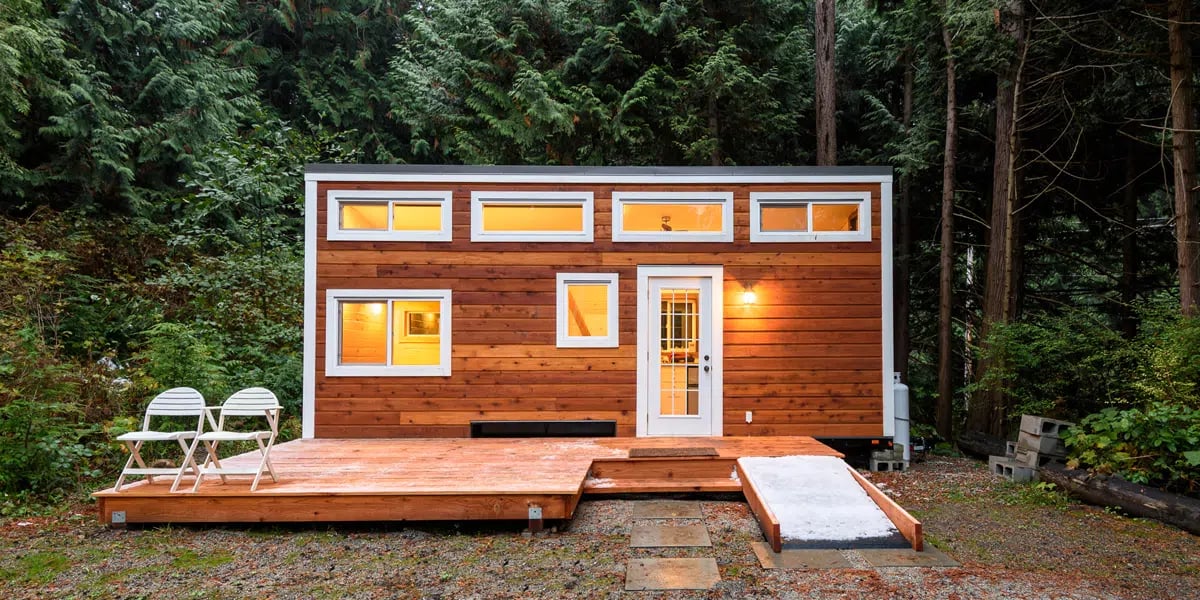 For millennials and other renters eager to become homeowners, a tiny house may be the solution to a frustrating housing market. The median listing price for a home reached $405,000 in March 2022, according to Realtor.com, an increase of 13.5% compared to March 2021 and up 26.5% compared to March 2020. Even if someone has the budget to buy a house at that price, they're hard-pressed to find one: Active inventory of homes is down 18.9% since March 2021 and a whopping 62.3% compared to March 2020, according to the report.
Wall Street investors are snapping up the most affordable single-family-homes, which especially hurts first-time buyers. And if you want to buy a newly built home, be prepared to spend time and money. The median sales price for new homes was $400,600 in February 2022, according to the Census Bureau. Shortages of labor and materials are slowing down construction and increasing the timeline from permit to occupancy.
Respondents to the HomeAdvisor survey said they would budget between $50,000 and $99,999 for a tiny home. Brewer and Cole paid $26,000 to build their tiny house.
"Since tiny houses are typically more affordable than your traditional home, and don't tend to come with a mortgage, they can be seen as a more tangible entry point into real estate ownership," says Fisher. "If the owners outgrow the tiny house, they then have the option of selling it or transitioning it to an ADU (accessory dwelling unit) at their new, permanent address."
After three years of tiny life, Brewer and Cole purchased a home in Tacoma and kept their tiny house to rent it to other traveling nurses.
"When it comes to selling a permanently installed tiny home, location will be a primary factor, just as with a traditional home," says Fisher. "If the tiny home is movable, the price will depend on how expensive building materials are at the time, how much local demand there is for tiny homes, and the condition of the structure."
Start Your Tiny Life by Embracing a Small House
For some people, sharing a small space with a partner could be the biggest challenge of tiny living. But in HomeAdvisor's survey, 50% said they thought living in a tiny house would be good for their relationship.
Two bigger challenges for tiny home buyers, according to Fisher, are land access and zoning restrictions.
"The paradise plots of land you see in all those tiny home social media posts are usually not cheap if they're easily accessible," says Fisher. "Less accessible land may be more affordable up front, but they also often come with considerable development costs to make them accessible enough to install a tiny house. On top of that, many jurisdictions have zoning requirements around housing size and permanence which can make a permanent tiny house hard to install. Some require a minimum structure size, approved sources of drinking water, properly installed septic fields or some combination of the three."
Still, Fisher says, "Tiny homes will likely remain a fixture in the housing landscape, albeit a niche one for most people."
Brewer's advice for anyone interested in a tiny house:
"Embrace the tiny," says Brewer. "It was a home that encouraged us to be present with each other and not distracted by material things. Get outside and use the outdoors as your living room."
---
Publisher's Note: This content is made possible by our Today's Home Buyer Campaign Sponsors: Whirlpool, Vivint, myQ, Sonos and Jinko Solar . These companies take sustainability seriously, in both their products and their operations. Learn more about building and buying homes that are more affordable and less resource intensive.
May 24, 2022 11:17:27 AM · 5 min read
---

Michele Lerner is an award-winning freelance writer, editor, and author who writes about real estate, personal finance, and business.