Multifaceted Sustainable Home

Alan Naditz
7 min read
A classic customer request turned into a prime example of sustainable building.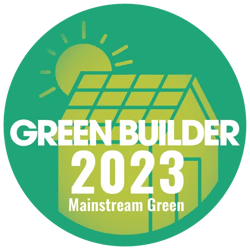 To say that Linda Massey was a typical customer of Clifton View Homes (CVH) would be underselling her. The Oak Harbor, Washington resident asked CVH to build a retirement home that would provide her with a "completely independent and secure life experience."
Such a home would need to be net zero, ENERGY STAR certified, and accommodate different facets of healthy living. "My wants were simple," she admits. "I wanted a home that would be more comfortable than my old one, all on one level, and use less energy."
Challenge accepted. According to project architect Ted Clifton, building the home—nicknamed the Hillside Farm House—was easier than it sounded. "We knew we could build the kind of house [Massey] was looking for," he notes. "She wanted her final home to set an example for how homes should be built, and it was a natural fit for us, both from the design perspective, as well as its construction."
The project's success stems largely from meeting the customer's needs in clean energy, water usage, and greenhouse gas emissions.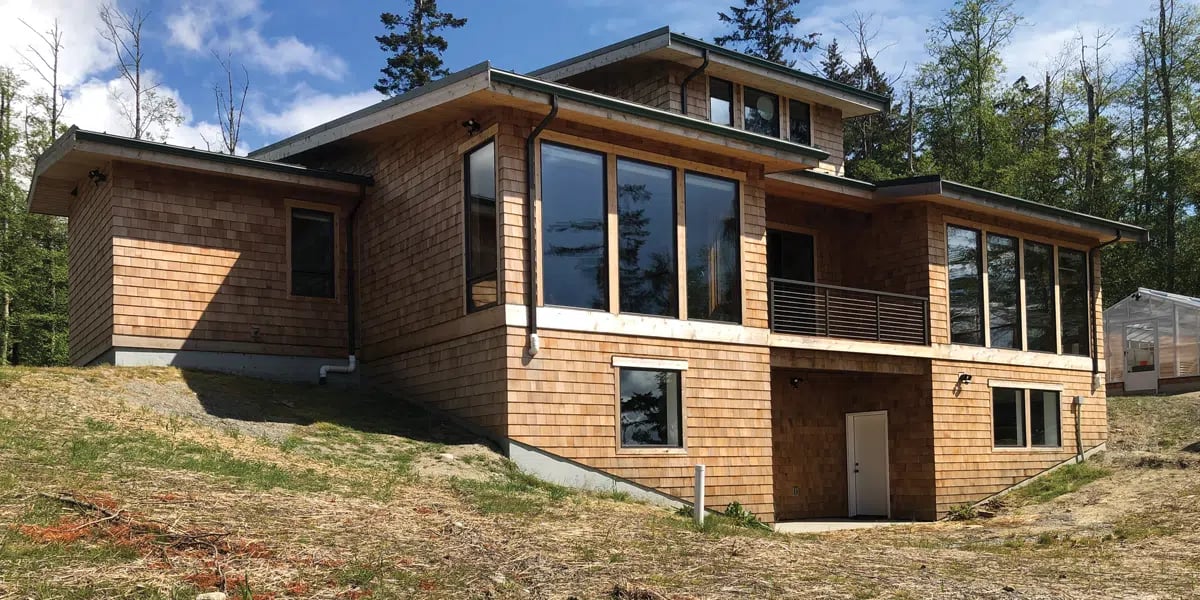 From the Judges: "Nice 'normal-looking' house style makes extensive use of passive solar heating and low-cost ventilation cooling."
Plentiful Power
The grid-tied home generates 100 percent of its energy over the course of a year, and has enough battery power to survive lengthy power outages, while leaving the power profile to the grid relatively flat on a daily and seasonal basis.
Project Stats
Name: Hillside Farm House, Oak Harbor, Washington
Builder: David Wallace, Clifton View Homes
Architect/Designer: Ted L. Clifton, Zero-Energy Plans
Photographer: Ted L. Clifton/Zero-Energy Plans
The 10 kilowatt photovoltaic system powers the house—it covers only the south-facing portion of the garage roof, and there is about twice that amount over the main house still available for PV—and the owner's Tesla Model S. The latter was a smart side effect of the home's green construction, according to Massey.
"Early in the design process, we went for a ride in [Clifton's] Tesla to visit a few potential building sites," she notes. "The car was so smooth, and quiet! He explained how he was charging his car at home, never having to go to the gas station. I now have my own Tesla."
The system is also large enough to power up several neighbors' homes during an emergency. It also helps the home achieve a Home Energy Rating System (HERS) Index score of minus 18, and Energy Star certification from the U.S. Environmental Protection Agency (EPA).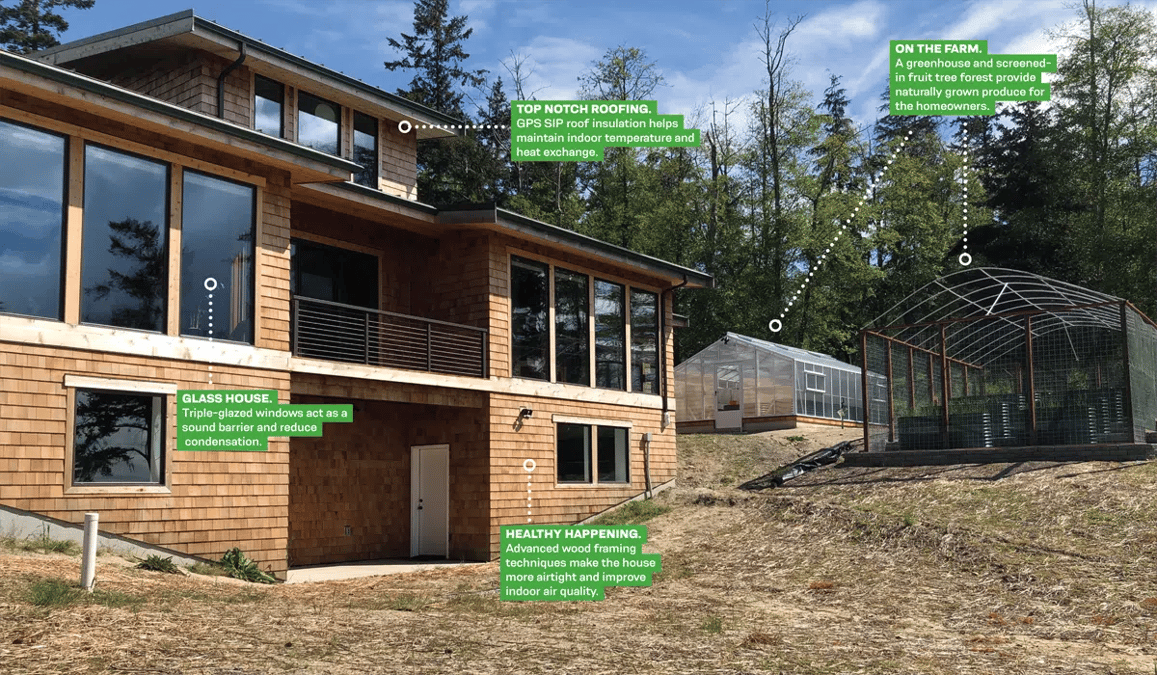 Home Water Storage
Although the owner desired a single-level home for her senior years, the hillside location was perfect for the added bonus of a daylight basement. The basement provides a perfect location for water storage, and is a place for farm implements, and semi-conditioned food storage.
The basement room housing the ground source heat pump (GSHP) unit and domestic hot water (DHW) tanks will always be warm, and the isolated room with one water tank will always be cold.
With 25,000 gallons of rainwater storage in the insulated concrete form (ICF) basement, the home will provide for 100 percent of its annual domestic water needs, and will irrigate fruits and vegetables that are being grown in raised-bed gardens, a screened-in fruit tree forest, and a greenhouse.
"Realizing I would have all this water available, I started looking into adding a greenhouse, and raised-bed gardens for raising my own vegetables," Massey says. "Everything just came together, one idea after another."
Overflow from the rainwater system is captured in an infiltration trench, where it helps keep moisture in the soils above the ground-source heat pump loops, increasing their efficiency, while eliminating runoff.
The house is also tied to a small local water district, allowing the home to provide water to its neighbors in the case of a major emergency.
Emissions Obsolete?
Zero volatile organic compounds (VOCs) were in any of the products used to build the home, and zero carbon will be emitted in the operation of the house or the car. "We suspect there will be a net reduction in carbon from the site due to the products grown in the farm," says Clifton. "If I counted right, that is seven zeros, a couple of which are better than zero."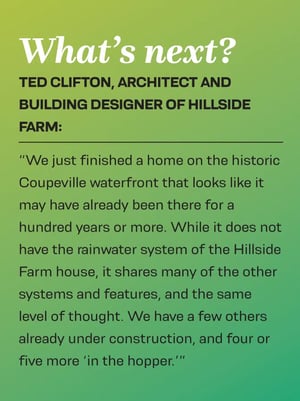 "Better than zero" is also a term that judges from Green Builder's 2023 Green Home of the Year (GHOTY) competition can apply to the overall Hillside Farm House project. But that's not surprising, considering the builder involved, according to GHOTY judge Nathan Kahre, who is innovation and initiatives manager at EnergyLogic, an applied building science company based in Berthoud, Colorado
"Clifton View Homes designs and builds amazing homes that are so far beyond the majority of the building community," he says. "The community couldn't even envision the stepping stones it takes to get to this level of construction."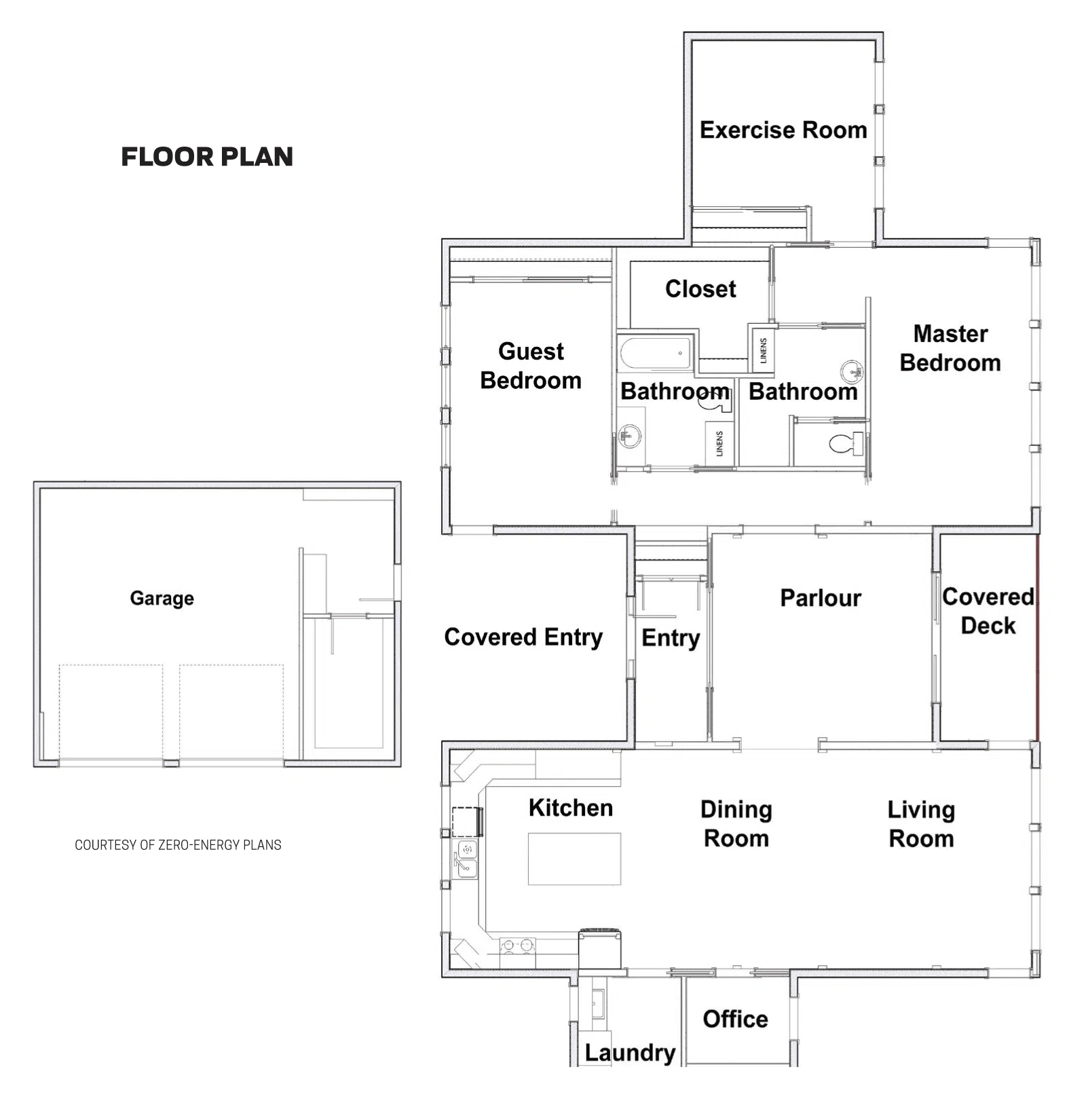 Key Components
Alternative Building Systems: ICF foundation (Nudura); SIP walls and roof (Premier Building Systems).
Appliances: Kitchen Aid
Automotive (electric car charging, etc.): Tesla Model S car, 50 amp 240V outlet, Tesla level 2 charger; LG 14 kWh storage batteries (2–expandable to 4 batteries), Silfab SLA-310 solar panels, SolarEdge inverter, module optimizers, 9.92 kW system, expandable to 22 kW
Building Envelope: SIP walls and roof, GPS foam for higher R-value (R-29 walls, R-47 roof assemblies); below-grade walls, all ICF from Nudura
Cabinets, Shelves, Millwork: Custom bird's-eye maple, from WoodHouse Custom Cabinets in Anacortes, Wash.
Caulks and Sealants: Brands vary by location: Titebond for most adhesive applications, ASI for exterior silicone applications, GE Advanced with Mildecide for most interior applications
Countertops: Granite by Northwest Granite & Flooring
Decks: Natural Cedar, no finish (left to go gray)
Doors and Hardware: Entry door custom made by Craftsman Door Company, Ore.; Other exterior (glass) doors by Vinyltek Windows & Doors, Delta, British Columbia; basement door and garage man-doors by Codel; interior doors by Simpson Wood Doors
Electrical: Siemens panel and breakers
Exterior Finishes: All-natural cedar, left to gray naturally
Flooring: All interior floor covering is porcelain slate-look tile from Daltile
Garage Doors: Avante Legacy, Liftmaster opener
Home Controls: Intermatic speed control on range fan/HEPA filter balanced combination, 24-hour timer for nighttime cooling
Insulation: GPS foam in SIPs, Icynene spray foam under floor over basement
Lighting: Varies, 100 percent LED
Paints and Stains: Sherwin Williams all zero-VOC
Plumbing/Plumbing Fixtures: Kohler
Renewable Energy Systems (solar, wind, etc.): (2) LG 14 kWh storage batteries (expandable to 4 batteries), Silfab SLA-310 solar panels, SolarEdge inverter, module optimizers, 9.92 kW system, expandable to 22 kW
Roof: New-Ray metals standing-seam steel roofing
Structural Components: Simpson Wood strong-wall sheer walls, hangers, etc.; Boise Cascade Glue-Lam Beams, Truss Joist main floor system
Ventilation: Fantech HEPA filter, range fan (installed in balanced combination), Panasonic WhisperGreen bath fans, whole house fan, using set-back feature and motion sensor operation
Water Filtration: Gutterglove rain gutter protections, Norwesco storage tanks, RMS floating filters, CMBE constant pressure booster pump, ONC filtration system, Viqua ultraviolet disinfection system
Water Heating: Enertech Hydron Module GSHP, home heating and water heating from same GSHP unitWater Management (indoor/outdoor): Phyn water monitoring sensors
Windows, Skylights, Patio Doors: Vinyltek triple-glazed windows and doors from Delta, British Columbia. U-values average 0.17.
Other: Greenhouse by Charley's Greenhouse Supply, Mount Vernon, Wash.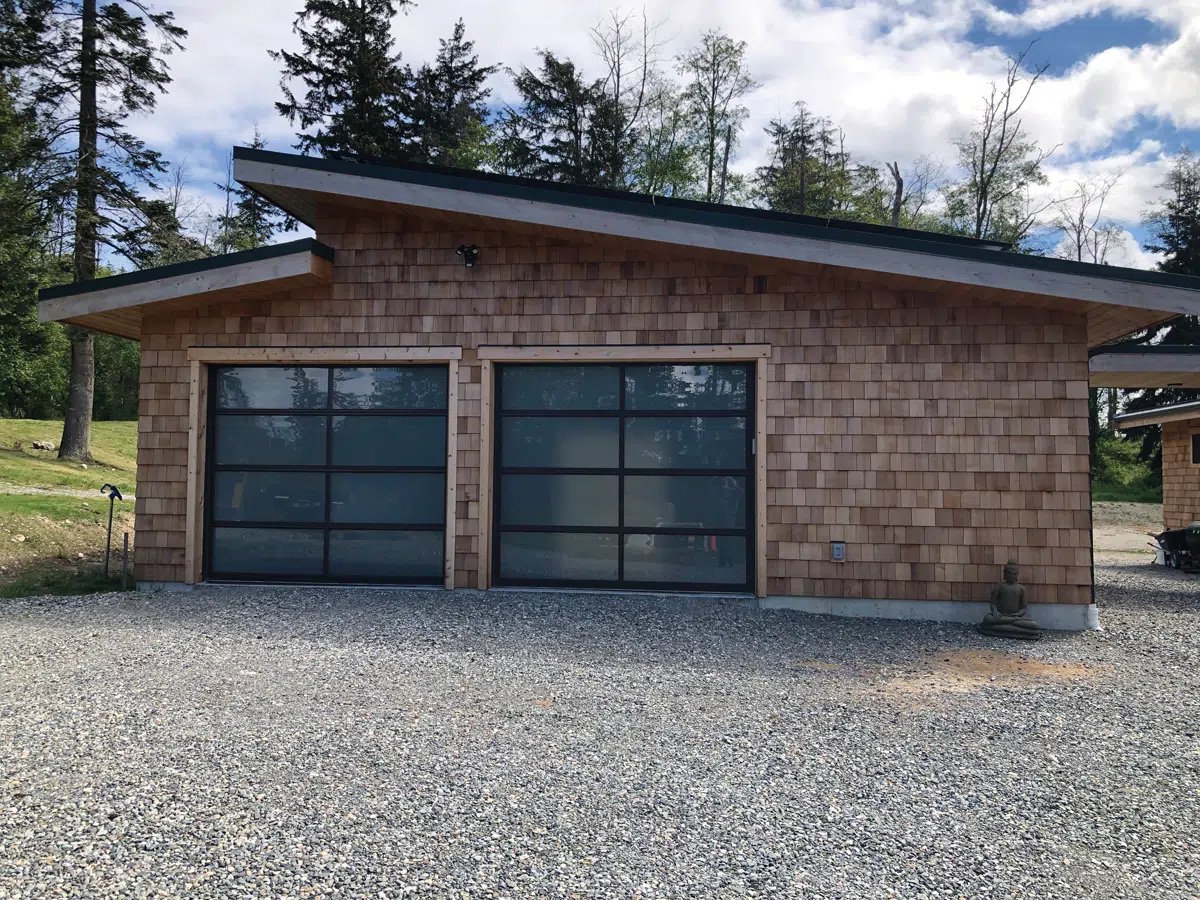 A 10 kilowatt photovoltaic system is positioned only on the south-facing portion of the garage roof to obtain maximum sun exposure.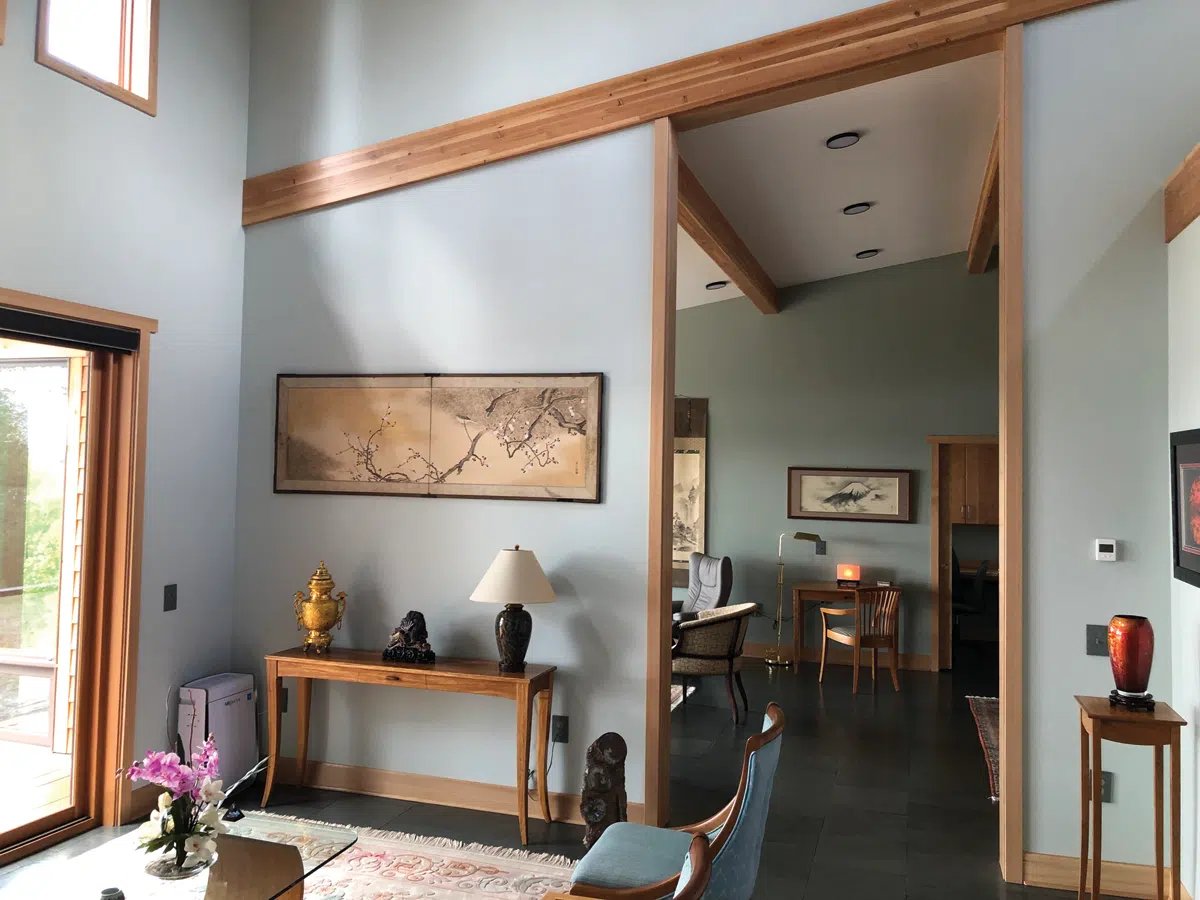 Walls within Hillside Farm contain graphite-enhanced polystyrene (GPS) structural integrated panels (SIPs), which can cut household energy use by up to 50 percent.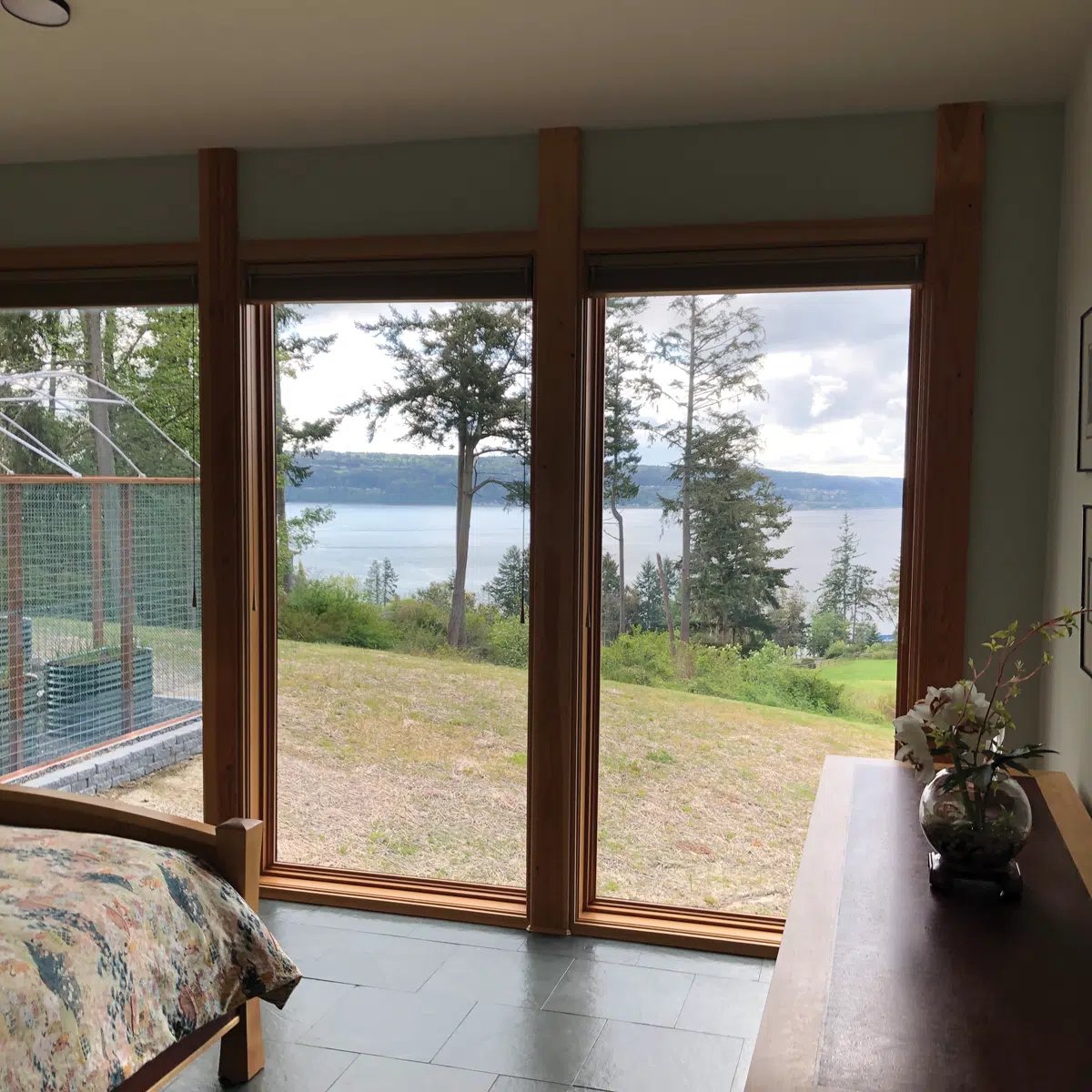 The house features U-0.17 triple-glazed Vinyltek windows, which help save energy and control indoor temperature during summer and winter.
Green Home of the Year Awards: The Judges
Three judges made the important decisions in the 2023 Green Home of the Year program.
As we move from one major lifestyle challenge—an emergent pandemic—to another, with historic storms and record heat, builders have been continuously challenged to adapt. Green Builder's 2023 Green Home of the Year winners are well constructed, energy efficient and creatively designed. But our grand winner topped them all by emphasizing the local economy and the environment.
Our expert panel of judges evaluated projects in terms of overall sustainability, resilience, synergy with the environment, affordability, creativity and the depth of science employed.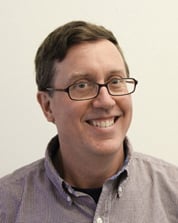 Mike Barcik is a technical principal at Southface Institute, a nonprofit which promotes sustainable homes, workplaces and communities through education, research, advocacy and technical assistance. He has been with the Atlanta-based organization since 1995. With Bachelor of Science and Master of Science degrees in mechanical engineering from Georgia Tech University, Barcik is the author of numerous technical resources and has developed and led thousands of trainings for RESNET, EEBA, BPI, LEED, U.S. Department of Energy (DOE), U.S. Environmental Protection Agency (EPA) and other programs. Since 1999, Mike has trained more than 1,500 individuals in RESNET's Home Energy Rating System (HERS) program. Mike lives with his much-smarter architect wife and two daughters in a 1920 Craftsman bungalow that they are lovingly restoring. Thanks to efficiency improvements and a 4-kilowatt photovoltaic array, the family has offset 90 percent of their electricity consumption and reduced natural gas usage by 67 percent.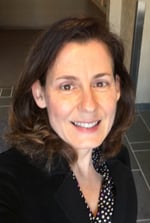 Theresa (Terri) Gilbride is a building energy-efficiency researcher with the Pacific Northwest National Laboratory in Richland, Washington, where she supports the U.S. Department of Energy (DOE) as a content manager for its Building America Solution Center and the DOE Zero Energy Ready Home (ZERH) program. Gilbride has authored or co-authored dozens of reports, articles, and case studies on residential energy efficiency and related topics. She has spoken and published on residential energy efficiency, disaster resistance, zero energy homes, and affordable and healthy homes. Gilbride served as the lead editor and author of the Building America best practice guides, a 17-volume series which includes climate-specific manuals for high-performance home builders in all U.S. climate zones, and retrofit guides on air sealing, insulation, and HVAC. She has also helped publish documents on building codes and emerging technologies, including window attachments, solid state lighting, and HVAC.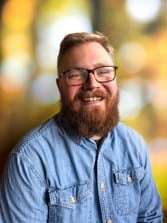 Nathan Kahre brings his experiences working for a home builder to Energylogic, an applied building science company based In Berthoud, Colo. As the innovation and Initiatives manager, Kahre works on internal and externally facing proJects to keep Energylogic at the forefront of innovation and excellence in the residential home building industry After graduating with a master's degree in building science from Appalachian State University, Kahre came to the Denver metro area to work for a high-performance production home builder. Time spent working for that builder has helped Kahre understand what is important to builders and what information they need to get their jobs done. He has presented on building science, renewable energy, and home builder quality assurance throughout the country including sessions at RESNET, EEBA, and IBS. Kahre is also active in the local community, volunteering on issues that are important to him, and doing his best to be on a mountain bike as much as possible.
Apr 24, 2023 1:14:42 PM · 7 min read
---

Alan Naditz is managing editor of Green Builder Magazine. He has covered numerous industries in his extensive career, including residential and commercial construction, small and corporate business, real estate and sustainability.