Modular Hobbit House Can Be Buried in Your Back Yard
A new twist on tiny house living, the prefab system is virtually indestructible, and takes advantage of earth sheltering to optimize energy use.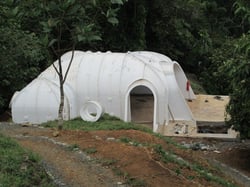 Part post-apocalyptic bunker, part super-efficient hobbit hole, a new "Bio-Climatic" modular home system from Green Magic Homes reflects the cultural zeitgeist of the hour. Order one, and you get a hyper-durable, customizable compact home shell that can be delivered to your lot within (roughly) 10 days.
The New Mexico company that makes the home system describes it this way:
Components: Each component has perforated flaps to screw and seal each other, as well as anchoring to the foundation, doors and windows are all aluminum. Composite ducts and channels for electrical wiring and water pipes as well as mechanical ventilation ducts can be added to the shell at any point necessary. Composed of prefabricated vaulted panels manufactured with composite laminate materials, confined laterally by walls in reinforced soil.
Edible Assets: A major selling point of the Bio-Climatic homes is the ability to grow food on the roof, and fit into the local landscape.
Load Bearing: Systems are designed to withstand earth sheltering as well as heavy snow loads.