Lubrizol: Time-Tested Plumbing for Modern Homes
Sponsored Content
The company's durable CPVC pipe and fire protection systems have become familiar to most builders. Lubrizol makes FlowGuard Gold CPVC, along with BlazeMaster brand fire protection products.

FlowGuard Gold CPVC stands up to extreme temperatures and chemicals including chlorine.
One of the major shifts in residential construction in recent decades has been the move away from traditional copper piping into polymer-based alternatives such as CPVC. Copper was a reliable, durable piping product, but we've learned over time that the lead-based that until recently was used for solder on copper piping continues to contaminate drinking water with dangerous lead. A change was needed, as copper prices rose, and lead issues increased. This is one of the reasons building scientist Steve Easley, who is partnering with us on his remodel in Scottsdale this year, chose FlowGuard and BlazeMaster.
"Given the research on water quality, along with durability issues," notes Easley, "we felt good about putting Lubrizol products in our whole-house remodel. This really is our 'forever" home, and we want to make sure what gets done stays done."
Lubrizol Product Lines
FlowGuard® plumbing systems. The formula for this durable, commercial-grade polymer-based piping draws on the company's 60-plus years in the CPVC making business. Because this product is made with chlorine, it's super resistant to chlorinated water, unlike some competing products.

BlazeMaster® fire protection systems. This innovative sprinkler system incorporates CPVC pipe and fittings to provide a heat-resistant, leak-resistant network of fire protection in the home. It's fast and easy to install, adaptable and suitable for retrofit jobs, and more affordable than many competitors.
Sustainability Efforts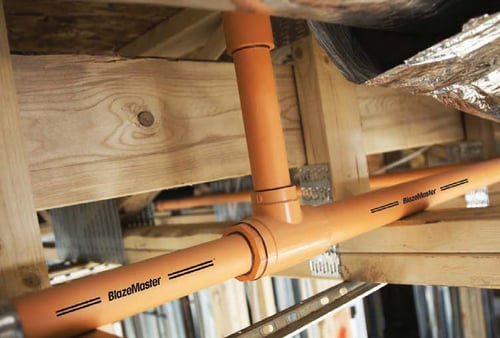 BlazeMaster sprinkler systems protect homes in the event of a fire.
Lubrizol has embraced the United Nations Sustainable Development Goals (UNSDGs).
"The Lubrizol Life Science, beauty R&D team has incorporated the 12 Principles of Green Chemistry into their day to day activities to increase the natural content of ingredients, reduce the amount of materials used and choose lower impact processes. Manufacturing processes, like Biointec™ Fermentation and extraction, use less energy and water and generate less waste."
Lubrizol and Green Builder Media
Green Builder has incorporated Lubrizol products in many of its VISION house projects over the years. The next highly visible application will be on building scientist Steve Easley's home, the ReVISION House Scottsdale, located on a riverfront in Scottsdale, Arizona. The project will include both FlowGuard Gold and BlazeMaster products.