Innovations Drive Surge in Radiant Floor Installations

Matt Power, Editor-In-Chief
2 min read
Sponsored Content
Long valued for their efficiency, radiant systems solve air quality challenges with new, flexible methods of installation.
Interest in radiant heating systems has spiked over the last year and a half, in part because homeowners have become more aware of how viruses at home can be spread with traditional, forced air heating.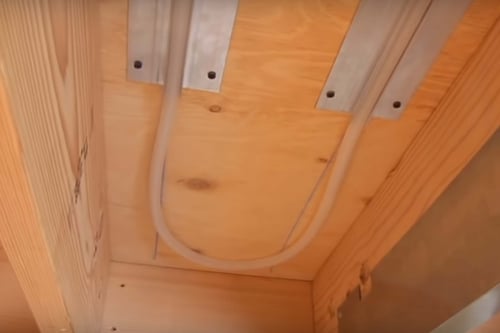 Products such as Joist Trak from Uponor offer new ways to install radiant flooring when slab-based installation is not practical.
For example, if one family member gets sick, it may be impossible to keep viruses out of return air ducts. Homes with radiant floors, however, often can separate one bedroom into its own zone, and do not transfer potential infectious material through vents.
Radiant floor systems now include many modular components and accessory products that allow them to be installed quickly and easily. For example, Fast Trak, from Uponor, includes knobbed sheets that adhere to the top of the concrete slab, and provide trackways for the PEX piping, cradling it and protecting it somewhat during the installation phase.
As Justin Churchill, Residential Segment Marketing Manager for Uponor explains in the video below, however, with the right combination of installation gear, radiant can be installed even in older homes without destruction and demolition.
For example, Churchill says, "If you have access to unfinished joist gaps in a basement or first floor, we have a product called Joist Trak, which is an extruded aluminum panel. You screw the panels directly to the subfloor above you and create a radiant floor on the next level without tearing up the old flooring."
With a full suite of radiant products to offer, contractors can now layer on selling points to the original reason many homeowners want radiant floors: comfort. Because heat from a radiant floor comes up from below, it creates a more even and consistent warmth.
Radiant systems also can be easily expanded to include garage areas or even outdoor snow melting. When combined with solar hot water systems, they can boost overall household heating efficiency even more.
Editor's Note: We have been working closely with Uponor for many years now, to bring radiant flooring systems more into the mainstream. Articles we publish on the topic tend to have a large readership through our online portals. If you're new to radiant systems, you may want to review this older (but still relevant) presentation on how to do it right. It explains key details to make sure your installation achieves maximum performance, and how to avoid common pitfalls.
Oct 19, 2021 10:54:25 AM · 2 min read
---

Veteran journalist Matt Power has reported on innovation and sustainability in housing for nearly three decades. An award-winning writer, editor, and filmmaker, he has a long history of asking hard questions and adding depth and context as he unfolds complex issues.