Insulation and Air Sealing
Insulation makes any project greener, but choosing the best product requires more than just looking at its R-value.
In the multifaceted world of thermal insulation and air sealing, there are several factors to consider. Do you select a product based solely on its thermal performance, or is that outweighed by its material composition and safety? And what about affordability? It's not always easy to find one product that checks off all the right boxes.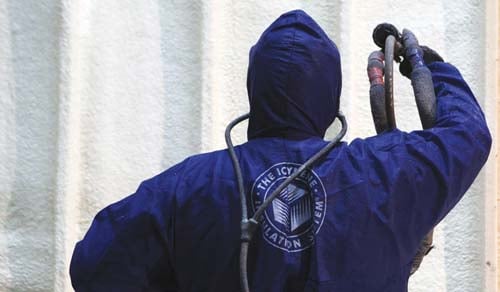 Dr. John Straube, a principal at Building Science Consulting Inc. says it's difficult to compare the "eco-footprint" of all products in a single class. "The petroleum used to make foam plastic or to melt the rock and glass for mineral fiber is a very small part of the total energy saved by the product in service, and so this rarely tips the balance," he says. "Transportation energy, in-service durability and performance are usually quite important and need to be considered. The distinction between products that are petroleum based and those that are not is far too simplistic and usually leads to bad decision making. Embodied toxic chemicals are much more of a concern and can show up in a lot of products. The biggest risk to health and environment is people not using enough insulation and people using insulation improperly."
Manufacturers are releasing more products that are formaldehyde-free, offer higher percentages of bio-based content or feature higher recycled content. Johns Manville phased out formaldehyde in 2002; in 2011, Owens Corning reformulated its entire line of residential insulation products so that they are formaldehyde-free. More recently, Lapolla stated that it would be replacing the blowing agents in its Foam-LOK spray foam products with Honeywell's Solstice, a next-generation blowing agent with much lower global warming potential (GWP) than its predecessors.
To cut back on greenwashing, more companies are striving toward greater transparency of product ingredients, which brings yet another slew of acronyms to the table, including GWP, EPD (environmental product declaration) and the less commonly used HPD (health product declaration). Some manufacturers are also opting to have their products certified by UL Environment or with the Declare label, created by the International Living Future Institute.
Spray Foam: The Latest Innovations
Spray foam insulation offers several advantages over other types of insulation, including higher R-values per inch. It also fills in cracks and penetrations as it is sprayed, thereby doubling as an air barrier; closed-cell spray foam can also contribute to structural strength.
But the embodied energy of spray foam is higher than just about any other insulation option, as is the cost. Experts have also pointed to health concerns for the installer and home occupants. MDI, a key chemical ingredient in many spray foams, has been linked by researchers to asthma, lung cancer and in severe cases even death. Halogenated flame retardants used in spray foam are also considered by the CDC to be bioaccumulative, which has led to a movement to reduce or eliminate these chemicals from spray foam. Professional installers are therefore very important, not only because of the health risks involved but also because spray foam requires skilled onsite application. Improper technique can impact the energy performance and durability of the home. Don Kosanko, director of products and programs for insulation at Owens Corning, points out that when the home is built in a cold climate and the wall doesn't have a proper vapor barrier installed, moisture can get into the wall cavity and condense.
In order to distinguish their products and lower their embodied energy, manufacturers are starting to produce spray foams that feature an increasing proportion of bio-based content, usually soybean or castor oil. One example is SucraSeal, a 25 percent bio-based spray foam that also contains zero VOCs.
The blowing agents in closed-cell spray foam are another issue; as the Lapolla example shows, many manufacturers are motivated to replace those with high GWP with alternatives. Another new release is Icynene's ProSeal Eco; this 100 percent water-blown, closed-cell spray foam is the first of its kind in the world, according to the company. Knauf Insulation released ECOSEAL Plus at the beginning of the year; this new and improved version of its water-based spray-on sealant features zero VOCs, no petroleum and zero GWP blowing agents.
Fiberglass and Mineral Wool: Tried and True
Still popular, fiberglass insulation has been around for about a century. Compared to many other options, it is inexpensive, easy to install and naturally fire resistant. However, according to the American Lung Association, fiberglass can cause skin and eye irritation; at higher exposure levels, it has been associated with skin rashes and difficulty breathing.
Manufacturers have been continually improving their products for both performance and health. As was mentioned earlier in this article, many manufacturers are now offering formaldehyde-free products, making fiberglass insulation one of the greener choices, when it comes to chemical content. Last year, Owens Corning introduced its R49 PROPINK EcoTouch fiberglass batt for a single-batt attic solution—a product that's part of the trend toward fiberglass options with a bio-based binder and higher recycled content, as well as a product that is non-itchy and easier to apply. Similarly, CertainTeed offers SoftTouch duct wrap. This blanket-type fiberglass is formaldehyde-free and contains a plant-based binder; it also contains between 20 and 25 percent recycled fiberglass.
Mineral fiber (aka mineral wool) batts offer superior thermal and acoustic performance and have experienced a resurgence as of late. Companies that offer mineral wool insulation include ROXUL, Knauf, Johns Manville and Thermafiber, which is owned by Owens Corning.
But even with natural insulation materials, there are factors affecting its overall sustainability. For example, mineral rock wool, the material in Roxul's ComfortBoard IS rigid sheathing board, is often considered one of the most sustainable and efficient materials for insulation. It contains no petroleum, zero VOCs, boasts a high R-value, and is naturally resistant to fire, mold and insects; however, it has high embodied energy, as the manufacturing process requires extreme temperatures.
Combined with air-sealing products, fiberglass and mineral wool insulation can be part of an effective insulation system, and in fact, several manufacturers are touting just that. For example, Johns Manville recommends its "hybrid" system: JM Corbond III spray foam in tandem with fiberglass batts or sprayed fiberglass. The spray foam performs the air seal and vapor barrier, while the fiberglass fills in the cavity for an economical but energy-efficient solution.
Another take on the hybrid system is to use one or more layers of rigid foam insulation on the building's exterior and fiberglass, mineral wool, cellulose or another type of insulation in wall cavities. This not only adds extra R-value, but the exterior insulation provides a continuous, thermal-bridge-free barrier. In some cases, it can even replace structural sheathing.
Other Options and New Applications
Recycled content has long been a common ingredient for cellulose insulation, which also offers the lowest embodied energy of just about any insulation product. Examples include Applegate Insulation's loose-fill cellulose products, made from recycled newspaper and old telephone directories. The company also sells Cotton Armor, a formaldehyde-free recycled cotton batt insulation. GreenFiber offers several products which contain up to 85 percent recycled paper fibers; the fibers are treated with borate for fire resistance. Bonded Logic offers UltraTouch recycled denim insulation, which comes in perforated batts and has R-values of up to R-30. Straube adds that recycled content products are fine to use, as long as "the decisions to use it compare products of equivalent performance."
Cork holds a similar position as mineral wool, being a 100 percent natural material with superior thermal and acoustic insulating qualities—but it's certainly not locally sourced, unless you're building a house in Portugal. ThermaCork offers expanded cork insulation panels that can be used rigid insulation, replacing exterior rigid foam like EPS or XPS. The company claims that because cork trees are carbon sinks (harvesting cork does not damage the trees), and that when the harvesting and manufacturing processes and benefits to the local economies in which the cork is harvested are taken into account, cork insulation is actually a carbon-negative product.
Although costs of high-performance and sustainable products tend to decrease over time, cork insulation panels, like semi-rigid mineral-wool panels, will be initially more expensive than other similar plastic or petroleum-based products.
Most recently, there's been some hype surrounding wood foam as an alternative to plastic foam. But wood fibreboard, which has some of wood foam's properties, has been around for some time and fills a niche role in the market. Finally, we're still keeping our eye on Ecovative's Mushroom Insulation, which is not yet widely available.
Straube suggests that the emphasis should lie more on the application of the product than the product itself. "High-density rock wool boards you can drive on and glass fiber you spray into overhead spaces are examples of products that have long been around and are slowly gaining traction," he says. "But there are few new products. Aerogel and vacuum panels are too expensive for buildings, and it will take a while before that changes, if ever. With insulation, it is the use and installation of the products that is important and exciting."
Dec 8, 2015 12:40:36 PM · 6 min read