Insulation 101: A Common Insulation Question

Cati O'Keefe
5 min read
In a NAIMA/Insulation Institute blog, author Stacy Fitzgerald-Redd answered a frequently fielded question regarding insulation: What is the typical lifespan of fiberglass and mineral wool insulation?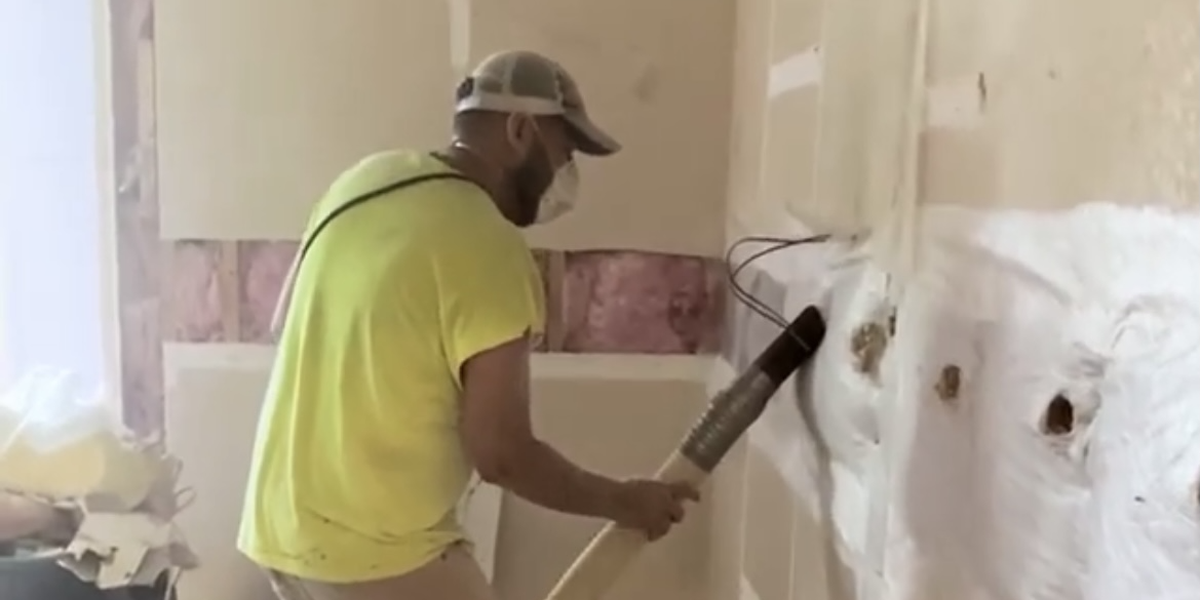 "We know there are many misconceptions about fiberglass and mineral wool insulation products' performance and longevity, so pointing out research that can help dispel myths is often necessary," Fitzgerald-Redd says. In a recent blog, she urges builders to point to the following two studies when fielding insulation questions:
1. NAIMA has sponsored research on fiberglass and mineral wool insulation products' performance in two separate studies. Those tests showed fiberglass and mineral wool do not experience a reduction in thermal performance over time, nor is settling an issue. The following is a brief description of those research projects and their results:
Settling of Fiberglass and Mineral Wool in Walls – A study looked at the effect of vibrations from a door being firmly closed on the possible settling of insulation in walls. A test wall was built and insulated with fiberglass batts, fiberglass dense-pack, and mineral wool batts and subjected to the vibration of a door being closed 65,800 times. The impact from the door did not result in any measurable settling of the insulation materials and, thus, would not reduce thermal performance.
2. Aged Insulation Evaluation – The second project by Home Innovation Research Labs looked at actual aged samples of fiberglass insulation gathered in homes. This project showed that the average of 8 fiberglass batts between 30 and 40 years old perform at 95.5. percent of the labeled R-value, and the range was between 75 and 109 percent of the labeled R-value with only one sample less than 90 percent.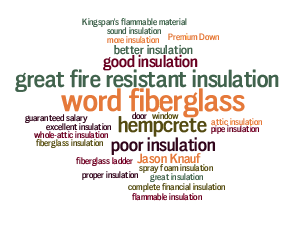 This word cloud shows the most common search terms around insulation.
Other groups, including the International Association Home Inspectors and the Home Innovation Research Labs, estimate fiberglass insulation's life at 100+ years.
"Product performance aspects like settling and lifespan should be considered when evaluating any home insulation products," Fitzgerald-Redd says. "Often, performance aspects of fiberglass and mineral wool are misrepresented or distorted. Studies that demonstrate the performance of insulation products help builders and homeowners make informed insulation choices."
Laura Woodford, Director of Marketing for US Greenfiber, addresses the issue of settling by pointing out how cellulose insulation can be a viable option. "In loose blown applications, ceilings and attics, Greenfiber cellulose is designed to settle around 10% from the time of installation," she says. "Greenfiber's coverage charts reflect this as an installed depth, and by federal standards, all thermal performance testing is performed at settled thickness."
Woodford notes that wall applications won't settle either. "Properly dense packed, Greenfiber cellulose is guaranteed to never sag or settle for the life of the structure," she says. "In addition, our technical field representatives provide on-site training to our authorized installers and regularly perform field audits to verify that all applications are in accordance with our specifications."
In the lead photo for this blog, you can see the application of Greenfiber's Sanctuary product at the ReVISION House Austin.
The following insulation products offer great, lasting coverage. They were selected by the editors of Green Builder for the 2021 Hot 50:
Greenfiber Sanctuary Blow-In Insulation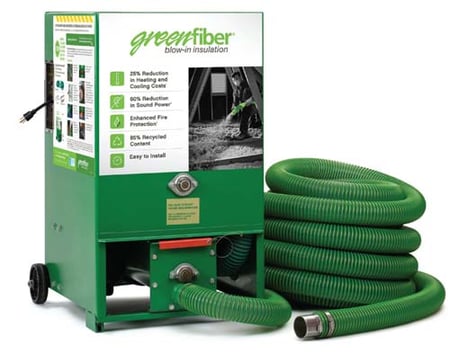 Greenfiber's Sanctuary Blow-In Insulation provides an easy-to-install thermal blanket, increasing the health and comfort of the home, and being healthy for the environment and the pocketbook. Sanctuary is cellulose insulation and lowers monthly heating and cooling expenses by up to 25 percent, while simultaneously reducing noise pollution by up to 60 percent.
Ideal for attics, walls, ceilings and floors, it can be installed in new builds and when re-molding, as it can be applied over existing insulation. The product excels at filling in tiny joints, crevices and gaps to create a dense barrier capable of reducing air infiltration and mitigating sound.
Sanctuary insulation is made with 85 percent recycled paper that is specifically treated for fire-resistance, and uses low energy manufacturing and short-haul transportation. This careful process generates zero waste–other than dust, which is confined within the production system and filtered out of the air that gets discharged into the atmosphere. Greenfiber's manufacturing process uses 13 times less energy than that of fiberglass, is carbon neutral and diverts 160,000 tons of paper out of landfills annually.
Atlas Non-Hal Insulation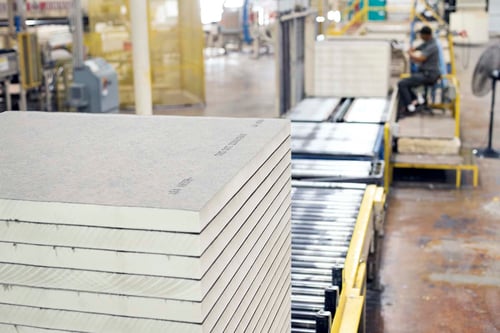 As eco-friendly materials and building practices continue to become a standard, Atlas Roofing Corporation has unveiled its non-halogenated (non-hal) roof and wall insulation products. The company's ACFoam NH and EnergyShield NH solutions share the same high quality and performance characteristics as traditional ACFoam and EnergyShield insulation.
Non-hal ACFoam and EnergyShield are made from polyisocyanurate (polyiso), one of the most cost-effective and energy-efficient insulation products, that has been recognized by the U.S. Environmental Protection Agency for its responsible, minimal impact on the environment. Both products have been certified Living Building Challenge "Red List Free" and received a Declare nutrition label from the International Living Future Institute.
Atlas ACFoam NH and EnergyShield NH products are California Department of Public Health (CDPH) volatile organic compound (VOC) emissions compliant and can help toward gaining LEED v4 credit requirements. As with their halogenated cousins, Atlas EnergyShield NH wall products can be installed on the exterior, interior, or within wall assemblies.
Alside ASCEND Composite Cladding System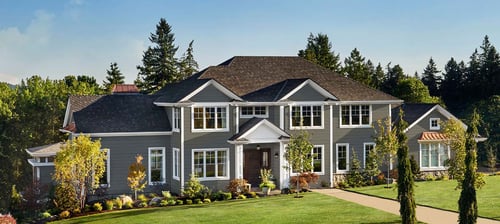 Alside's ASCEND Composite Cladding System has been reengineered to deliver exceptional thermal and impact performance, while also being water and fire resistant. It also adds an R-2 value classification to a home's existing energy efficiency—something that can be exceptionally useful for code compliance if a home is on the cusp of a requirement.
Environmentally, this eliminates the harsh chemicals from paints and stains that are necessary on other traditional sidings. Alside also takes sustainability into account in its manufacturing, by grinding up waste or scrap material and putting it back into the product.
The product's reinforced nail hem offers increased wind load resistance of up to 180 mph, while its patented (GP)² Technology delivers a Class A Fire Rating and lower expansion. Alside has also streamlined installation of ASCEND, with a minimum 10 percent lower install cost than other sidings. And, ASCEND offers a high-end look of real wood–including a "just installed" appearance for as long as it's up–and 20 color options.
Owens Corning Pure Safety High Performance Insulation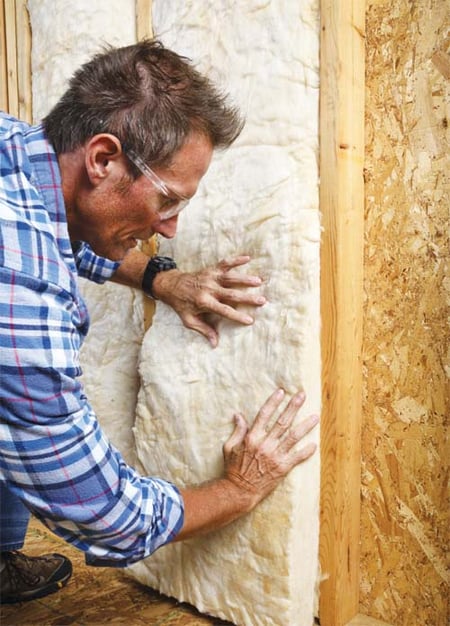 Owens Corning has re-imagined the standards of insulation with its Pure Safety High Performance Insulation. Pure Safety offers peace of mind when it comes to fire protection, air quality, sound reduction and thermal performance.
The product is bio-based and meets USDA BioPreferred guidelines, while also achieving a certified minimum average recycled content of 65 percent. With a high density rating of R-15, this insulation is easy to install, and provides the best thermal performance in its class.
Pure Safety also has superior mold and mildew resistance, low-volatile organic compound (VOC) emissions, formaldehyde-free status, and 65 percent less dust than conventional insulation products.
With millions of people living with asthma, allergies and chemical sensitivities, Owens Corning has worked to make it easier for contractors and developers to build a home that is clean and efficient. Pure Safety was the first insulation to earn and receive the Asthma and Allergy Foundation of America's certification and is designed to provide a safe and healthy indoor environment.
Aug 26, 2021 1:33:06 PM · 5 min read
---

Cati O'Keefe is the editorial director of Green Builder Media. She has 25 years of experience reporting and writing on all aspects of residential housing, building and energy codes, green building, and sustainability.