How One Couple Built an Off-Grid Yurt Life for Under $60,000

Cati O'Keefe
7 min read
This DIY yurt project outside Joshua Tree National Park in California shows how you can live a sustainable off-grid lifestyle. Here's how this intrepid duo got their homestead up and running–including tips that can help you do it, too.
When Whitney and Trent Newkirk spent a blissful four months living in a travel trailer and hiking in Twentynine Palms, Calif., they came to a stunning realization: They didn't want to go home.
After some research and soul searching, they embarked on a relatively short but intense odyssey to create a sustainable off-grid yurt life. Ultimately, they built a 705-square-foot yurt on 2.3 acres in less than a year. And they did this with no comprehensive building experience.
In this article, the couple shares 6 tips that can help you achieve this dream lifestyle as well.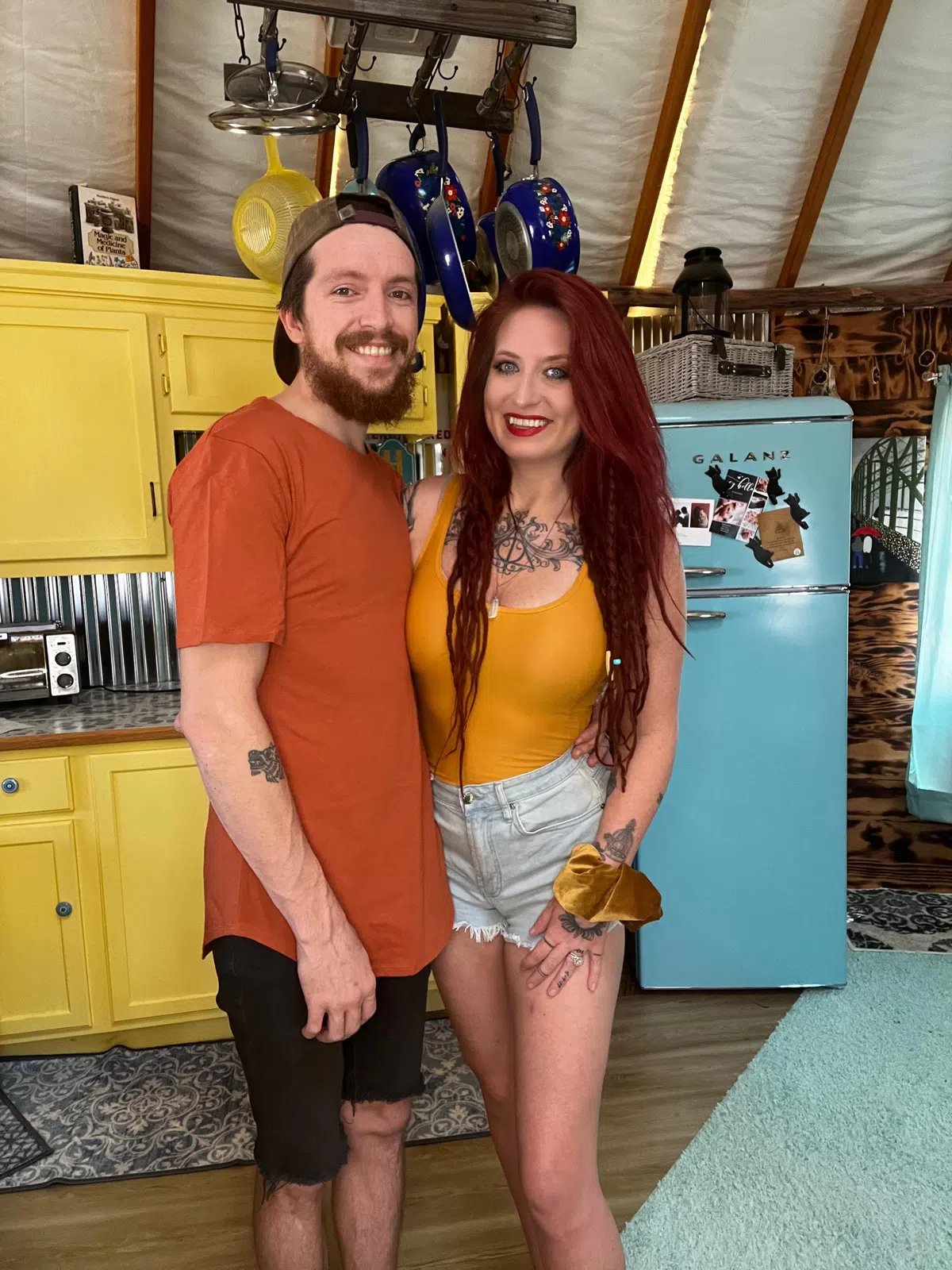 Find the Right Piece of Land
While the Newkirks didn't set out to be off-grid, they knew the cost of land might be out of their reach if it included a connection to city services. "It was pretty difficult to buy land," Whitney admits. "We searched and watched on land websites for a month before we came across our land on a discounted land site."
The couple picked up the 2.3-acre parcel for $8,000. "It was such a great price because it was the beginning of the pandemic and because it had no connection to power or water. The land was in our price range and had good views. Plus, it is only six miles to the national park and town."
The couple didn't quite know how much it would cost to provide power, water, and sewer services for their new home, but because they were already living in their trailer, they figured they could simply continue their trailer lifestyle while they got connected to life's necessities.
1. Research Yurt Companies
The next step was to buy their yurt home. They had been researching options and wondered how much it cost to build a yurt and whether it was a good choice for the desert climate. They were pleasantly surprised to find out that yurts are cost-effective and suitable for temperature extremes.
Yurts can be built in virtually any climate. They can withstand up to 162 mph winds, and they can handle conditions as cold as is found in the Arctic Circle or as hot as the California desert where the Newkirks live.
They selected Pacific Yurt to provide their home. "We are very happy with the company," Whitney says. "They offer lifetime support and have a 15-year warranty on the cover and the roof."
For DIY yurt builders, the support and warranty are invaluable. The couple noted that they had a French door that didn't line up in the door frame during the construction. The company sent a new one at no cost.
Another reason the Newkirks picked Pacific Yurts was because they could easily customize the yurt to suit their preferences and save money. Because the couple was on a strict budget they took advantage of savings such as using plastic windows versus glass.
"I would absolutely have done things differently if I had a bigger budget, like upgrade the backsplash in the kitchen and have glass windows," Whitney says. "But the important thing was that we could get a house on our budget."
While Pacific Yurts was their go-to source, there are also a host of reputable yurt companies that operate nationwide. Start your yurt research at ThatYurt.
2. Understand Yurt Costs and Processes
How much does it cost to build a yurt? The Newkirks paid $20,000 base price for theirs. (See "How Much Does a Yurt Cost?" below for cost details.)
To get a sense of general costs, let's look at Pacific Yurts, which lists units in six different sizes with base prices ranging from around $7,500 to $16,000.
The price per yurt, including all standard features, varies depending on the diameter: The smallest option is 12 feet in diameter (115 square feet), with a center height of nine feet. The largest option has a 30-foot diameter (706 square feet), with a center height of just over 14 feet. You can use the company's 3D Yurt Builder to get general pricing.
Rainier Yurt Company, a yurt kit manufacturer out of Seattle, offers a wealth of information on how the yurt planning, ordering, and purchasing process works. Company expert Dana Hendel authored a four-part series "True Cost of Building a Yurt", which is a great resource for DIYers interested in yurt prices with supporting details and tips.
In short, as Hendel says, building a yurt requires more than simply buying a unit. You have to consider other issues such as building codes and zoning requirements and factor in the costs and time requirements for building the platform, shipping, and other additional costs.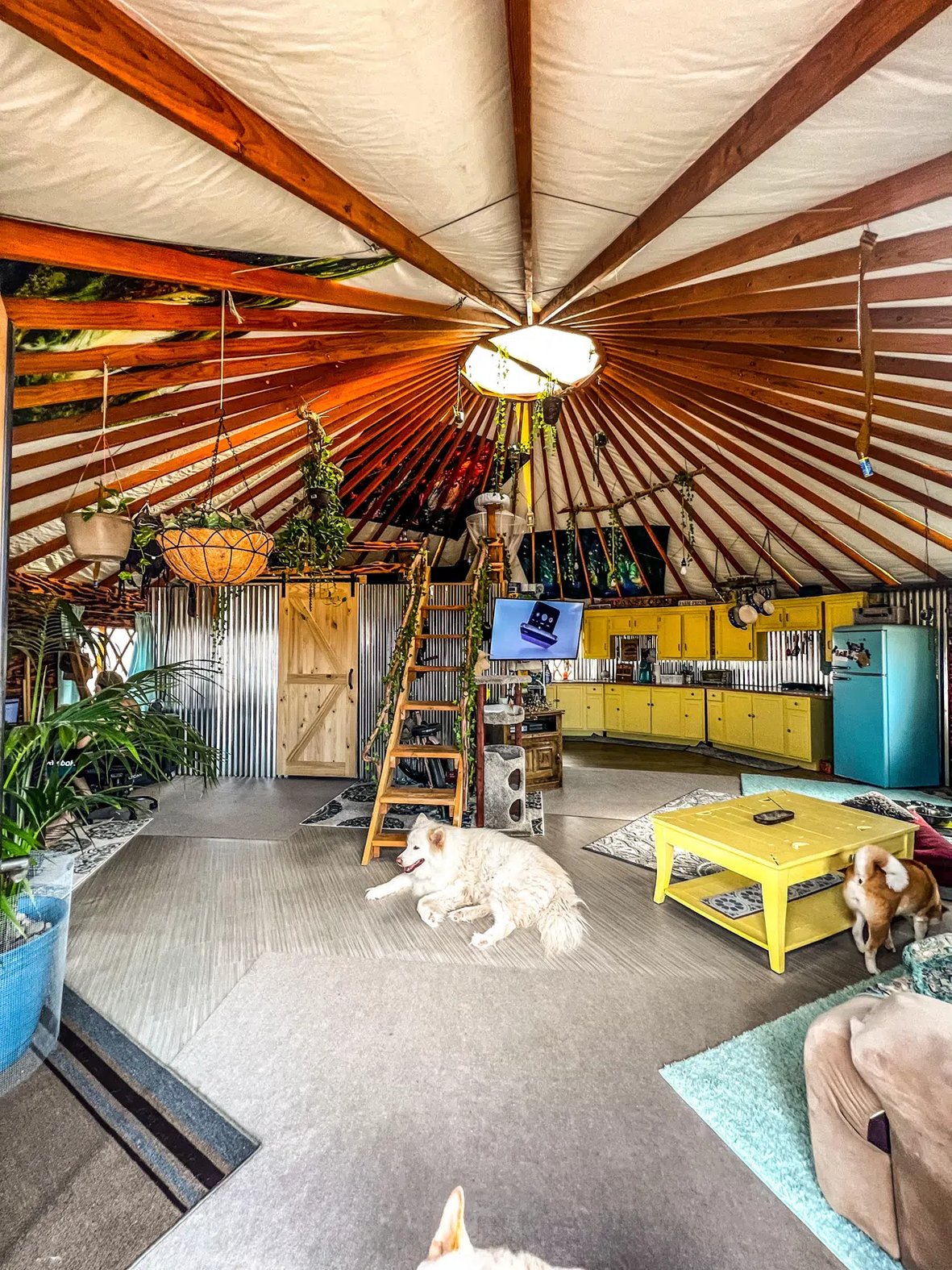 The Newkirks illustrate that yurt living can be comfortable and full of creature comforts. There's even ample space in the 705-square-foot structure for their three dogs and cat–Ghost, Weasley, Panini and Cornbread.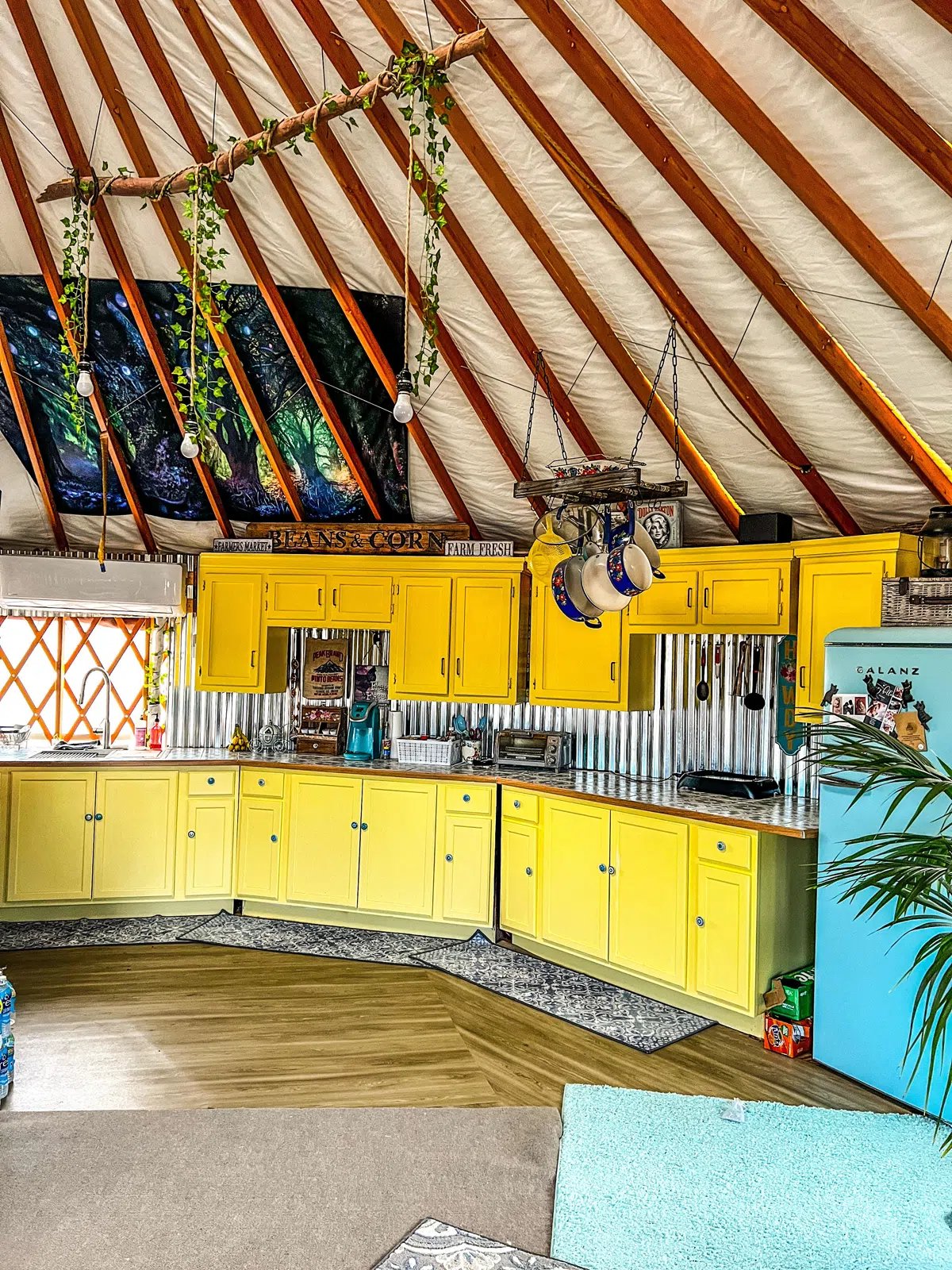 Whitney saved money on the kitchen cabinets by sourcing them for free through an online marketplace and painting them a cheerful yellow. The energy-efficient refrigerator is by Galanz.
3. Get Electrical Power to the Yurt
With no power grid to connect to, the Newkirks knew they had to go solar from the outset. They opted for a 4.4kw Renogy Solar system with four lithium batteries and a backup solar generator, the Lycan 5000.
While many people good-naturedly poke fun at the couple for living a "primitive life," the reality is much more comfortable (even luxurious) than some would imagine.
"Everything works seamlessly," Whitney says. "We have not noticed the difference going from a generator to solar. I actually leave lights on and sometimes keep the tv on all night for sleep therapy," she admits. The solar system has consistently provided enough power to support their lifestyle.
Renogy markets its products to the DIY crowd. "All the products come with how-tos and YouTube videos that detail how to set it up," Whitney says. The system cost in the low $20,000s, including panels, inverter, charge controller, wiring, and batteries. Best of all: The couple had the system up and running in one day.
In terms of connectivity, the couple relies on cell phones and Starlink.
4. Address Yurt Water and Waste Issues
The couple had to tackle potable water as well as waste removal. During their time in the trailer, they used a tank that they filled up with wate. They discharged their waste at a dump station in town. During their yurt build, they kept that trailer "umbilical cord" in place as a home base.
Today, the couple pays $140 every four months to have potable water delivered to their on-site 2,500-gallon water storage tank. "We want a well dug–many of our neighbors have wells–but they are a dangerous DIY project so we would have to pay someone to do it, which could cost up to $30,000," Whitney explains.
While they save for that big-ticket dream utility, they are content with the tank and with their plans for rainwater catchment that will not only give them water inside the house but that will also allow them to nurture a more verdant landscape. "We want to bring back the desert eco-system around the house and add more greenery," Whitney says.
The house has a hot water heater, which was a welcome relief after they spent the first year using a more primitive solar water heating system.
The Newkirks are excited about their new home biogas system, which solves two problems for them: waste removal and cooking fuel. Essentially this system stores biowaste from the toilet in an above-ground storage "bag" outside the house. The system breaks down human and food waste and converts it to cooking gas.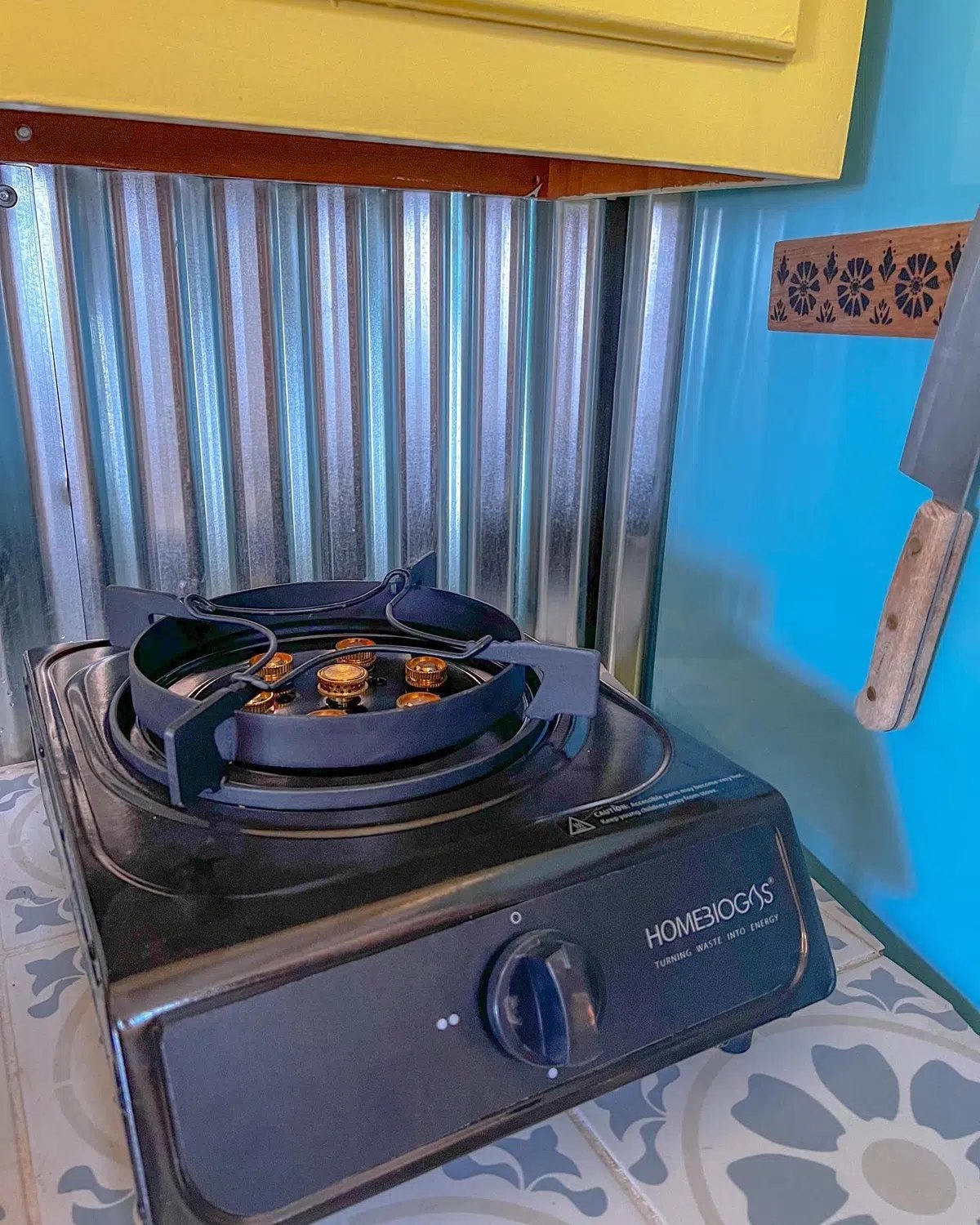 The biogas stove revolutionized the Newkirk's experience with yurt living. The super-efficient cooking system takes waste from the biotoilet and converts it to cooking gas.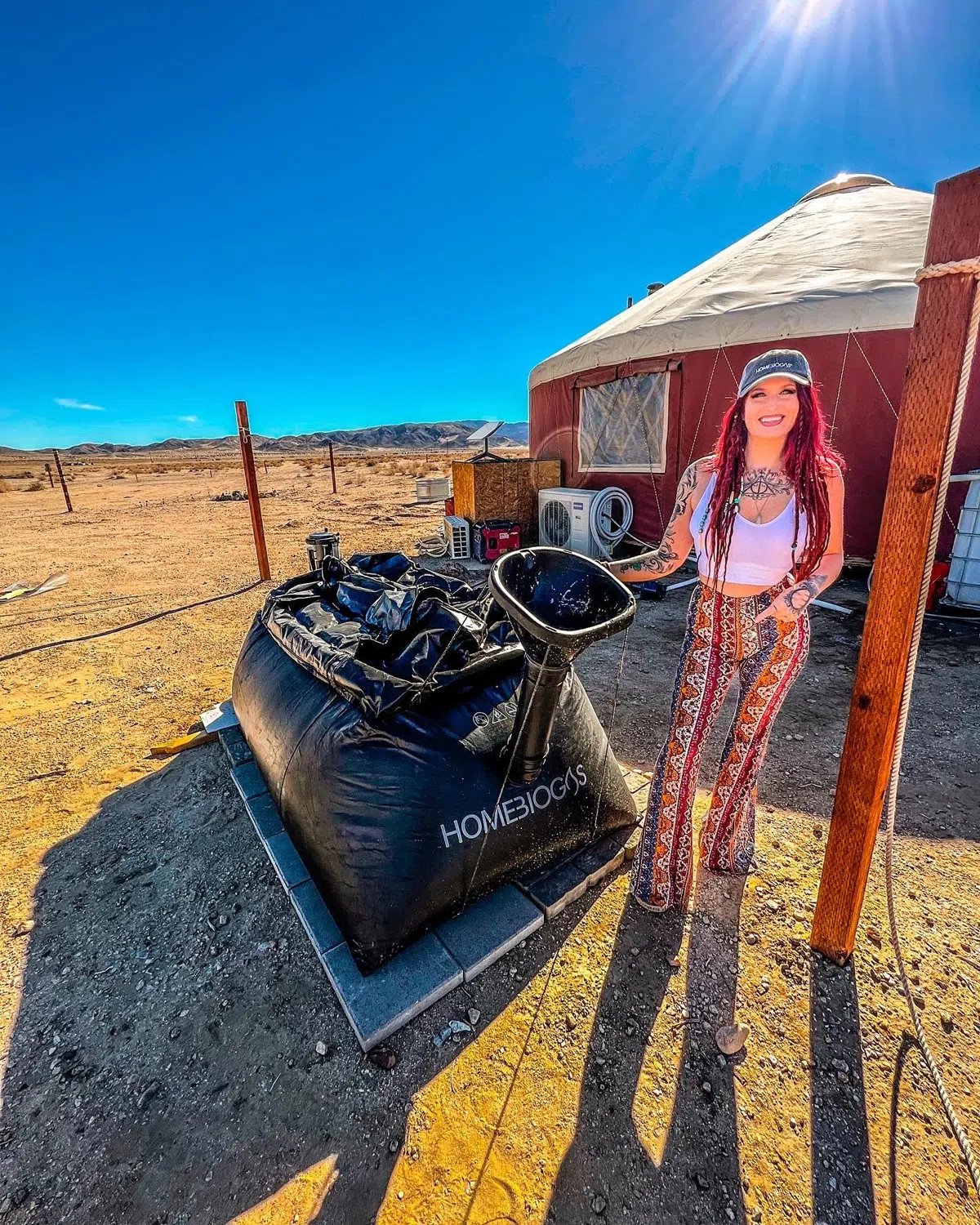 Here, Whitney shows off the biogas system that converts waste to cooking gas.
5. Hold On To Your Dreams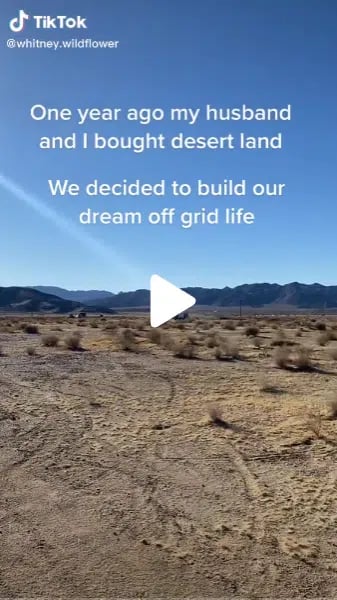 The haunting strains of Johnny Cash's "Folsom Prison Blues" is the lead-in to the Newkirk's popular tiktok documentary on their yurt build. It lends a little eerie suspense to scenes of the yurt as it is built–detailing flooding, rattlesnake visits, and heavy-duty work done in 113 F temperatures.
The caption, "People said we could never do it on our own," is meaningful to Whitney, who believes anyone can do what they did and can live any lifestyle that suits them. While Trent is a mechanical engineer, which certainly gave him a leg up in understanding how home systems work, Whitney emphasizes that they relied on YouTube tutorials and manufacturer advice throughout the build.
She and Trent have realized their homeownership dream, and they encourage others to do the same: "Don't let anyone tell you you can't do it–because you can."
You can follow along as the Newkirks update their off-grid sustainable yurt life. Check out our "Today's Homeowner" content for information on resilient building, green remodeling, tiny houses, and other green lifestyle ideas.
How Much Does a Yurt Cost?
Here the Newkirks share the cost breakdown for their yurt life. While this is not a comprehensive list of costs, these are the major ones to consider when calculating how you can build your off-grid homestead:
Yurt $20,000
Yurt platform $6,000
Solar panels $4,500
Solar inverter $1,500
Solar charge controller$900
Solar wiring $800
Solar batteries $12,000
Biogas stove $1,455
Bio-toilet $1,700
Wall insulation $240
Ceiling insulation $500
Mini-split AC $1,800
Mini-split (small unit) $1,400
Evaporator cooler $400
Wood stove $1,000
Wood stove vent $1,500
Water pressure tank $420
Water tank $2,375
Water pipes $200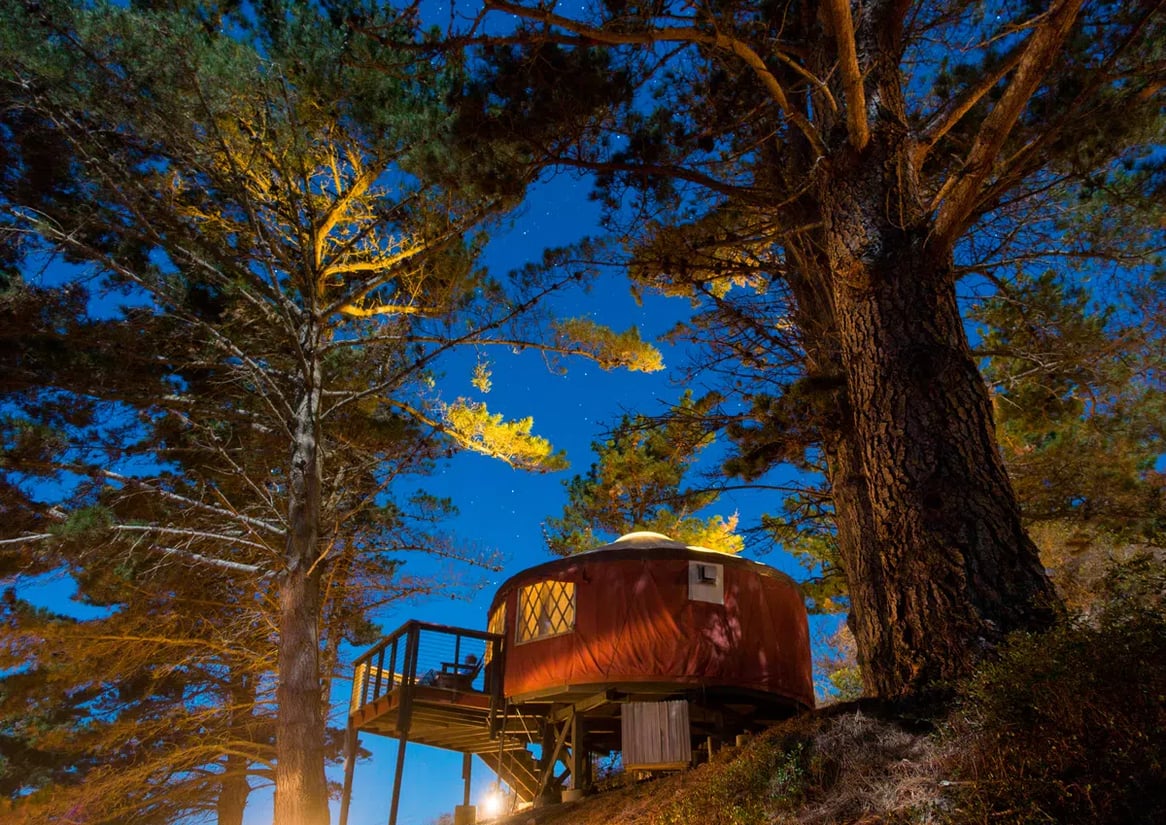 What Is a Yurt?
A yurt is a circular structure with a domed top, durable fabric walls and roof, and collapsible wood lattice that serves as the structural support for the walls. Yurts rely on tension and compression to create a strong enclosure that can withstand winds up to 162 mph, snow loads, and extreme temperatures.
Dec 20, 2022 12:35:20 PM · 7 min read
---

Cati O'Keefe is the editorial director of Green Builder Media. She has 25 years of experience reporting and writing on all aspects of residential housing, building and energy codes, green building, and sustainability.