How Much Does Appliance Noise Matter?

Michele Lerner, Associate Editor
5 min read
Only 8% of people use their range hood regularly–the rest can't stand the noise. And plenty of people never turn on a bathroom fan unless it's practically inaudible.
The world can be a noisy place. Whether it's your neighbor's car alarm, an airplane, a leaf blower, or a beeping truck backing up, noise can be more than disruptive. It can be harmful to your health. And it doesn't have to be "big" noise–even smaller noises such as clothes tossing in a dryer or water rushing in your dishwasher can take a toll on your hearing and more.
In one more unexpected impact of COVID-19, a recent survey by Wakefield Research for Quiet Mark found that 81% of Americans believe the pandemic changed how they feel about noise in their environment. Quiet Mark is a global certification program associated with the UK's Noise Abatement Society that tests and verifies products in homes and workspaces to reduce noise.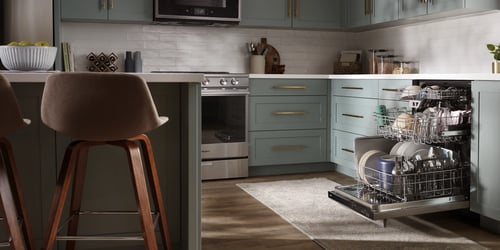 Dishwasher noise is measured in decibels (dBA) where lower numbers are quieter than higher numbers. Dishwasher dBAs are usually in the 40s and 50s. If you're looking for a model designed to stay in the background, Whirlpool brand's quietest dishwasher model, WDTA80SAK, is just 41 dBA.
"A wave of silence spread across the planet during the first lockdowns of the pandemic," says Poppy Szkiler, CEO and co-founder of Quiet Mark, in a statement with the survey data. "Manmade noise dropped by up to 50% in most countries around the world. With this came a sudden appreciation that the planet, and our lives, had become too loud and that measures needed to be taken to prevent the volume from returning to pre-pandemic levels. Quiet Mark is on a mission to help create peaceful living."
The Dangers of Noise
Noise is more than annoying, but most Americans in the survey (74%) didn't know that noise is the second biggest killing natural pollution after air pollution. One third of those surveyed didn't know that noise can create sleep disturbances, high blood pressure, and cardiovascular disease.
Quiet Mark's survey also found that Americans underestimate the level of noise required to cause harm. Think a rock concert is likely to cause hearing loss? About half (52%) of Americans think that you need something as loud as a concert, typically around 110 decibels, to trigger hearing loss. But hearing loss can begin with sustained noise levels of 70 decibels, which is equivalent to the noise of a vacuum cleaner.
The survey found that 38% of Americans in the survey are more aware of noise, and 31% are more stressed around noise than they were before the pandemic.
"Everyone is looking for calm and relaxation," says Carolyn Forte, director of the home appliances and cleaning products lab at the Good Housekeeping Institute. "We all want to be physically and mentally healthy and more people are beginning to realize the next step in the wellness journey is reducing noise."
Consumers are paying more attention to noise as a factor in their choices, says Forte, and manufacturers are responding by developing quieter products.
"When everyone started working at home together, we all started noticing the sounds around us even more," says Forte. "I was on a Zoom call when someone's husband started casually grinding coffee in the kitchen and everyone was distracted by it."
Open floor plans and laundry rooms near the living areas contribute to the noise, says Forte.
"Now your kitchen appliances are operating in your family room and your laundry machine is next to your bedroom instead of in the basement, so you notice the sounds these machines make even more," Forte says.
Shhh … Choosing Appliances For Sustainability and Quiet
One way to keep things quieter around your home is to choose appliances that are less noisy when you need to purchase or replace them.
"When we review appliances at Good Housekeeping, we work with Quiet Mark to do sound testing," says Forte.
For most consumers, energy efficiency, functionality and price are the most important factors when choosing appliances, with noise lower on the list of priorities, says Forte.
"It doesn't matter how quiet an appliance is if it doesn't work," Forte says. "It depends on your pain point. Some people are more concerned with how easy an appliance is to use rather than how noisy it is."
Consumers who toured the Good Housekeeping lab before the pandemic typically asked first about why dishwashers run so long and how they can be energy-efficient with such a long cycle, says Forte. Then they would ask about sound.
While small and large appliances vary in how much noise they produce, a Consumer Reports study found that blenders, carpet cleaners, drills and vacuum cleaners are among the noisiest.
"Hair dryers, blenders and coffeemakers can be loud, but manufacturers try to improve the noise level even though they are short bursts of sound," says Forte. "When front loading washing machines were first introduced, they vibrated so loudly that people complained. Now manufacturers have figured out how to correct for that."
Consumers should be aware that some features and newer appliances naturally make noise, such as an icemaker in the freezer or the fan on a convection oven, Forte says.
While you might assume that a quiet appliance would be costlier, Forte says you can find them at every price point. For example, she says, Bosch makes super quiet dishwashers at every price point.
"Lots of manufacturers introduce new features in their high-end appliances and then eventually add them to all their appliances," says Forte. "For instance, it used to be that a stainless-steel interior in a dishwasher was only available on the most expensive models but now they're almost all stainless-steel inside."
How to Pick Quiet Appliances
Information about noise levels can typically be found on appliance websites and sometimes on their labels. Dishwashers almost always have their decibel levels published.
"You can look for the Quiet Mark seal on appliances and some other organizations are also starting to introduce quiet labels," says Forte. "At Good Housekeeping, we've started putting sound ratings on our reviews in the magazine and on our website."
If a sound rating isn't published, consumers can look for quiet features such as shields on blenders and food processors that muffle sound, Forte says.
"Manufacturers that provide extra features are more likely to be tuned into sound mitigation," she says.
Consumer reviews of appliance brands often mention noise, but Forte says it's wise to remember that everyone has a different level of tolerance for noise.
"You're also more likely to be aware of appliance noise if your house is typically quiet," Forte says.
Proper installation and level, supportive flooring can improve noise issues from appliances, along with insulation where possible, such as around a dishwasher, says Forte.
"If you can close off the location where the appliance is located with doors, that can reduce the impact of noise," says Forte. "It also helps if you can surround the appliance with soft surfaces that absorb sound."
As more companies pay attention to noise issues, it will become easier for consumers to find less costly but quiet appliances for every budget.
---
Publisher's Note: This content is made possible by our Today's Home Buyer Campaign Sponsors: Whirlpool and Vivint. These companies take sustainability seriously, in both their products and their operations. Learn more about building and buying homes that are more affordable and less resource intensive.


Feb 24, 2022 12:20:39 PM · 5 min read
---

Michele Lerner is an award-winning freelance writer, editor, and author who writes about real estate, personal finance, and business.