Home Energy Efficiency Data Sways Buyers
A new report from the American Council on an Energy-Efficient Economy (ACEEE) proves home energy efficiency drives home-buying decisions.
ACEEE's research shows that including home energy efficiency scores online in real estate listings would lead buyers to choose a more energy-efficient home with lower energy costs. Home builders and sellers who don't leverage this information could be missing a key opportunity to demonstrate their value proposition.
The Energy Efficiency Marketing Edge
ACEEE's study is part of a growing body of evidence suggesting home builders and existing home sellers would benefit from better marketing of home energy efficiency data.
One-quarter of the features that home builders are likely to include in new construction homes relate to energy efficiency, but that's not always divulged in marketing. This information is rarely included in online listings for new or existing homes, which is where most home buyers (93%) begin their search for a home, according to ACEEE.
A research firm contracted by ACEEE surveyed a national sample of more than 1,500 individuals planning to buy a home within the next five years and showed them a mock real estate site featuring three sample homes. Each posting included the select information, including price, bedrooms, and square footage.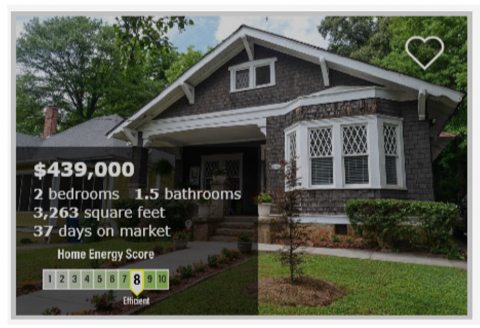 In addition, some participants saw information about the home's energy efficiency presented in one of five ways: Home Energy Score (HES), based on the U.S. Department of Energy's rating system; an HES along with a continuum (line) from most to least efficient; estimated annual energy costs; estimated annual home energy cost plus HES along the continuum; or a HES for only above-average scored homes.
ACEEE found that:
When energy efficiency information was displayed, buyers avoided the least-efficient homes and chose the more efficient ones. Home buyers with the information selected the least-efficient listing less often (23% less), and the most-efficient option more often (14% more), compared to those who didn't see the data.
Providing data on only the most efficient choice was not an effective strategy for encouraging the choice of energy-efficient homes.
Home buyers valued efficiency the most when it was displayed on an image of the home, placing the score along a continuum, or line, from least efficient to most efficient.
Requiring Disclosure
The report advises state and municipal policymakers to require efficiency information in all real estate listings and use an intuitive energy scoring system.
Earlier this year, Insulation Institute reported that the city of Minneapolis now requires all homeowners of one- and two-family homes to collect energy efficiency data before they can list their homes for sale as part of the city's broader effort to cut greenhouse gas emissions. That's a great first step, but this information would be most helpful if it was required to be included in the property listing.
"Cities and states that are serious about home energy upgrades should consider mandates for including energy efficiency information in listings," says Reuven Sussman, director, behavior and human dimensions program for ACEEE. "We've shown that this information could impact home buyers' decision-making."
To download the report, click here.