Historic District Infill Home

Alan Naditz
2 min read
For this multi-part project, going green became a real group effort.
The goal of this project in Decatur, Ga., was to construct a new, high-performance main house and parking structure to complement an existing historic cottage set at the rear of the property. The result is a compound of buildings that includes the new home, and carport, and an existing cottage, which serves as a rental property.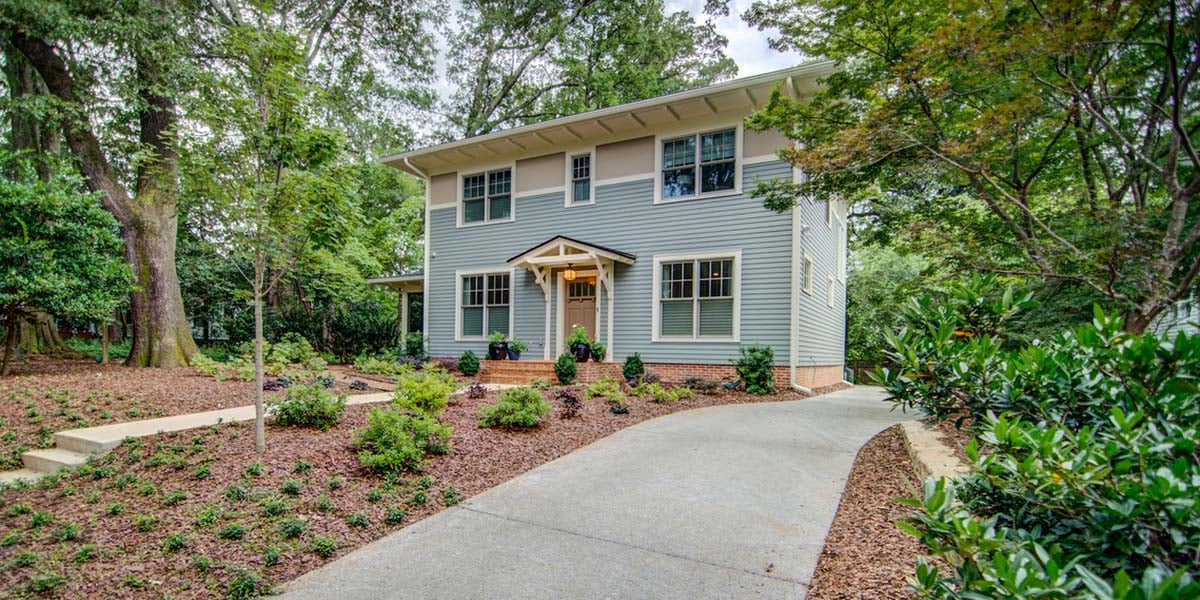 A prominent feature is the large screened porch for dining and entertaining. The drive and carport also serve as an outdoor entertainment area. The home's foundation is a slab installed on recycled fill inside concrete stem walls, faced with thin brick to recreate the look of a historic crawlspace. The slab is insulated at its edge and underneath, 24 inches inside the perimeter.
Framing combined open corners, T-WALLs, right-sized headers, 24-inch on center (OC) studs, and ZIP System R-sheathing. ZIP sheathing was installed on top of the second floor ceiling framing and taped to wall sheathing, creating an air-tight building envelope.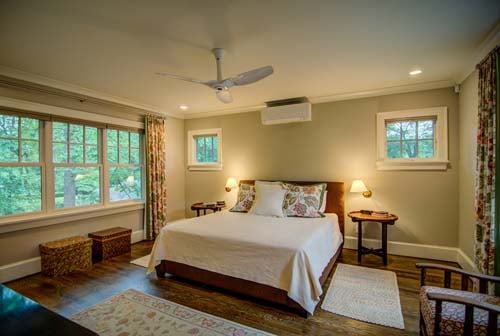 As part of its space conditioning features, ductless mini-splits and a transfer fan bring conditioned air into the home's bedrooms and bath. Credit: Tim Ridley
At completion, the house tested at 0.88 air change rate (ACH) and received a Home Energy Rating System (HERS) rating of 41. Due to the number of mature trees surrounding the house, there was no opportunity to employ any solar power.
The environmentally friendly elements continue to stack up: The wall and ceiling insulation is blown fiberglass. Siding is installed over a vented rainscreen for durability and moisture management. Pest control includes a top-of-slab vapor/termite barrier and borate treatment of all wood three feet above the slab.
Ductless mini-splits provide all space conditioning—one on the first floor, one in the owner's suite, and one in the second-floor hallway. A transfer fan operates with the hallway mini-split to bring conditioned air into the front bedrooms and bath.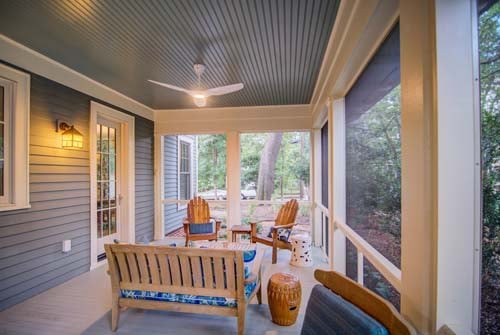 The home's large screened porch, situated atop a recycled fill-based slab, offers a dining and entertainment location. Credit: Tim Ridley
A centrally located water heater and half-inch insulated cross-linked polyethylene (PEX) piping supply hot water to WaterSense fixtures within 20 seconds. Landscaping is all native, drought tolerant, and no turf. Paints are zero volatile organic compounds (VOC) and floor finishes are low VOC. Energy recovery ventilation (ERV) provides outside air. ENERGY STAR exhaust fans were installed with short runs of rigid duct to meet designed flow rates.
The driveway is pervious concrete and pavers, installed over a 9-inch bed of gravel on top of geotextile fabric. This eliminates all runoff from these surfaces. Downspouts from the carport and rear of the house are piped to underground flow-wells to minimize site runoff.
The result is a house that fits seamlessly into this historic neighborhood that meets the highest level of green building criteria, having been certified National Green Building Standard (NGBS) Emerald, LEED V4 Platinum, EarthCraft Platinum, and Department of Energy (DOE) Zero Energy Ready Home (ZERH).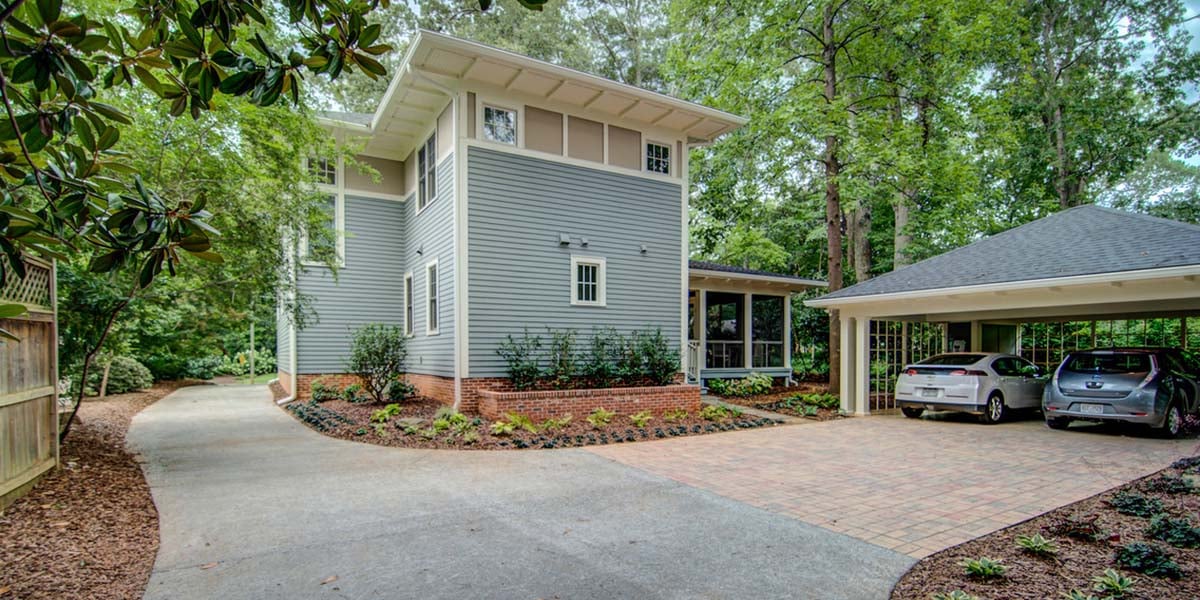 ---

Alan Naditz is managing editor of Green Builder Magazine. He has covered numerous industries in his extensive career, including residential and commercial construction, small and corporate business, real estate and sustainability.