Florida Freedoms Don't Include Rooftop Solar, Safe Condos, Dry Ground
Just when you thought the sunshine state couldn't sink much deeper into the primeval muck, the legislature finds new means to accelerate the State's declining natural resilience.
Ah, Florida. So much natural beauty, trampled on, literally and figuratively, by some of the worst polluters and con-artists in the nation. This is the place that last year blithely shrugged off the dumping of millions of gallons of phosphate-poisoned water into the pristine waters of Tampa Bay . It's the place that had to ship manatees to Ohio , to keep them from starving to death in the State's polluted coastal waters. It's the place where 62,000 people died of Covid-19, and the Governor trumpets this ongoing carnage as a success story. Welcome to Freedomland.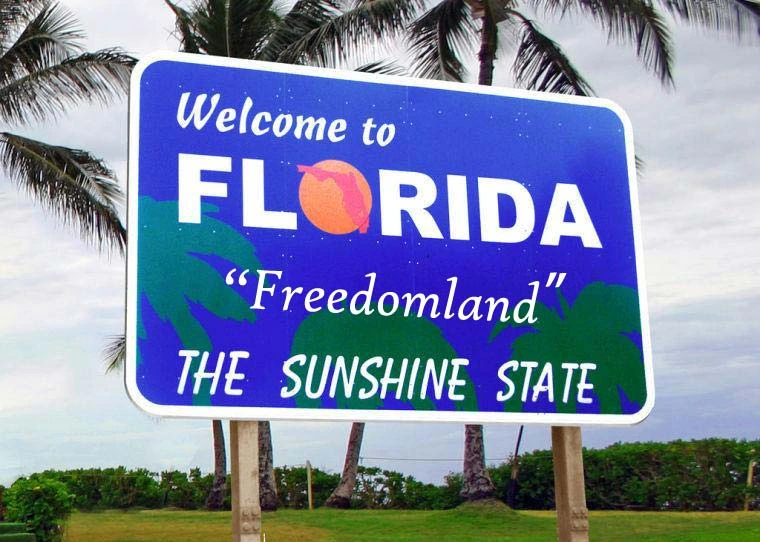 The last few weeks have delivered more than the usual steaming pile of nonsense from the State's bizarre, anti-government-dominated legislature. Let's start with the latest attack on the solar industry.
Killing Solar
New State GOP legislation aimed at doing away with net metering for rooftop solar power in the State. In a nutshell, a bill put forward by Florida Power and Light aims to cut solar credits from retail rates to about 3 cents a kilowatt. In other words, the utility will actually profit by reselling the solar energy you produce on your roof. That's your personal investment, underwriting a privatized utility. Can you feel the freedom?
Here's a comment :
This is a tired tactic that utilities have used to maintain their monopoly grip on electricity markets," explains Will Giese, southeast regional director for the Solar Energy Industries Association (SEIA). "Stripping Floridians of their right to choose solar is simply bad policy. Florida has the second-largest solar workforce in the country and ranks third among states for installed solar capacity. The state is poised to maintain its solar leadership in the years ahead, but this bill would stamp out that economic growth just as it is ramping up.
One has to wonder how companies such as JinkoSolar, which has invested millions in infrastructure to produce panels in the state, will take this effort to quash solar. One also has to wonder why citizens of one of the sunniest places in the United States, with some of the highest air conditioning bills, can continue electing legislators like these.
Virtual Inspections: What Could Go Wrong?
The State is now allowing virtual inspections. Imagine a condo being inspected by some guy sitting in a remote office watching a contractor point his cellphone camera around the job site. Is there a chance he might not catch every safety issue? Would it have caught the problems with the drains in the pool slab at the Surfside Condo that collapsed , killing 98 people?
According to The National Law Review: "The newly added language is found in sections 553.79(6) and 553.791(8), Florida Statutes, and the amendments broadly define "virtual inspection" as "a form of visual inspection which uses visual or electronic aids to allow a building code administrator or an inspector, or team of inspectors, to perform an inspection without having to be physically present at the job site during the inspection."
Let's return to the Surfside Condo collapse. A gigantic loophole in the building and inspection process lies behind that incident. Developers and municipalities are free to hand off responsibility for condo maintenance from professionals to condo association boards. So yeah, a bunch of dentists, salespeople, and snowbirds decide if and when to repair a cracked foundation or leaky roof. They're free to pretend they know something about building maintenance.
USA Today explains the process this way:
Though building codes in Florida are among the strictest in the nation, safeguards have focused on the construction of new buildings as opposed to the condition of existing structures. After developers conclude construction, maintenance and repairs fall squarely on condo association boards. Except for a brief two-year period, the state has had no oversight mechanism to regulate repairs or maintenance of condos in nearly 60 years. The Sunshine State does not mandate post-construction inspections nor have enforcement measures should contingencies arise when unsafe buildings are identified.
Climate Change Neros?
Finally, if you live in Florida, you're apparently free of any personal responsibility for climate change. Although latest surveys show that even among Republicans, 9 out of ten Floridians believe Climate Change is real, the governor still won't use the term, calling it "Left Wing Stuff."
The threat of imminent submersion, perhaps within five years if the Thwaites glacier collapses , hasn't daunted freedom seekers. About 211,000 people who moved there last year can't all be wrong, or can they?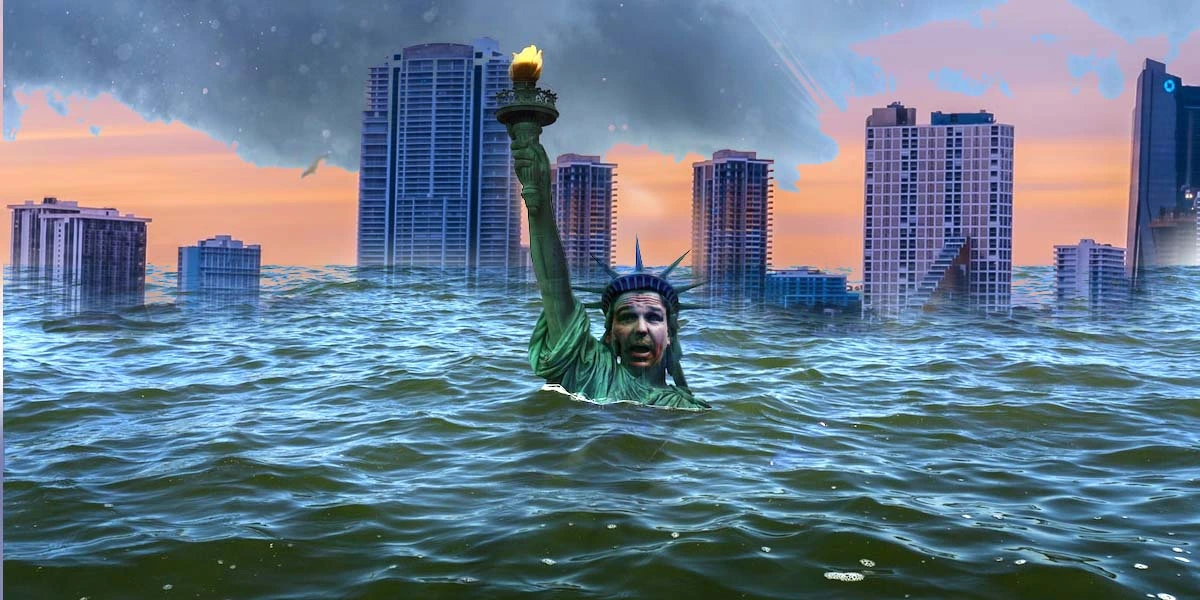 In keeping with Florida's "put a bandaid on it" approach to problems, the governor has proposed 76 projects aimed at toughening buildings and fixing drainage, to make Florida stand up to Mother Nature just a little longer (perhaps through 2024). Don't expect any of Florida's freedom lovers to lift a finger to slow global warming or change course in any way that might be perceived as a recognition of man's role in pushing us to the brink of ecological collapse.
As I'm finishing this diatribe, Scott Maxwell at The Orlando Sentinel just published a piece about the State's complete lack of environmental regulation. "The commission hasn't met since Gov. Ron DeSantis took office, nor for almost all Rick Scott's final two years in office. Not since February of 2017," he points out. The inevitable result? "The state has made one nasty environmental headline after another about toxic algae, radioactive sinkholes, dying manatees, and polluted waterways."
It's a party down in Florida. A freedom party. Maybe they'll have the last laugh. Maybe the rest of us, who wring our hands about fossil fuels and rising sea levels and polluted beaches and long-tail Covid have overestimated the risks. Maybe Florida will be riding high in 10 years. But I'm not holding my breath.