ESG Becomes Mission Critical
As the ever-expanding existential threat of global emissions reaches unprecedented levels, some companies are acting boldly and quickly to reverse runaway climate change.
Sustainability has been deemed by many international business leaders as a moral imperative, and the pace at which companies across the globe are committing to comprehensive ESG strategies is accelerating at a remarkable rate.
Large multinationals are tripping over each other in an effort to become sustainability leaders in their sectors, making intrepid commitments to become carbon neutral, or even carbon positive, by the end of the decade (my favorite example is Microsoft, which has not only committed to becoming carbon negative by 2030, it has also pledged to offset all of the carbon the company has emitted since its inception.)
Environmental, Social, and Governance (ESG) is now an essential business requirement to satisfy stakeholder demands, achieve cost savings, drive revenue, and reduce risk.
These non-financial performance indicators and science-based targets encompass strategies that oversee a company's carbon footprint, ensure compliance, and administer disclosure.
Environmental aspects determine a company's stewardship of the environment, taking into consideration waste and pollution, resource depletion, greenhouse gas (GHG) emissions, deforestation, habitat impact, and climate change.
Social elements focus on a company's treatment of its employees, customers, and other stakeholders, as well as management of diversity, working conditions, local communities, health and safety, and conflict.
Governance comprises corporate policies related to tax strategy, executive remuneration, donations and political lobbying, corruption and bribery, and board diversity and structure.
A robust ESG strategy allows companies to streamline operations, boost productivity, improve resource allocation, and strengthen the supply chain. A strong ESG profile attracts like-minded business partners, vendors, customers, and employees, and creates passionate brand ambassadors.
Enhanced Transparency
While many companies are talking about ESG, some of those companies are getting away with issuing vague statements and greenwashing. However, mounting demand for transparency and accountability by investors, customers, and other stakeholders is placing new expectations on companies, and those that fail to respond—most commonly, by providing inadequate data—face serious financial, legal, and reputational risks.
There are currently no universal standards for ESG reporting, but that's about to change: The International Sustainability Standards Board (ISSB), launched at the recent COP26 meetings in Glascow, will develop a comprehensive global baseline of sustainability disclosure standards, and the SEC just proposed new regulations for companies to publicly disclose their climate risks.
Companies in all sectors of the economy will soon be required to take more stringent action on climate and implement reporting mechanisms to validate their claims.
ESG in Real Estate
Beyond the boardroom, ESG is on the rise in the real estate industry as a means to reduce risk, augment value, and enhance resilience.
When evaluating real estate projects with ESG in mind, investors, developers, and builders are considering:
Environmental: What are the environmental impacts of a development? How can the development be net zero carbon and regenerative to its surroundings? What are the impacts with respect to greenhouse gas emissions, pollution, material disposal, resource management, efficiency, water, and ecosystem health?
Social: How does the development impact occupants and surrounding neighborhoods? Can the development make a positive contribution through amenities like community gardens, co-working spaces, walking trails, greenspaces, and gathering areas? How does the development address community safety, well-being, and enhanced quality of life?
Governance: What are the ESG aspects of the development? How do the companies involved (developers, builders, vendors, etc.) decrease their carbon footprint and reduce climate risk? How do these companies address resource efficiency, waste reduction, sustainable product development, executive compensation, customer retention, cost reductions, liability reduction, risk management, and transparency?
Economic Powerhouses
Not surprisingly, millennials and Gen Z are a growing force in ESG. Their passion for ESG investing has helped the sector achieve 10x growth in just over two years.
Millennials have more economic power than any previous generation, partly because they comprise nearly 75 percent of the workforce, and partly because they are on the receiving end of tens of trillions of dollars of family inheritance.
With unprecedented levels of savings, millennials are deploying capital with a new set of values. According to a recent COGNITION Smart Data survey:
Nearly 50% of Millennials surveyed say that their top consideration when making purchasing decisions is ESG and corporate sustainability.
Over 90% of Millennials claim that socially responsible investing is important.
Nearly 60% of Millennials who own stock report that they have sold stock and stopped purchasing products from a company if they think the company is not serving the best interests of society or our planet.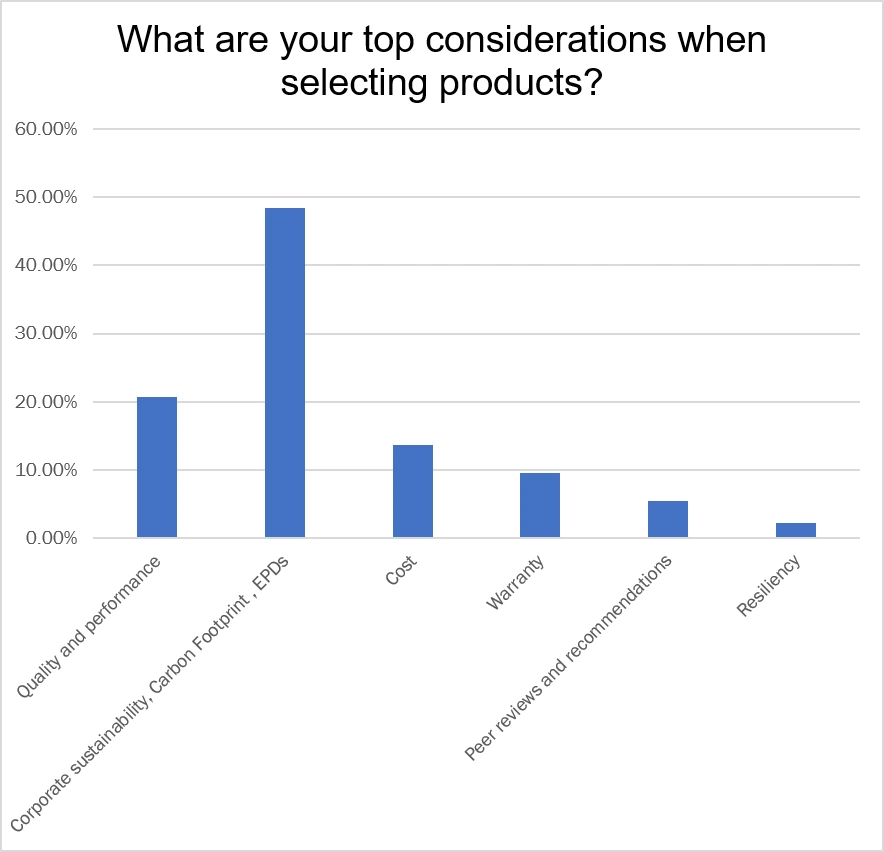 By aligning their dollars with their values, millennials are demanding nothing less than the democratization of finance, accelerating the adoption of the issues that they care most about, and driving new levels of transparency and accountability.
Interested in accessing COGNITION data or consulting services to augment your ESG strategy? Email me at sara.gutterman@greenbuildermedia.com.