Energy-Efficient Cooling Panels Leverage PEX Hydronic Piping

Kim Bliss, Guest Columnist
4 min read
With energy savings of up to 1,000 kilowatt hours per panel per year, these panels offer a solution to the increasing costs of a warming climate.
With energy costs up more than 50% over the past year and a half, and forecasters expecting those numbers to remain high through 2024, commercial building owners and engineers are seeking alternatives to effectively condition large spaces in a more energy-efficient manner.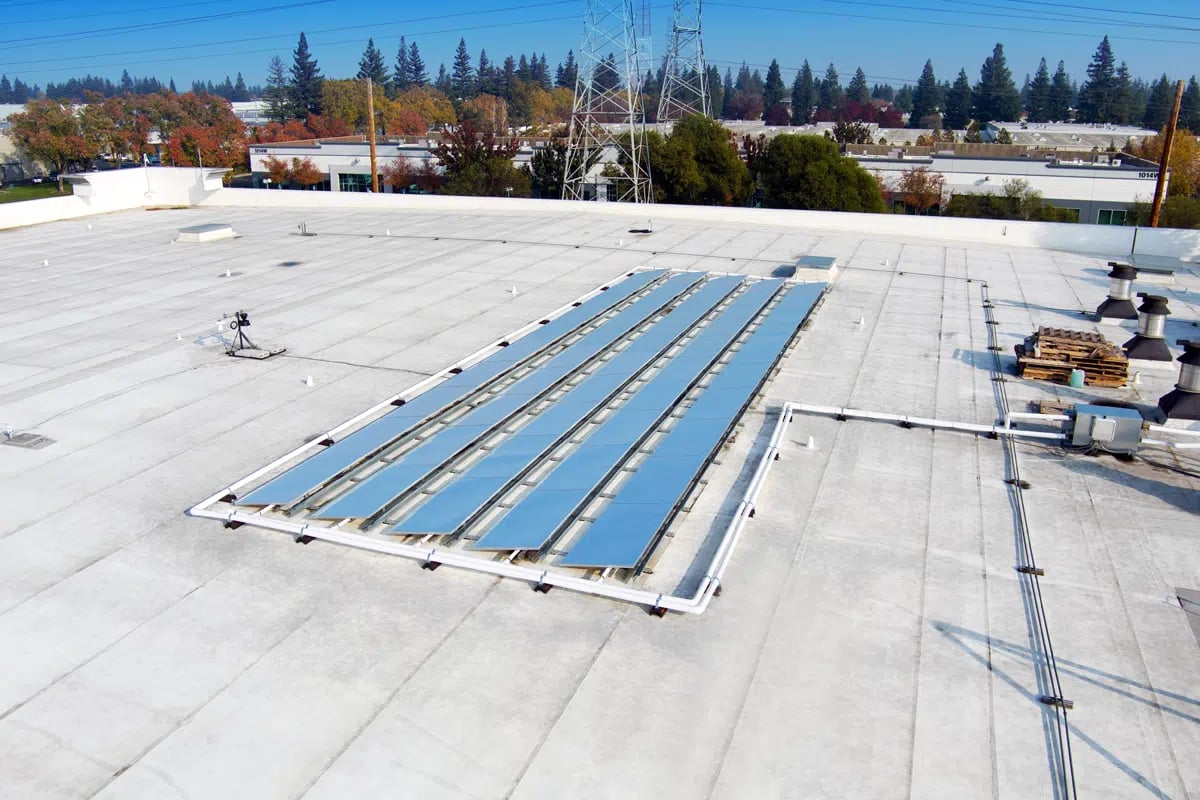 This challenge has opened the doors for a new cooling-panel technology that significantly decreases energy consumption and demand charges associated with cooling to maximize sustainability for higher-performing buildings.
The patented radiative cooling system essentially works opposite a solar panel system. Instead of harnessing energy from the sun, the cooling panels feature a multilayer film that reflects sunlight and emits infrared heat to the atmosphere, keeping the panels extremely cool — up to 15°F below the ambient temperature. A closed-loop hydronic piping system circulates a water/glycol mixture that brings warm water to the panels for cooling and then returns the cooled fluid back to the building's existing HVAC system.
Estimated Cooling System Savings
"The system has the potential to yield up to 40 percent energy efficiency when added onto existing air conditioning and refrigeration systems, and the typical project is saving about 1,000 kilowatt hours per panel per year," says Eli Goldstein, co-founder and CEO of SkyCool Systems, the company behind these radiative cooling panels.
The distribution piping system that connects to the panels consists of an oxygen-barrier crosslinked polyethylene (PEX) pipe called Wirsbo hePEX, which is extremely flexible and durable to provide the proper medium needed to transport the water/glycol fluid. The piping system includes ProPEX engineered polymer (EP) fittings as well as ProPEX copper sweat adapters for connections.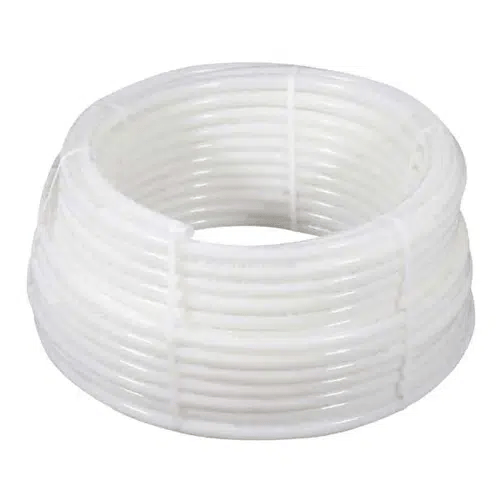 Wirsbo hePEX piping is ideal for use with the SkyCool Systems panels. It's made of crosslinked polyethylene (PEX-a), which is an SDR-9 pipe, and includes an EVOH oxygen barrier that conforms to DIN 4726.
"We needed a pipe with an oxygen barrier to protect the aluminum panels from corrosion, and we also needed a product that was quick to install," says Goldstein. "After talking with plumbing contractors, we learned PEX was far superior due to its installation speed."
After deciding on the pipe type, Goldstein says the next important decision was finding the right connection system that was efficient, dependable, and reliable.
"We chose to standardize the system with ProPEX expansion fittings to make sure we don't have leaks," he says. "We tried other fitting systems, but found they weren't as reliable or as easy to install."
Since these cooling-panel systems are being installed in various locations all over the U.S. — and even in some foreign countries — SkyCool contracts the installation with local plumbing and heating contractors.
"We typically work with installers that have solar experience," he says. "We provide the tools. We have a bunch of Milwaukee® ProPEX expansion tools in a job box that travels from site to site."
With about a dozen projects complete by the end of 2022 and 40 to 50 projects slated for 2023, this cooling-panel trend is really beginning to take off in the commercial building industry.
From data centers to grocery stores to refrigeration warehouses, this technology is proving to be a great value to large commercial buildings that require constant cooling in an efficient manner.
Fast Return on Investment
"We anticipate most customers will get a return on their investment in three to five years," he says. "Which, for commercial buildings, is relatively quick."
With the incredible energy cost savings, the only question Goldstein typically receives from potential customers is the system longevity.
"The film on the panels has a projected life expectancy of around 15 years," he says. "So, depending on where the system is located, the film will most likely need to be replaced after 15 years, give or take a couple years."
He goes on to state that the rest of the system, including the aluminum panels, the racking system, and the piping system, have a much longer lifespan. PEX piping, depending on the manufacturer, typically has a life expectancy of around 50 years. So, the distribution piping is designed and manufactured to last for several decades.
"We're insulating and jacketing the piping system, so it's not exposed to UV," he says. "That is one question we typically get when talking to customers. There is usually a concern about PEX and UV, but we make sure all the exposed piping is insulated to help ensure maximum longevity for the system."
Promising Future Demand
As for future opportunities with this technology, Goldstein is working with partners all over the globe to find ways this innovation can help make cooling more sustainable.
"The opportunities are endless as to where we can use this reflective film to keep any outdoor surface cool," he says. "From semitrucks to manufactured homes to outdoor electronics, it can be used to keep all different kinds of surfaces cooler than the outdoor air temperature."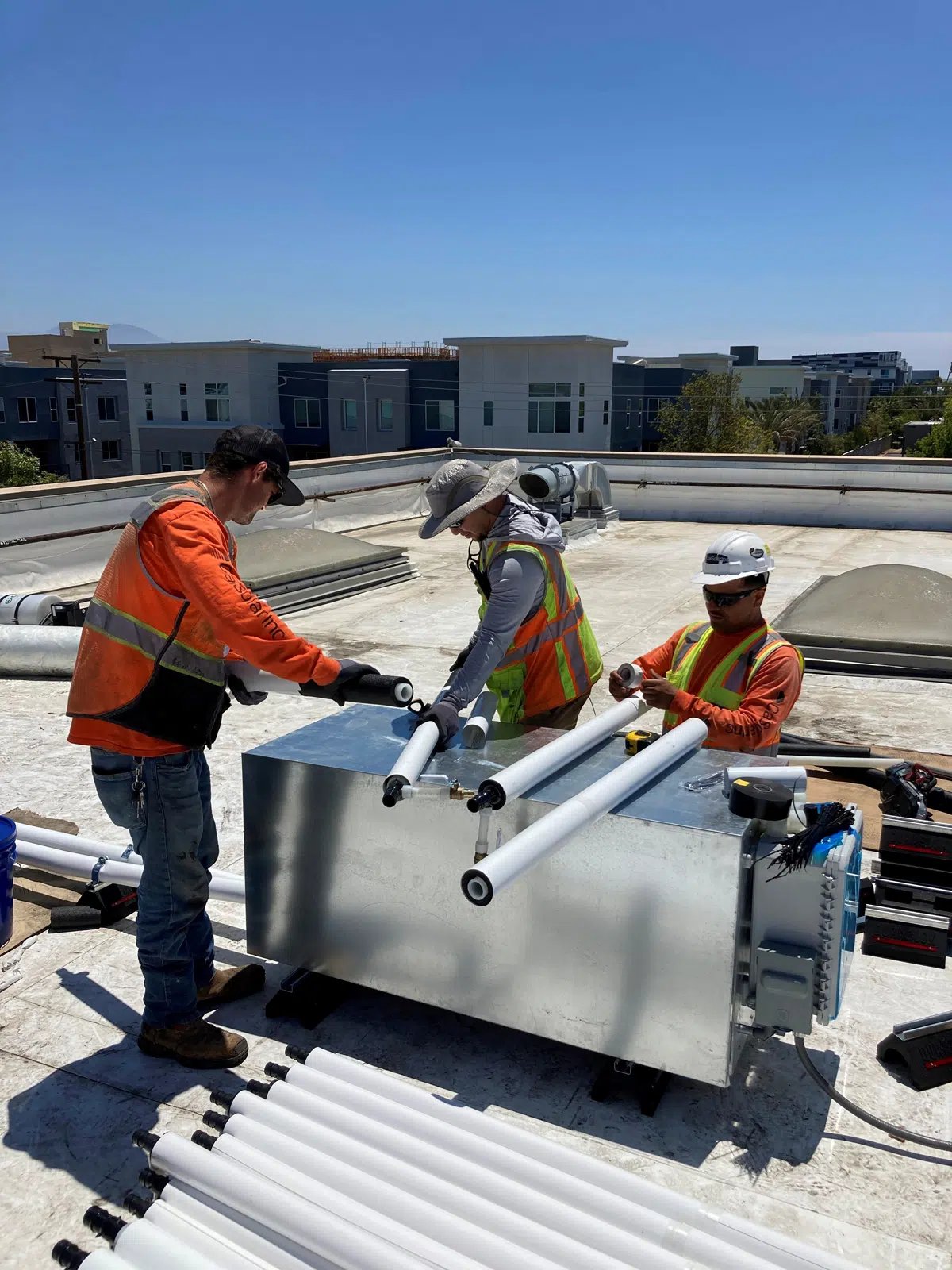 Installers insulate and jacket straight lengths of Wirsbo hePEX pipe to protect it from UV exposure.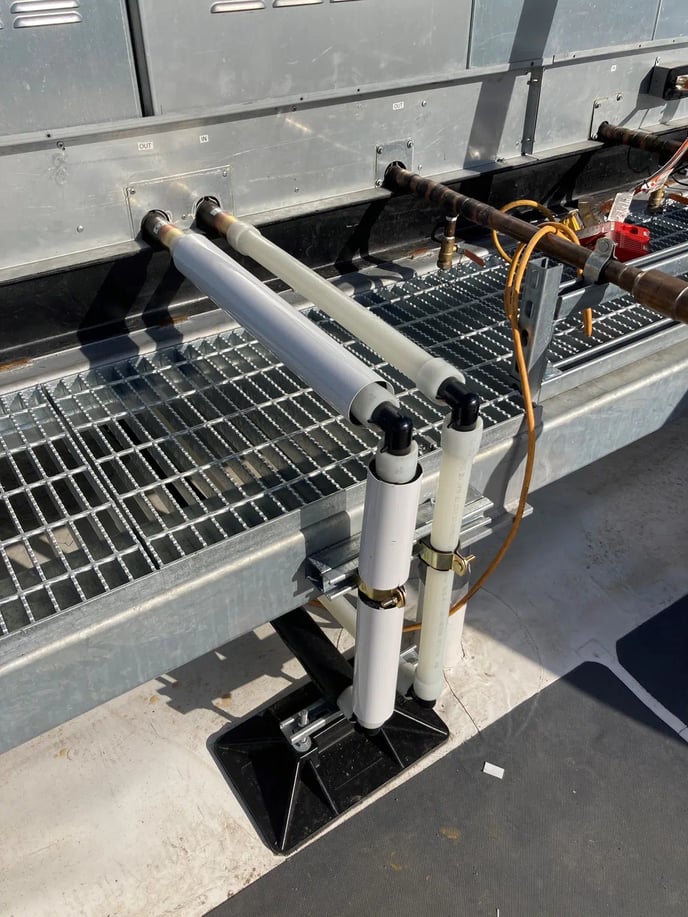 SkyCool Systems and Uponor PEX Pipe 3: SkyCool Systems uses oxygen-barrier Wirsbo hePEX pipe and ProPEX fittings for the distribution piping.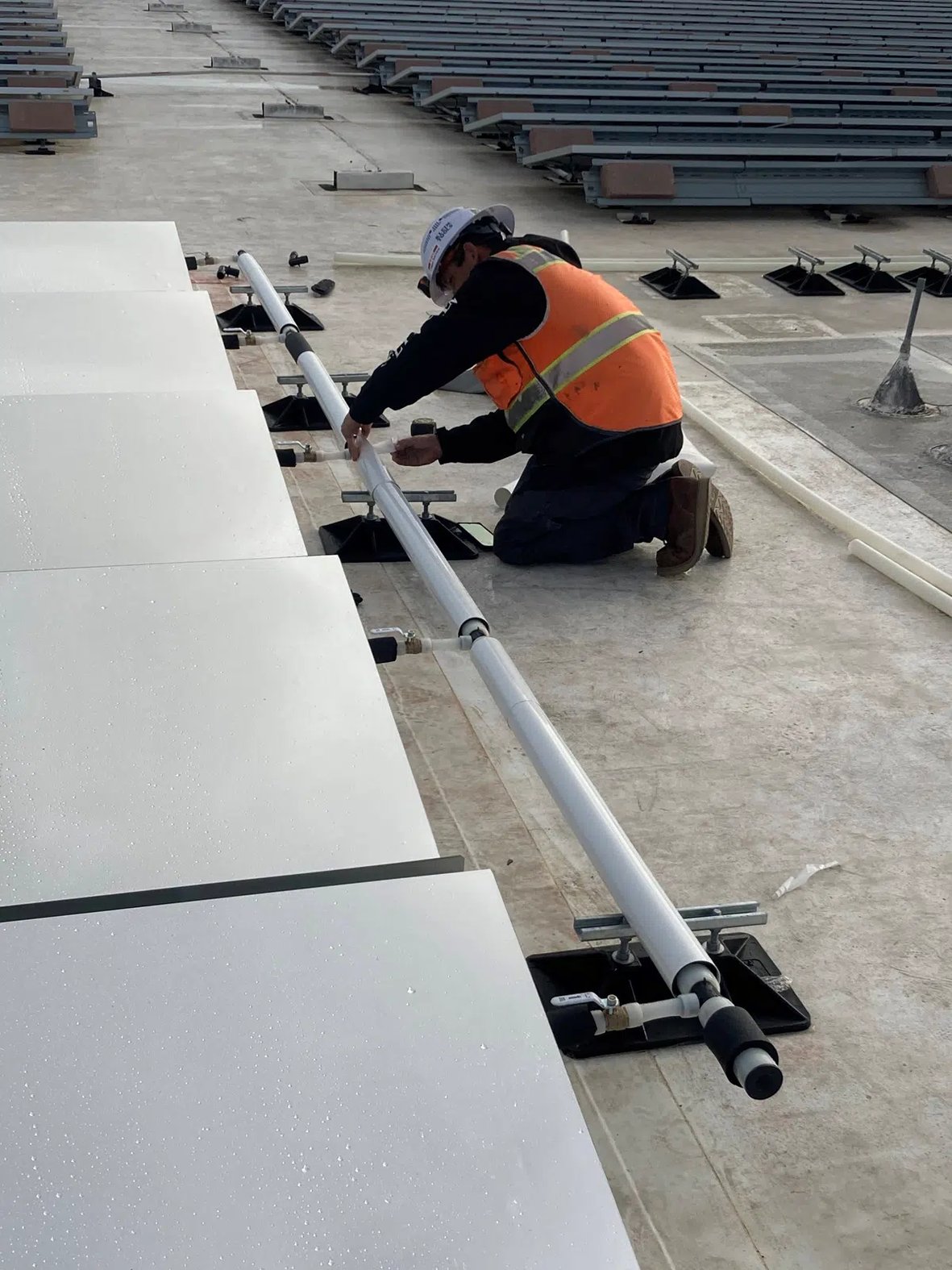 SkyCool Systems and Uponor PEX Pipe 4: The distribution piping system features Wirsbo hePEX pipe along with ProPEX fittings and ProPEX ball valves.
SkyCool Systems Panels 2: Here is the distribution piping system half complete with the supply side installed.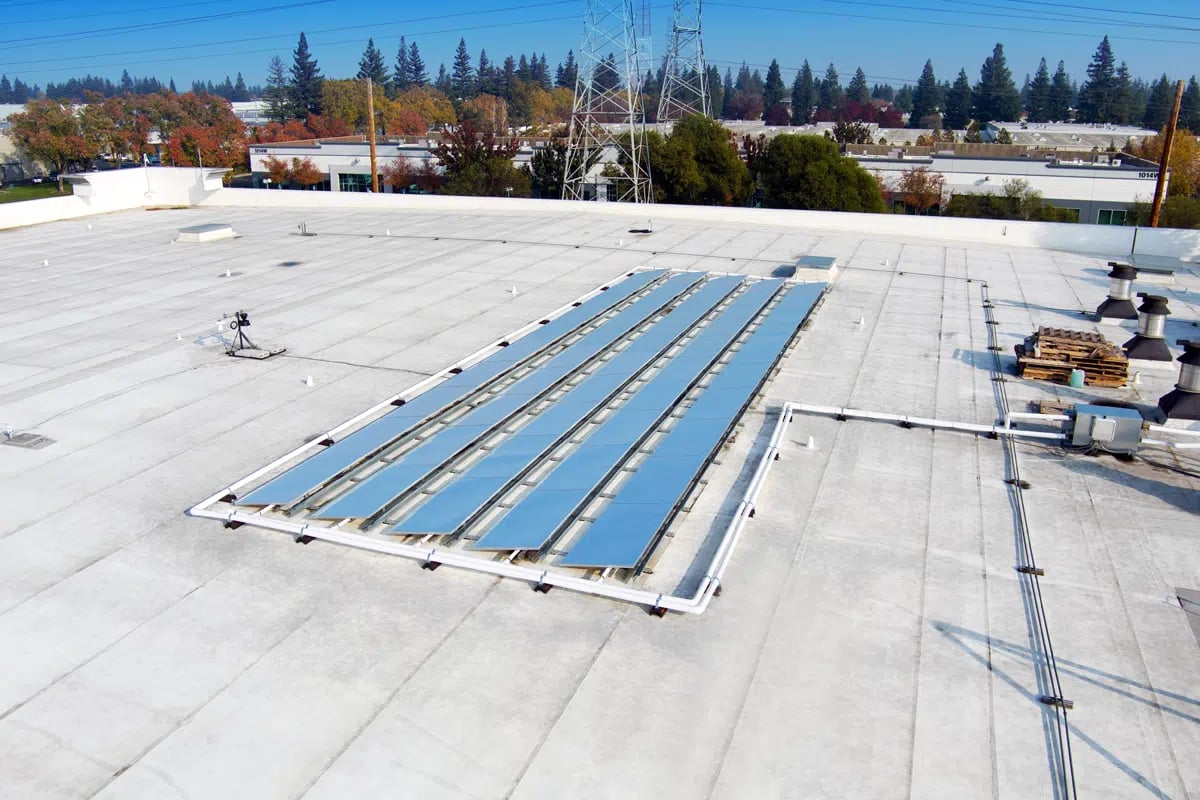 SkyCool Systems Panels 3: Here is the final installation with the supply and returning piping that includes the complete jacketing for UV protection.
Nov 18, 2022 11:11:58 AM · 4 min read