Double the Space, Half the Energy

Alan Naditz
2 min read
This Cape Code-style home is bigger than its predecessor, but thanks to green features the electric bill sure isn't.
The Megumi House was built upon the foundation of a modest 1930s Cape Cod in Arlington, Va. At 2,800 square feet (4 bedrooms, 2.5 baths), the three-story home with a full basement and rooftop deck has more than double the square footage of the original house, but is designed to use only a fraction of the energy.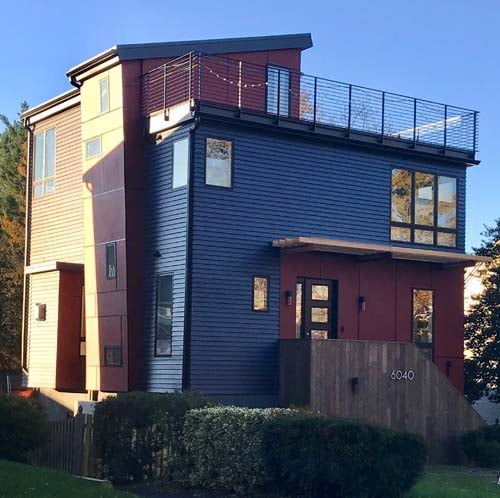 The Megumi House equally blends new materials, such as structural insulated panels (SIPs), with recycling efforts such as reusing the existing basement foundation. Credit: Rosa Vista/Roma Vista Photography
Sustainable features of Megumi House—designed by John Linam Jr. and built by award-winning Galaxy Homes—include the structural insulated panel (SIP) shell (R-23.3 walls, R-45.4 roof) and efficient Marvin Integrity windows.
Megumi's construction also includes a high-efficiency Energy Star heat pump HVAC, south-facing exterior window awning, a Rinnai tankless water heater, green roof deck, sustainable COREtec flooring, LED lighting, Energy Star appliances, and an energy recovery ventilator (ERV) air purification system, and humidity control. It is also solar panel conduit-ready.
Designed with high (9 to 16 foot) ceilings and expansive glazing, Megumi boasts open-flow space and an abundance of natural light to create spaciousness within the modest footprint.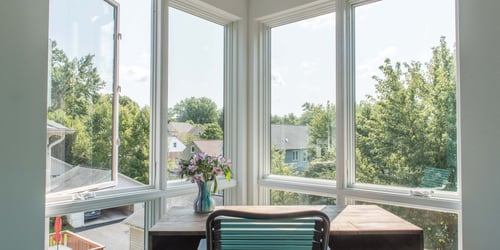 Megumi's open-flow space and an abundance of natural light creates spaciousness within a modest footprint. Credit: Rosa Vista/Roma Vista Photography
In addition to Megumi's green design and materials, Galaxy Homes also integrated sustainability principles in the building process. Any salvageable materials of the original home were donated to Second Chance charity in Arlington for reuse, and construction debris was taken off-site to a recycling facility. In addition, staying within the footprint of the existing structure minimized land disturbance and maximized the green space of the lot.
Additional sustainable processes included reusing the existing basement foundation, application of a structural bond beam to increase ceiling height of basement, and off-site manufacturing of the SIP shell.
Galaxy Homes was also successful in reducing the cost of green, as the Megumi House was built for a cost similar to traditional stick construction custom homes in the area, the company notes.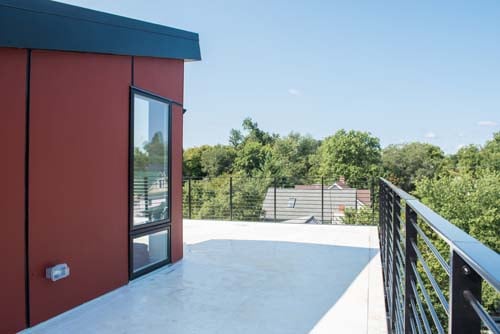 The top level of the home includes a green roof deck and a solar panel-ready design. Credit: Rosa Vista/Roma Vista Photography
All the green efforts worked. Megumi has since achieved a Home Energy Rating System (HERS) score of 54 and Platinum level certification by the Arlington Green Home Choice program.
"We love the house and how beautiful it is, and how green it is, but I am blown away by the secondary effects of the design," homeowner Jim Dooley says. "The house is filled with daylight. The temperature across aII 3.5 floors is always constant and even—that never would have happened in our old house."
Dooley adds that he is "crazy in love" with how quiet the house is. "So, in addition to the environmental benefits, I think folks should understand these everyday comfort issues when considering building a green house," he notes.
---

Alan Naditz is managing editor of Green Builder Magazine. He has covered numerous industries in his extensive career, including residential and commercial construction, small and corporate business, real estate and sustainability.