Desert City Dream

Alan Naditz
3 min read
The United States will one day have a custom-built, self-sustaining green city of its own, if billionaire Marc Lore has his way.
All-sustainable—and all-new—cities are going to be all the rage over the next 10 years. The United Arab Emirates (UAE) got the ball rolling with its Masdar City project in 2008, for which completion isn't expected until at least 2030. It also has the Sustainability City, Dubai Silicon Oasis, Desert Rose City, and Neom projects underway, slated for grand openings within the next decade.
Green, Smart City On Its Way
Not to be left out, billionaire investor Marc Lore and world-renowned architect Bjarke Ingels have announced a plan to build an all-green, all-smart city from scratch somewhere in the southeastern United States.
The city of Telosa, as currently planned, will be a built-from-scratch, self-supporting and eco-friendly metropolis that is home to 5 million people upon completion in the early 2060s. Credit: Courtesy of City of Telosa.com
The city, Telosa, will be constructed over a 40-year period on 150,000 very remote acres, possibly in Nevada, Utah, Idaho, Arizona, or Texas. When complete, Telosa—whose boundaries would make it about the size of Chicago—would have a population of 5 million.
Lore is known for launching 1800DIAPERS/Diapers.com and Jet.com in the past two decades. These were later acquired by Amazon and Walmart, respectively, in deals worth a combined $4 billion. He also owns the NBA's Minnesota Timberwolves and WNBA's Minnesota Lynx basketball teams and is now CEO of gourmet food delivery startup Wonder Group.
Ingels and his firm, Bjarke Ingels Group (BIG), is known for numerous cutting-edge, sustainable and eye-popping projects worldwide, including Google's headquarters in Mountain View, California.
New Standard for Urban Living
According to Robb Report, Telosa will feature "wide-open streets that prioritize pedestrians and cyclists but still offer room for autonomous public transportation. It will be replete with verdant public spaces that reflect the green ethos. There will also be facilities to recycle water and process renewable energy to promote long-term sustainability. And, at the center, will be a giant viewing tower called Equitism, which will act as a beacon for the city and a meeting place for its residents."
On Telosa's website, Lore says the vision is to "create a new city in America that sets a global standard for urban living, expands human potential and becomes a blueprint for future generations." He estimates that it will cost $25 billion for the initial phase of 1,500 acres for 50,000 residents, and $400 billion by buildout.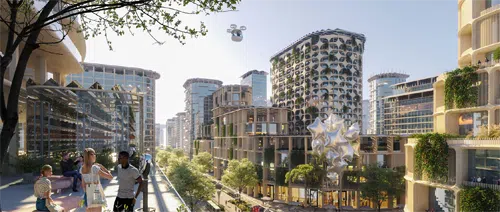 Developers hope Telosa will become a blueprint and a source of encouragement for other carbon-neutral, renewable energy-driven cities in the U.S. and elsewhere. Credit: Courtesy of City of Telosa.com
"Residents will come to Telosa for several reasons—good jobs, education, and a higher quality of life will play a large role," Lore says. "At the same time, we also believe that many will come to Telosa to take advantage of our new way of life. Some will come for the adventure and to live in a vibrant, exciting, sustainable city that is forging a blueprint for the future. Most importantly, the residents will have a part in creating something new, and with that comes the inherent pride to join the community."
Addressing Water in the Desert
But building an all-new city in a desert presents many challenges, especially if it is to be sustainable, said Zhihua Wang, an associate professor at Arizona State University's School of Sustainable Engineering and the Built Environment, in a report from Smart Cities Dive. "Desert is hot. Water is scarce," notes Wang, a Phoenix resident. "A new city definitely would face all the problems we are currently facing here in Phoenix."
The No. 1 problem, of course, is water. Las Vegas, the nation's most-high profile desert city, is, along with the rest of the Western United States, is enduring a severe water shortage due to drought. If built in a similar location, Telosa would require 10 times as much water and electricity. Where does that come from?
That's why so many cities, historically, began near a water source, Wang notes. But he adds that building a city anywhere is not impossible if planned properly. "We have all the experience, all the things we can learn from building existing cities," he said. "If we start from scratch, there's a lot of information we can use. We can avoid a lot of things that went wrong historically."
---

Alan Naditz is managing editor of Green Builder Magazine. He has covered numerous industries in his extensive career, including residential and commercial construction, small and corporate business, real estate and sustainability.