Company Goes "Zero Waste to Landfill"

Alan Naditz
4 min read
The circular economy starts with resource management—within and outside the company.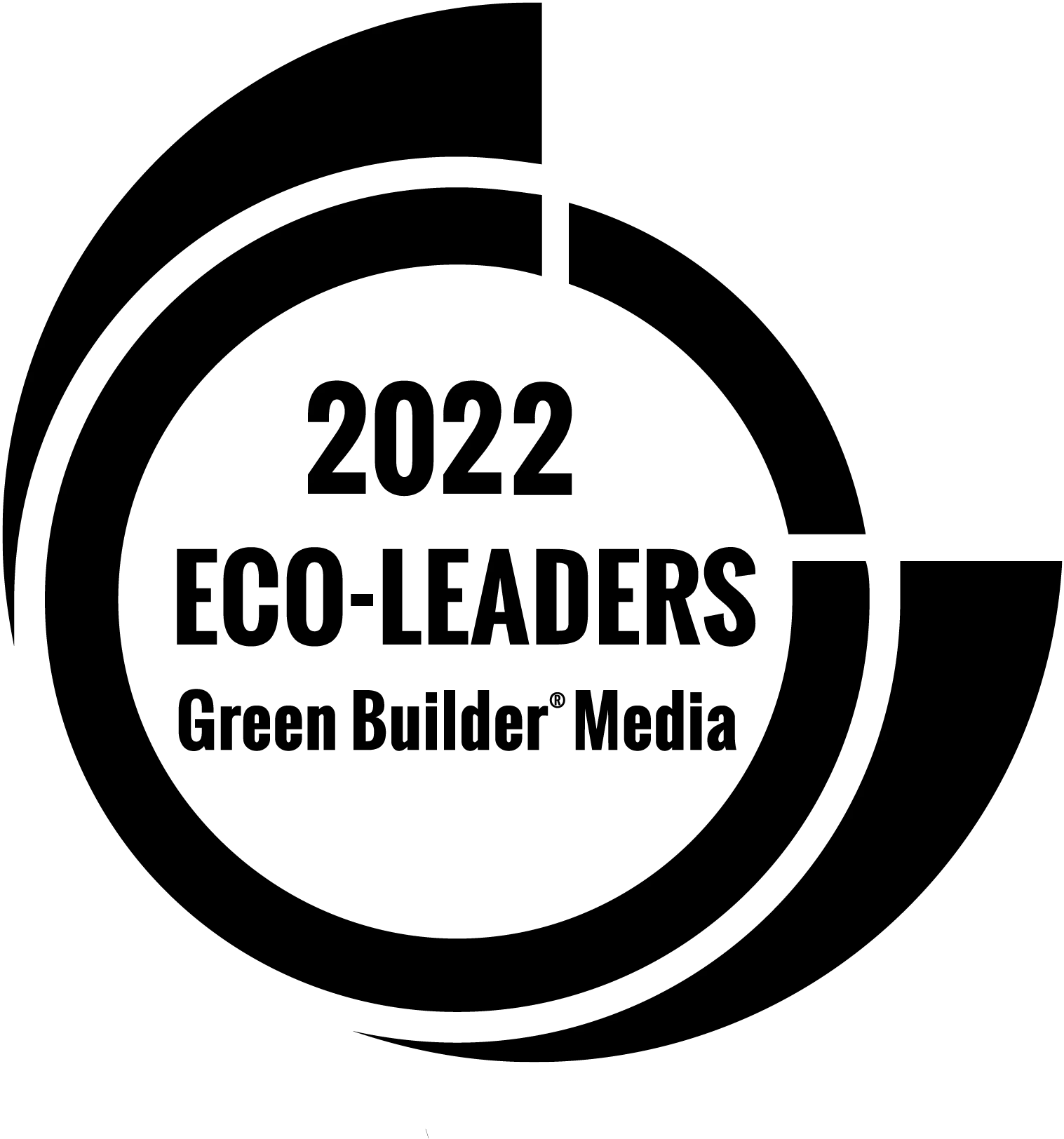 When it comes to meeting the merits of a circular economy—one based on reduction and eventual elimination of waste and pollution, keeping products and materials in use, and regeneration of natural systems, HVACR and water heating global manufacturer Rheem Manufacturing has several ways to get the job done.
For example, teams across Rheem are involved from the start in making products that meet high sustainability standards. The company reports that at the beginning of the product development process, its research and development, sourcing, manufacturing, and other teams conduct sustainability strategy sessions.
The sessions consider 12 environmental and social factors to determine where the company's new products "will have the greatest positive impact throughout the course of their production, use, and end of life."
Rheem also plans to use waste as a resource. All of Rheem's global manufacturing sites are focused on achieving "Zero Waste to Landfill" (ZWL) status by 2025. By that date, they will divert 97 percent or more of their non-hazardous solid waste from landfills or incinerators by redesigning, refusing, reducing, reusing, recycling, composting or converting that waste into energy.
Seven of the company's global sites have already achieved diversion rates of 97 percent or greater. Also, many sites are adopting creative processes to reach zero waste—such as eliminating single-use plastic and foam packaging, turning composted food scraps into thriving kitchen gardens, and finding innovative recycling outlets for hard-to-recycle materials.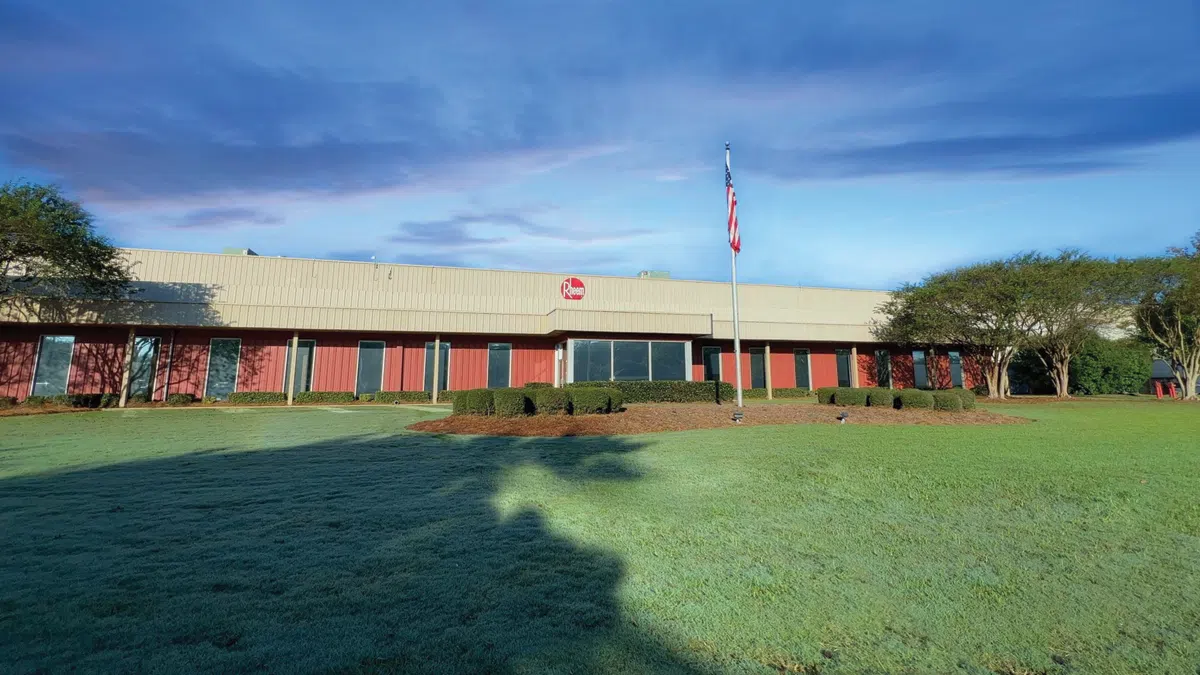 Rheem Manufacturing's circular economy actions start with research and development, sourcing and manufacturing sustainability strategy sessions.
Courtesy Rheem Manufacturing
The company has a strategy that calls for the addition of prioritizing reusable and non-toxic materials as part of its ZWL goal. Rheem's global manufacturing sites are also exploring the use of renewable energy to reduce their environmental impact and help the company achieve its goal of cutting plant greenhouse gas emissions in half by 2025.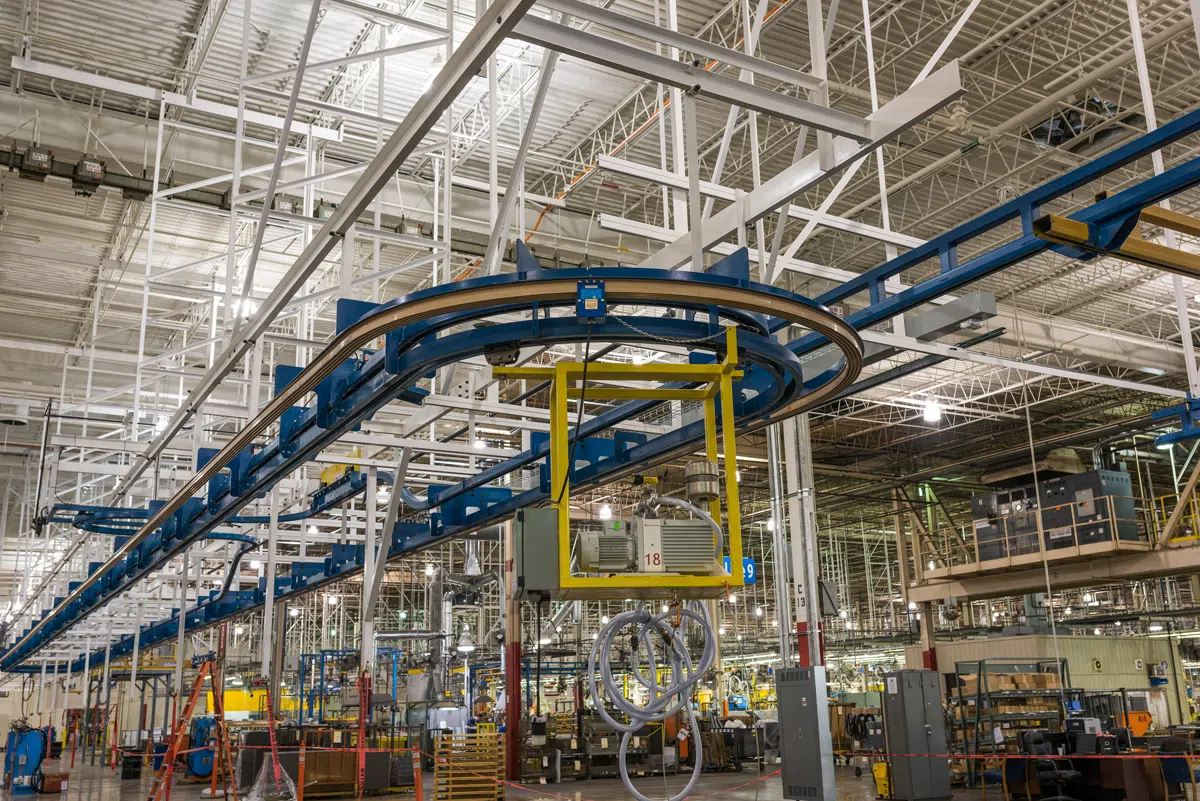 Rheem Manufacturing's circular economy actions start with research and development, sourcing and manufacturing sustainability strategy sessions.
Courtesy Rheem Manufacturing
Results are already being seen worldwide: Rheem's water heater manufacturing plant in Santiago, Chile now sources 100 percent of its electricity from renewable energy. Meanwhile, the Rydalmere, New South Wales, Australia, and Mexicali, Mexico plants have implemented onsite photovoltaic systems that together prevent nearly 500 metric tons of carbon dioxide-equivalent emissions per year.
"Rheem is proudly committed to closing the loop on materials used to create and package our products," the company notes. "In this spirit, we work with our suppliers to deliver product packaging with a high amount of recycled content to our customers."
For example, the company's partnership with fiber-based packaging provider, Smurfit Kappa, ensures that the corrugated boxes that Rheem's products are sold in go on a circular journey: from the shelves of retailers, distribution centers, and customer homes, to recycling bins and sending them on to fiber collection centers, and then to the paper mills that transform this recycled fiber into new Rheem boxes.
Smurfit Kappa collects more than 375 tons of waste annually from a Rheem manufacturing plant, eventually resulting in boxes that are at least 90 percent post-consumer recycled certified content.
Smurfit Kappa's Fort Smith, Arkansas, recycling center collects more than 375 tons of baled waste annually from the nearby Rheem air conditioning manufacturing plant. The resulting boxes are 100 percent recycled, with at least 90 percent post-consumer recycled certified content.
"Programs like these allow us to help to keep packaging out of landfills and in a closed loop," the company notes. "This ensures that we slow the flow of resources from the Earth and mine the urban forest instead of the real one for the materials we need to deliver our products safely."
Carbon Reduction Facts
Plumbers, contractors and other key industry influencers to be trained in sustainable products and practices by 2025: 250,000
Million metric tons of CO2 emissions avoided by Rheem brands since 2019: 12.8
Factories with Zero Waste to Landfill status (97+ percent safe solid waste diversion): 7
---
Innovation Awards Keep Coming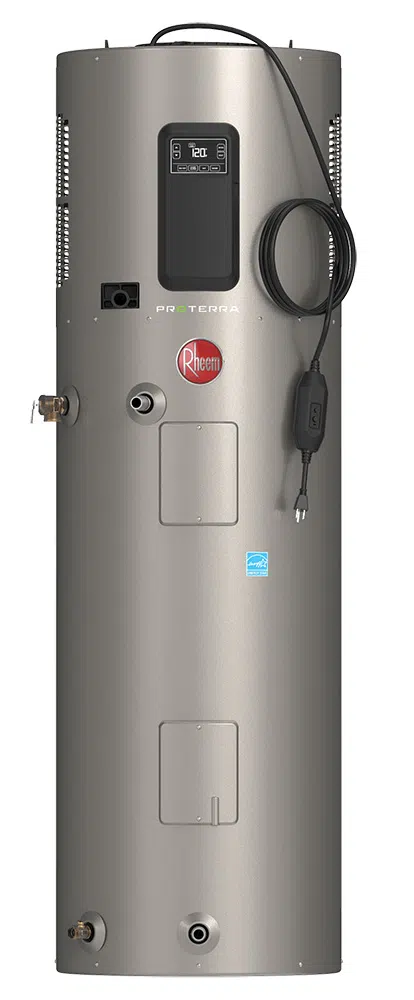 In addition to being named one of Green Builder Media's 2022 Eco Leaders, Rheem's ProTerra® Plug-In Heat Pump Water Heater has been named a CES 2023 Innovation Award winner in the Sustainability, Eco-Design & Smart Energy category.
The CES Awards program is an annual global competition honoring outstanding design and engineering in 28 consumer technology product categories. More than 2,100 products were submitted for consideration this year.
Water heating is the second highest energy user in a home and over seven million water heaters are replaced each year. Rheem's ProTerra Plug-In Heat Pump Water Heater is a smart, drop-in replacement for gas-to-electric water heater conversions and a ground-breaking innovation that helps homeowners lower energy use and reduce their carbon footprint.
The ProTerra Plug-in technology allows homes that have been set up for gas appliances the ability to switch to a more efficient electric heat pump water heater without having to incur costly electric panel upgrades. The ProTerra heat pump water heaters are five times more efficient than a traditional gas tank water heater and can reduce energy consumption by up to 80 percent.
There are two Rheem ProTerra Plug-In Heat Pump Water Heater models, both of which are ENERGY STAR Certified and Wi-Fi enabled. Through the Rheem EcoNet app, homeowners can adjust water temperature, track energy usage and program the unit throughout the day, taking advantage of lower time-of-use energy rates.
A complete list of the CES Innovation Award honorees can be found at CES.tech/innovation and click to view additional details on Rheem ProTerra Plug-in Heat Pump as a CES 2023 Innovation Award Product Honoree.
Dec 2, 2022 12:49:26 PM · 4 min read
---

Alan Naditz is managing editor of Green Builder Magazine. He has covered numerous industries in his extensive career, including residential and commercial construction, small and corporate business, real estate and sustainability.