Colorado Home Is a Lesson in Humanity

Alan Naditz
8 min read
The 2023 Green Builder Home of the Year Award Overall Grand Winner illustrates how big benefits can come in small packages.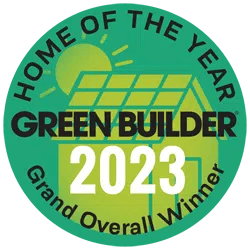 For developers of Habitat for Humanity Gunnison Valley (HHGV)'s Homestead and Learning Lab, success stems from a magic word: local. Much of the 1,280-square-foot, all-electric home in Gunnison, Colo., came from locally sourced products, such as lumber, soil, wood chips, and steel for roofing.
There are also educational opportunities for local students, and the overall project keeps $30,000 to $40,000 of business in the local economy. And, the home was constructed using local labor.
The structure by Almont, Colo.-based Hearth Design Build—currently, one of three at Gunnison Valley—emphasizes sustainability and a way for local families to obtain affordable housing.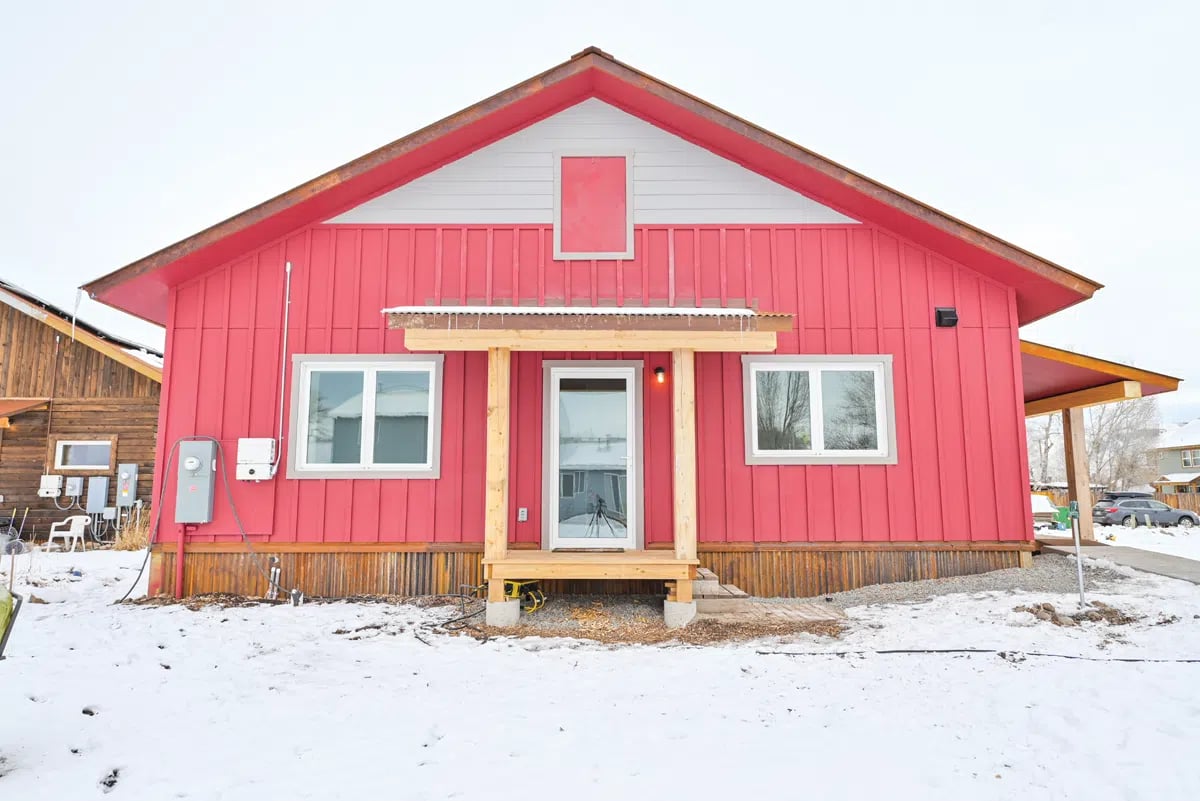 From the Judges:
"Great focus on implementing no petrochemical products and thinking through a universal design that will allow the client to live in place for a longer time."
"Each build is an opportunity to address the challenges that face our community, such as the housing crisis, climate uncertainty and social inequity," says Hearth Design Build owner Cillian Liam Barrett, the project's architect. "We view our buildings as priceless assets that can empower homeowners to move beyond the conditions that allowed them to qualify for our program and give back to their community. Our aim is to facilitate the environments that create net-positive people, not just buildings."
Project Stats
Name: Homestead and Learning Lab, Gunnison, Colorado
Builder: Julie Robinson, Habitat for Humanity Gunnison Valley
Architect/Designer: Cillian Liam Barrett, Hearth Design Build, Architect
Developer: Habitat for Humanity Gunnison Valley
Photographer: Cillian Liam Barrett
Home Building Starts with Sustainable Thinking
The Gunnison Valley home had a pretty basic beginning. HHGV hired Barrett to design and build a straw bale home for a selected homeowner. "[They] had wanted to go in a more environmentally conscious direction for some time," Barrett says, "and it married well with my professional background and ambitions."
There were a number of challenges. Gunnison's ultra-low winter temperatures–January is typically minus 22 degrees F–and its relatively warm 82-degree F average in July, made the construction of a high-performance, energy-efficient, and environmentally friendly house a mind bender.
To maximize temperature control inside the house, Barrett made the home as airtight as possible. The structure achieved a blower door test score of 0.30 ACH50, well below the state's average score for 1,200-square-foot homes.
The home also relies upon a heat recovery ventilation (HRV) system, which uses a heat pump to recover energy and control humidity, and also provide continuous fresh, filtered air. The house, ultimately, is freeze proof should there be a systems failure, and can be kept at 70 degrees F indoors when it is minus 20 degrees F outside, according to Barrett.
The Gunnison Valley home also features a double-stud, super-airtight but vapor-open, thermal envelope containing a continuous smart membrane air control layer on the exterior. Meanwhile, there is a 20-inch wall cavity filled with materials such as untreated framing lumber, straw bales, and cellulose insulation that can absorb, distribute, and release moisture.
The wall system is made up almost entirely of recycled paper fiber—the largest amount and most environmentally friendly insulation available.
The structure has the area's healthiest indoor air quality thanks to a balanced HVAC unit the size of a mini fridge, and by prohibition of all petrochemical foams for insulation, according to Barrett.
The building's envelope consists of a hybrid of local lumber, straw bale and cellulose insulation, with clay and lime plaster finishes. Sheep's wool was used in place of spray foam around the windows and doors. Such products also helped the structure sequester more carbon in construction materials than is emitted by the construction—a true net zero.
"We specify materials and techniques that make our homes climate solutions, not just "less bad," Barrett says. "Our homes sequester more carbon than they omit by time of occupancy."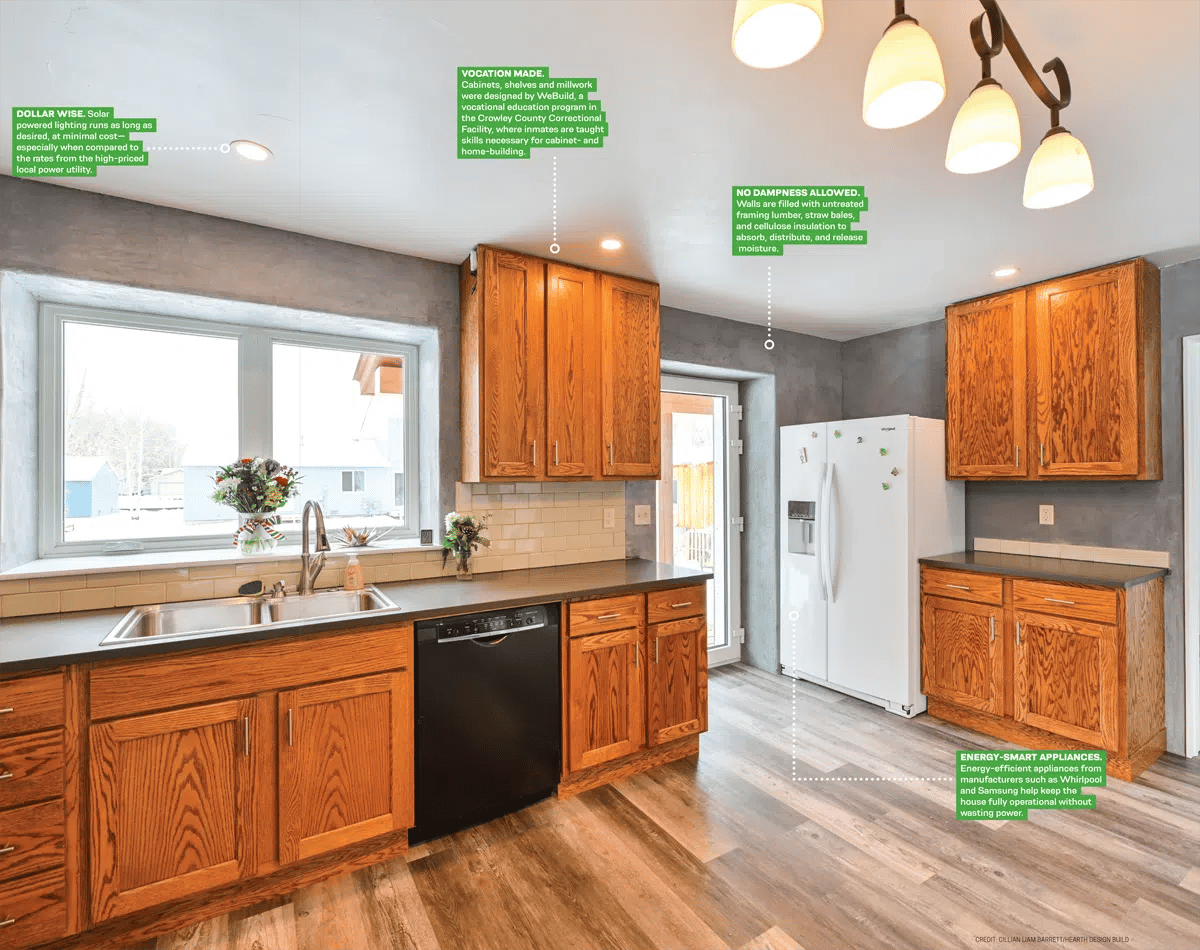 Outside Influences on High-Performance Homes
Besides the environmental benefits, a family now living in the home typically sees a mere double-digit electric bill—from a completely electric-powered house—in the month of January. The house produces enough excess solar energy to completely power the company's next onsite build, and for current homeowners to drive 50 miles a day in an electric vehicle (EV) using a 5 kilowatt photovoltaic system.
This home (and its two onsite companions) are future-proofed for rainwater collection and water reuse, with easily augmented waste and supply water systems. They're also Americans with Disabilities Act (ADA) compliant, and adaptable for use by all people, in all conditions, at any stage of life, Barrett notes.
Overall, the project offers a level of performance and comfort for about $230 per square foot or less, which is on par with the average for the state of Colorado.
"We consider the project a 'Net-Positive Homestead' in a holistic sense," he says. "It is designed to be an abundant regenerative resource for our homeowners and for the community context in which it was created."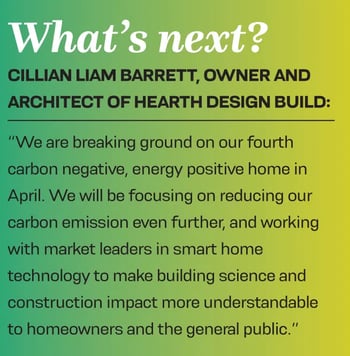 The project helps supply the local construction industry and educational institutes with real-time performance and impact data, enabling them to learn effective building and material science.
And, residents can produce food with permaculture-focused landscaping and greenhouses provided through partnerships with local food resiliency groups and high school students.
All of this greatly impressed the judges of Green Builder's 2023 Green Home of the Year (GHOTY) competition—enough to make HHGV the year's Grand Overall Winner.
"[The project] does a great job at implementing a simple form that, with the right materials, allows for a low-cost, high performance and beautiful home," says GHOTY judge Nathan Kahre, who is innovation and initiatives manager at EnergyLogic, an applied building science company based in Berthoud, Colo. "The information gained from this project will help other builders and developers work towards low-carbon, high-performance homes that are cost effective."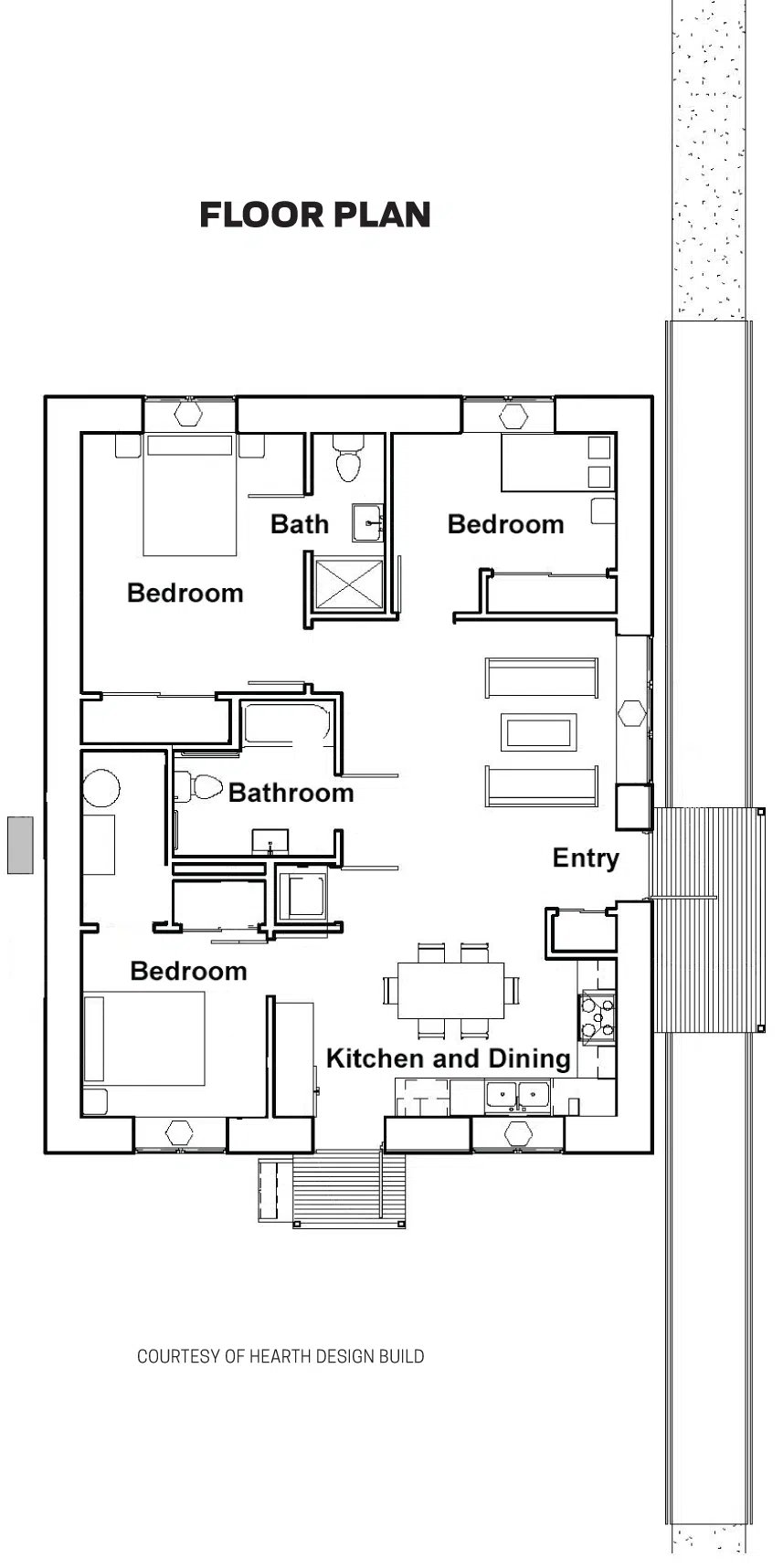 Key Components
Alternative Building Systems: Pre-fab sheathing-less wall structure; airtight vapor open thermal enclosure; crawlspace-sourced air to water tank; all-in-one Magic Box environmental conditioning system with balanced ventilation; ClayWall interior wall cladding system.
Appliances: Whirlpool, Samsung
Building Envelope: Pro Clima membranes and tapes (and Vana)
Cabinets, Shelves, Millwork: WeBuild vocational trades program, Crowley, Colo.
Caulks and Sealants: Pro Clima
Countertops: WeBuild vocational trades program, Crowley, Colo.
Decks: Local lumber
Electrical: Sawtooth Electrical, Sawyer Electrical, Schneider
Exterior Finishes: Sherwin Williams paints
Home Controls: Minotair PentaCare RV/HVAC
HVAC/Ducts: Minotair PentaCare HRV/HVAC
Insulation: Applegate cellulose, Amorin cork, Havenlock wool
Landscaping: Local soil and wood chips, donated
Lighting: Schneider Electric
Paints and Stains: LimeStrong Artisan Limestrong pigments; Sherwin Williams paints
Plumbing/Plumbing Fixtures: Mesa Mechanical
Renewable Energy Systems (solar, wind, etc.): Solar: Nunatak Energy and Equitable Solar Solutions
Roof: Locally rolled rusted steel; Recla Metal, Montrose, Colo.
Ventilation: Minotair PentaCare HRV/HVAC
Water Heating: Rheem Proterra hybrid hot water heater
Water Management (indoor/outdoor): Phyn water monitoring sensors
Windows, Skylights, Patio Doors: Alpen Windows, Longmont, Colo.
Other: Govee temperature and humidity sensors throughout the building and envelope; AirThings indoor air quality monitoring (CO2, PM2.5, VOC and Radon); Emporia Energy energy monitors for consumption and production on all circuits; BEAM tool from "Builders for Climate Action" carbon accounting for materials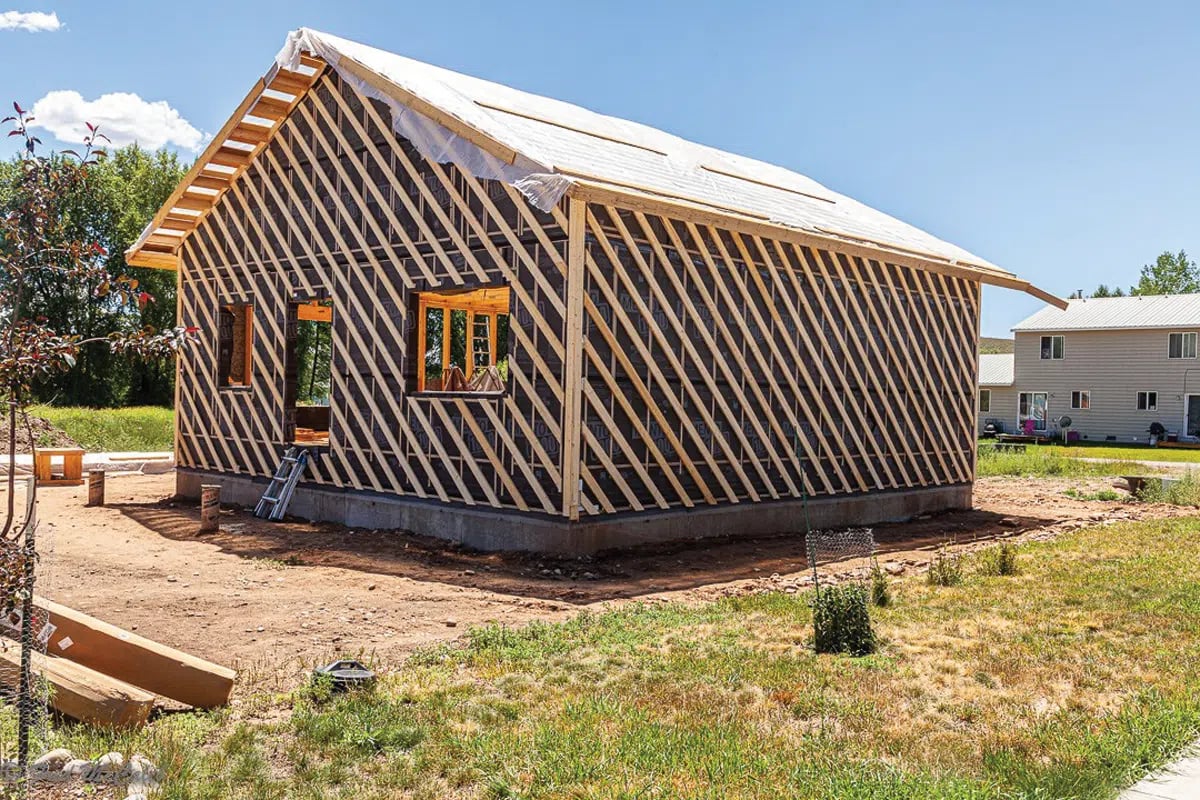 All Habitat for Humanity Gunnison Valley homes have a similar design, including a wall cavity that is filled with materials such as untreated framing lumber, straw bales, and cellulose insulation that can absorb, distribute, and release moisture. Courtesy of Habitat for Humanity Gunnison Valley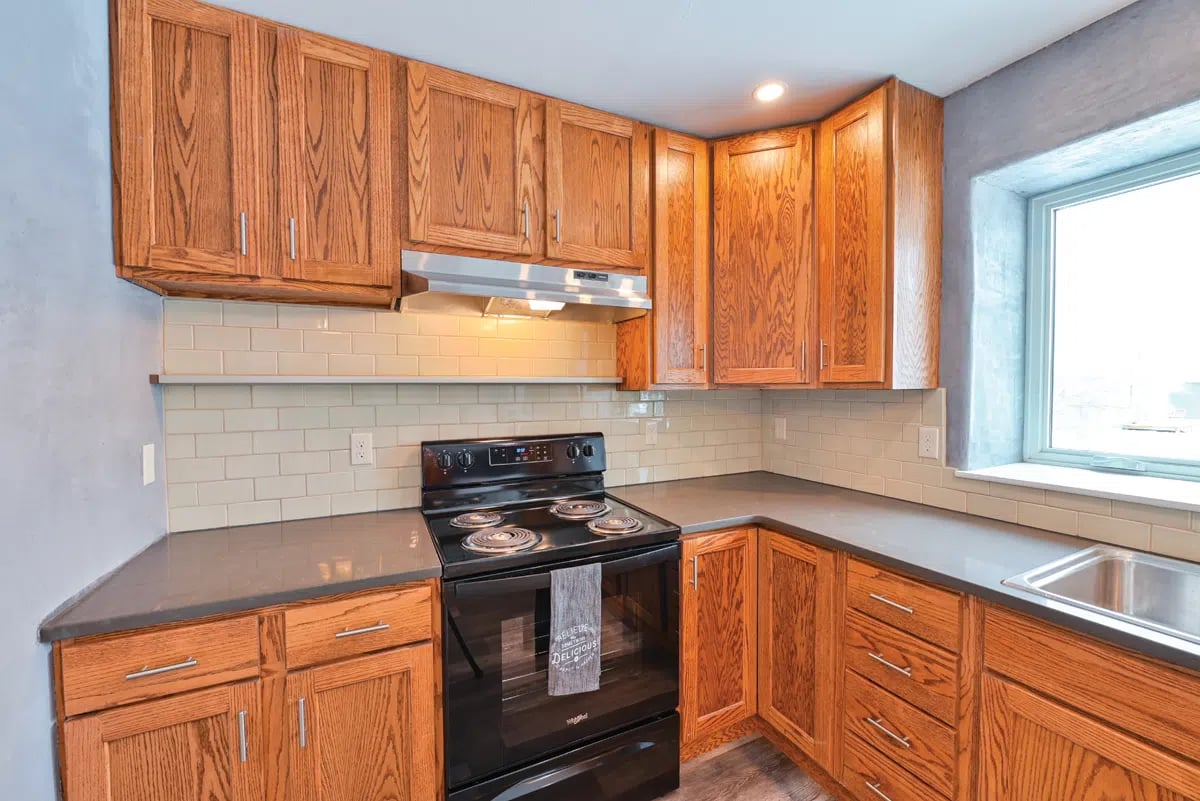 Appliances and fixtures within a Habitat for Humanity Gunnison Valley home are as energy- and water-efficient as those found in higher-priced projects.
The home's base structure includes expandable cork insulation, which provides temperature control, has acoustic and anti-vibration qualities, and is carbon negative in its environmental impact.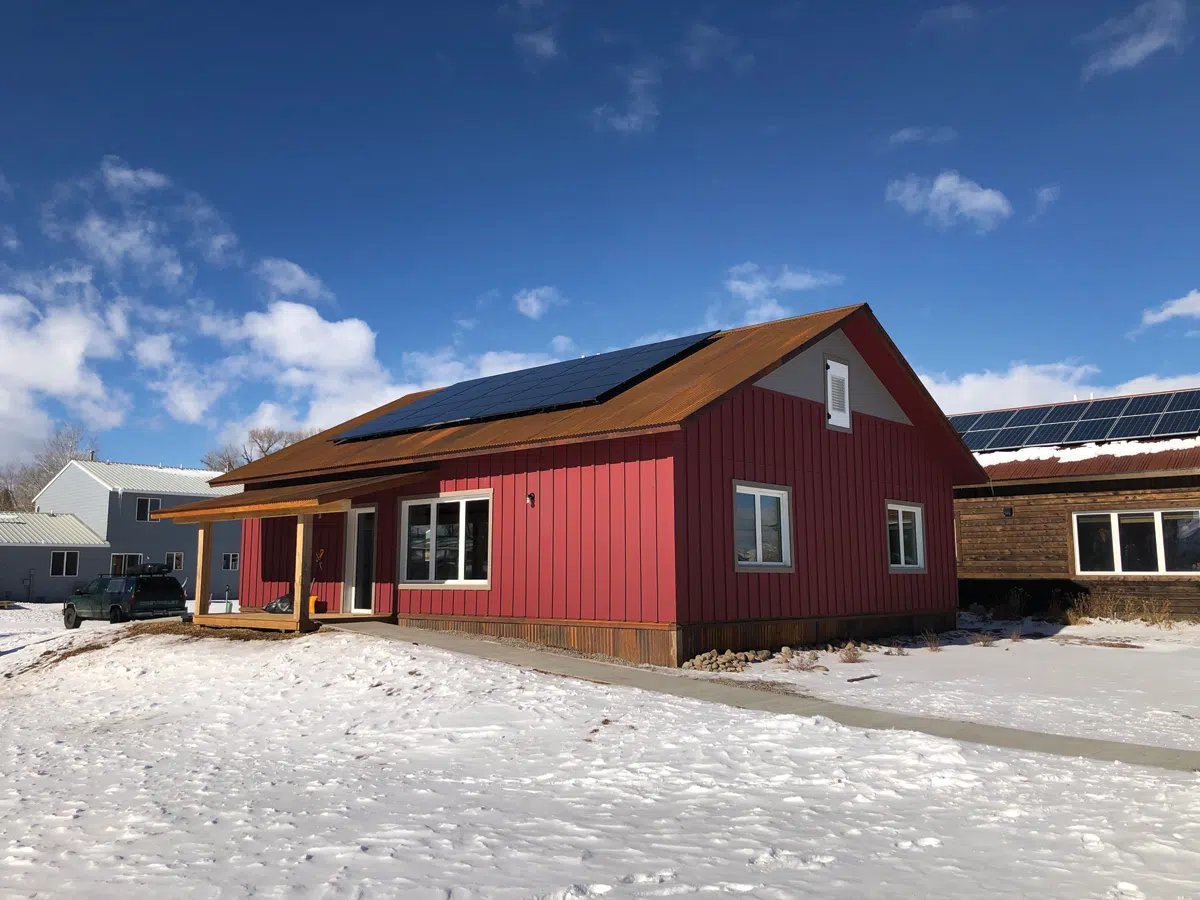 Each home relies on solar power, which is proficient enough to keep anything inside from freezing, even in sub-zero temperatures.
Volunteers with construction experience worked together to quickly build energy efficient Gunnison Valley homes.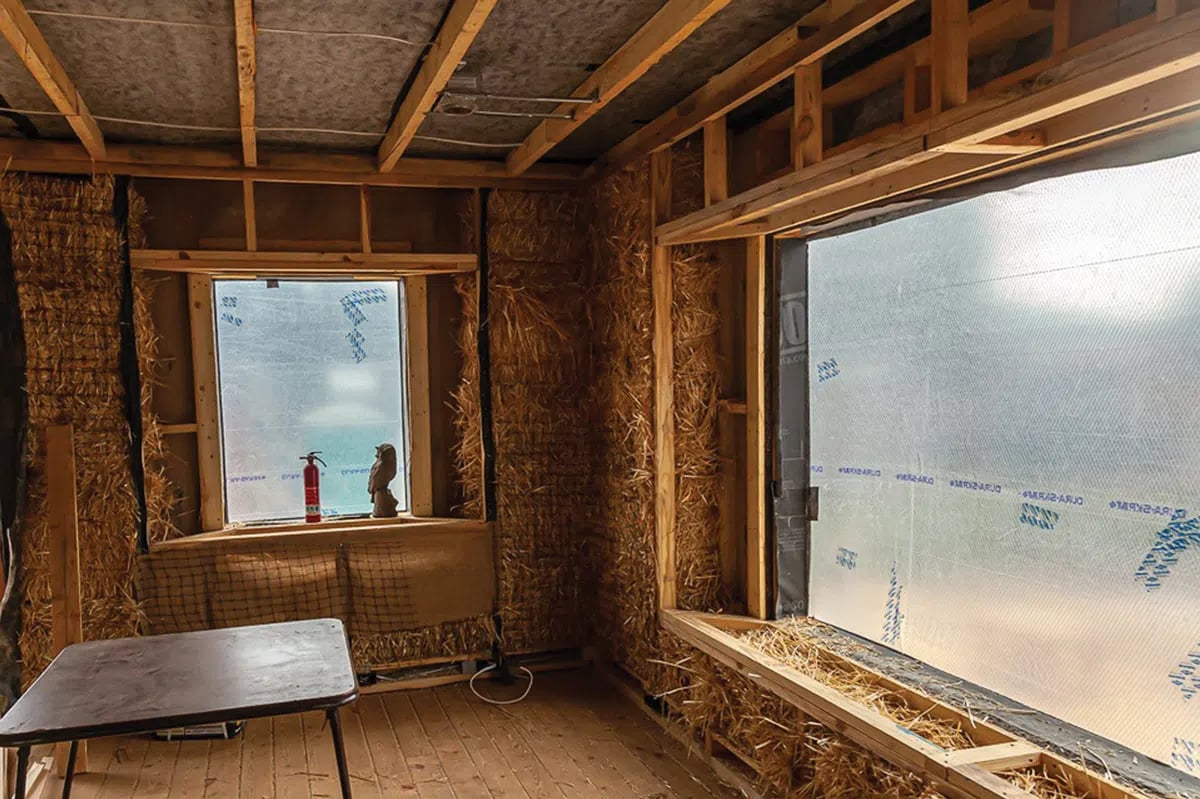 A key component of Habitat for Humanity Gunnison Valley homes is straw bales, which are used as an all-natural and easily obtainable form of insulation. It's also highly fire resistant and, under the right circumstances, can last decades. Photo: Habitat for Humanity Gunnison Valley
Green Home of the Year Awards: The Judges
Three judges made the important decisions in the 2023 Green Home of the Year program.
As we move from one major lifestyle challenge—an emergent pandemic—to another, with historic storms and record heat, builders have been continuously challenged to adapt. Green Builder's 2023 Green Home of the Year winners are well constructed, energy efficient and creatively designed. But our grand winner topped them all by emphasizing the local economy and the environment.
Our expert panel of judges evaluated projects in terms of overall sustainability, resilience, synergy with the environment, affordability, creativity and the depth of science employed.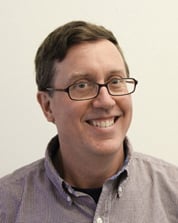 Mike Barcik is a technical principal at Southface Institute, a nonprofit which promotes sustainable homes, workplaces and communities through education, research, advocacy and technical assistance. He has been with the Atlanta-based organization since 1995. With Bachelor of Science and Master of Science degrees in mechanical engineering from Georgia Tech University, Barcik is the author of numerous technical resources and has developed and led thousands of trainings for RESNET, EEBA, BPI, LEED, U.S. Department of Energy (DOE), U.S. Environmental Protection Agency (EPA) and other programs. Since 1999, Mike has trained more than 1,500 individuals in RESNET's Home Energy Rating System (HERS) program. Mike lives with his much-smarter architect wife and two daughters in a 1920 Craftsman bungalow that they are lovingly restoring. Thanks to efficiency improvements and a 4-kilowatt photovoltaic array, the family has offset 90 percent of their electricity consumption and reduced natural gas usage by 67 percent.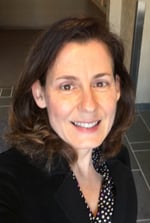 Theresa (Terri) Gilbride is a building energy-efficiency researcher with the Pacific Northwest National Laboratory in Richland, Washington, where she supports the U.S. Department of Energy (DOE) as a content manager for its Building America Solution Center and the DOE Zero Energy Ready Home (ZERH) program. Gilbride has authored or co-authored dozens of reports, articles, and case studies on residential energy efficiency and related topics. She has spoken and published on residential energy efficiency, disaster resistance, zero energy homes, and affordable and healthy homes. Gilbride served as the lead editor and author of the Building America best practice guides, a 17-volume series which includes climate-specific manuals for high-performance home builders in all U.S. climate zones, and retrofit guides on air sealing, insulation, and HVAC. She has also helped publish documents on building codes and emerging technologies, including window attachments, solid state lighting, and HVAC.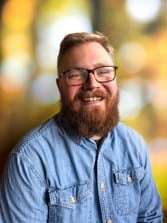 Nathan Kahre brings his experiences working for a home builder to Energylogic, an applied building science company based In Berthoud, Colo. As the innovation and Initiatives manager, Kahre works on internal and externally facing proJects to keep Energylogic at the forefront of innovation and excellence in the residential home building industry After graduating with a master's degree in building science from Appalachian State University, Kahre came to the Denver metro area to work for a high-performance production home builder. Time spent working for that builder has helped Kahre understand what is important to builders and what information they need to get their jobs done. He has presented on building science, renewable energy, and home builder quality assurance throughout the country including sessions at RESNET, EEBA, and IBS. Kahre is also active in the local community, volunteering on issues that are important to him, and doing his best to be on a mountain bike as much as possible.
Apr 19, 2023 10:54:16 AM · 8 min read
---

Alan Naditz is managing editor of Green Builder Magazine. He has covered numerous industries in his extensive career, including residential and commercial construction, small and corporate business, real estate and sustainability.