Cold Comfort

Alan Naditz
4 min read
Antarctic extremes offer lessons in building science and behavior.
When architectural firm Kuryłowicz & Associates prepared to undertake its latest new home project, there were a few obstacles. The structure was in a very remote location and had to be completely off grid. The exterior needed to withstand an extremely harsh wind, and insulation had to be world-class, given the area's frequent subzero temperatures.
The project was huge—about 5,000 square feet—and the construction window was only a few months, so the design needed to instigate an ultra-efficient building effort.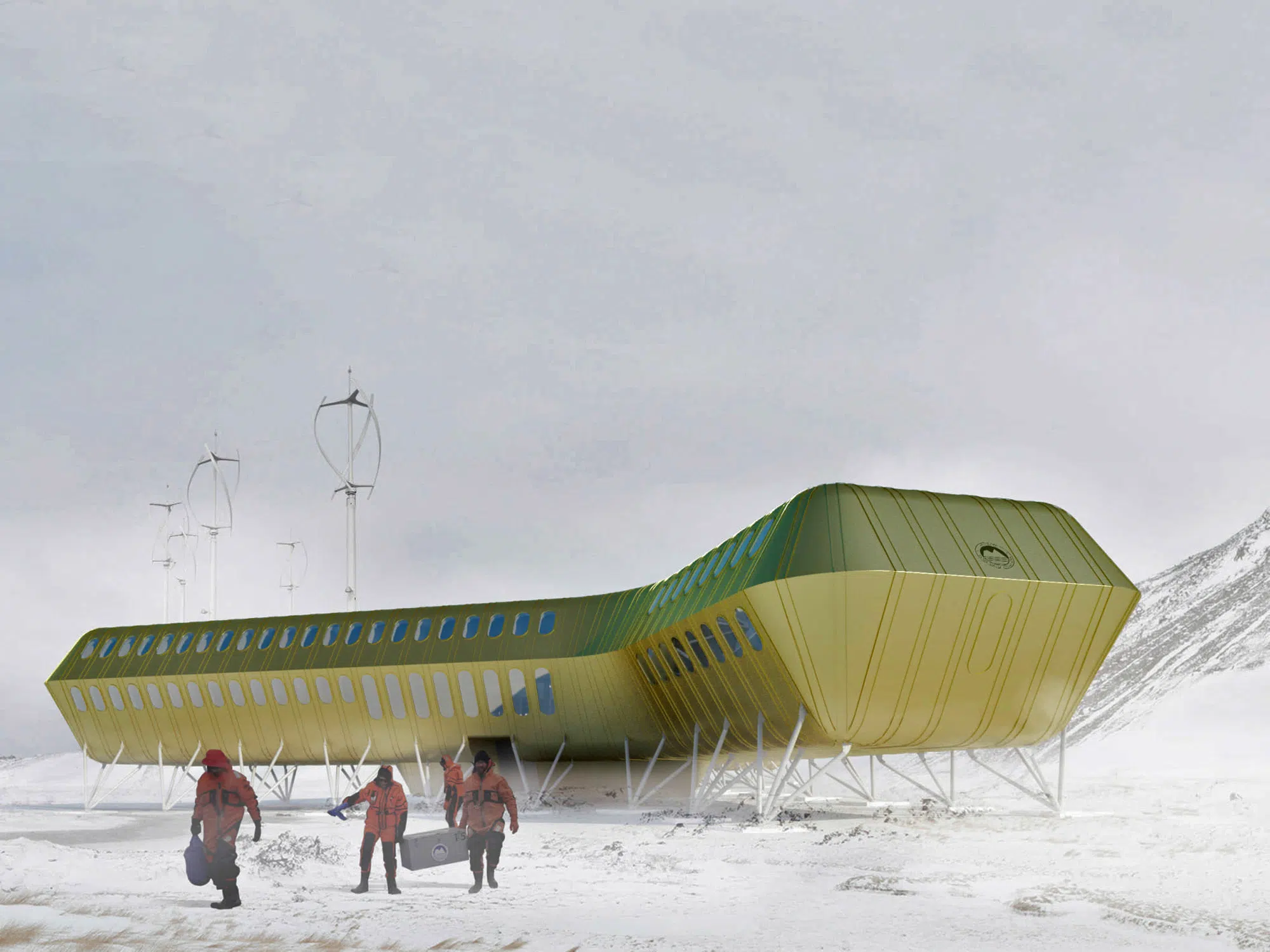 As a self-sustaining research facility, the Henry Arctowski Antarctic Station relies upon green energy, sustainable practices by residents, and carefully crafted living space. Credit: Courtesy Kuryłowicz & Associates
Those challenges may sound routine for experienced architects. But the "home" is in Antarctica, about 8,700 miles from the firm's headquarters in Warsaw, Poland. K&A's project is the Henry Arctowski Antarctic Station, a research facility on King George Island in the South Shetland Archipelago, about 75 miles from the Antarctic coast.
When construction is complete in 2024, up to 29 scientists will call this place home for months as they (ironically) study the impacts of temperature-increasing carbon emissions and climate change upon the planet's coldest, driest continent.
Overall, the goal was to create a facility that "provides scientists with research space and a 'home away from home' atmosphere," according to K&A's website.
How to Get from Here to There
One of K&A's first challenges was finding a way to handle the world-length mileage from Europe to Antarctica when it came to delivering construction components, which could take months. In an interview with The Calvert Journal, architect Bartosz Świniarski said any construction would have to occur during the annual "good weather window" of November to February when temperatures can reach as high as 50 degrees Fahrenheit and wind is minimal. Product delivery and project development had to be quick.
At other times of the year, construction crews could face average temperatures of minus 40 degrees F and near whiteout conditions, according to data from the Australian Antarctic Program.
"The decision was made to design it so that it could be prefabricated and tentatively assembled in Poland, and then disassembled and shipped to Antarctica in shipping containers to be assembled on the spot," Świniarski noted. "This resulted in a modular construction philosophy reminiscent of IKEA furniture, with drawing packages that contain dimensions and instructions and a particular set of tools needed for assembly." Assembly time, he added, would be less than three months.
Addressing the Comfort Factor
Then there were the extreme weather conditions. The facility had to hold up against wind gusts reaching almost 250 feet per second (about 170 miles per hour).The Antarctic Treaty of 1959 prohibits any building from being permanently fixed to the ground, so strong winds could literally cause it to fly away.
Ultimately, the cross section of the building was designed as an inverted aircraft wing, about 10 feet off the ground, which causes the wind itself to keep the building firmly in place, Świniarski explained. The structure's elevation would also prevent formation of snow mounds and reduce impact on the environment.
A crucial aspect of the overall design was material for the building's outer skin, Świniarski noted. "The strong local winds carrying small rocks and salty water will cause accelerated wear to any material, so we were looking for a product that would be resistant to scratches and rusting," he stated. "The choice was an alloy of copper and aluminum, which gives the building a distinctive, surprising golden color. The material will lose a bit of its initial shininess due to weathering but it will not lose its tone, rust, or need maintenance."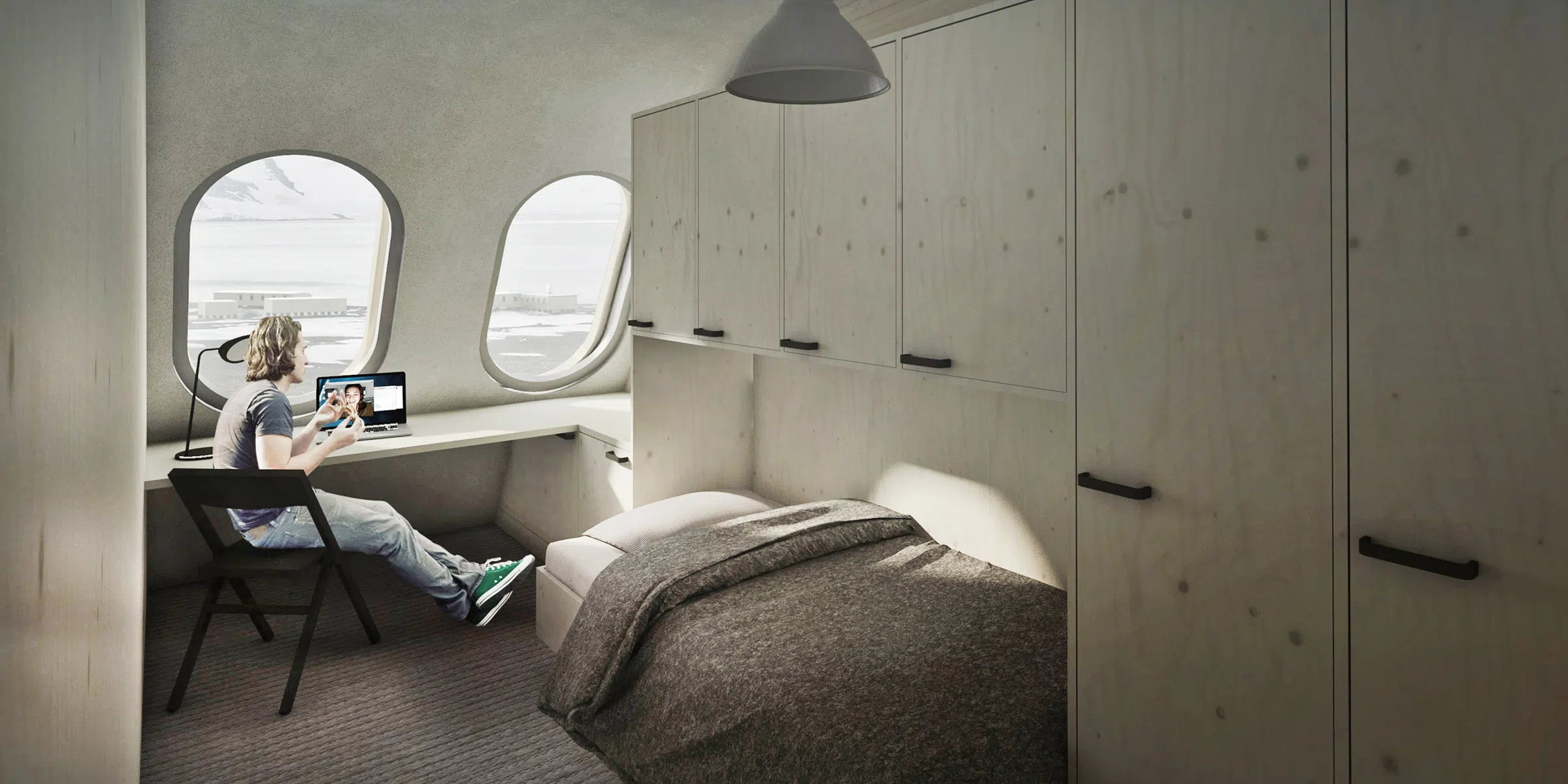 Station residents have private rooms, enabling them to feel more at home, instead of in isolation thousands of miles away. Credit: Courtesy Kuryłowicz & Associates
Meanwhile, the interior is wood lined, covering layers of acoustic and thermal insulation. Large windows throughout the building help create a "familiar environment" for residents. That mood is accentuated by the inclusion of independent living quarters, a gym, sauna, library, kitchen, recreation area, and a greenhouse.
The windows also maximize natural light and bring residents panoramic views of the area, another psychological plus. And there are, of course, the "business necessities," done up in better-than-business casual fashion: laboratories, work spaces, lecture space, and storage.
Self-Sustaining Systems
Energy availability is a challenge for research facilities throughout Antarctica. There are currently more than 70 research stations, representing 32 countries, scattered across the continent. All use diesel fuel for power to some extent, but many are supplementing energy needs in some green manner. Wind is the No. 1 choice, followed by solar, and Henry Arctowski Antarctic Station has both of these in play.
Vertical wind turbines were incorporated into the design to lower the building's carbon footprint. Solar photovoltaic panels were also added to maximize the renewable energy sources during the Antarctic summer.
In addition, the building's electric heating system is decentralized, allowing wings of the building to be shut down in the winter months, when occupancy was low and the need for internal warmth is greatest.
Meanwhile, water used at the station will be supplied from an artificial reservoir filled by melting glacier water.
The station itself has a sustainable ending. "The modular assembly of the structure means that the building can also be easily disassembled at the end of its working life, which may be 50 years from now," notes Buro Happold, the project's structural engineering firm. "The timber superstructure also has the benefit of being easily reusable on the site for either further construction or as fuel, which reduces the need to remove waste materials by sea at the end of the building's life."
---

Alan Naditz is managing editor of Green Builder Magazine. He has covered numerous industries in his extensive career, including residential and commercial construction, small and corporate business, real estate and sustainability.