Carbon Sequestering Concrete

Alan Naditz
3 min read
Greenhouse gasses are safely locked away inside everyday building blocks.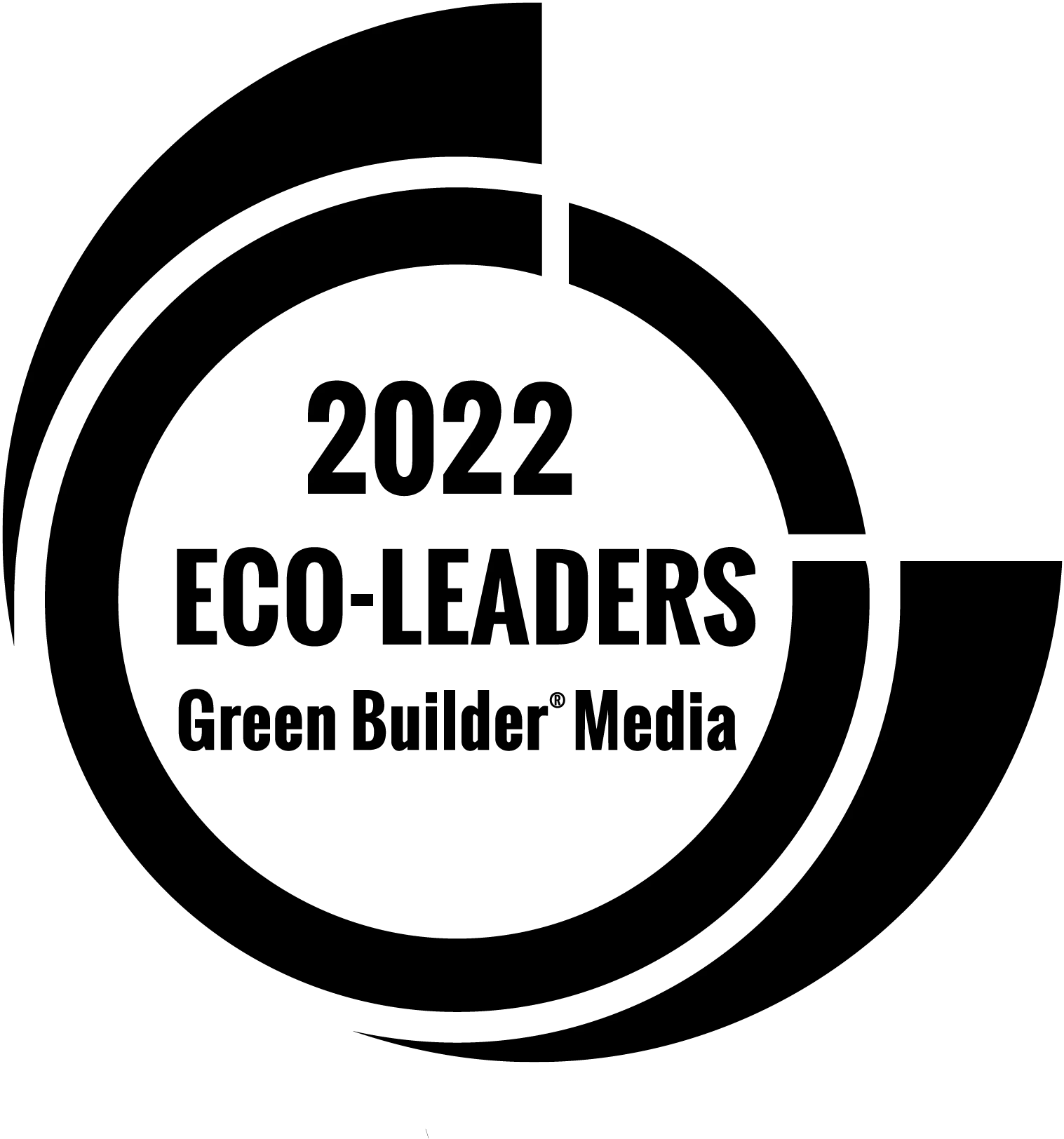 Anyone in the construction industry has heard about how much of an environmental hazard cement is. It's the starting point of the most abundant man-made material in the world, concrete. According to the International Energy Agency (IEA), cement—the key ingredient that gives concrete its strength—is responsible for up to 7 percent of the world's carbon dioxide (CO2) emissions. Cement is also the world's second-largest source of industrial greenhouse gasses, IEA notes.
As the end product of cement, concrete gets to be the bad guy. In any given building, concrete can contribute a minimum of 50 percent of embodied carbon—the CO2 emitted from the manufacturing of building materials and construction.
Embodied carbon will also account for nearly 50 percent of carbon emissions from new construction over the next three decades, according to the agency. And, buildings currently generate almost 40 percent of the world's greenhouse gas emissions—and the planet's building stock is expected to double by 2060, equal to creating another New York City every month.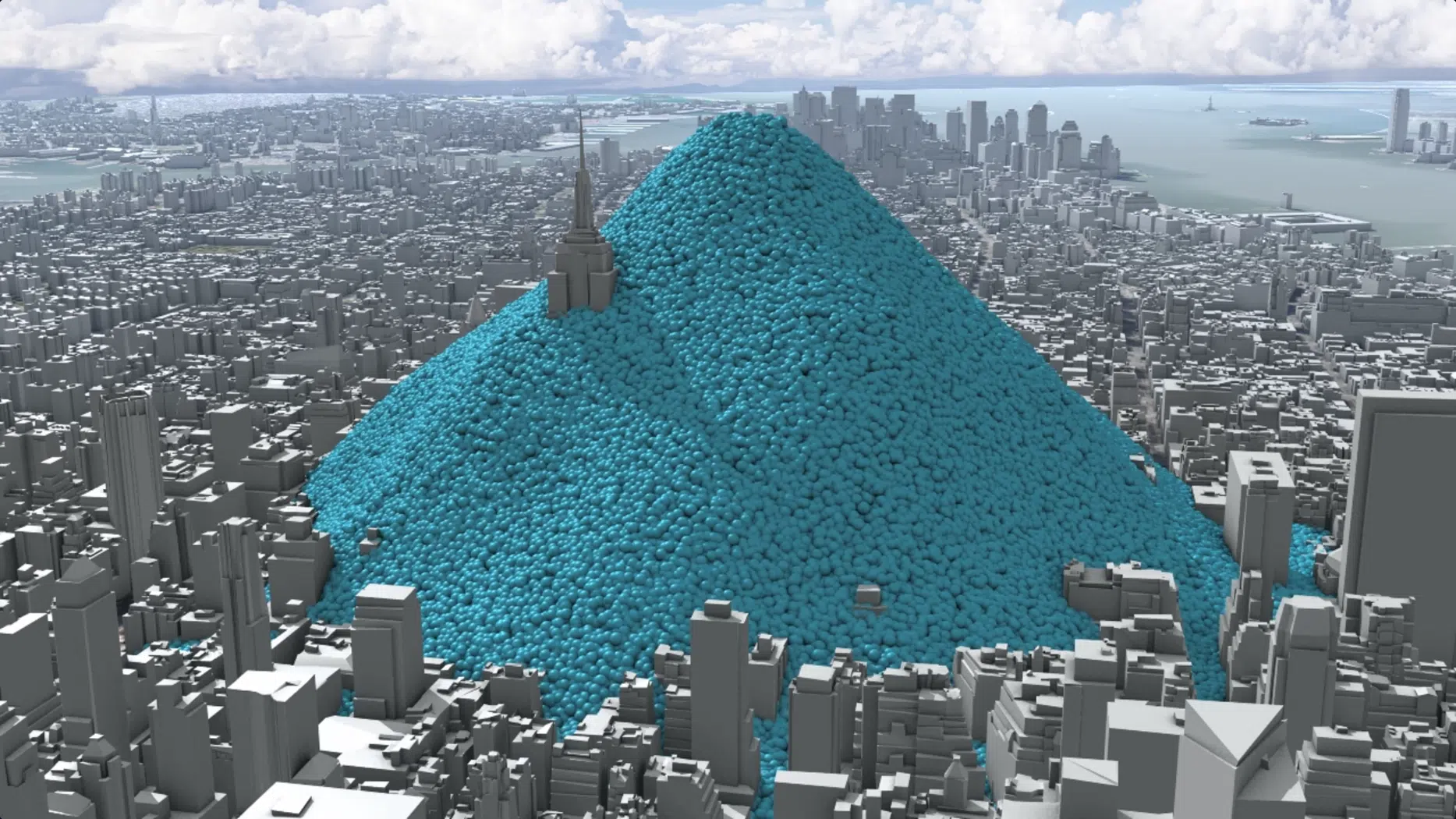 New York City added 56.5 million metric tons of CO2 to the atmosphere in 2020, enough to bury the city several times over if the emissions were solid material. Courtesy Real World Visuals/Flickr
Those are all dire figures. But what if, instead of contributing to embodied carbon emissions, concrete actually helped eliminate carbon from the built environment?
Enter CarbonCure, the Canadian concrete technology developer that has created a way to keep construction-produced carbon out of the atmosphere by preventing it from leaving the concrete.
CarbonCure technology enables users to inject captured CO₂ into fresh concrete during mixing, turning it into a solid mineral that is stronger than standard concrete. Courtesy CarbonCure
CarbonCure's technology enables concrete producers to inject captured CO2 into fresh concrete during mixing. When introduced, the carbon dioxide becomes chemically converted into a solid mineral, leaving it permanently trapped within the concrete.
"In essence, CO2 mineralization turns it back into limestone—the lowest thermodynamic state of CO2," CarbonCure CEO Robert Niven notes. "This reduces embodied carbon in the built environment and creates value for concrete producers." Best of all, mineralization increases the concrete's strength, meaning builders can use less, saving them money and helping the environment, according to CarbonCure officials.
One of the largest impacts the product had on the built environment occurred in 2017 at 725 Ponce in Atlanta, a 360,000-square-foot commercial building, and another 590,000 square feet of multi-use space. Completed in 2019, 725 Ponce is also the first project to be built entirely from CO2 mineralized concrete—in this case, 48,000 cubic yards' worth.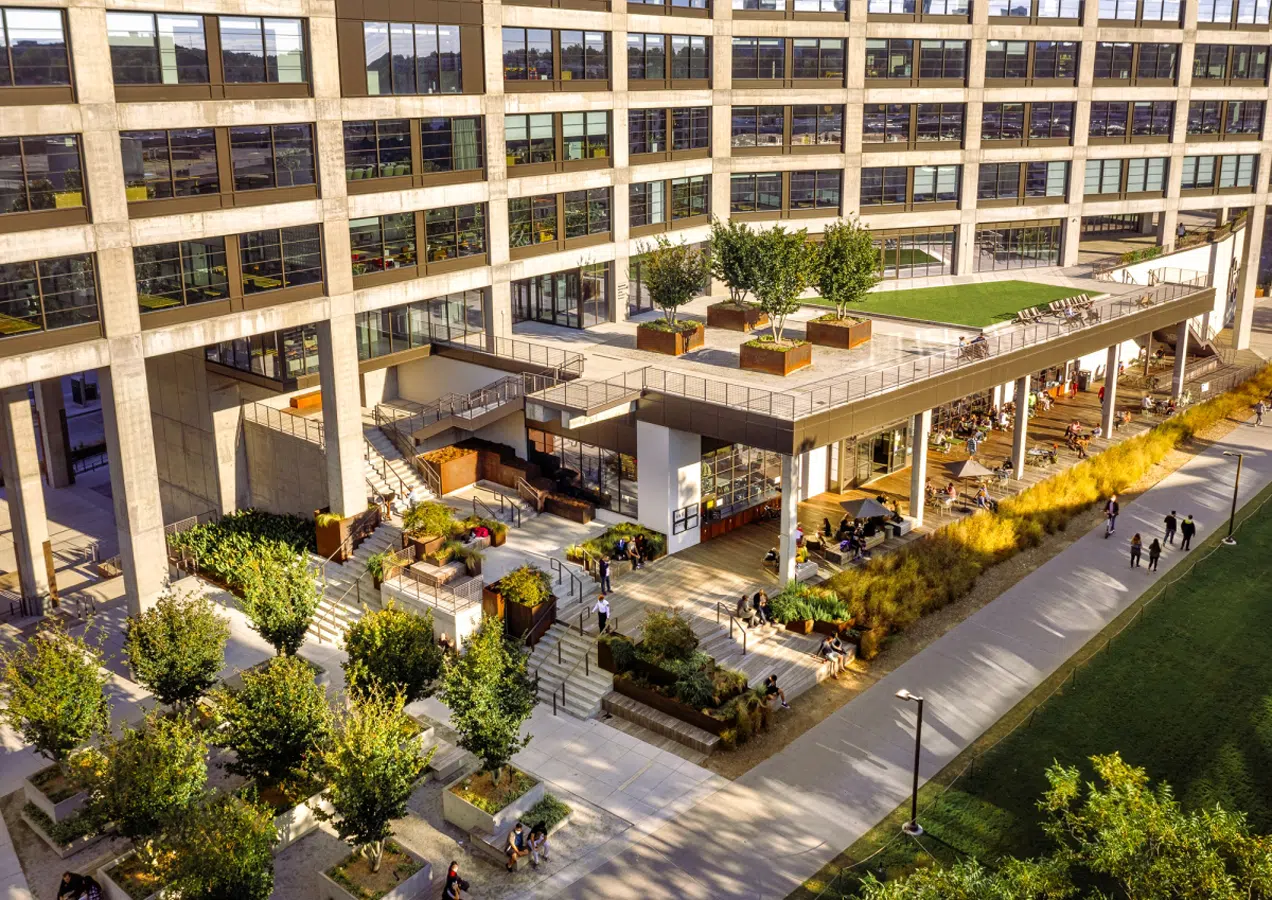 The 725 Ponce building in Atlanta, made entirely with carbon-mineralized concrete, is one of CarbonCure's top achievements. Courtesy Cousins Properties
The CarbonCure technology enabled a 750-ton carbon footprint reduction, equivalent to 888 acres of forestland absorbing CO2 for one year, or 1 acre of forest sequestering carbon for 800 years.
Since its launch in 2015, CarbonCure technology has been used to reduce the carbon footprint of several notable developments, including MGM National Harbor in the Washington, D.C. area, and LinkedIn's headquarters in Mountain View, California. The technology has been used in more than 22 million cubic yards of concrete supplied to construction projects across North America, resulting in more than 180 million metric tons of CO2 saved.
More than 650 concrete plants in the United States, Canada, Southeast Asia, Latin America, Europe, and other parts of the globe now have CarbonCure roots—up from less than 100 in 2018. But with more than 5,500 such facilities available in the U.S. alone, the company sees the current implementation as a fraction of the technology's potential.
According to Niven, carbon utilization could become an $800 billion to $1 trillion industry by the year 2030. In the concrete sector alone, it represents an estimated $400 billion market opportunity and has the potential to reduce up to 3 gigatons of annual CO2 emissions by 2030. This would be equivalent to the current emissions of the entire digital industry, and more than Japan's annual emissions.
"Outside of the industry, few people give concrete a second thought," Niven notes. "Increasingly, however, it is coming under scrutiny for its significant climate impact. Carbon performance is the defining competitive issue for the foreseeable future."
Read about the other sustainable companies that made our 2022 Eco Leaders List.
Carbon Reduction Stats
77,000 - CO2 emissions, in metric tons, saved with CarbonCure technology in one year
500 Million - The company's goal of embodied CO2 emissions, in tons, to be reduced annually by 2030
100 Million - Equivalent number of cars taken off the road by 2030 if the company's embodied emissions goal is met
Sep 30, 2022 8:30:00 AM · 3 min read
---

Alan Naditz is managing editor of Green Builder Magazine. He has covered numerous industries in his extensive career, including residential and commercial construction, small and corporate business, real estate and sustainability.