Best of Show: IBS/KBIS 2021 Highlights

Samantha Carlin
6 min read
New products address a post-pandemic reality where hygiene, clean air, safe food, and efficiency reign supreme.
Matthew Harris is co-author of this article.
New eco-friendly product rollouts didn't skip a beat at this year's IBS/KBIS show. While digital hiccups prevented building pros from virtually interacting with products, savvy marketers went over and above to make sure the media got access to the product features, specs, and videos. We felt like we had actually stumped a show floor (but without the sore feet). Here, we share our favorites with you.
Stay tuned for the March/April issue where many other sustainable products will be featured in the annual Hot 50 Green Products coverage. In fact, if you sign up for our Vantage weekly newsletter, you'll see them the second they are published!
Everfresh Produce!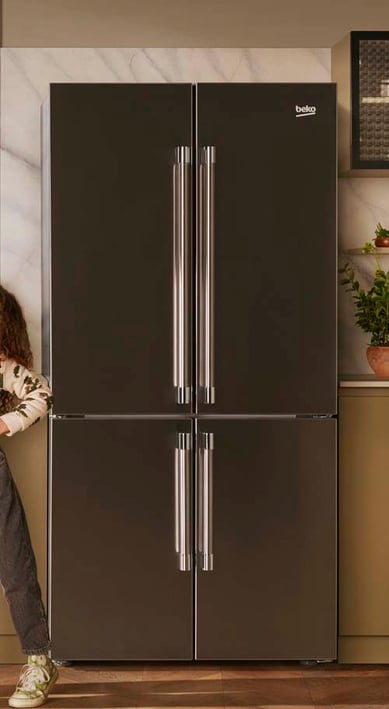 For European appliance manufacturer Beko, 2021 is the year of health and wellness. The company just released a 36" counter-depth refrigerator with a technology that keeps produce crisp for up to 30 days.
"The Everfresh+ feature will be impactful even after the impact of COVID," says BEKO Appliance's New US President Zach Elkin. "Sometimes there is no opportunity to run to the store to pick fresh produce up." (Watch the video below and decide which carrots you'd like to eat.)
"For Earth Day, we are re-launching the RS600 Beko French 3-Door Refrigerator. This refrigerator has been redesigned from the ground up," Elkin says. The unit offers the EverFresh+, Active Fresh Blue Light technology, and exacting temperature management and humidity control. These combine to keep food fresher up to 30 percent longer than an average refrigerator–up to 30 days.
"Fruits and vegetables retain vitamins and nutrients with this technology, which simulates natural light conditions, extending the photosynthesis process," Elkin says. The unit also features a quiet compressor technology, extremely low ozone depletion, and efficient cooling. Its ice maker cranks out up to 11 pounds of ice a day.
Composite Cladding Boasts R-2 Value

Alside's Ascend Composite Cladding System won the "most innovative building material" award from this year's IBS—and for good reason. The cladding offers an R-2 value classification, adding energy efficiency, comfort, and the ability to meet energy code requirements.
This wood-look product comes in 20 color options and delivers impact performance, plus water and fire resistance. Ascend delivers outstanding impact performance while also being water and fire-resistant. "Ascend is nearly maintenance-free and will not fade for the lifetime of the product," adds Shawn Hardy, the company's vice president of products.
The company grinds waste and scrap material and puts it back into the product, adding to the sustainability message. Beyond the inherent sustainability from the longevity of Ascend there is also the "possibility for a circular economy," says Hardy.
Three-Step Air Purifier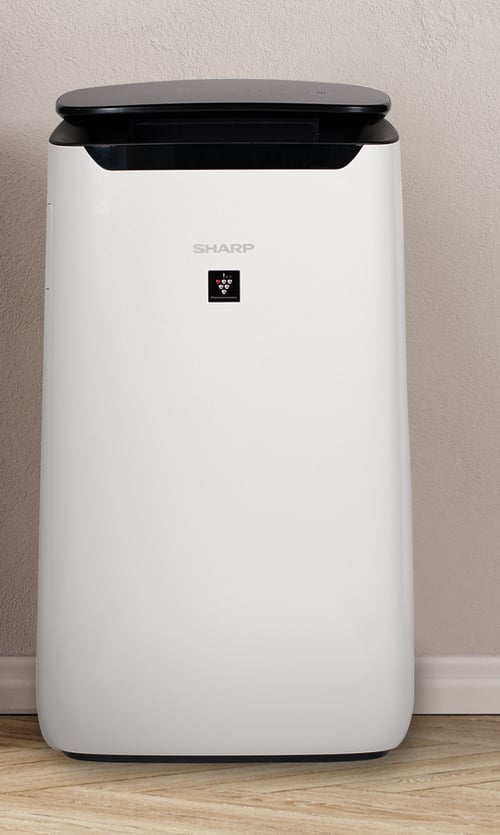 Frightening statistic: Air inside a home can be five times more polluted than outdoor air. This has prompted many consumers to consider ion air purifiers for their homes. Sharp offers the Plasmacluster Ion Air Purifier (PCI), which uses both passive and active techniques to clean air by passing it through a three-stage true HEPA filtration system. This captures dust, pollen, pet dander, and smoke.
Unlike a typical air purifier which relies on air passing through it to work, PCI emits positive and negatively charged ions. These seek and break down airborne pollutants such as bacteria, viruses, mold, and fungus.
The PCI triple-action models have a built-in humidifier that releases moisture into the air when needed. The PCI automatic control system even monitors the dust level in the air, adjusting fan speed as needed to clean efficiently.
Super Efficient Washer and Dryer Set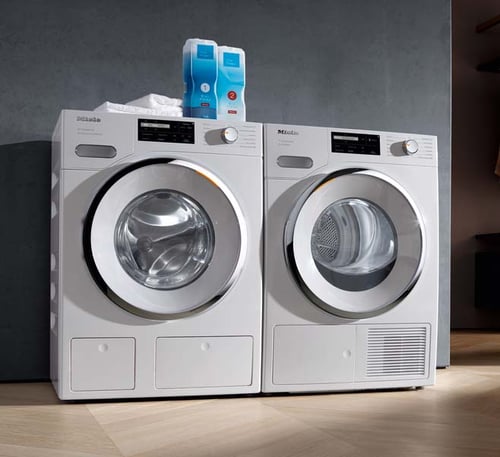 Miele's W1 Washing Machine and T1 Tumble Dryer doubled down on smart technology. The washer uses advanced sensors to determine how full the unit is and how dirty the water is and will add detergent accordingly, reducing both detergent and water waste. The W1 also has an Eco mode, which optimizes parameters to increase energy efficiency while increasing the wash time by only 10 minutes compared with the other settings.
The T1 ventless dryer uses advanced heat pump technology to be energy-efficient, reducing operating costs by more than half. Unlike traditional dryers, which vent the condensation out of a home, the T1 keeps the heat in the dryer and captures the moisture in a separate tray. The T1 even has a steam finish option in which it uses some of the captured condensation to steam the cloths eliminating wrinkles.
The T1's heat pump technology combined with the compact size of the unit means that the small space is heated and remains hot longer using far less energy than traditional dryers. The T1's outstanding efficiency has earned it the Energy Star certification and it was recognized as the Most Efficient of Energy Star in 2018.
Toilet Marries Hygiene and Efficiency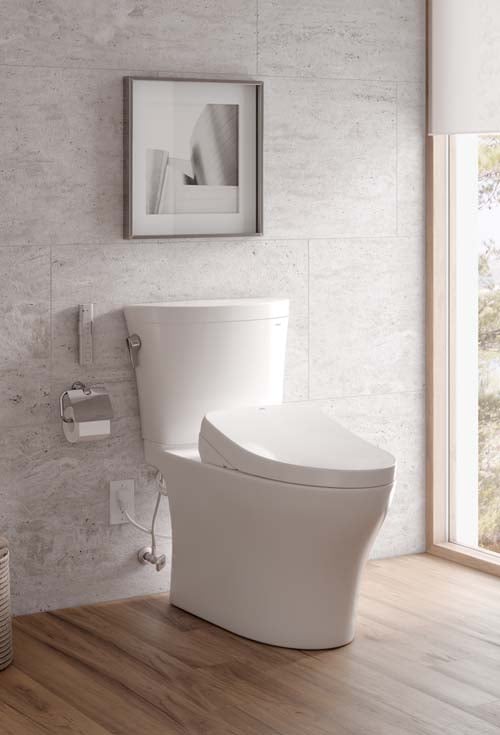 The TOTO Washlet+ toilets address many of the current hygiene concerns brought on by the current pandemic. A built-in bidet wand with several different cleaning options and adjustability offers the perfect solution for a toilet paper-free life. Auto open/close lid, seat warmer, retractable bidet wand, and built-in deodorizer add to the comfort of this product.
Three technologies work together seamlessly to keep the toilet clean. One technology cleans the toilet bowl and wand, inside and out, after each use, reducing the frequency of chemical cleaning, and also pre-mists the bowl before use. A hydrophilic ceramic glaze creates a smooth, ion-barrier surface on which debris easily slides off. The flush feature has a dynamic water jet with sustained water pressure and 360-degree cleaning power, using less water and cleaning more efficiently and effectively.
Clothes Washer Highlights the Sanitize Cycle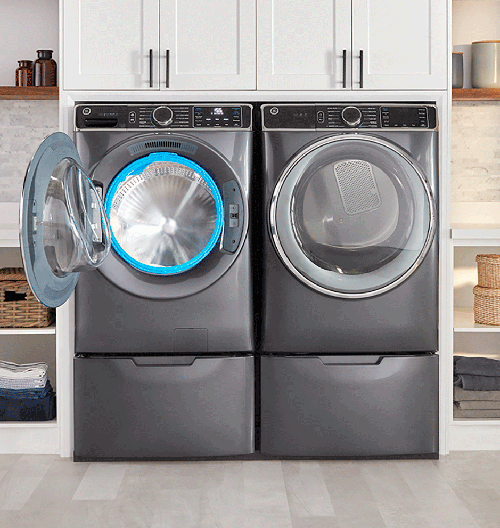 This front-load washer by GE is a 5.0 cubic foot capacity ENERGY STAR Steam Washer that addresses the major hygiene concerns of traditional front-load washers. New technology eliminates excess moisture by periodically rotating the basket and pulling fresh air into the washer to eliminate mold and odor. Microban antimicrobial technology is built into key components including the gasket, dispenser, and draining system.
The company has also addressed the need to sanitize and remove allergens from fabrics with an industry-first cycle that sanitizes fabrics, killing 99 percent of common bacteria and allergens. Time-saving and efficient technologies and features include built-in WiFi, which allows you to start, stop, and monitor your laundry from anywhere while receiving real-time notifications and updates. This means your laundry will never be forgotten.
A dispenser allows you to preload up to 32 loads of detergent, which is automatically dispensed based on load weight. Small loads can be washed and dried.
Corporate Responsibility on Display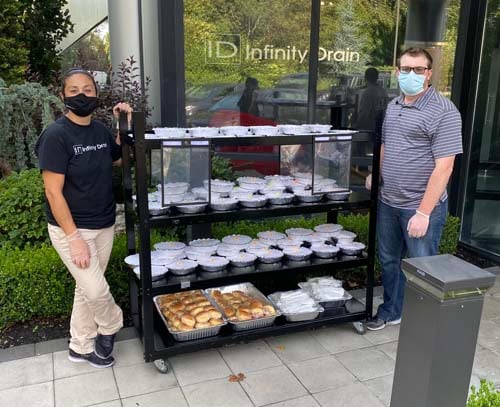 While the numerous custom shower drain design options and next-day delivery offered by Infinity Drain are impressive, the company's response to Covid is worth a mention, too.
Based in Long Island, N.Y., Infinity Drain noticed the economic impact the pandemic was having on the community and decided to take action. The company provided employees with personal protective equipment, ordered 40,000 masks, and sold the donating the proceeds to local charitable organizations.
Through partnerships with Services for the UnderServed and Long Island Cares, Infinity Drain assists neighbors in need by providing meals and collecting and donating dry goods for members of the local community. The company is currently fighting food insecurity in Long Island by providing up to 600 hot meals a week to churches, homeless shelters, and veterans, reaching those who are unsure where their next meal will come from.
Home Control Helps Save Energy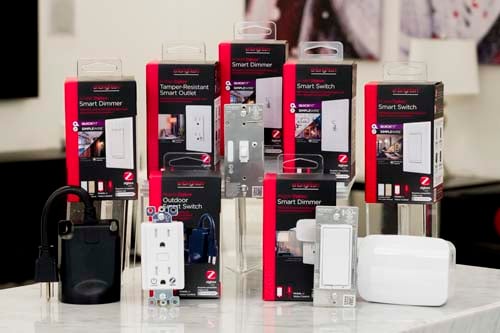 Jasco's new line of Zigbee smart controls offers groundbreaking home automation products with a range of options and features. The line has eight new products integrated with voice command through Amazon Echo products with no additional equipment needed.
Included in this line are four In-Wall Smart Switches, an Outdoor Smart Plug, two Indoor Smart Plugs, and an In-Wall Smart Outlet. The products come with QuickFit and SimpleWire technologies, which offer easier installation, better fit, and integration into older style switch boxes. These control lighting, fans, decorations, and more—manually, remotely, or through voice commands.
When switched off, Zigbee products cut phantom power for increased energy savings and home safety. Several of these new products offer full-range dimmability for full control of lighting, reduced energy cost, and increased bulb life. The in-wall products have energy monitoring capabilities, which show energy-use patterns.
Jasco's buildings are powered by geothermal energy, which cuts its energy use in half. Jasco recycles hundreds of tons of cardboard each year and uses recycled material and nontoxic plastic for packaging. At checkout, you can select the humanitarian cause you feel deeply about. In fact, 50 percent of Jasco's net profits go to providing aid to those in need.
Sustainable Bathroom Decor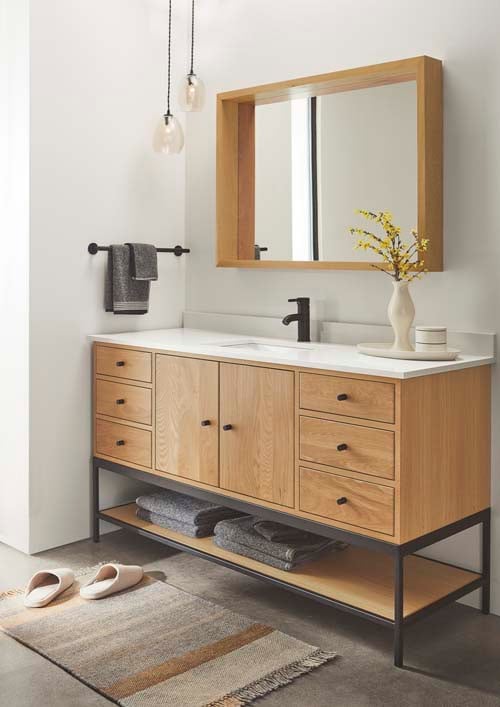 For Room & Board's first debut at KBIS, the company highlighted a bath collection complete with modern bath vanities, accessories, rugs, and decor. The collection offers vanities with multiple finishes, sizes, eco-friendly quartz tops, and sink options. Complemented by coordinating mirrors, lighting, hardware, rugs, storage, and decor, this collection fuses artful function and ageless beauty to bring customers a luxurious and peaceful bathroom haven.
As the founding member of the Sustainable Furnishings Council and through the use of sustainably-sourced American woods, modern steel, eco-friendly/reclaimed materials, and partnerships with like-minded companies, Room & Board reduces its environmental impact and promotes sustainability.
Mar 3, 2021 9:00:00 AM · 6 min read
---

Samantha is able to express her passion for the environment -- both natural and built -- as the special projects manager at Green Builder Media. Prior to joining the Green Builder Media team, she worked as an order management specialist at C.A. Fortune, a consumer brands agency. She is a recent graduate of the Master in Environmental Management program at Western Colorado University with an emphasis on sustainable and resilient communities. Originally from the suburbs of Chicago, she is currently thriving in Gunnison, CO where she enjoys the surrounding geology, mountain biking, and skiing.