Best Green Products from Design and Construction Week

Samantha Carlin
8 min read
This year's Design and Construction Week (International Builders Show + Kitchen and Bath Industry Show) brought together a wealth of innovative new products that change the way we use our homes. Here are 14 of our favorite new products.
Beko Front Load Washer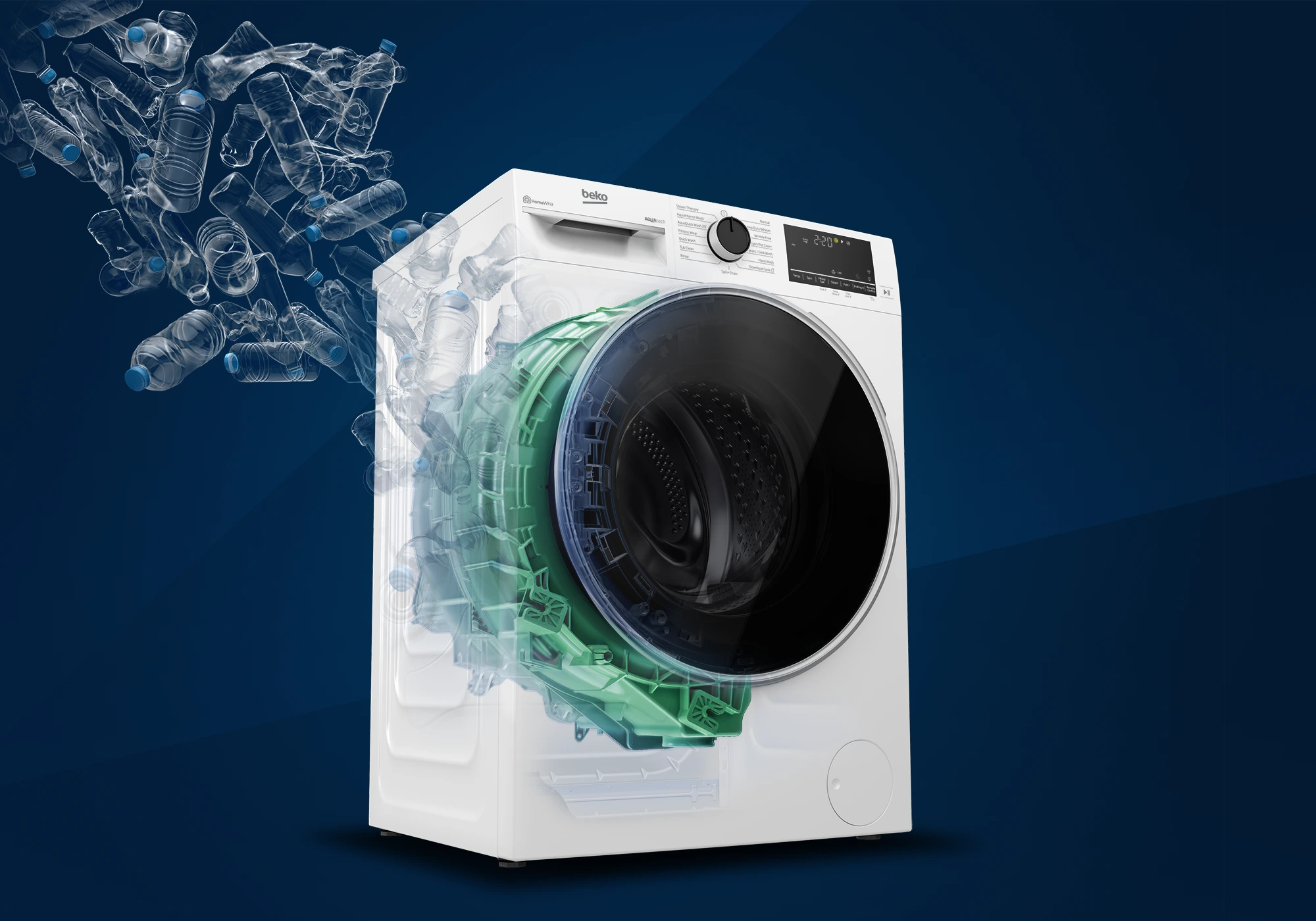 Although the European brand has been in the US for five years, Beko made an impressive debut at KBIS. Beko believes a healthy home can only come from a healthy planet and takes this into product design considerations.
The company's new 24-inch Front-Load washer is no exception. It features a RecycledTub, each made with 60 recycled plastic bottles. Since its 2017 European launch, 58 million bottles have been reused–reducing carbon emissions by 2,200 tons.
In addition to environmental benefits, the new washer flaunts performance and energy-saving features. For example, AquaTech technology uses the natural power of water to eliminate the need for harsh drum movements reducing wash time and wear and tear on fabrics by half without compromising quality.
In addition, Wi-Fi capabilities allow for monitoring and control of the washer from a smart device–download programs and set the desired time for laundry to be finished. Just in time for back to school laundry, this washer will be available in the US in September 2022.
Cosentino Line of Surfaces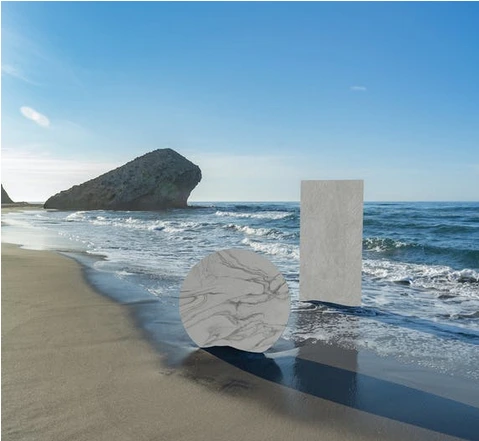 From cradle to grave, Cosentino has achieved carbon neutrality for its Dekton line of surfaces. This accomplishment was made possible by emission reduction projects and Cosentino Group's good practices in terms of sustainability and environmental management. In recent years, the brand has made drastic efforts to save energy and resources through renewable electricity and sustainable mobility policies. To offset emissions further, Dekton has invested in GHG emission reduction projects that have a strong social component as well to achieve the SDGs of Agenda 2030 for Sustainable Development.
This ultracompact surface also provides high-level performance such as resistance to UV rays, scratches, stains, thermal shock and low water absorption. Thanks to these qualities, Dekton can be used both indoors and outdoors with endless design possibilities.
SKS Refrigerator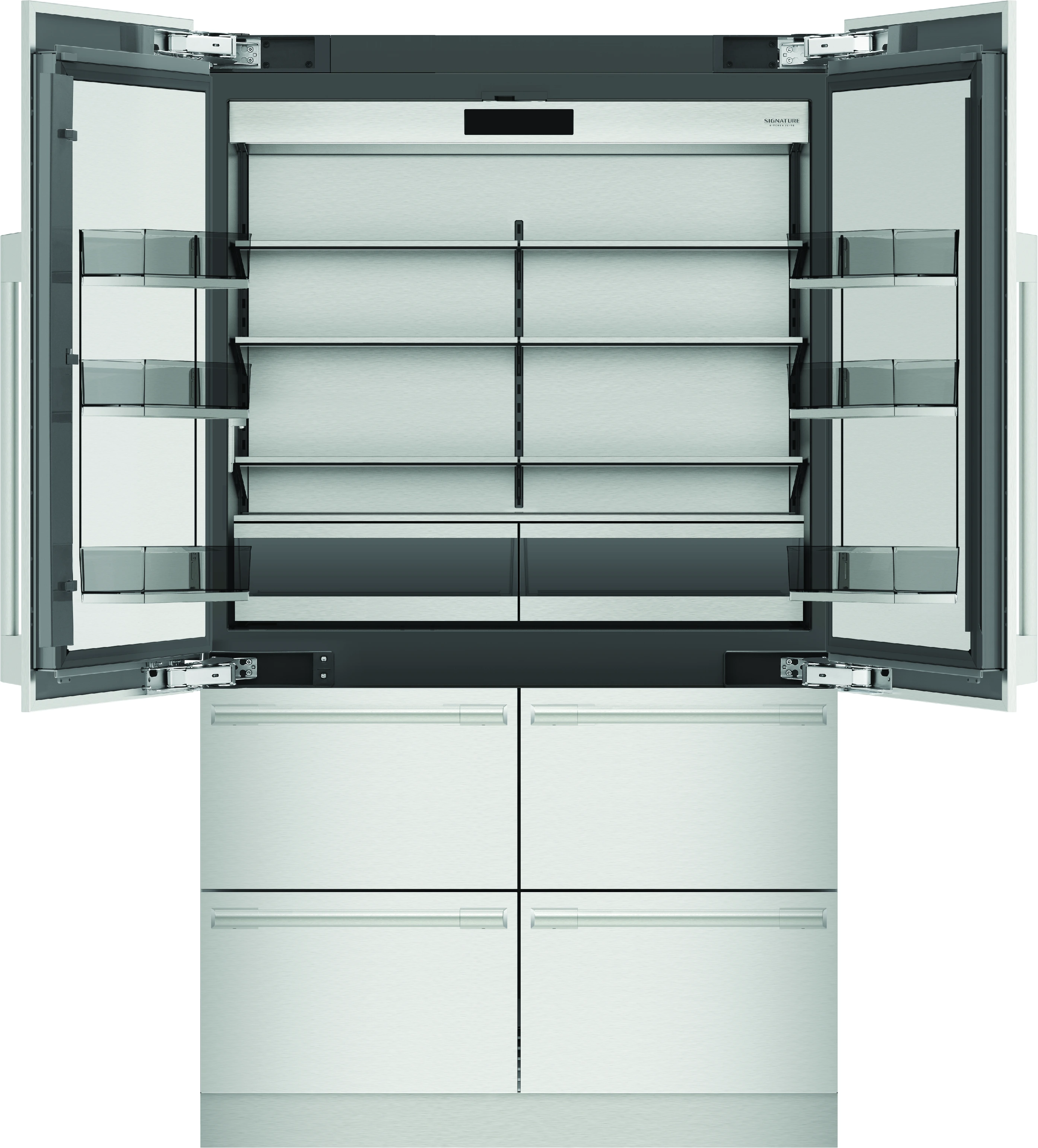 Signature Kitchen Suite unveils the industry's first 48-inch French Door built-in Refrigerator. The shelves and door bins are conveniently adjustable to reconfigure the space easily . Lift and go drawers lets you easily remove produce drawers for cleaning or easy access. Precise preservation technology keeps food fresher for longer and has dual compressors and a metal interior to reduce temperature fluctuations.
The bottom four drawers consist of two freezers, a dual ice maker and a five mode convertible drawer. The convertible drawer has preset temperature settings from 41 to -6 to chill wine and store deli platters, beverages, meats and seafood properly. The ice drawer steps up the beverage game with the option for regular ice and spherical craft ice.
Mohawk Wood Floor Alternative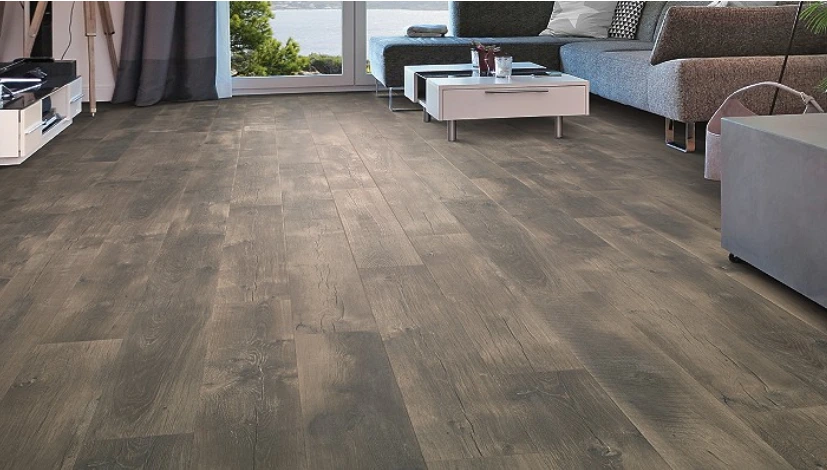 With the release of Signature Technology, Mohawk takes the realism of wood decor to a new level. Now, 64 layers of design data are culminated to create each plank that achieves a wood alternative floor that is indistinguishable from natural wood. The technology captures the natural designs of wood by scanning, cataloging and preserving the detail and variety in each wood species.
Mohawk's new RevWood Premier will showcase this new technology. It will be the best looking, most waterproof and highest performing wood product at a competitive price. The line will also include Mohawk's CleanProtect, a protective coating that makes cleaning a breeze and stains are practically impossible.
Similarly, Activeguard technology is antimicrobial and prevents bacteria growth, keeping floors clean and healthy for longer. In addition, RevWood will bring ten new products to the marketplace to fit any style or budget requirements.
Dacor Induction Cooktop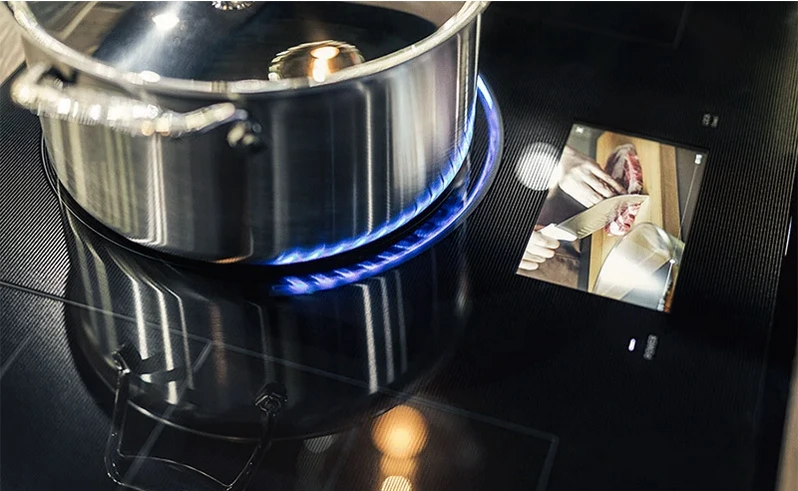 Induction cooktops are all the rage as consumers become aware of their benefits, such as energy efficiency, safety, health and greater temperature control.
Dacor has released its 36-inch induction cooktop with an array of fun features. Flex Zone technology offers the flexibility to heat multiple dishes of varying sizes with up to nine cooking zones. The Virtual Flame is an intuitive LED light that displays an artificial flame to indicate that the element is on.
Using Bluetooth and ConnectOn auto-response technology, the range hood will turn on in sync with the cooktop and modulate the speed based on current needs. The LCD touchscreen makes control simple and cooking foolproof with pre-programmed settings and step-by-step recipe instructions (with videos, too!).
Westlake Royal Roofing Underlayment
New this year is Westlake Royal Roofing Solution' Sol-R-Skin BLUE. The reflective roof underlayment is exceptionally durable and easy to install. Sol-R-Skin BLUE provides several solutions in one product and is backed by a 30-year limited warranty.
Sol-R-Skin serves as a waterproofing layer, an energy-saving radiant barrier and as a layer of insulation. It can be used under nearly all steep-sloped roofing materials and can be installed in any climate and temperature with ease. Sol-R-Skin BLUE is also UV-resistant, and the aluminum foil facer and fiberglass insulation help this product reach an impressive R-value of R-5.5. The product is also Class A rated fire resistant when applied with stone-coated steel, concrete and clay tile roof systems.
Samsung Vacuum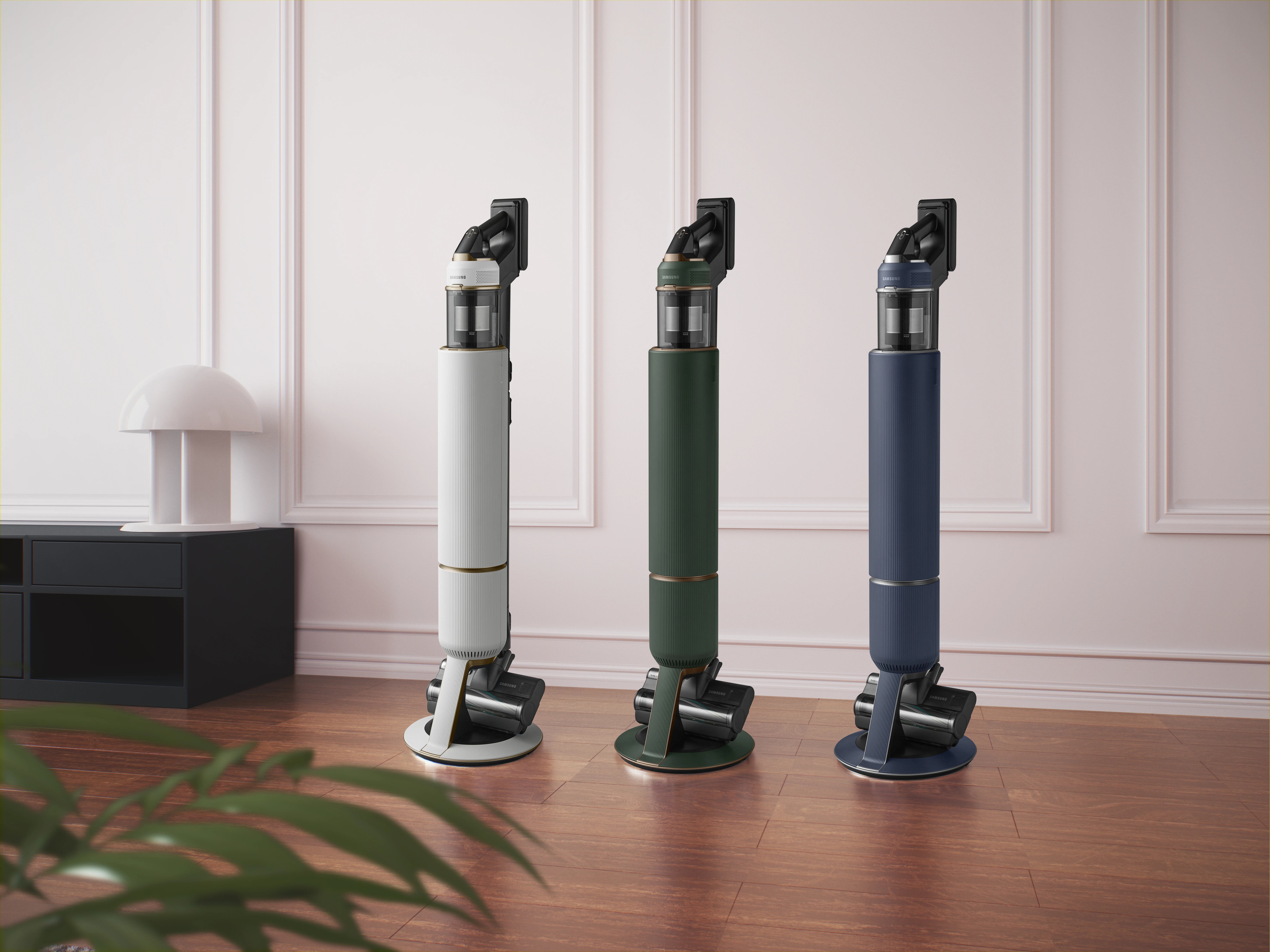 This year at KBIS, Samsung launched their most powerful stick vacuum, the Bespoke Jet. This cordless vacuum cleaner is powerful and efficient. The lightweight vacuum and sleek charging station come in Midnight Blue, Woodsy Green and Misty White. With 120 min of run time on each charge, this vacuum is ready for any mess. The Bespoke Jet also comes with an upgraded Spray Sinning Sweeper with dual spinning wet pads and a 150ml tank to keep hard floors sparkling
However, most notable is the charger's All-in-One Clean Station that suctions the debris from the dustbin and eliminates fine particles from escaping with Air Pulse technology. Similarly, the 5-layer filter traps 99.9 percent of micro dust particles. These systems work together to reduce dust plumes and allergens from re-entering the home, keeping your family healthy and your house clean.
Caesarstone Surface Collection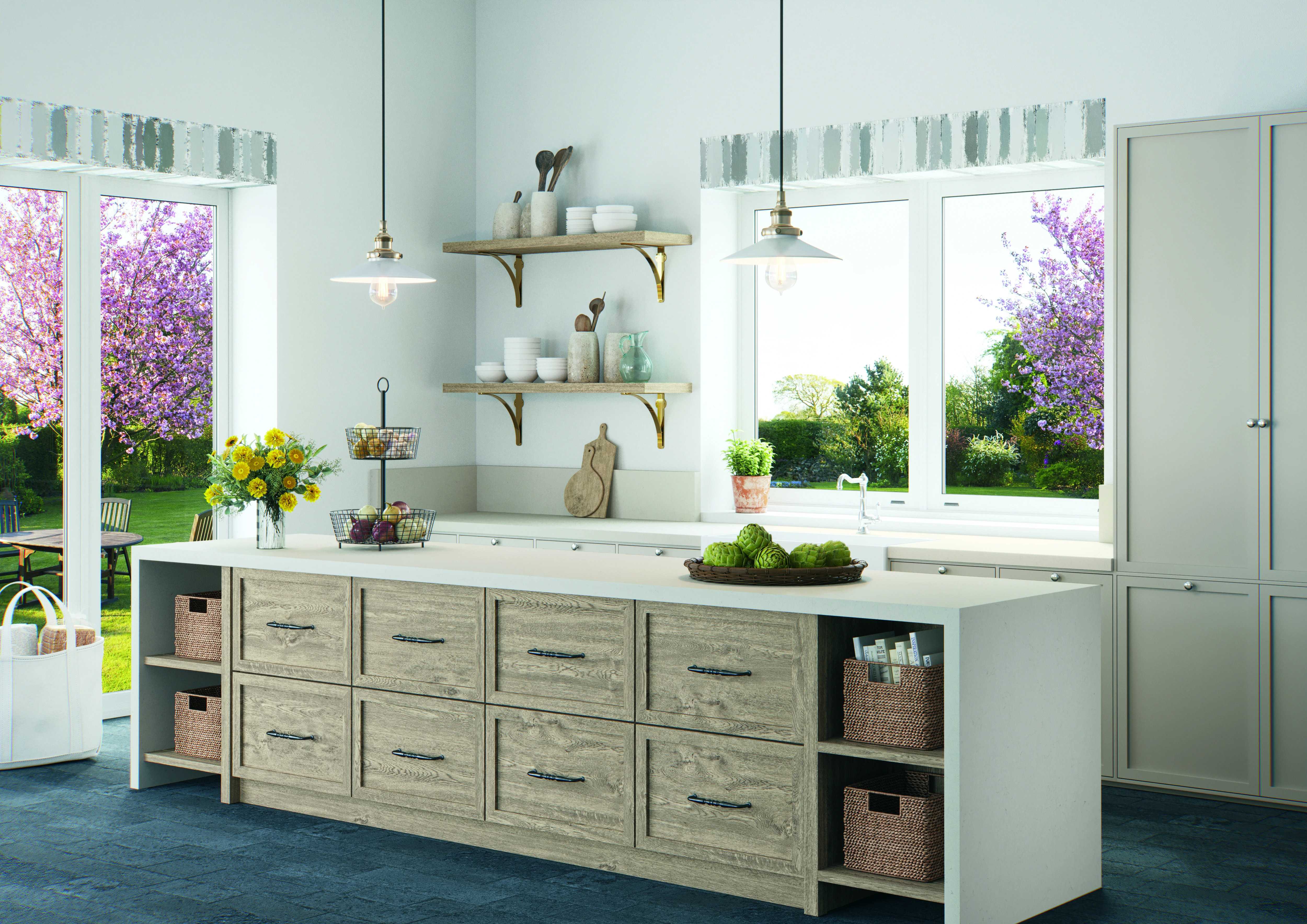 To celebrate its 35th anniversary in 2022, Caesarstone unveiled eight new, nature-inspired surfaces at KBIS. This reveal includes the Pebbles Collection, which features 5 new design options that encapsulate the never-ending transformation of wind and water over stone. The unique colors are warm and dynamic monochromes with softer hues. The symbolic textures are inspired by the everlasting path of the pebble and bring a subtly distinct detail to the surface.
Like all Caesarstone products, the Pebbles Collection was curated with the Earth in mind. All practices throughout the life cycle are driven with environmental and human responsibility in mind at every stage.
The new designs are also non-porous, flexible, scratch and stain resistant and mold and mildew resistant. Therefore, the durable surfaces require less harsh chemicals and no sealing to maintain the beautiful natural material.
LG Dishwasher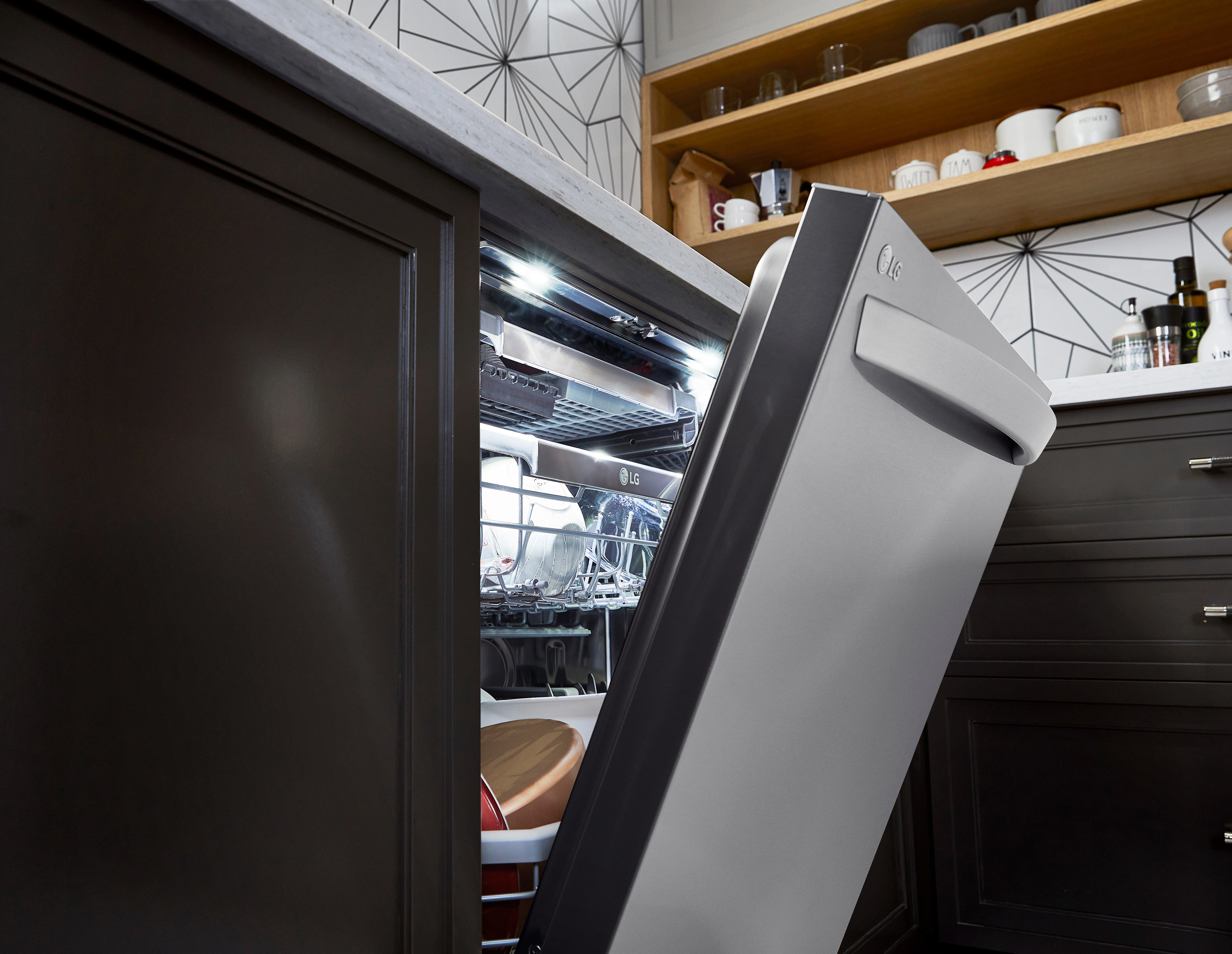 LG Electronics is shaking up the dishwasher paradigm at this year's show. Designed with multiple engineering enhancements, the new Top-control Dishwasher offers consumers smarter cleaning capabilities and ultimate convenience. From start to finish, this product is packed with improvements that deliver a complete and sparkling clean (and dry) in only one hour.
TrueSteam is activated at the beginning of the cycle and penetrates caked-on foods. The next line of defense is the QuadWash Pro technology. It uses high-pressure jets to blast all angles of dishes with microbubble-infused water - a new technology that breaks down the heaviest of soiling. To finish off the cycle, Dynamic Heat Dry circulates heated to speed up drying while TrueSteam makes another appearance to super-heat the interior for dryer, spotless dishes and glassware.
Along with the technological improvements displayed in this product, design related upgrades make using LG's new Top-Control Dishwasher seamless. The height adjustable third rack is customizable and holds more items to save time and water by washing fewer loads. Glide rails and ball-bearing wheel design give the perfect feel no matter how heavy the contents may be. Lastly, the LED tub light automatically illuminates when the dishwasher door is open to check whether dishes are clean or dirty.
Panasonic Smart Home Solution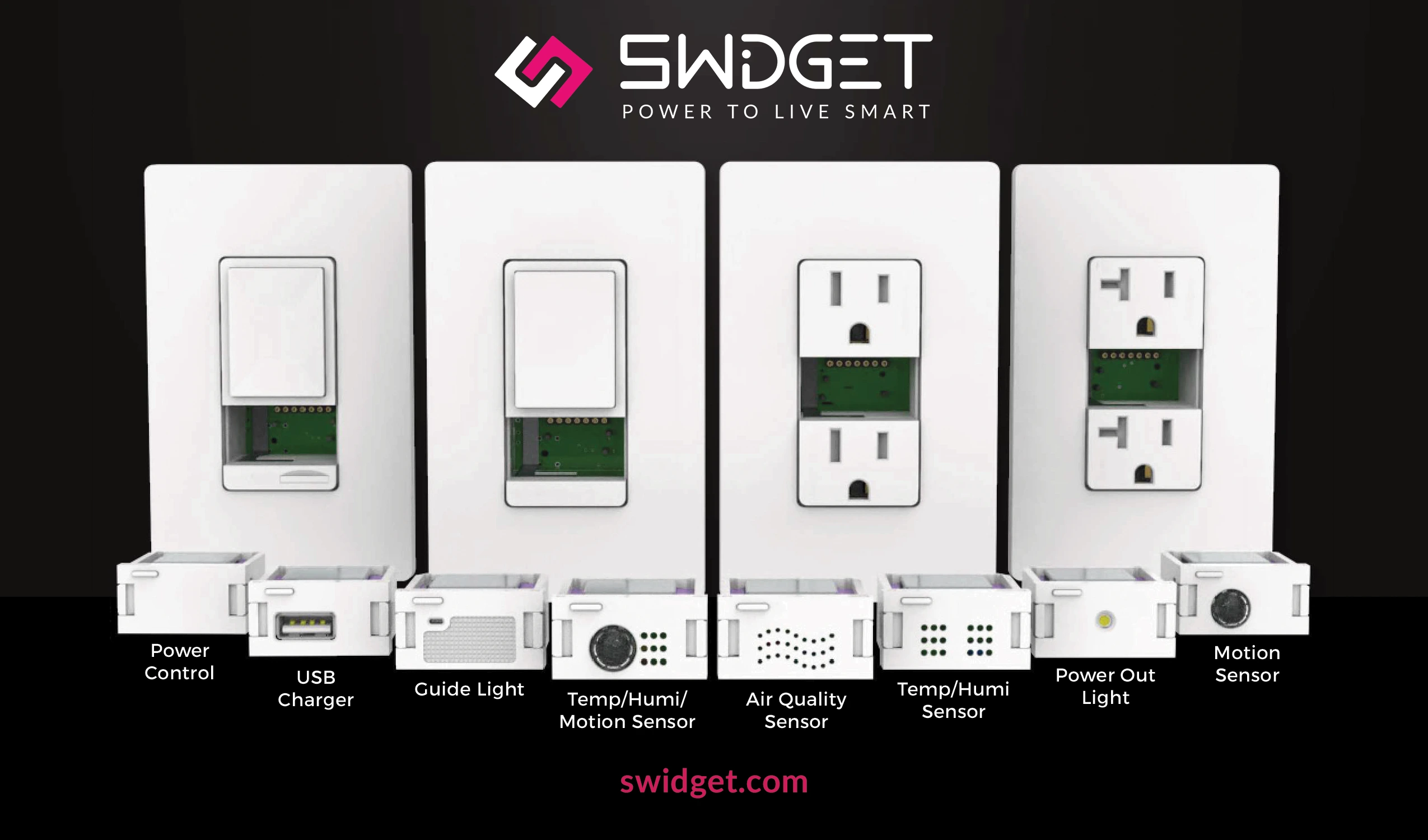 With Panasonic's Swidget devices, any home can be turned into a smart home with simply a switch or outlet. These aware-winning and simple to use products are a part of Breathe Well, The Only Complete Air Quality Solution by Panasonic. When paired with a customizable insert, Swidget smart devices give complete control and functionality, including app control of our outlet.
The wide variety of inserts include indoor air quality, motion, temperature and humidity sensors, as well as Wi-Fi control, USB inserts and guide lights. Simply slide them into the outlet or switch and interchange them for complete customizability.
LG inverter water heater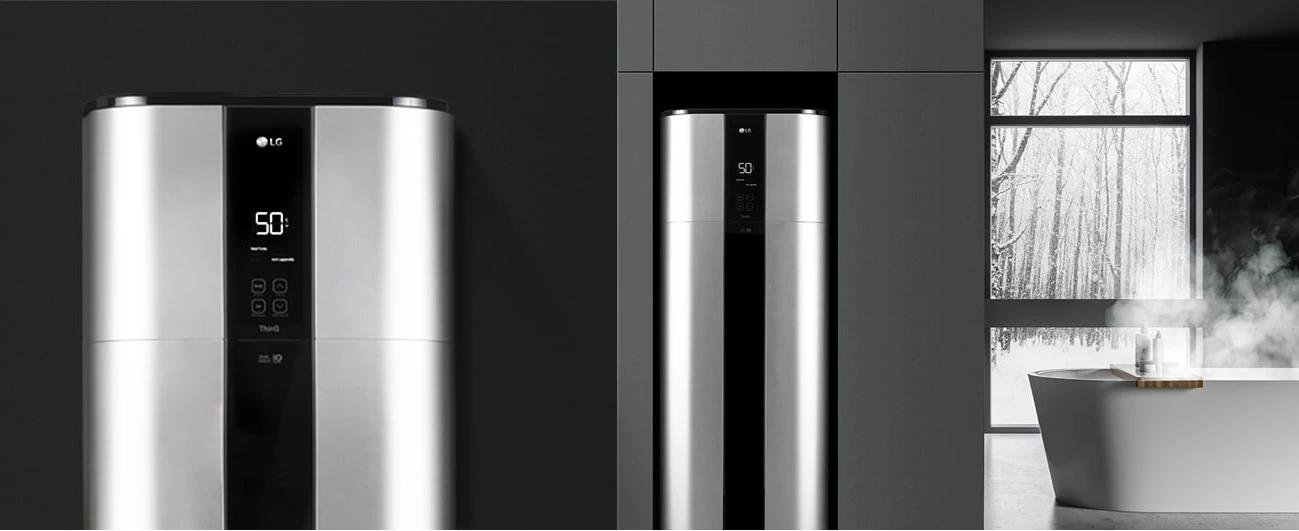 Unlike an electric or gas water heater, LG's new Inverter Water Heater obtains 75 percent of its energy from the outside air. It converts low temperature to high temperature using two heat exchangers, a condenser and an evaporator.
Connection to the LG ThinQ app allows users to easily check for current water temperatures, set operating schedules and monitor and control the heat pump. With four modes, including auto, heat pump, turbo and vacation, this new heat pump can handle anything.
The DUAL Inverter Compressor can maximize power in turbo mode, increasing heating time by 30% while saving over 70 percent in energy use. Additionally, the DUAL Inverter Compressor and BLDC Motor work together to reduce noise to 53 dBA, while the design and luxury silver color make it a great attrition to interiors.
Bocchi Bathroom Line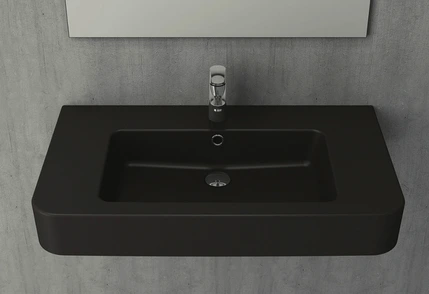 This year, Bocchi showcased its new bathroom line at KBIS with a wide range of products, including 13 collections of sink models, cabinet and console bases and wall-hung toilets. Flexible installation options and varying size options offer designers and homeowners solutions for any space, regardless of size.
The new line comes in Bocchi's classic colors (White, Matte White, Biscuit, Matte Gray, Black, Matte Black, Sapphire Blue) and new colors, which include Matte Ice Blue, Matte Mint Green, Matte Gold, Glossy Orange and platinum. Additionally, all sinks and toilet bowls are made from glazed fireclay ceramic, creating a uniform non-porous surface that resists scratches and stains.
Carrier Evaporator Coil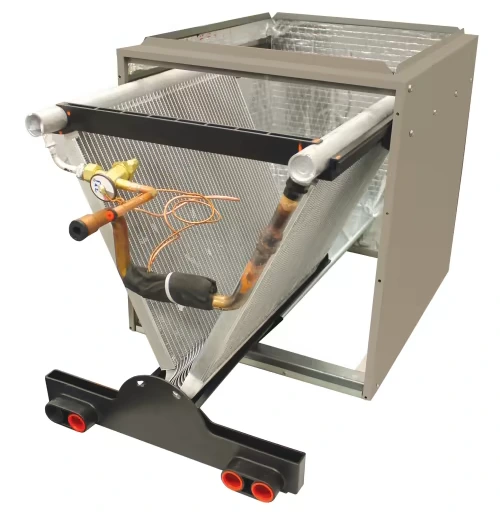 A leader in home comfort solutions, Carrier, has launched a new evaporator coil with Vertex technology to be paired with home air-conditioning systems. This new product meets the U.S. Department of Energy's efficiency requirements ahead of the 2023 deadline. With regard to efficiency, the new Vertex technology allows fine control and uniform airflow to improve the coil's heat transfer, increase system efficiency and reduce pressure drop.
Carrier put a large amount of innovation into the creation of Vertex technology. For example, the indoor coil's unique "V" shape channels water away from the superheater region to increase efficiency and reduce condensation by minimizing the surface area inside the cabinet exposed to conditioned air.
Westlake Royal Building Products' Zuri Premium Decking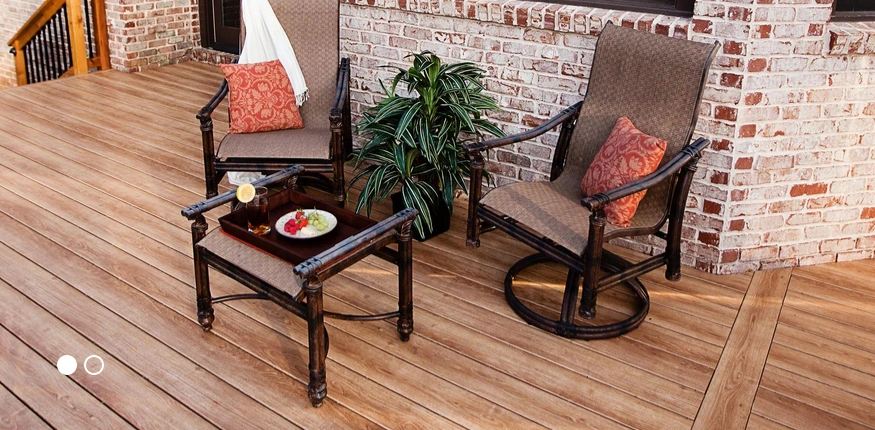 This unique premium decking line by Westlake Royal gives the beauty of hardwood without any of the downfalls. Zuri is engineered to resist scratches, staining, slips and moisture. It comes with a 25-year Color Fastness Warranty, retaining its just-installed look. This decking line has both square and grooved boards to meet a wide range of design needs.
This year at KBIS, Westlake Royal added a sixth color to Zuri's repertoire – Chestnut. This mid-tone brown is added to the color options, which already includes Walnut, Pecan, Brazilia, Hickory and Weathered Gray. Uniquely, Zuri Premium Decking offers mix and match options to complement the home and personalize the outdoor space. Customers can also include inlays and work with a designer to create a truly customizable look.
Mar 8, 2022 10:35:25 AM · 8 min read
---

Samantha is able to express her passion for the environment -- both natural and built -- as the special projects manager at Green Builder Media. Prior to joining the Green Builder Media team, she worked as an order management specialist at C.A. Fortune, a consumer brands agency. She is a recent graduate of the Master in Environmental Management program at Western Colorado University with an emphasis on sustainable and resilient communities. Originally from the suburbs of Chicago, she is currently thriving in Gunnison, CO where she enjoys the surrounding geology, mountain biking, and skiing.