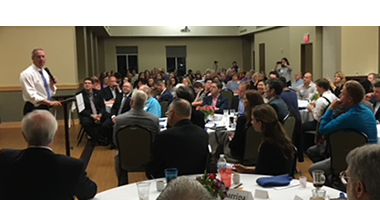 Climate Change is the greatest economic opportunity to come to the United States in a hundred years. But, turning this planetary threat into our children's great opportunity, will not happen by itself. We must make it happen.

There is no single public work more important to the security and well-being of our children's future than moving our nation forward to a 100% Renewable Energy Grid by 2050.

We are Americans. We are the masters of history, not its victims. We make our own events, not time or chance. As earlier generations of Americans faced and defeated the Nazi threat of fascism, so too must we face and defeat the threat of Climate Change. As earlier generations built the national transportation and energy grids necessary to win prior industrial revolutions, we must build the national grids necessary to win this Third Industrial Revolution.

And the good news is, seizing this opportunity no longer requires dreaming or hoping for magic solutions, it merely requires doing. The technology and know-how already exist. No other country on the planet has a greater abundance of natural renewable resources — sun, wind, and water — than does the continental United States. And the cost for our nation to move to a 100% Renewable Energy Grid is far, far less than the cost of just the most recent tax cuts for the super-wealthy among us

With the possible exception of Communist China, no nation has the ability to move forward to a renewable energy future as quickly as we do. Chinese Policy dictators understand clearly the competitive economic advantage of lifting the costs of fossil fuel extraction and fossil fuel burning from its national shoulders

Here in the United States, the barrier to our own progress-at-scale is not a lack of money or too much political freedom. Nor is it a lack of technical know-how or ability. It is the lack of political will. A lack of political will perpetuated by a lack of understanding. It is fear itself. For in the absence of a will to move forward, the inertia of old money blocks our path with the fear of loss.

As Sinclair Lewis once wrote, "it's hard to convince a man of the truth when his job depends on not believing it."

Our domestic fossil-fuel industry — oil, gas, and coal — take our tax-payer subsidies and use a big chunk of it to convince us and our elected representatives that any switch to renewable energy will cost all of us dearly in terms of money and jobs. The truth, however, tells a different story.