A House for All Seasons

Alan Naditz
5 min read
Off grid, and made with low-maintenance materials, Upland Road House raises the resilience bar and earned a 2021 Green Home of the Year Award.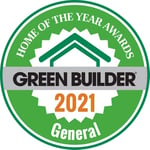 Then crafting a classy home in scenic New Zealand, two major words come to mind: sustainable location. That was the case when Craft Homes builder and managing director Toby Tilsley, and Solarei Architecture architect and founder Duncan Firth decided how they were going to develop what is now known as "The Upland Road House."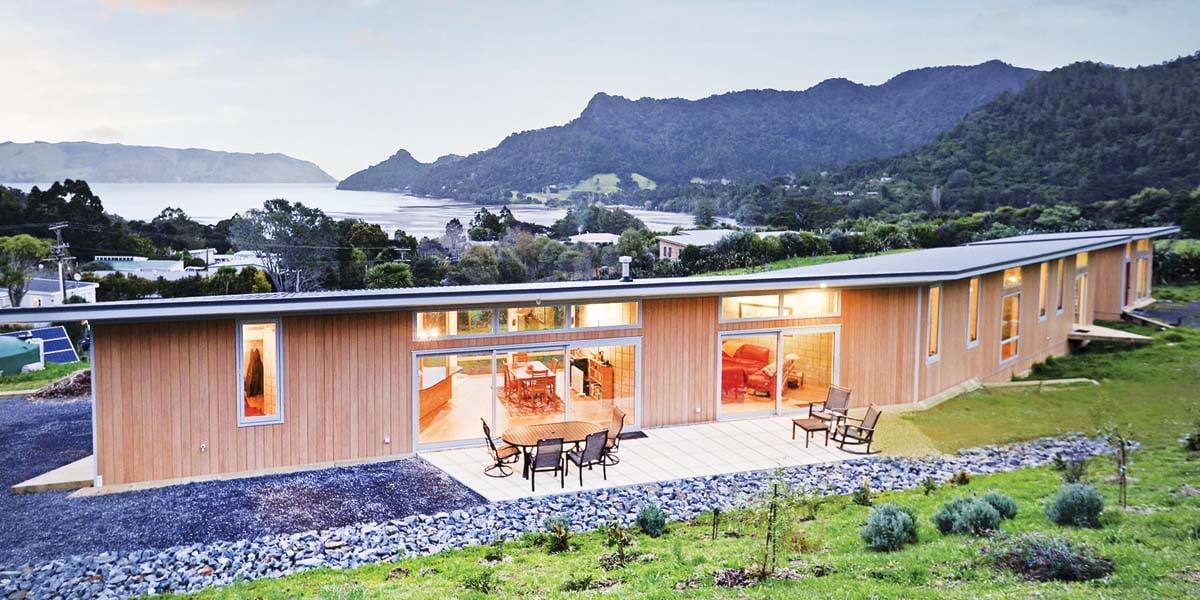 Upland Road House in Huia, Auckland, is situated on the Manukau Harbor overlooking Huia Bay, on the West Coast of New Zealand in the Southwest Pacific. The building footprint is 2,863 square feet, including a main house, carport and guest cottage. The main house has three bedrooms, two bathrooms, a walk-in wardrobe, and an open-plan kitchen, dining and living area. The cottage has a bathroom, kitchenette and open-plan bedroom and living.

According to Firth, the house's location optimizes southern views of the Manukau Harbor, allows for a north-facing courtyard protected from winds, meets with the northern seasonal sun path for optimized sunlight and passive solar gain, and provides a landscape integrated with the not-so-distant Waitakere Ranges.
The annual climate consists of cool temperate winters and subtropical summers. Winter and summer climate design principles naturally heat the house over the winter using sunlight, and natural airflow cools the house over summer.
Tilsley agrees that good design orientation plays a big part in a home's ability to use nature to its full effect. "In terms of innovation, this home has a lot packed in," Tilsley noted on the New Zealand Green Building Council website. For example, optimizing seasonal sun path for passive solar gain naturally heats the house to approximately 23 degrees Celsius during mid-winter, with the outdoor temperature at approximately 13 degrees Celsius.
Meanwhile, thermal mass walls collect and store radiant sunlight energy, naturally heating the house during winter. During summer, roof overhangs control high angled sunlight, preventing overheating. Stack effect and cross ventilation principles naturally cool the house.
Strategically located corridors, windows and doors allow natural airflow to cool the house during summer. A 5.2kW solar system with lithium battery storage powers the house during the year, with a grid connected inverter if needed.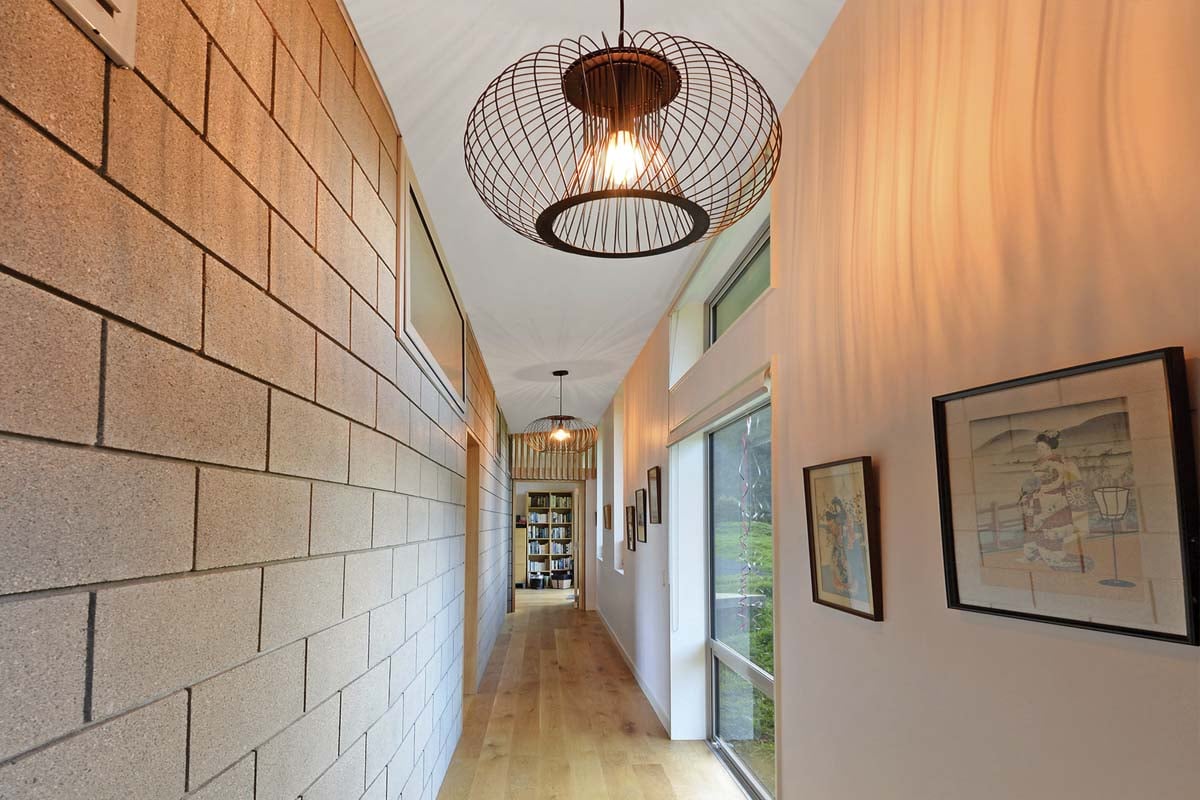 Hallways with energy-saving LEDs and flooring made from recycled wood are two ways Upland Road House shows reduced dependence on fossil fuels. Credit: Credit Craft Homes
Rainwater is harvested from the roof for drinking and stored in an 8,000-gallon tank. A natural waste system treats sewage, black and grey water are separated, and black water (sewage) is treated using a wormarator system (i.e., tiger worms), to naturally digest human waste. Grey water is naturally irrigated over the site. Storm water is captured, stored and irrigated onsite. In addition, an extensive landscape planting plan is underway to bring back local flora and fauna, restoring the farm land to its native tree glory, Firth notes.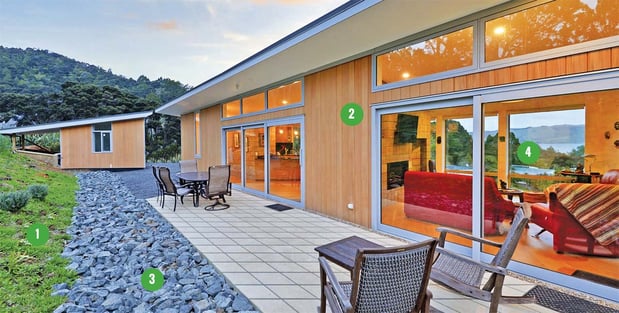 Xeriscaping. Landscaping efforts are bringing back local flora and fauna to help create a peaceful, stress-relieving atmosphere around the home.
Rightful recycling. Cladding made with wood-based composite also adds R-value to the exterior.
Nature's best. Broken rock landscaping appears natural and helps with storm drainage.
Bright overview. The Upland Road House's orientation gives it a solar-friendly elevation, along with expansive views of the nearby bay.
The house itself is constructed from New Zealand-grown Pinus radiata timber, and has New Zealand-made metal roofing, which is low maintenance and long lasting. Thermal mass (concrete walls) are strategically located for passive solar heat gain and texture.
Moving toward the Upland's inside, Innowood's Innoclad, a composite timber cladding made from recycled wood powders, is highly durable, fire resistant, low maintenance and long lasting. Oak veneer (12mm), another durable and long lasting item, was used for flooring.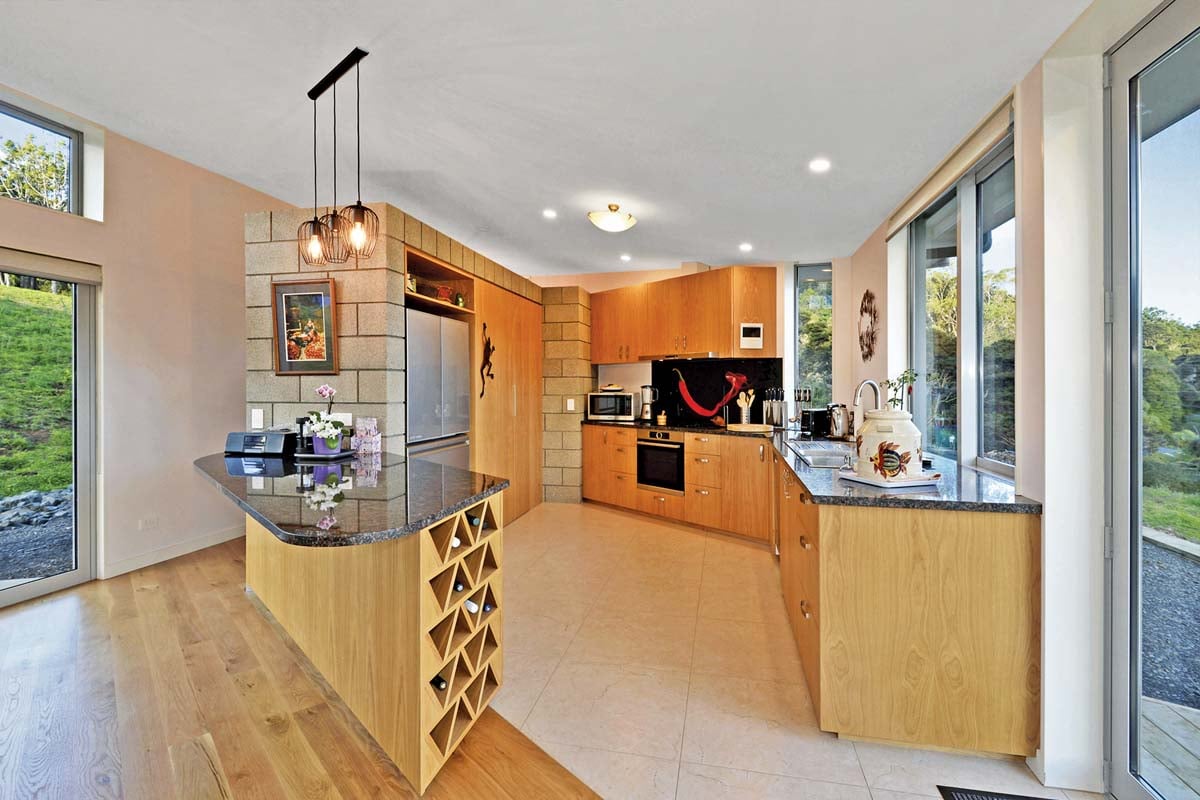 Energy-efficient appliances, a long-lasting granite countertop, and cabinets from sustainably harvested wood offer an example of how green a kitchen can be. Credit: Craft Homes
The home's insulation is Knauf Insulation's Earthwool glasswool, which is made using recycled glass and sand, and is also a low volatile organic compound (VOC). "In terms of insulation ratings, R 5.2 was used in the ceilings,
R 3.2 in the walls and a R 3.2 blanket under the floor," Tilsley notes. That last item is protected from external moisture by Pro Clima Solitex Extasana building wrap. Pro Clima membranes have also been used for the exterior walls and flexible membrane flashings. The connecting foundation was thermally broken using Knauf Insulation ClimaFoam extruded polystyrene (XPS).
Project Stats
Name: Upland Road House, Huia Bay, Waitakere, New Zealand
Builder: Craft Homes Limited
Architect/Designer: Duncan Firth, Solarei Limited
Photographer: Craft Homes Limited
Key Components
Appliances: Fisher & Paykel energy efficient refrigerators, oven, induction hob and washing machine; Mitsubishi energy efficient microwave
Automotive: Schneider Electric PDL electric charger
Building Envelope: Walls (140mm-by-45mm Pinus radiata timber frame); Roof (240mm-by-45mm Pinus radiata timber frame); inside walls (10mm gypsum board)
Cabinets, Shelves, Millwork: Cabinets (2mm Matai veneer natural hardwood on 4mm Pinus radiata); Plywood (18mm Pinus radiata timber); Shelves (18mm Particle Board, with smooth acrylic spray paint finish)
Caulks and Sealants: Sika caulks and sealants
Countertops: 16mm granite
Decks: 20mm-by-90mm New Zealand Pinus radiata timber frame
Doors and Hardware: Rylock aluminum exterior doors; hollow core Pinus radiata doors with 8mm medium density board, smooth spray paint finish; Halliday Baillie chrome finished hardware
Electrical: Schneider Electric fixtures and fittings
Exterior Finishes: Cladding (200mm-by-25mm Innowood Innoclad vertical shiplap board), Innowood recycled composite material made from wood powder waste; Fascia (300mm-by-20mm Pinus radiata board); Soffit (6mm Villa board, James Hardie smooth finish)
Fire Protection: Fire-resistant Innoclad cladding
Fireplace: 2mm oak veneer on 10mm particle board
Flooring: 10mm New Zealand natural hardwood recycled kauri flooring
Insulation: Knauf Insulation walls (140mm R 3.2 composite polyester and recycled plastic (180mm R 4.3 composite polyester and recycled plastic); Knauf Insulation roof (ClimaFoam 75mm R.2.8 closed cell polystyrene, 50mm R 2.2 closed cell polystyrene for foundations)
Landscaping: Native tree restoration plan; vegetable garden (bee blend cover crop, Persian clover, phacelia, linseed, sunflower, red rascal clover, white clover and buckwheat)
Lighting: LED, or energy efficient lighting throughout home
Paints and Stains: Resene Paints (low VOC, environmental choice, made in New Zealand)
Plumbing/Plumbing Fixtures: PVC plumbing
Renewable Energy Systems (solar, wind, etc.): 5.2kW solar system with lithium battery storage, with grid connected inverter if needed
Roof: Metalcraft T-Rib, 5 Rib trapezoidal roofing profile
Structural Components: 190mm concrete block walls, thermal mass, passive solar gain and structure
Telecommunications: Standard/local connection
Ventilation: Natural ventilation
Water Filtration: Puretec Hybrid-R
Water Heating: Rinnai 280L energy efficient hot water
Water Management (indoor/outdoor): Stormwater mitigation, storage and irrigation onsite; 8,000 gallons rainwater harvesting
Window Coverings: Roller blinds polyester with a layer of PVC
Other:
Water flow, natural sewage water system

Natural waste system treats sewage; black and grey water are separated. Black water (sewage) is treated using a natural wormarator system (tiger worms), which naturally digest human waste. Grey water is irrigated over site.
---

Alan Naditz is managing editor of Green Builder Magazine. He has covered numerous industries in his extensive career, including residential and commercial construction, small and corporate business, real estate and sustainability.