7 Building Trends As the Industry Heads Into 2022

Alan Naditz
2 min read
While U.S. energy producers consider how they can prevent another weather-related meltdown, the construction industry continues to deal with some of the fallout from 18-plus months of pandemic-induced challenges.
According to a report by Big Rentz, 2021 remains a year of higher construction costs, labor shortages, and stricter regulations. Keeping on top of industry trends in technology usage and building techniques is more important than ever.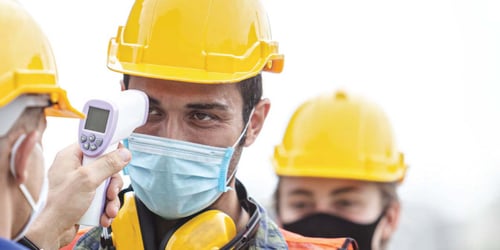 Even with available vaccines, onsite COVID-19 testing is here to stay, especially among persons who work in close proximity to one another. Photo credit: eakgrunge/iStock
Here are the 7 top must-watch construction industry trends that can help builders stay competitive in 2022:
New worksite safety habits. Face masks were not a new thing at construction sites prior to COVID-19's arrival, but they're now the standard, as are onsite temperature scans, regular coronavirus testing, and stricter workplace cleanliness, and other safety protocols. There is also increased use of tools such as drones to inspect hard-to-access areas and the emergence of robots capable of handling injury-inducing tasks such as bricklaying and scaffolding construction. Also keep an eye out for environmental sensors that detect noise, heat, and wind at construction sites, and provide warnings to evacuate construction workers and move costly construction equipment in the event of an emergency or natural disaster.
Greater efficiency technology. Say hello to smart contracts, which offer all participants in a project a shared system in which to buy, track, and pay for services. This system can result in closeouts, increased security, better project tracking, and an automated supply chain. Add our old friend the drone into this category also; its use provides real-time, actionable data for rapid decision making, which can streamline the entire construction process.
Increased need for laborers. As the need for educated workers continues to grow, expect more women to fill the gap. The Bureau of Labor Statistics indicates a 94 percent growth in female-owned construction firms from 2007 to 2018. In addition, 30 percent of construction companies promoted a woman to a senior position in 2018. Generation Z, which is just entering the workforce, is also a target of trade schools, the talent feeder to the construction industry.
Green building attitudes. Expect greenscaping, the practice of growing actual plant life on rooftops, to become even more important to homebuyers. Also, the concept of building multistory projects horizontally instead of vertically—making them far more resistant to high-powered storms—becomes a more logical option.
Modular and offsite construction gains. The boom continues for this market segment, thanks to the lack of skilled labor and advent of additional cost-cutting technology. Prefab demand is also being driven by their function as climate-controlled, ventilated environments, which makes them ideal for social distancing requirements.
Emphasis on residential projects. The year 2020 was a tough one overall for global investment firms, leading many to move away from higher-risk ventures such as shopping centers and office buildings. Instead, construction dollars are being shifted to lower-risk—yet still profitable—residential efforts such as subdivisions and multifamily living environments.
Smart cities. Some of the world's biggest tech companies are investing heavily in the creation of smart, sustainable cities. Global spending on intelligent infrastructure development topped $120 billion in 2020 and is expected to sharply increase over the next few years. Examples of recent projects include Masdar City in the Emirates, Songdo International Business District in South Korea, Hudson Yards in New York City, and India's Delhi Mumbai Industrial Corridor. Although they initially cost from tens of billions to more than $100 billion, these projects are expected to positively influence the economy, improve the infrastructure and benefit the environment over the long term.
Sep 7, 2021 2:47:22 PM · 2 min read
---

Alan Naditz is managing editor of Green Builder Magazine. He has covered numerous industries in his extensive career, including residential and commercial construction, small and corporate business, real estate and sustainability.