10th Annual Green Home of the Year Award Winner: Five-Star Futurist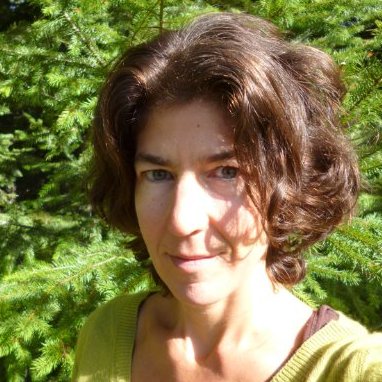 Juliet Grable, Guest Columnist
4 min read
This sophisticated net-zero-energy home is a welcome addition to a walkable neighborhood in Seattle's Columbia City.
Dwell Development is no stranger to accolades. The design-build firm has racked up multiple honors, including several Housing Innovation Awards from the Department of Energy. One of its projects was also featured as the overall winner in Green Builder's Home of the Year Awards in 2015.
But the Dwell Development team doesn't like to rest on its laurels. Its mission in 2017 was to build exclusively net-zero-ready homes. One of these was a spec home built adjacent to Genesee Park, which borders Seattle's Columbia City neighborhood.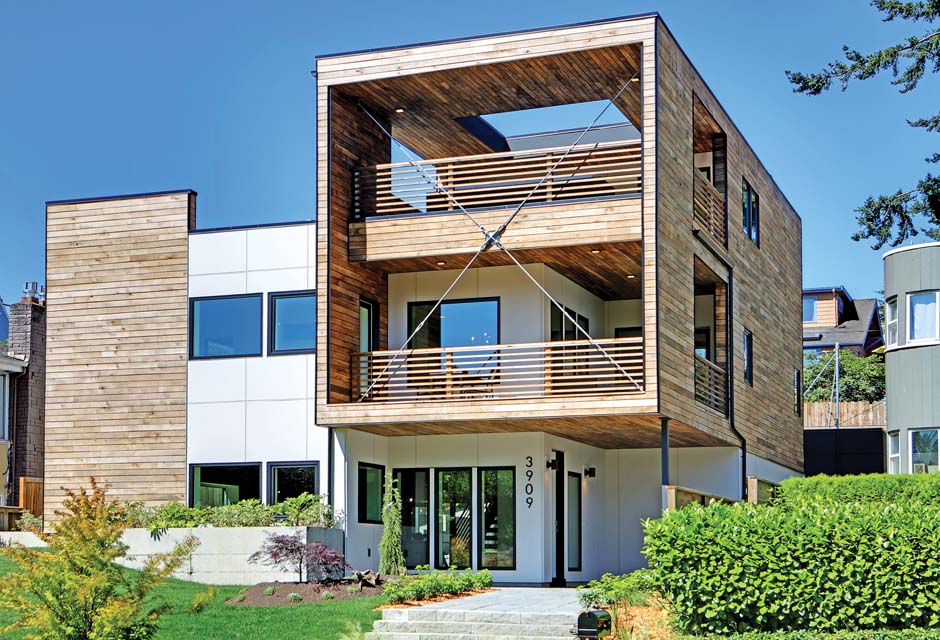 Completed in August 2017, the home has earned the very first Net Zero Energy and 5-Star Built Green certifications in the state of Washington. Taking on challenges is part of the firm's DNA, says Anthony Maschmedt, principal at Dwell Development. "We're on a continual search for the secret sauce."
High-Quality Inspiration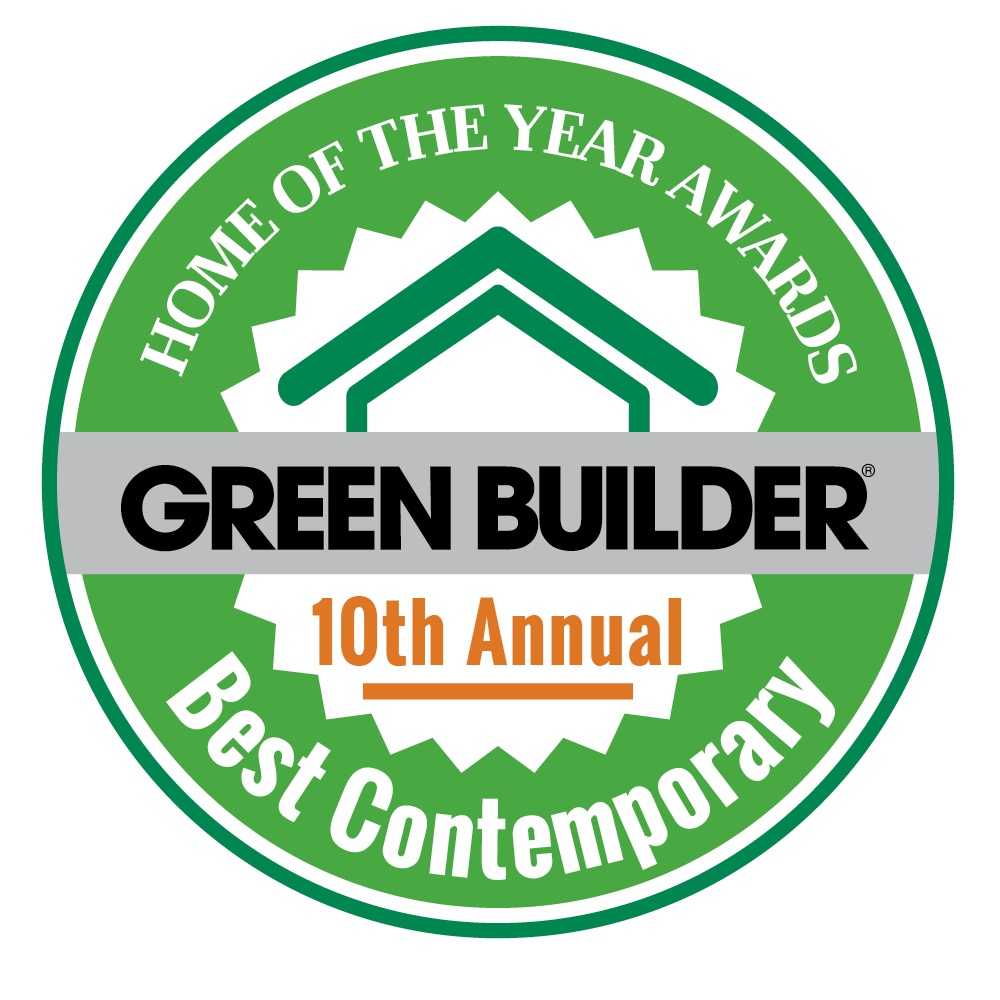 Project Stats


Name: Genesee Park Net Zero
Architect: First Lamp Architecture
Builder: Anthony Maschmedt, Dwell Development
Developer: Dwell Development
Interior Designer: Abbey Maschmedt, Dwell Development
Photographer: Tucker English
Genesee Park Net Zero is based on the Passive House model, with a super airtight shell fortified with high-quality windows. The three-story home features 12-inch-thick, double-stud 2-by-4 walls filled with blown-in cellulose insulation and triple-pane, tilt-and-turn windows from Prime. Externally applied Enviro-Dri fluid-applied air barrier seals the envelope and flashes doors and windows.
"We find that making the home airtight from the outside is a lot easier than trying to fill all the nooks and crannies from the inside," explains Maschmedt. Fiber cement panels and white oak siding are installed over a rainscreen.
First Lamp Architecture provided the design for the 3,700-square-foot home. Rooms that flow from one to the next and indoor spaces that connect to sheltered outdoor rooms make for a fluid and dynamic floorplan. The flat TPO roof contributes to the home's aesthetic and also provides design flexibility for the PV array, and the southern exposure and absence of shading create ideal conditions for the solar modules. With the lowered demand, the solar thermal system and 9.0-kW solar PV array easily bring the four-bedroom, four-bath home to net zero. The home, which is also certified under the Department of Energy's Zero Energy Ready Home (ZERH) program, has earned a HERS Index score of 0.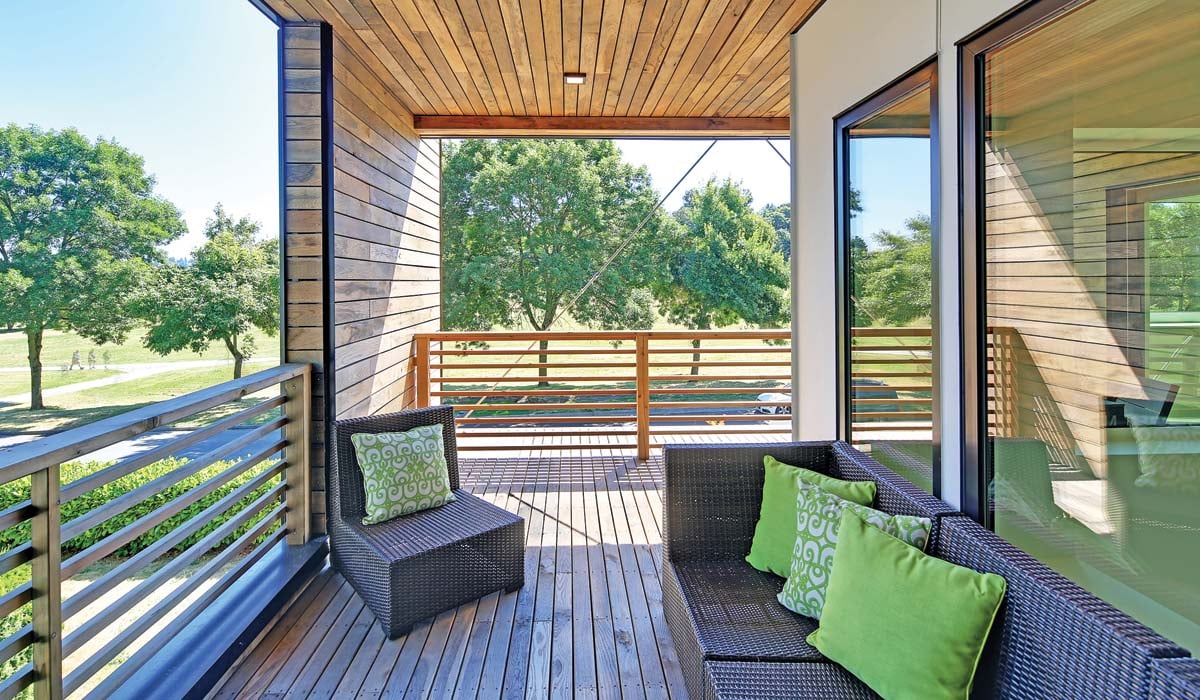 Repurposing Power
Genesee Park Net Zero exemplifies Dwell Development's "reclaimed modern" aesthetic, with ample wood, clean lines, abundant natural light and neutral finishes inside. The firm, which builds exclusively spec homes in the Seattle area, uses unique finishes to distinguish its homes.
Design Project Manager Abbey Maschmedt has developed relationships with regional suppliers to obtain reclaimed materials, such as lumber from deconstructed barns in Oregon's Willamette Valley. The oak material used as exterior cladding was harvested from diseased and damaged trees in Montana. The oak was also used as exterior decking. Inside, it serves as flooring and is featured in the stairway, sliding barn doors and the chevron pattern on the kitchen island.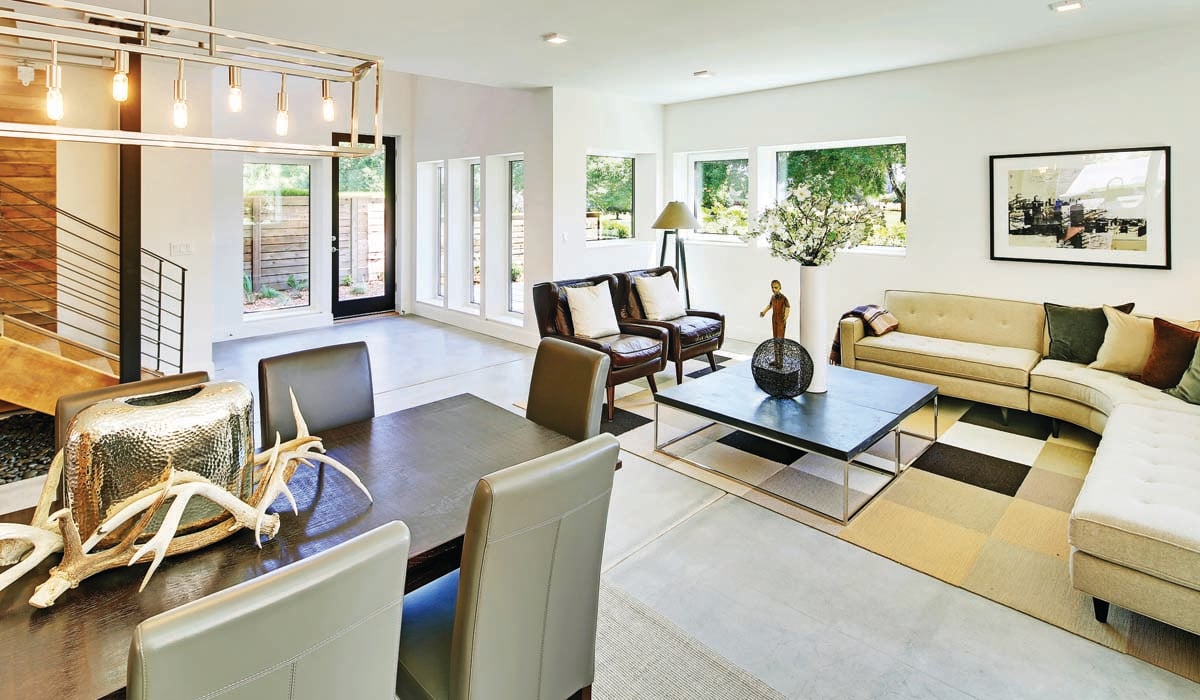 "We kind of went crazy with the oak," says Maschmedt. "It was awesome and very special." Contrasting with this warm texture are cool finishes, including Caesarstone countertops, neutrally colored walls and uncased openings.
Five-Star Studded
Features that helped the home earn Five-Star certification from the holistic Built Green program include 100 percent LED lighting, 100 percent electric power, and water- and energy-saving appliances. The home also features two "firsts" for Dwell Development: a solar thermal system and a Chiltrix air-to-water heat pump.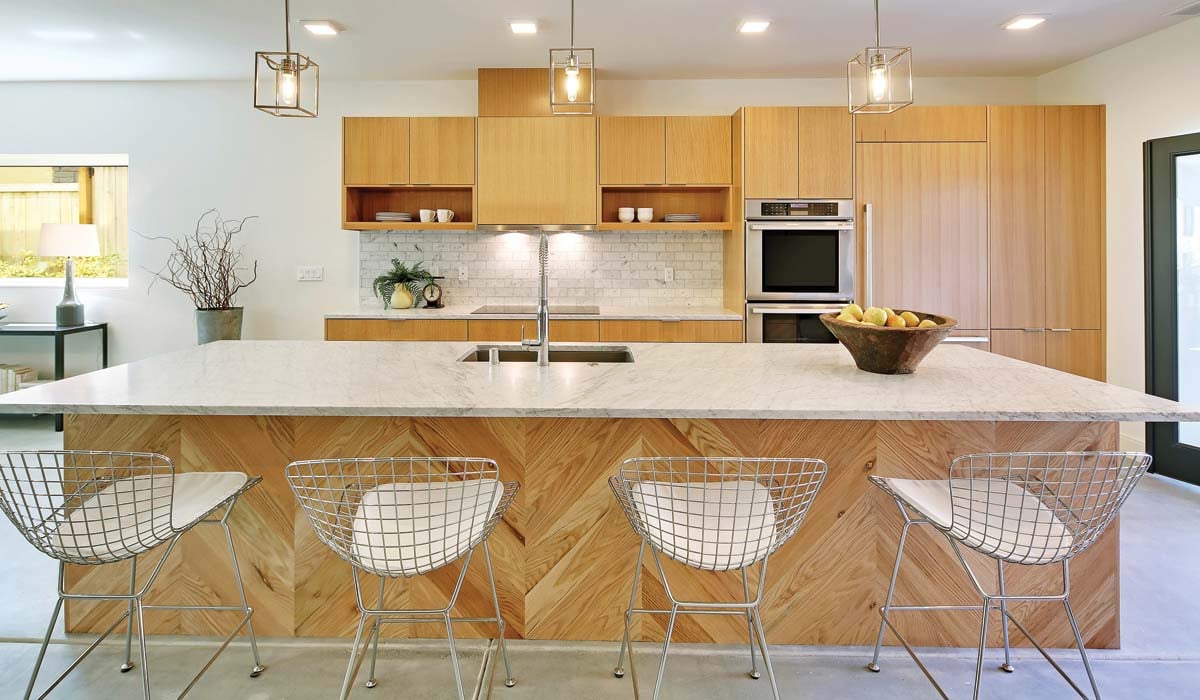 The solar thermal system, provided by Silk Road Environmental, uses a "solar fluid" rather than water, which can withstand temperature extremes from -70°F to up to 700°F. Each of the two solar thermal modules is capable of producing 50 gallons of hot water per day.
"Even on a Seattle cloudy day, we can raise the temperature of water from 60 to 120 degrees," says Tadashi Shiga of Evergreen Certified, in a video produced by Dwell Development. "It's fantastic."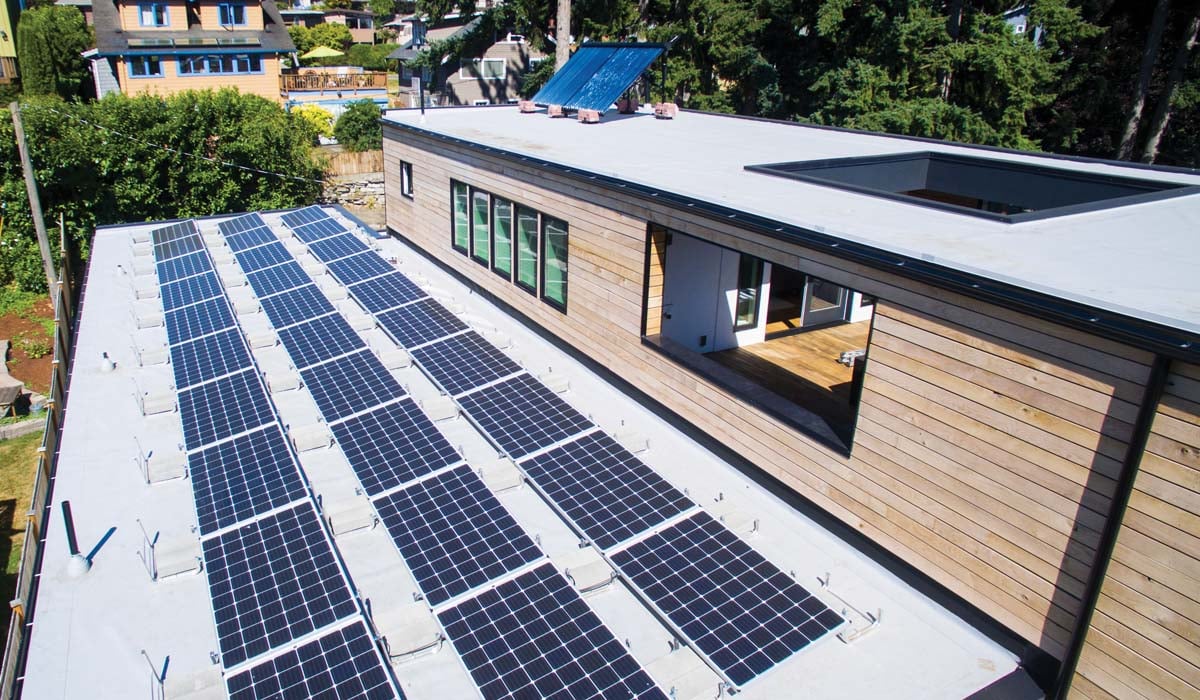 Supplementing the solar thermal system is a Chiltrix CX34 air-to-water heat pump, which also provides space heating and cooling for the entire home. Because the Chiltrix units aren't yet available in the Seattle area, one had to be shipped from the East Coast.
"As new systems and technologies become available, we adopt them into our repertoire," says Maschmedt.
There's an added risk that comes with being an early adopter, he admits, but Dwell Development will no doubt continue to push the sustainability bar ever higher.
Key Components
Appliances: Thermador (all Energy Star certified)
Cabinets, Shelves, Millwork: Abodian
Caulks and Sealants: Tremco Barrier Solutions Enviro-Dri liquid-applied WRB
Countertops and/or tile: Statements, Inc., recycled content porcelain tile; Caesarstone countertops
HVAC: Chiltrix CX34 air-to-water heat pump
Insulation: CertainTeed (fiberglass); Greenfiber (cellulose)
Lighting: All-LED lighting from Seattle Lighting
Plumbing/plumbing fixtures: WaterSense-certified Grohe fixtures; 0.8 Flush Niagara toilet
Renewable Energy Systems: SolarWorld SW300 PV modules; SMA Sunny Boy 7.7-US inverter; Silk Road solar thermal water heater
Roofing: TPO membrane
Specialty Products: Silk Road solar thermal hot water heater
Ventilation: Zehnder Comfoair 350 HRV
Window: Prime triple-pane, tilt-and-turn
Apr 24, 2018 9:32:41 AM · 4 min read