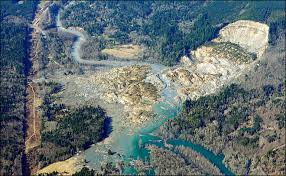 THE TRAGIC MUDSLIDE that occurred on March 22 in the small 180-person town of Oso, Washington, is the second weather-related disaster in the space of 16 months that has touched me personally.
Oso's Slide. Is this the future that awaits us if we continue to ignore nature's limits? Photo courtesy komonews.com.
In the early part of my career, I was Deputy County Executive of Snohomish County in Washington state, a county government hitherto unknown to anyone outside the immediate area, the commercial aviation industry, loggers, and recreational Steelhead fishermen. It is the home of Boeing's manufacturing facilities for the 767, 777 and 787. The Stillaguamish River, now damned up behind the slide, was one of the world's most pristine fisheries. Oso, like too many small communities around the world, has now achieved global renown as the site of tragedy. Today, it takes its place in a media arc that wraps around the globe and reaches back over the decades — small communities suffering as nature does its thing.