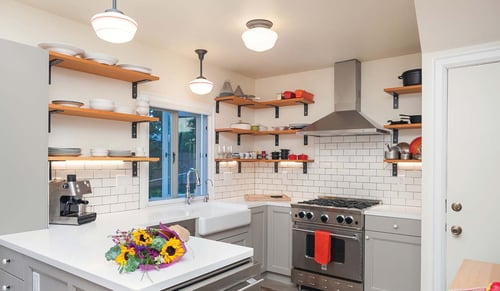 Solid Wood Construction
Finding kitchen cabinets and shelves that are made with zero formaldehyde or other offgassing substances can be challenging. Most of the MDF used for shelves and doors (commonly known as particle board) used in cabinets tends to offgass for months—or even years. One workaround is to have a local woodworker make them.
Recycled Countertops
Many varieties of durable, partly recycled countertops are now available, such as the Paperstone product shown here. Other options include quartz-based products such as Vetrazzo. These materials require far less environmental impact than imported stone such as granite.
Safe Finish
Try to use water-based final coatings for your cabinet and floors. Spend extra to buy the most durable finish you can find. Every time you have to re-coat surfaces, you introduce toxins back into your living space—and extract more resources from the natural world.
Remember the Range Hood
If you go to all this trouble to keep the air clean in your kitchen, then fail to install an vent fan on your range, you will be disappointed in the overall air quality in your home.