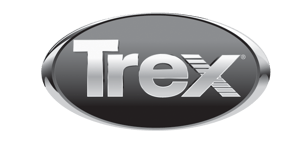 Trex
Based in Winchester, Virginia, Trex Company is the world's largest manufacturer of high performance wood-alternative decking and railing, with more than 25 years of product experience. Stocked in more than 6,700 retail locations worldwide, Trex outdoor living products offer a wide range of style options with fewer ongoing maintenance requirements than wood, as well as a truly environmentally responsible choice.
Beyond decking and railing, Trex offers a full portfolio of beautiful integrated outdoor living options, including Trex Elevations® Steel Deck Framing, Trex Spiral Stairs™, Trex Deck Lighting™ and accessories such as Trex Pergola™, Trex Outdoor Storage™ and Trex Outdoor Furniture™ – making it easy for homeowners to create a complete outdoor living space.
Commitment to Sustainability
Built on green values, Trex offers consumers a truly environmentally responsible choice with eco-friendly decking and outdoor living products that last – without leaving a lasting impact on the environment.
As one of the largest polyethylene plastic recyclers in the United States, Trex salvages and keeps more than 400 million pounds of plastic and wood scrap out of landfills each year. Through a proprietary manufacturing process that reuses nearly 100 percent of runoff, Trex transforms these materials into eco-friendly decking that has a smaller carbon footprint than wood.
For more information, visit www.trex.com/why-trex/eco-friendly-decking/.
Products Used in The Align Project
Trex Transcend is designed to outperform wood, PVC and early-generation composite for decades. It features a proprietary surface formulation that produces a natural, wood-like grain pattern, while resisting fading, staining, scratching and mold.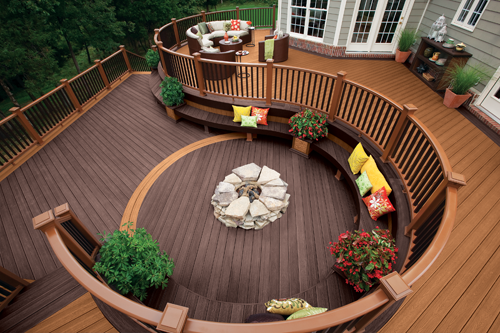 Trex Elevations Steel Deck Framing is manufactured of dual-coated, galvanized steel, offering superior aesthetics, durability and stability when compared to wood.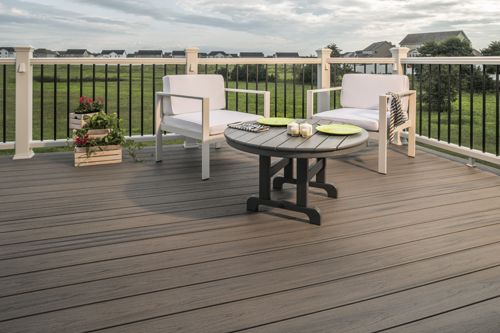 The Trex Hideaway Hidden Fastening System installs between boards, resulting in no visible screw heads on the walking surface, while also creating perfectly consistent spacing between boards.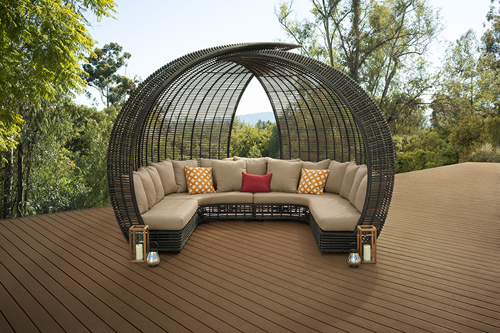 Trex Deck Lighting offers a full selection of easy-to-install options that provide enhanced ambiance and security.