Toyota (NYSE:TM), creator of the Prius hybrid and the Mirai fuel cell vehicle, is committed to building vehicles for the way people live through our Toyota and Lexus brands. Over the past 60 years, we've built more than 36 million cars and trucks in North America, where we operate 14 manufacturing plants (10 in the U.S.) and directly employ more than 47,000 people (more than 37,000 in the U.S.). Our 1,800 North American dealerships (nearly 1,500 in the U.S.) sold nearly 2.7 million cars and trucks (2.4 million in the U.S.) in 2017 – and about 87 percent of all Toyota vehicles sold over the past 16 years are still on the road today.
Unveiled in September 2015, Toyota's Environmental Challenge 2050 consists of challenges that seek to push the company beyond minimizing environmental impact to creating net positive change.
Carbon: To address climate change, Toyota aspires to reduce greenhouse gas emissions from operations and establish longer-term targets to achieve zero emissions by 2050. In addition, the company also pledges to reduce vehicle emissions 90 percent from a 2010 baseline by 2050 by offering vehicles with alternative powertrains and working with stakeholders to expand PHV, EV and FCV infrastructure.
Biodiversity: Toyota recognizes the significance of diversity of living organisms and the necessity to preserve their habitats to ensure ecosystem function. In North America, the company pledges to conserve natural habitat by 2050 and partner with third parties to protect globally recognized hotspots. In addition, the company will engage people per year in projects that protect biodiversity and work to protect threatened and endangered species living near its sites as well as certify all major facilities to a recognized, high standard conservation certification.
Materials: Toyota's material strategy aims at conserving natural resources, eliminating waste disposal and sharing know-how. In North America, Toyota has established a data tracking system to annually track the amount of packaging used. Toyota has set a global target to reduce packaging material use by 5 percent by.
Water: As the availability of clean water becomes more important to Toyota communities in drought-stressed regions of North America, the company will continue to manage and preserve this critical resource. Toyota pledges to reduce absolute water withdrawals from North American operations by incorporating waterless manufacturing technologies and adopting water conservation and recycling technologies. By 2050, the company will establish closed loop systems with 100 percent recycled/reused water, while also engaging with communities and nonprofits to conserve water.
Toyota Mirai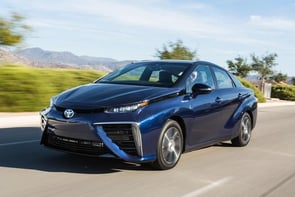 Toyota's Mirai is the world's most advanced electric vehicle with a small, lightweight FC stack and hydrogen tanks that are located under the floor of the vehicle, ensuring sufficient cabin space for four people. The vehicle's exterior design evokes two key characteristics of a fuel cell vehicle: the transformation of air into water as the system produces electricity, and the powerful acceleration enabled by the electric drive motor. The bold front view features pronounced air intakes, while the sleek side view conveys the air-to-water transformation with its flowing-liquid door profile and wave-motif fuel cap. The theme carries to the rear view, which conveys a catamaran's stern and the flow of water behind. Mirai's design is meant to convey uncluttered, open and seamless space, soft-touch and contrasting textures and surprising refinements.
Project Portal: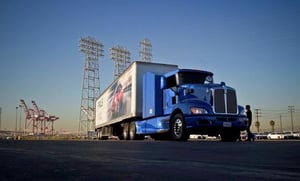 Revealed in April 2017, Project Portal is the next step in Toyota's effort to broaden the application of zero-emission fuel cell technology that can serve a range of industries. It is a fully functioning heavy duty truck with the power and torque capacity to conduct port drayage operations while producing zero emissions. Heavy duty vehicles make up a significant percentage of the annual emissions output at the Ports of Los Angeles and Long Beach, and the Portal feasibility study may provide another path to further reduce emissions.
The Project Portal heavy-duty truck concept generates more than 670 horsepower and 1,325 pound feet of torque from two Mirai fuel cell stacks and a 12kWh battery, a relatively small battery to support class 8 load operations. The concept's gross combined weight capacity is 80,000 lbs., and its estimated driving range is more than 200 miles per fill, under normal drayage operation.