Delta
Delta, founded in 1971, is a global provider in power and thermal management solutions and a major player in several product segments such as industrial automation, displays, and networking. Its mission statement, "To provide innovative, clean and energy-efficient solutions for a better tomorrow," focuses on addressing key environmental issues. As an energy-saving solutions provider with core competencies in power electronics and innovative research and development, Delta's business categories include Power Electronics, Automation, and Infrastructure. Delta has 169 sales offices, 70 R&D centers and 38 manufacturing facilities worldwide.
Delta has received many global awards and recognition for its business achievements, innovative technologies and dedication to corporate social responsibility. Since 2011, Delta has been selected as a member of the Dow Jones Sustainability™ World Index (DJSI World) for 7 consecutive years. In 2017, Delta was selected by CDP (formerly the Carbon Disclosure Project) for its Climate Change Leadership Level for the 2nd consecutive year.
Commitment to Sustainability
Delta's long-term commitment is: "To provide innovative, clean and energy efficient solutions for a better tomorrow", by utilizing its innovative technologies, products and services. We have helped our customers save nearly 24.3 billion kWh of electricity and have reduced carbon emissions by about 12.96 million tons of CO2e from 2010 to 2017.

Delta is continuously improving the energy efficiency of our products and the daily operations of our sites around the world. To actively engage in CDP's Commit to Action, Delta has further committed to an additional 30% reduction in electricity intensity by 2020.
Products Supplied to The Align Project
AC mini EV
The Delta AC Mini EV Charger, available in 30A or 40A models can deliver maximum power up to 9.6kW, is suitable for residential and commercial applications. The network version is OCPP 1.5/1.6J compliant and offers Wi-Fi connectivity and embedded RFID reader for access control. AC Mini has a NEMA 3R rated enclosure for indoor and outdoor use.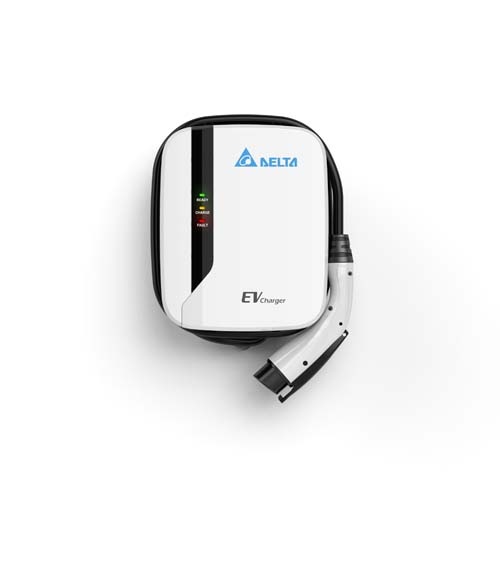 Delta BreezIntegrity ITG100ELED
The Game-Changing Bath Fan! The Delta BreezIntegrity ITG100ELED is the industry's first LED flat panel light fixture with ventilation! The beautiful edge-lit, dimmable LED light conceals a powerful bathroom exhaust fan, powered by a long-lasting brushless DC motor.
Its lighting is designed to last, with a 13-Watt dimmable LED light, capable of maintaining a light output of 1000 lumens for up to 30,000 hours – three times as long as CFL alternatives. The fixture is ENERGY STAR®-qualified to save energy and quietly operates at just 1.5 sones to eliminate noise complaints. The 100 CFM exhaust fan maintains good indoor air quality in bathrooms up to 100 sq. ft.