Andersen
As the largest window manufacturer in North America, Andersen is committed to producing durable products that help customers reduce energy consumption and emissions, lower utility costs, and improve personal well-being. andersenwindows.com
Andersen is an 2018 ENERGY STAR® Partner of the Year – Sustained Excellence Award winner. The company's leadership in energy efficiency is exemplified through products that have helped set industry standards for minimizing environmental impacts while maximizing energy efficiency, performance and durability for customers. andersencorporation.com
Products:
Align Project sponsor Andersen Windows is bringing the clean, modern lines of the company's E-Series windows and doors to the home. These include fixed and casement windows that promote natural ventilation and hinge or gliding doors. The aluminum-clad windows are Energy Star certified, as are 99 percent of Andersen's products. The windows will also feature Andersen's VeriLock sensors and the Yale Assure Lock, a keyless smart lock that users can control remotely.
The E-Series windows pictured below were carefully designed to replicate the original windows in the Watchcase Factory, an historic building built in 1881 in Sag Harbor, N.Y. Guided by archival photos, designers carefully selected the profiles and divided lights and exterior colors to match the original windows, which had been built on site. The factory has been fully renovated and now serves as luxury condominiums. The new E-Series windows preserve the historic character while enhancing energy efficiency.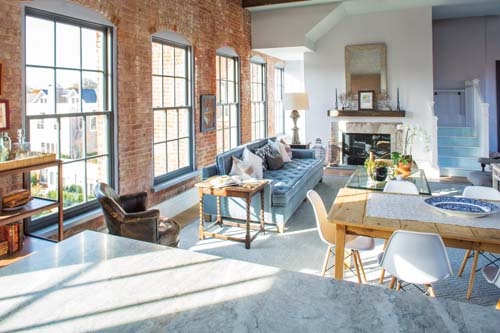 VeriLock sensors can tell occupants whether a window or door is unlocked; a locked unit is more energy efficient.