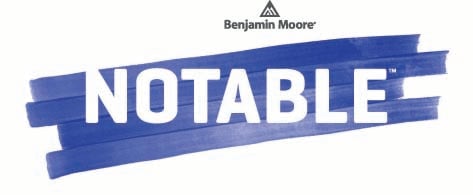 Notable by Benjamin Moore
Notable™ Dry Erase Paint is a premium dry erase paint that can be applied to almost any surface where great minds ideate and innovate. Made with a proprietary formula, Notable delivers premium performance, easy application and extended pot life, allowing more time to paint multiple or larger spaces.
Key Features: Two-component, user-friendly formula that is easy to erase and will not yellow over time or leave any ghosting marks after erasing. Seven-day full cure time, four-hour pot life and 10-year limited warranty. CHPS/CDPHv1.1 emission certified and qualifies for LEED® v4 low-emitting materials credit.
Recommended areas: For professional use in interior commercial or residential spaces such as office buildings, schools and universities, homes and more. Suitable for use on a variety of surfaces including painted walls, wood, glass, metal, laminate.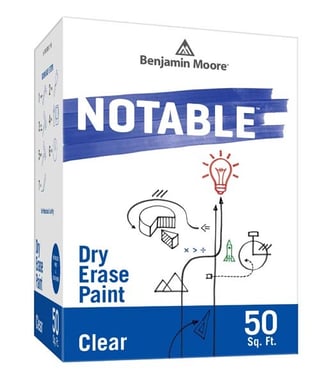 Colors & Finishes: Available in white for a classic whiteboard look, or clear to transform any of the 3,500+ Benjamin Moore colors into a dry erase surface.
Availability: Notable Dry Erase Paint is available in 50-, 100- and 200- square feet kits exclusively at Benjamin Moore retailers across the US and Canada. Kits include two pre-measured components, roller cover and application instructions. To locate a retailer near you, visit benjaminmoore.com.
MSRP: $199.99 per 50 sq. ft. kit, $374.99 per 100 sq. ft. kit, $669.99 per 200 sq. ft. kit, prices vary per retailer.
Product Numbers: White (050001), Clear (050000)
About Benjamin Moore
Founded in 1883, Benjamin Moore is North America's favorite paint, color and coatings brand. A leading manufacturer of premium quality residential and commercial coatings, Benjamin Moore maintains a relentless commitment to innovation and sustainable manufacturing practices. The portfolio spans the brand's flagship paint lines including Aura®, Regal® Select, Natura® and ben®. Benjamin Moore is renowned for its expansive color portfolio, offering consumers and designers more than 3,500 colors. Benjamin Moore paints are available exclusively from its more than 5,000 locally owned and operated paint and decorating retailers.